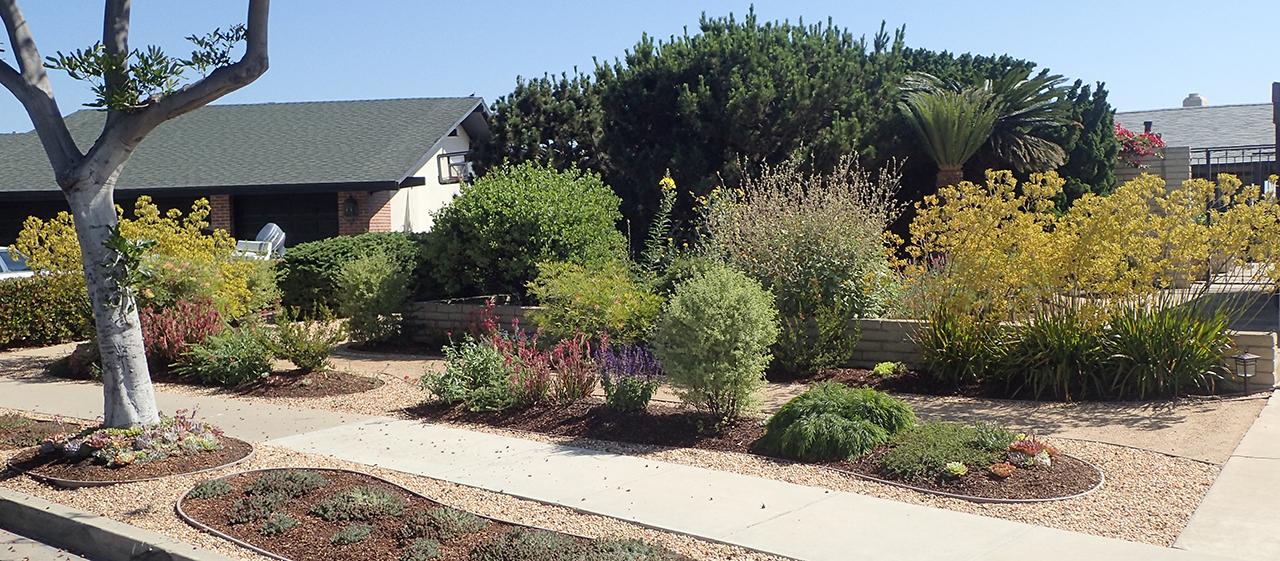 The Entry Period for the 2019 CA Garden Contest is Now Closed.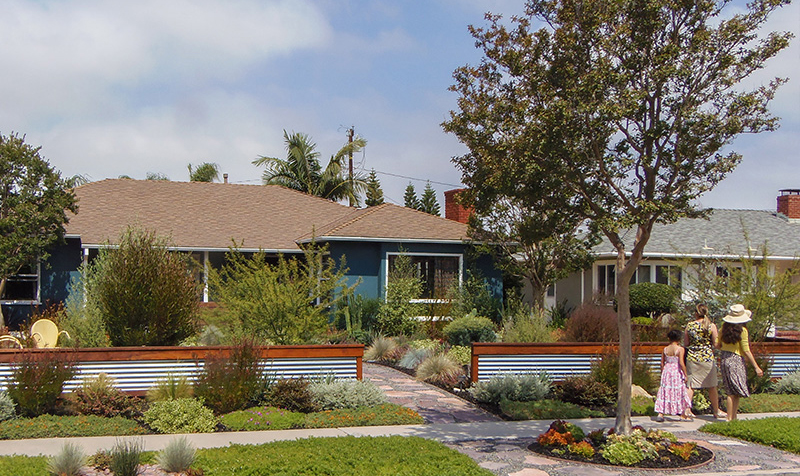 What is California Friendly?
A California Friendly garden is a beautiful garden that "fits" our Southern California climate and enhances our environment.
It minimizes impacts on our natural resources and maximizes natural benefits. It uses water thoughtfully, supports wildlife, pollinators, birds, insects and butterflies, with opportunities for food, cover and nesting, sequesters carbon and cools the environment, doesn't pollute the environment with pesticides, water runoff, excessive green waste or by introducing invasive plants and uses minimal amounts of additional nutrition, or time and energy.
In return, a California Friendly garden creates biodiversity and, together with other California Friendly gardens, enhances our natural environment.
California Friendly® Garden Rules
SEMI-FINALISTS
Osti Garden • Seal Beach
Dear Garden • Tustin
Soltan Garden • Irvine
Scott Garden • Anaheim
Buchness Garden • Yorba Linda
Klein Garden • Newport Beach
Rijks Garden • Costa Mesa
Petros Garden • Newport Beach
Jackson Garden • Costa Mesa
Plaster Garden • Costa Mesa
CONTEST RULES & DATES
All entries must complete the entry form and submit

EXACTLY FOUR PHOTOGRAPHS

:

Only upload high quality images (4″x6″ inches or max 1mb in size)
One (1) Complete Garden View
Three (3) of your choice
---
Entry: Now – May 27, 2019
Voting: May 28, 2019 at 12 PM – June 7, 2019 at 12 PM
Top 10 Finalist Announcement on Website: Wednesday, June 12, 2019
Judges Visit 10 Finalists: Friday, June 14, 2019
Winner Announced on Website: Friday, June 21, 2019
* The contest organizers may withdraw an entry from the competition that is not consistent with the goals of the California Friendly® Gardening Solutions campaign.
CONTEST PRIZES
Grand Prize Winner, Best in Orange County – $1,500
Four (4) 2019 Winners – $350
CONTEST CRITERIA
California Friendly® gardens should be or exhibit:
A Beautiful Garden
Water and Resource Conserving
Supports biodiversity, insects and wildlife
California Friendly Plants
Minimal Runoff and Pollutants
Reduction of Green Waste
Organic Principles
Attentive Maintenance
Additional Contest Criteria:
Residential properties only
Garden at least one month old
Orange County only
Front landscapes and gardens that are clearly visible from a street view
Visible gardens that influence the community
Judges may disqualify, without notification, any garden at any duration of the contest that does not meet the contest criteria and goals
No current employees, vendors or family members of Roger's Gardens
Previous winners (at any level) may not compete at the same address
LEGAL
Rogers Gardens California Friendly® Gardening Solutions Contest:How to Enter: Beginning February 5, 2019, please submit three photos of your font landscape through our entry form, we will then post the photos on our Roger's Gardens website and Facebook page. Entrants are encouraged to have their family, friends, and colleagues vote for their photo on the Roger's Gardens website from May 28 at 12 PM – June 7 at 12 PM. This will dramatically help your chances of winning one of our many cash prizes!Winner Selection: The winner will be selected by California Friendly® Gardening Solutions Judges. 5 of the 10 finalists will be hand chosen by our judges with the remaining 5 to be selected by public vote on the Roger's Gardens website. Voting will conclude on Friday, June 7, 2019 at 12 PM. By participating in the contest, entrant certifies that his/her photo is original and does not contain any material that would violate or infringe upon the rights of any third party, including copyrights, trademarks, or rights of privacy or publicity. Sponsor reserves the right in its sole and unfettered discretion to disqualify any entry that it believes contains obscene, offensive, or inappropriate content, that does not comply with these official rules, or that is not consistent with the spirit or theme of the contest and will not post it to Roger's Gardens website or Facebook page. Winners consent to having use of submitted photos, in addition to agreement of additional photos taken.The top 10 finalists will be notified via e-mail, at Roger's Gardens discretion, and announced on Roger's Gardens website and Facebook page on or about June 12, 2019.California Friendly® Gardening Solutions Judges will visit each of the 10 finalist's front landscapes on or about June 14, 2019.Winners will be notified via e-mail, at Roger's Gardens discretion, and announced on Roger's Gardens website and Facebook page on or about June 21, 2019.
ENTRIES:Limit one (1) entry per person and per e-mail address for contest. Entries using macro, robotic, script, or other forms of automatic entry will be disqualified. Entries become the property of the Sponsor and will not be returned. No mechanically reproduced or digitally enhanced entries permitted. Proof of submission does not constitute proof of receipt. If there is a dispute as to the identity of an online entrant, the prize will be awarded to the authorized home owner of the garden. The "authorized home owner" is defined as the natural person to whom the e-mail address is assigned by an Internet service provider, online service provider, or other organization (e.g., business, educational institution, etc.) that is responsible for assigning e-mail addresses for the domain associated with the submitted e-mail address. The submitted image of your garden must be owned by the user.
ELIGIBILITY:Open to legal residents of the state of California, whom live in Orange County.
DISPUTES/CHOICE OF LAW:Except where prohibited, each entrant agrees that: (1) any and all disputes, claims, and causes of action arising out of or connected with this Promotion or any prize awarded shall be resolved individually, without resort to any form of class action, and exclusively by state or federal courts situated in California; (2) any and all claims, judgments, and awards shall be limited to actual out-of-pocket costs incurred, but in no event attorneys' fees; (3) no punitive, incidental, special, consequential, or other damages, including without limitation lost profits may be awarded (collectively, "Special Damages"); and (4) entrant hereby waives all rights to claim Special Damages and all rights to have such damages multiplied or increased. California State law, without reference to California's choice of law rules, governs the Promotion and all aspects related thereto. Facebook, Instagram and other media sources is in no way associated with this contest.
SPONSOR:The sponsor of this promotion is Roger's Gardens.
The contest organizers may withdraw an entry from the competition, without notification, that is not consistent with the goals of the California Friendly® Gardening campaign.
Roger's Gardens

Roger's Gardens is a home and garden center located on seven park-like acres in Corona del Mar adjacent to Fashion Island. The store opened its doors in 1975 and over the years evolved into a destination for customers seeking creative ideas and unique products for outdoor and indoor living. Regarded as one of the nation's leading retailers, Roger's Gardens is a leader in design trends and gardening techniques. Selections include unusual plants, succulents, designer pottery, stunning orchid arrangements, colorful flowers, holiday decorations, collectibles, gifts, home décor and gourmet foods. Roger's Gardens conducts numerous lectures and special events where top experts from horticulture share their secrets. rogersgardens.com

Metropolitan Water District of Southern California

The Metropolitan Water District of Southern California is a cooperative of 26 cities and water agencies serving 18 million people in six counties. The district imports water from the Colorado River and Northern California to supplement local supplies, and helps its members to develop increased water conservation, recycling, storage and other water-management programs. bewaterwise.com

Monrovia Nursery

Expert grower of the healthiest, hardiest, most beautiful plants. Raised in our exclusively formulated, nutrient rich organic soil, Monrovia plants are guaranteed to make your garden thrive! Our Distinctively Better (R) plants are the strongest in the industry and with more than 2,200 varieties. From low cost to high fashion — We have something for every garden style! monrovia.com

Irvine Ranch Water District

"Irvine Ranch Water District (IRWD) was established in 1961 as a California Water District under the provisions of the State of California Water Code. The District provides potable water, sewage collection and treatment, and produces tertiary-treated recycled water. IRWD serves a population of 324,500 with a service area of 179 square miles encompassing the city of Irvine and portions of Costa Mesa, Lake Forest, Newport Beach, Orange, Tustin and unincorporated areas of Orange County. IRWD extends from the Pacific coast to the foothills." irwd.com

City of Newport Beach

With new growth come new opportunities to conserve water. The City of Newport Beach recognizes it must significantly reduce and attempt to eliminate excess water flows during non-rainy seasons in coastal canyons and on coastal bluffs within the city. Because the choice of landscaping and the correct design of irrigation systems can aid in the fight to eliminate urban runoff and water waste, the City of Newport Beach is dedicated to educate and support programs that aid in eliminating water waste.
Improving water quality through conservation is key to healthy waterways, bay and ocean. Do your part outside your front door by planting a California Friendly garden. It will not only save money on water and energy, but you'll be doing something good for the environment. cleanwaternewport.com

UC Cooperative Extension (Master Gardeners)

The purpose of the University of California Master Gardener program is to utilize certifed volunteers to extend to the public research-based information verified by UC experts about home horticulture and pest management. After 50 hour of classroom instruction, taught by experts in their fields, our Master Gardeners perform volunteer services in a myriad of venues. The Master Gardener program is administered locally by participating county offices of UCCE, the principal outreach and public service arm of the University's Division of Agriculture and Natural Resources. For information on the UCCE Master Gardener program or to ask home horticulture or pest management questions, log onto uccemg.com

Surfrider Foundation

The Surfrider Foundation is a non-profit environmental organization dedicated to the protection and enjoyment of the world's oceans, waves and beaches for all people through conservation, activism, research and education. Founded in 1984 by a handful of visionary surfers, the Surfrider Foundation now maintains over 50,000 members and 60 chapters across the United States and Puerto Rico, with international affiliates in Australia, Europe, Japan and Brazil. To find out how you can help protect our oceans, waves and beaches please visit surfrider.org today!

The California Native Plant Society (CNPS)

The California Native Plant Society (CNPS) is a non-profit organization dedicated to the understanding and appreciation of California's native plants, striving to conserve them and their natural habitats through education, science, advocacy, horticulture and land stewardship. The Orange County Chapter is very active, with many activities and encourages members with such diverse interests as natural history, botany, ecology, conservation, photography, drawing, hiking and gardening. The Orange County chapters meet monthly, with educational and entertaining meetings on a variety of topics. occnps.org

Municipal Water District of O.C.

The Municipal Water District of Orange County, which serves nearly 2.3 million residents through 29 member agencies, manages the water supply the county receives from Metropolitan Water District of Southern California. mwdoc.com

The California Native Plant Society (CNPS)

Since 1920, Kellogg Garden Products www.kellogggarden.com has advocated an environmentally friendly approach to gardening as reflected in all its manufacturing processes, products and consumer education. The Kellogg family, and their company, have been a major force behind agriculture, gardening and landscaping industries in the Western US.
Kellogg Garden Products is the exclusive distributor of Kellogg®, Gardner & Bloome®, Greenhouse®, Gardeners®, Dr. Earth®, Gro-Power®, Jungle Rain® and Plant Success® cutting-edge organic soils, amendments and plant care products to retailers and landscapers from Canada to Mexico and from Hawaii to Utah. Throughout the years, Kellogg has also shown a passion for giving back to the community. Each year, Kellogg generously donates to an array of charitable programs and organizations including programs to support school and community gardens.
Also, despite all their success and growth, Kellogg Garden Products has remained a solid family business that continues to adhere to the core business values of its founder H. Clay Kellogg — integrity, innovation, loyalty, experience, commitment and generosity.
2019 Partners & Advisors
Our expert judges panel will visit the gardens of the semi-finalists in June. They will evaluate each landscape carefully and, after scoring each garden, will determine the division winners. From these five division winners they will then select the Grand Prize winner. The Best California Friendly garden in Orange County. The final results will be sealed until they are announced at the awards ceremony.
Joe Berg

Water Efficiency Manager, Municipal Water District of Orange County

Joe Berg is the Water Use Efficiency Programs Manager for the Municipal Water District of Orange County (MWDOC), a wholesale water provider to 28 retail water agencies throughout Orange County. Over the last 23 years Joe has developed, implemented and evaluated a variety of urban water use efficiency programs pioneered in Orange County. Joe is the 2013 Llana Sherman Excellence Award recipient form the California Urban Water Conservation Council for his local and community innovations in water use efficiency.

Tim Fiskin

Roger's Gardens

Tim is the general manager of Roger's Gardens Landscape and has been designing and installing gardens in Southern California for over twenty-five years. He is an award-winning designer who is especially interested in low water use gardens and was involved in Roger's Gardens own drought tolerant landscape makeover. Tim is one of the most knowledgeable landscape and design experts in Orange County and has pioneered the use of water-efficient plants, low water roof gardens and high efficiency irrigation techniques.

Juan Garcia

Water Use Efficiency Specialist, Irvine Ranch Water District

Juan Garcia is a water conservation leader with Orange County's largest water district. In his role he is involved in water use education and conservation. Prior to joining IRWD, Juan was the manager of educational programs for WaterWise Consulting, Inc. in Pasadena, California. Juan has a Bachelor's of Science in Horticulture from Cal Poly Pomona and has been active in the irrigation and green industry for nearly 20 years. Juan is also a professional instructor for Metropolitan Water District's California Friendly Landscape Training Program.

Darren L. Haver

Watershed Management Advisor for the U.C. Cooperative Extension in O.C.

Dr. Haver received a B.S. in Ornamental Horticulture from the California State Polytechnic University, Pomona and a Ph.D. in Botany & Plant Sciences from the University of California, Riverside.He has been active in assisting agricultural producers, urban landscape professionals, municipalities, HOAs, and developers with the implementation of management practices to improve the quality of surface runoff.

Paul Herzog

Ocean Friendly Gardens Program Coordinator, Surfrider Foundation

Paul has a B.A. in Political Science and fifteen years of experience as a community organizer working on environmental and civic issues. Working with Surfrider's Ocean Friendly Gardens Program has helped Paul and Surfrider become leaders in educating the gardening public about effective water use in home gardens. Paul's grassroots approach involves such principles as smart plant choices, sustainable design, low impact development, greywater and wastewater recycling.

Tom Larson

Manager of Urban Agriculture, Farm and Horticulture, Orange County Great Park

With over 35 years of experience in the landscape and green industry, Larson has served on the State of California Urban Forestry Advisory Council Executive Board, was president of the Nursery Growers Association of California, founder of the Tree Society of Orange County, the Orange County Natural History Association and academic advisory chairman for the Forestry and Natural Resources Department of Cal Poly SLO. Tom has also been a Landscape and Irrigation Technical Advisor for The Metropolitan Water District and nearly invented the term "California Friendly".

Cindy McNatt

Garden Writer O.C. Register, Retired

Cindy McNatt has been gardening since she was 17 years old, starting with a row of corn and a hill of beans behind a little guesthouse she rented in Pasadena. She has been digging in the dirt ever since. Today she not only still plants beans, she writes about them in the Orange County Register Newspaper. She has also photo styled for Sunset Magazine and published her own garden magazine.

Dan Songster

California Native Plant Society

Dan has over 35 years' experience landscaping and gardening in Orange County. He has been happily designing, growing and maintaining California native landscapes since 1975. Dan is past President of the Orange County Chapter of CNPS, is a core member of the state CNPS Horticulture Committee, a charter member of the California Invasive Plant Council (Cal-IPC), and Co-Director of the Golden West College Native Garden in Huntington Beach.

Ron Vanderhoff

General Manager, Roger's Gardens

A lifelong southern California gardener and professional horticulturist, Ron literally grew up in the outdoors, planting by the age of five. He has worked his whole life in horticulture, originally maintaining or designing impressive gardens in Newport Beach, including John Wayne's. He is a leader in the local gardening community, a Director of The Californisa Native Plant Society and serves on numerous environmental and horticultural advisory committees. He is the General Manager and V.P. at Roger's Gardens in Corona del Mar.