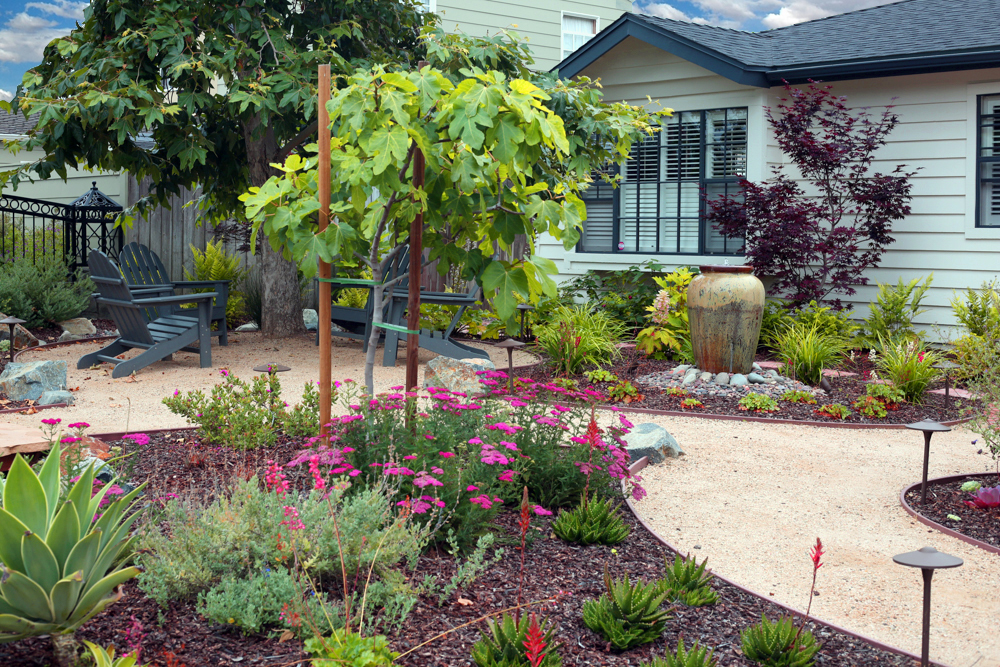 Congratulations 2019 Winners!
Please take a moment to scroll through the following gardens that are winners of our 2019 California Friendly Garden Contest.
Often, it is the nearly invisible parts of a California Friendly garden that go unnoticed.
If you are considering changes to your own garden we hope these great gardens, right here in Orange County, will help you make better decisions and inspire you to conserve and protect our natural resources.
Shop Our Outdoor Plant Boutique Now!
Grand Prize Winner – Best in Orange County
Jackson Garden ● Costa Mesa
$1500 Grand Prize, Engraved Garden Stone
Why is your front landscape California Friendly?:
Our son is an environmental engineer and has been encouraging us to move toward a more sustainable lifestyle generally. We replaced the lawn with more drought tolerant landscaping and our irrigation system with a drip system. We also installed rain gutters and rain barrels, to catch as much rain as we could. We were able to use our existing trees to provide a shady spot to hang out and enjoy our neighborhood children, too.
Our redesign has resulted in extending our use of the space – once we only walked through it, now I spend many happy hours reading and/or sipping in the shade and enjoying life in Southern California! We've even included some fruit trees, to help sustain our culinary habits as well!
Judges Comments:
The Jackson's garden is beautiful, one that any homeowner would aspire to have. But it is more than a beautiful garden, it is an environmentally correct garden, one that is well aligned with our climate and our resources.
The first thing a visitor will notice is the beauty of the Jackson garden. But soon they will notice the flurry of life surrounding in the garden; pollinators, butterflies, birds, honeybees, insects, and even lizards abound. The garden is very water and resource efficient, which is always on people's minds. Additionally, the garden limits wasteful water and pollutant run-off by encouraging percolation. The plants in Nancy's garden are well adapted Southern California's warm, summer dry Mediterranean climate.
The garden is a terrific example of a low-water, climate-appropriate and wildlife friendly place. Gardens like this, especially when combined with others in a California Friendly neighborhood, greatly increase biodiversity and create a healthy urban ecology.
California Friendly Garden Winner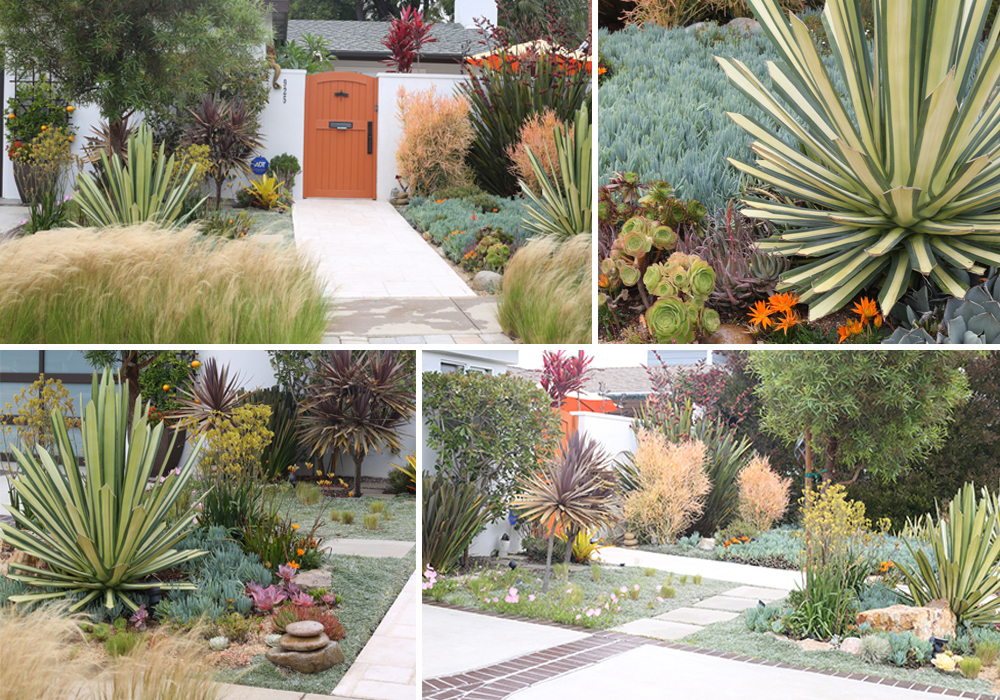 Osti Garden ● Seal Beach
$350 Prize
Why is your front landscape California Friendly?:
Our front landscape consists mostly of succulents and very low water plants. The property has 3 yards that conserve natural resources with the choice of succulents and bromeliads. We use pathway bark in the soil to keep the moisture to the plants with less watering. Our yard is very inviting to humming birds, gecko's, bees and butterfly's through the year.
We stopped growing vegetable's in the 2 raised planter box's as the rodents ate more than we did and now we grow pineapple plants from the tops of the plants to giveaway to people. YTD we have given over 100 plants away to people who cant believe, you can grow a pineapple in Orange County.
California Friendly Garden Winner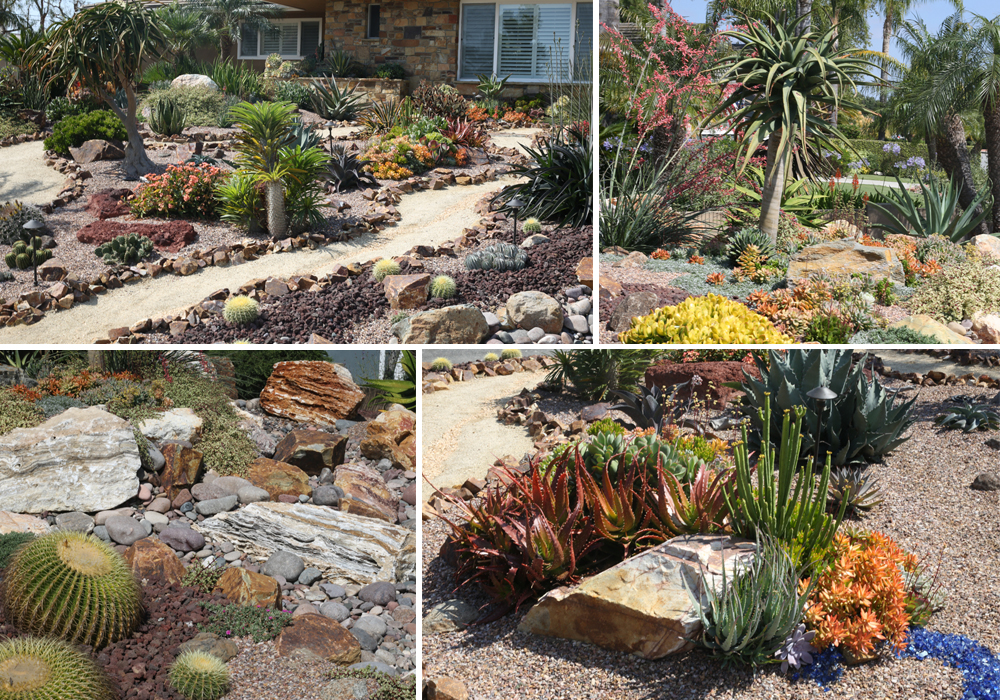 Dear Garden ● Tustin
$350 Prize
Why is your front landscape California Friendly?:
About a year ago, we decided to replace our front lawn with a water-wise garden. With the help of a professional landscaper with experience in drought-tolerant gardens, we hired Design For Serenity to install a beautiful succulent-specific front yard.
Our requirements included minimal maintenance, low water requirement, heat and cold tolerance, natural looking, and beautiful. The use of crushed rock top dressing reduces water evaporation, prevents soil erosion, and minimizes weeds. Subterranean irrigation is install only to those plants that require periodic watering. The dry riverbed is not only visually appealing, but serves to help water penetration back to the earth during rainy days. The DG pathways invite folks into the garden and enjoy the beauty. The bees, hummingbirds, butterflies, and lizards certainly enjoy the garden.
California Friendly Garden Winner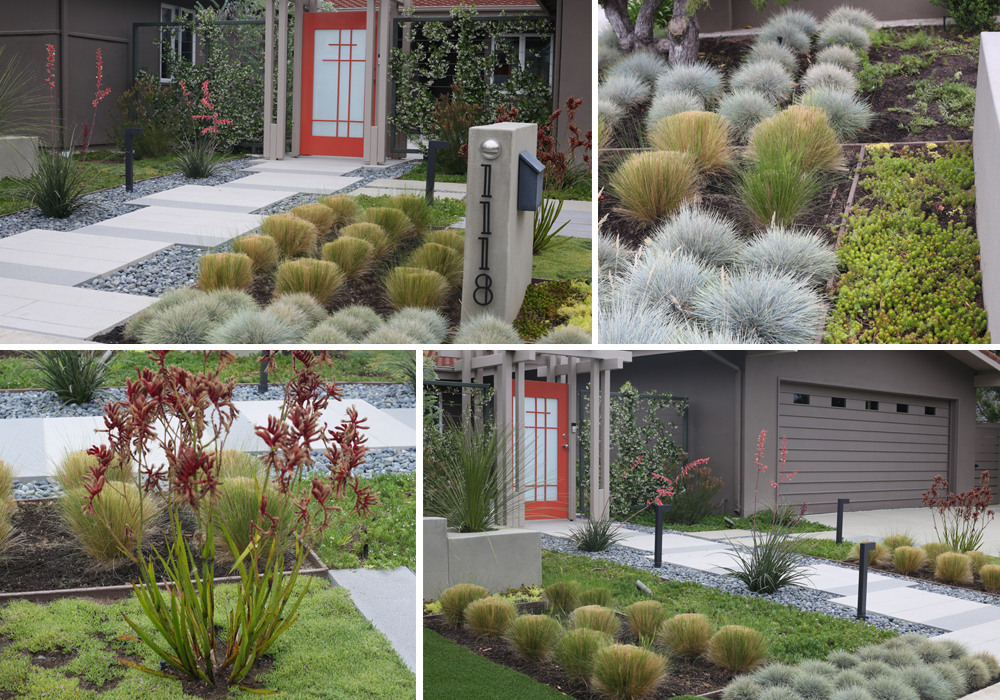 Klein Garden ● Newport Beach
$350 Prize
Why is your front landscape California Friendly?:
Our goal was to design an architectural landscape composition with low maintenance and water use. Layout and aesthetics, an owner-designed trellis, plant selection, irrigation system, and playfulness with height, color, texture, and form were all maximized to create our beautiful California Friendly landscape.
The custom trellis with gated door adds intrigue and beauty to the overall design, and creates a private courtyard around the front door of the home. California Friendly concepts are also utilized in the private courtyard.
All of the plants, such as the Red Coral Yucca, White Myoporum, Red Kangaroo Paw, Acacia Covenyi, and Blue Fescue, were chosen for their uniqueness and drought resistance. The Mexican Grass Tree, also drought resistant, is featured in the square concrete planter for added form and texture.
A variety of groundcover materials were selected to enhance the design aesthetic and remain California Friendly: Dwarf Carpet of Stars, an area of artificial turf, and Mexican Pebbles to line the walkway.
The entire front landscape, including the private courtyard, is divided into 4 zones and watered by a programmable hydrozone system. The walkway concrete pavers are deliberately sloped such that any water and rain flows into the Mexican Pebble beds and returns to the earth.
California Friendly landscape is all about adding environmental consciousness when creating an outdoor space. We enjoy our front landscape as both architectural and responsible to the Southern California region.
Maintenance by Lou Torres Landscape, Newport Beach.
California Friendly Garden Winner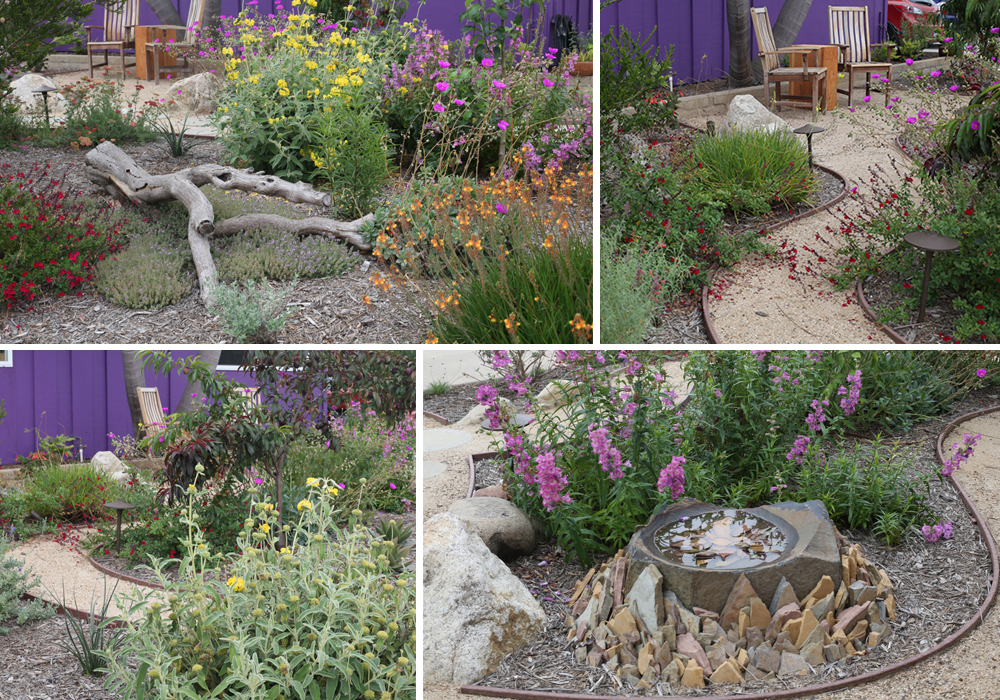 Plaster Garden ● Costa Mesa
$350 Prize
Why is your front landscape California Friendly?:
In 2018 we converted our front yard from an unused grass eyesore into a beautiful thriving California- friendly garden. We chose low-water Mediterranean and native plants that would host our local pollinators, birds and bugs alike.The basalt stone bath provides both contemplative feature for neighbors who stroll through the winding path, but also a sip and cool-down for our pollinators as well.
Many of our plants are edibles, from our espaliered citrus boundary line to edible flowers and sages, and ornamental fruit trees such as the Necta-plum that is quite the spring show-off draped in pink blossoms. The small amount of water that we do use is managed by a weather-sensing watering system that relies on drip irrigation under heavy mulch and stone. Although this is an incredibly low-maintence landscape, I find myself looking for things to maintain just to spend more time in this beautiful space.
Our garden also features a Little Free Library that our neighborhood uses regularly, sharing books for both children and adults. We hope to inspire others in our neighborhood to embrace California-friendly landscaping and low-water practices.