A view from the Garden Rooms around Mother's Day.
I've been a florist for a long time so take my word for it… Mother's Day is THE DAY on the gift-giving calendar. Not only do we honor our own moms, it's the day we show how much we love our Sisters, Aunts, Grandmothers, Daughters, Nieces, Neighbors and Friends.
This Sunday, May 13th is Mother's Day. As a designer working in the Garden Rooms I've had a front row seat as I've watched with wide eyes as all the amazingly gorgeous flowers, hand bags, scarves, silk designs, planted containers and gifty-goodies arrived through our door.
So I thought…Why be greedy? Why not share a few of my favorite things I think all our moms, sisters and aunties … would love! Although it was tough to choose just a few, here are a few of my favorite things.
Sunset
As a florist, I have to start with flowers and the new Mother's Day designs are, well yummy. This Sunset is a delicious box of color in the Ombre style. From pinks to peaches it's a thick collection of roses and carnations… you can almost eat it! What is great about this design is the flower heads are cut short which lengthens their staying power… making for a long-lasting arrangement for Mom …and she'll get a few extra moments of happiness from YOU!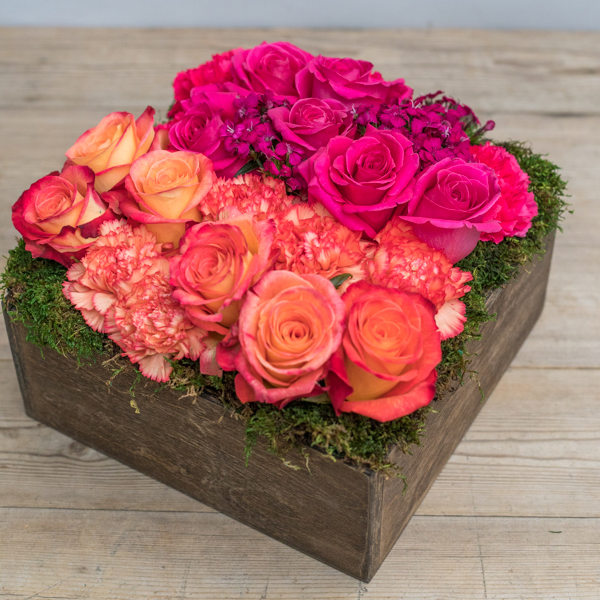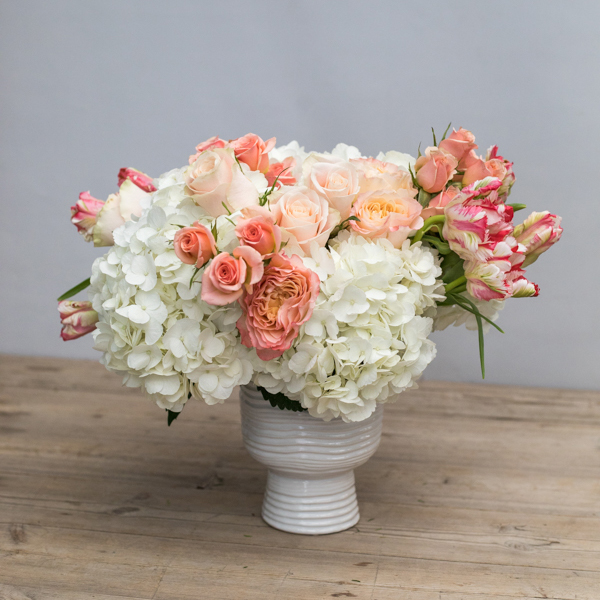 Bonita
My second floral pick is the Bonita. I don't know why but it reminds me of a Creamsicle. Maybe because of the rich peaches and creams in this lush collection of tulips, roses and hydrangeas or maybe I'm just hungry but my mother loved these colors so I guess this warm and beautiful arrangement just reminds me of her. Order both arrangements and many more through me or any of my wonderful associates in the Garden Rooms or online.
Handbags
Okay, right off the bat these two are my favorite. Handbags planted with garden florals and succulents are just too cute! The concrete containers are adorable while being heavy and substantial. Each would be as happy in the house by a window with a moderate amount of light as they would on her patio or front porch.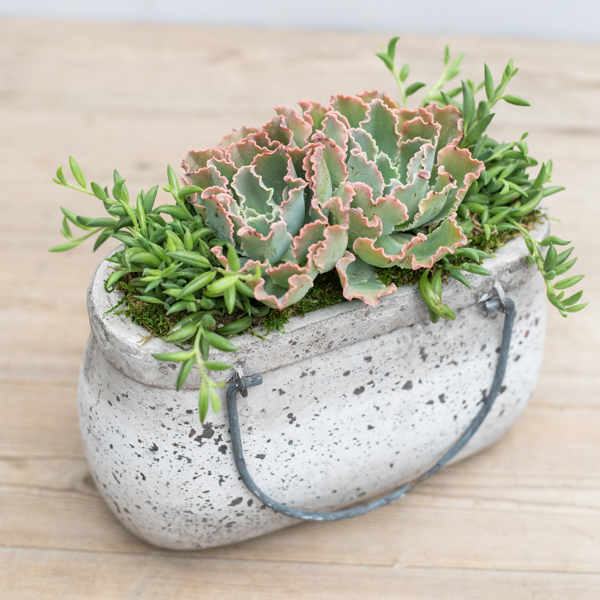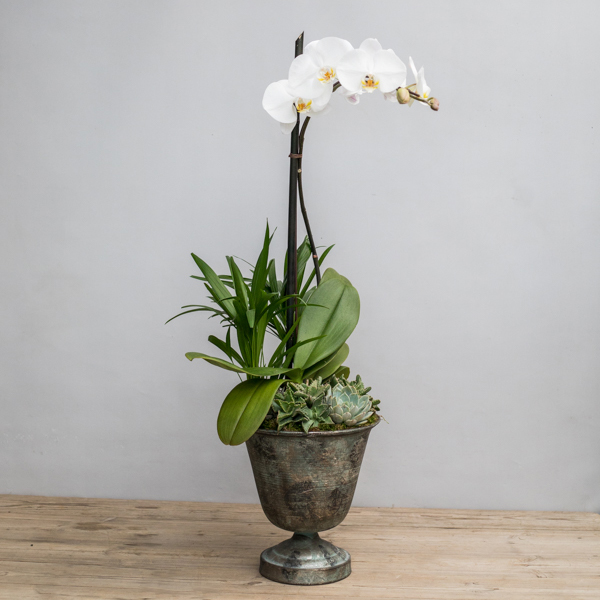 Orchids
Orchids are always on my list of favs in the Garden Rooms but this Mother's Day design is a little special. I love the gun metal footed containers and how the blue grey succulents compliment the container, all topped off with a perky upright white Phalaenopsis so perfect and neat while a singular bamboo support finishes it off!
Violets
What says 'Mom' better than African Violets? Not much, but this quad of violets in a rustic tin square container just says mom to me. I suppose they remind me of my Grandmother Pickle (Yes, that was really her name) Grammy Pickle used to grow the most amazing African Violets on her kitchen windowsill. She was one of those people who could grow anything, her garden was spectacular but her violets by contrast were so sweet and simple and her kitchen was always welcoming, friendly. They are a part of my memory of her.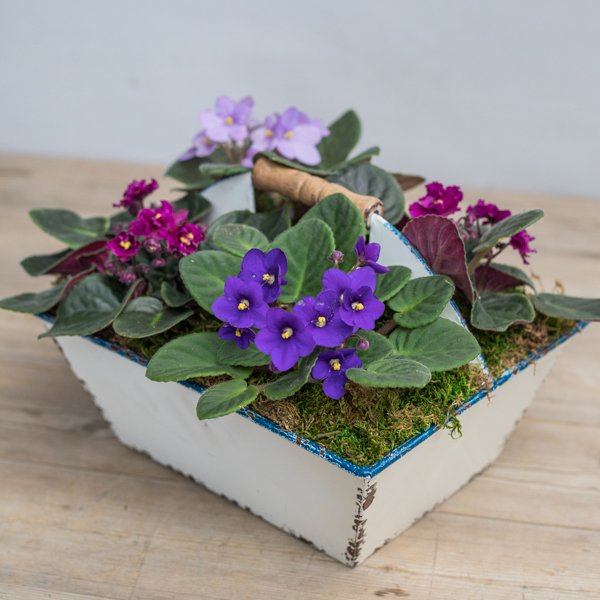 Scarves
SCARVES are NEW to the Garden Rooms and we LOVE having them here. These scarves are cute and colorful, stylish and cosy enough for those cool Spring into Summer evenings. They are as soft as they look, you might want to buy one for yourself too!
Our Leather HANDBAGS are NEW to the Garden Rooms too and they are totally gorgeous and buttery soft. The leathers are soft white, black and camel and come in creative clutch styles and off the shoulder designs. Every mom LOVES a handbag!
Toffee
TOFFEE! These B Toffees are made locally from Honey BEES and are probably the most delicious nutty TOFFEE you may ever eat. The packaging is sooo MOMMY and I know she'll love it, alone or as a compliment to flowers or one of our sweet as candy planted handbags.
Louis Sherry Chocolates are fast becoming a Roger's Gardens staple sweet. A New York City tradition, Louis Sherry Chocolates have re-issued these retro tins, a remake of the original.
All available in the Garden Rooms at Roger's Gardens or online.