Go along with our Plant Buyers on a Trip to San Diego
Frequently, Roger's Gardens buyers and horticulturists visit growers around the state and in other parts of the country, seeking out the best, newest and most amazing plants for our garden center. We probably do this excessively, but It's part of what makes Roger's Gardens a special place to explore.
Let's take you along on one of our recent plant trips, this one to the San Diego area. You'll be joining Kathleen, Rex, Matt, Isaac and Ron, all Roger's Gardens horticulturists and buyers.
As you read this and enjoy the pictures and learn how we get the great plants that we have, we also have a chore for you at the end. There are two parts. First will be a travelogue, showing some of the places visited and giving some insight into how we make our plant buying decisions.
The second portion is where we need you to help us. We want your feedback – really. At the end of this article we'll show you lots of plants and we want you to tell us what you like and what you don't.
So here we go . . . buckle up and grab your clipboard, a laptop, some boots and a crystal ball. We're going plant buying for one of the country's largest and most well-known garden centers.
It's 8 AM and we are pulling out of Roger's Gardens and heading South. Over the past several days we have already decided on who we will be visiting this time, set our goals – both strategically and financially, and contacted all of the places we will be visiting. Let's get moving, they're waiting for us. As we travel down the highway the laptop is already burning through the battery as we crunch a few more numbers, look at our program calendar one more time and review our current plant growing contracts.
More conversation as we go reinforces our goals for the day. We also decide on each person's role. We need a driver, a spreadsheet operator, a note taker, a photographer, a navigator. Hmmm, five roles and five people – perfect. It's 9:15 and we get to our first stop.
Here's the team you will be with for the rest of the day. From left to right: Matt, Ron, Kathleen, Isaac and Rex. The best plant buying and merchant team in the business.
Our first stop and we are off to work. Grower visits usually include a lot greenhouse visits as well as long field walks.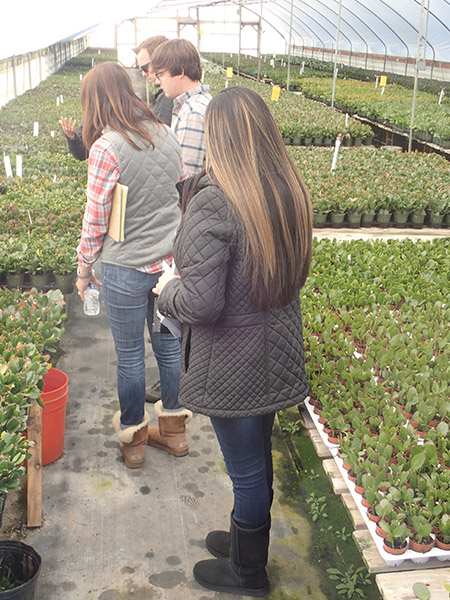 One of the challenges of plant buying is that we are almost always looking at plants that are far from ready to sell. We need to make serious financial decisions and binding commitments by looking, for the most part, at tiny little unflowering, unfinished plants. That's why we need the crystal ball.
These Zygocactus on the left, sometimes called Spring Cactus are still a couple of months from bloom but look promising. We book some.
Calla lilies are planted from dormant tubers into four inch or six inch pots and then grown into a finished, blooming plant. There are about 500 tubers in each of these trays and about 15 trays waiting to be planted. You'll see these in a few months at Roger's Gardens, but they won't look anything like this.
The calla tubers are placed into individual four inch pots. About six different colors are involved and each will grow into a blooming plant, eventually to be seen on our Garden Room tables at Roger's Gardens. The crop here is about 5,000 plants.
Visiting plant growers is not what most people think it is. We are not looking at beautiful gardens or visiting arboretums. Instead, we are usually climbing through dirty, wet, humid and clumsy greenhouses and fields. Incredibly muddy shoes, sweaty clothes and dirty hands and a few bangs on the head and scratches and bruises are all part of the deal. We are not complaining, but it is hard work and we are all tired at the end of the day.
This is one of our favorite potted plants. It is a type of club moss (Selaginella), but a very special one with frosted edges. We contract lots of these almost always have them at Roger's Gardens.
These are about ready to ship and will be at Roger's Gardens next week.
Usually this plant, called a Splash, is grown in separate plant containers as either white, pink or red leaf forms. But we like this blend as well. Seems to add some interest when they are all mixed together. A good, colorful plant indoors or out, in a shady spot that our customers love.
Kathleen, our planted container designer, seems to like these a lot. We'll take these.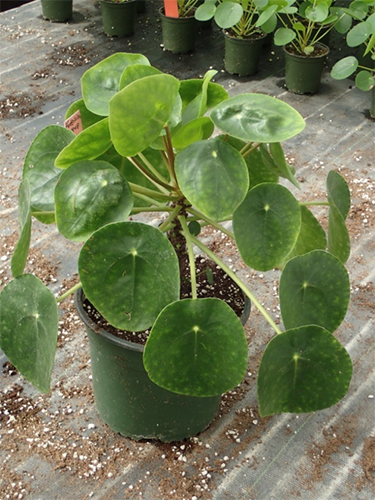 A year or two ago this plant was all the rage. It is called Pilea peperomioides or Chinese Money Plant. It's still popular. Roger's Gardens was one of the first nurseries to offer it for sale and it is still a highly sought after plant.
This is one of our highest quality and favorite plant growers and one that we contract a lot of plants with. Look how perfectly each plant is spaced. They are also precisely watered and given just the right nutrition. Dianthus are the plants in the foreground.
They are also one of the best suppliers of quality succulents. Always well rooted, disease free and good looking. These are young starts that will later be shifted up to larger containers as they grow.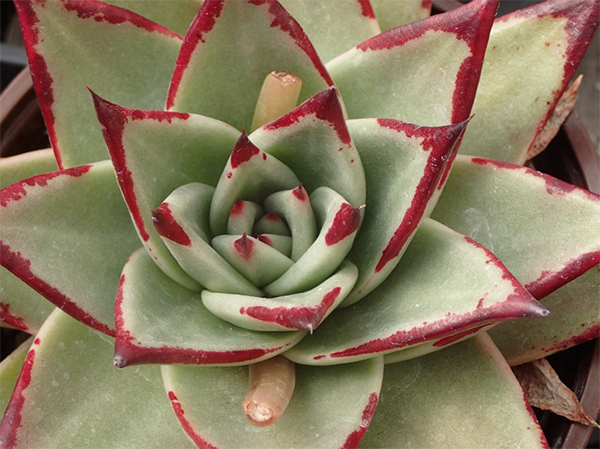 One of the most important qualities of being a top tier plant buyer is the ability to predict the future. Here's an example. This is single plant of an un-named Echeveria selection. It might have promise or it might not. Even if we started now with a commitment, it will likely take three to six years before there would be enough plants to have anything for sale at Roger's Gardens. But if we don't start now, we may never have this plant.
Should we commit to it or should we pass on it? Big decision and lots at risk. Businesses can succeed or fail based on decisions just like this. To make that decision we need to be able to predict plant fashion several years in the future, we need to know the cost of propagating and producing the plant, we need to know if someone else is growing a similar variety somewhere else in the country, we need to know our costs and much more. It's a business too.
If everything checks out, then we need to commit to the grower, which usually includes a contract, some numbers and maybe even some payment in advance. It's much, much more involved than simply window-shopping for pretty plants. It's risky business and a lot is at stake.
Off to the Hydrangea greenhouses. This is similar to what you see when the plants are at Roger's Gardens. Great quality.
But this is how they start and often when we need to make our buying decision. These specific hydrangea starts are propagated by a Canadian grower, who then ships them at this stage to our grower, who then ships them to Roger's Gardens once they are beautiful and blooming. At this stage we are looking at whether the plants are well pinched, have a healthy rootstock and will eventually make a perfectly finished, blooming plant at the nursery. Of course, the growers reputation, our relationship with them and our level of trust is a big consideration as well.
Each of us on the buying trip are plant nuts ourselves, so we always enjoy seeing amazing or rare plants, even if they have little business value. This is a single plant of Brighamia insignis, commonly known as Ōlulu or Alula in Hawaiian. It is a species from Hawaii that is now extinct in the wild. Very cool to see one. Yeah, we got our plant "fix", now back to work.
This summer Roger's Gardens will be introducing Dwarf Plumerias. Here they are in all their winter dormancy. But wait until summer and they will be incredible, with flowers aplenty. Imagine a compact, bushy plumeria that can live in a pot or in the ground and even after 10 years is only three or four feet. Perfect for smaller gardens, patios and balconies. Yes, these are very fragrant and yes, they will be at Roger's Gardens this summer, but don't tell anyone. We will sell out quickly.
With John, the dwarf plumeria grower, who patiently tends to his crop of dwarf Plumeria.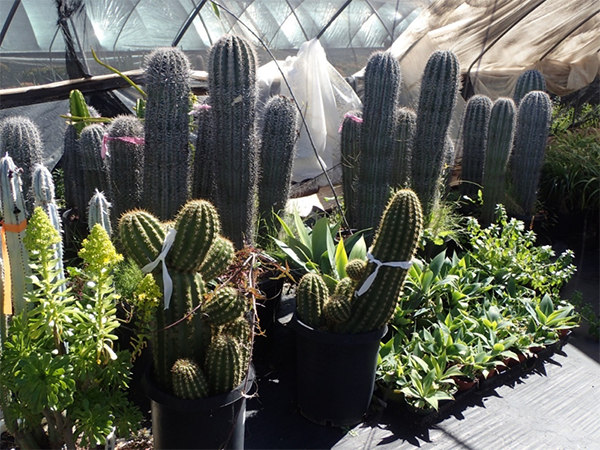 A quick stop at our secret cactus and succulent grower. This company absolutely grows the best large, landscape size succulents in Southern California. Acres and acres of large succulents.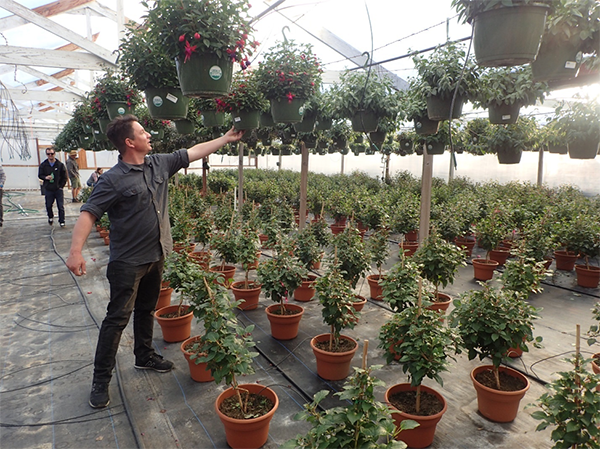 Our last stop was to the grower of our fuchsias, among other plants. Finding a good fuchsia grower today is difficult. Most of the growers just don't do a very good job any longer. But there is one quality grower left and this is them. We contract all of our fuchsias with this grower – why settle for second best?
Those are our Roger's Gardens fuchsia baskets hanging from the wires. 150 of them, all coming to Roger's Gardens over the next couple of months.
They're still a bit young, but in a few weeks these fuchsias will be bursting with flowers and quite a bit larger.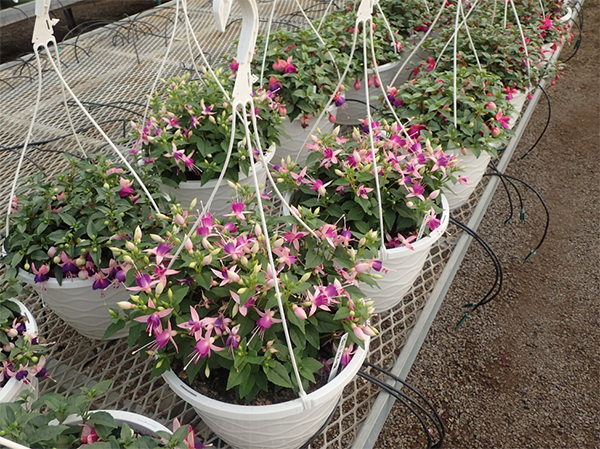 We are thinking about buying a big batch of these new fuchsia varieties as well. They are a very compact grower, but especially floriferous and well branched. Not sure – what do you think? Let us know in the "Comments".
These are very compact varieties with a very heavy production of flowers. Because they are compact and slower growers than the bigger traditional plants they will not be as large when you see them in the nursery. Here's the dilemma: often customers want a large, but slow growing plant, so that they can keep it in its pot longer and not have to worry about it overgrowing its space, do a lot of pruning, etc.
Problem is, that to get a slow grower plant to a large size can take two or three times as log as it take for its fast growing brother or sister. Will customers pay twice as much, for what is often a smaller plant – often not. A real challenge in plant retailing.
Now, Tell us What You Think about a few of these Plants
Our Buyers are Listening.
We want your feedback. As part of this "day of plant buying" with Roger's Gardens you get to play tell us what we should do. This is real, our plant buyers will be paying attention to what you tell us here.
Take a look at the photos and plants below, which are all numbered, and tell us which you like and don't like. As a professional plant buyers, what we really mean is – tell us what you think will sell and what will not.
Be thoughtful though, this is real feedback, that our buyers and managers are going to use in their plant decision making. We may be setting contracts and making plans, based upon your feedback.
Give your feedback to us by making a Comment at the end of this article. Be sure to tell us what the plant number is you are commenting on. Be careful too, others will see your comments as well.
Here goes . . .
#1 (yellow) and #2 (pink). Two new African Daisies, a chiffon yellow and a pale lavender pink.. In a one gallon pot they would sell for about $12-13. Yes or no?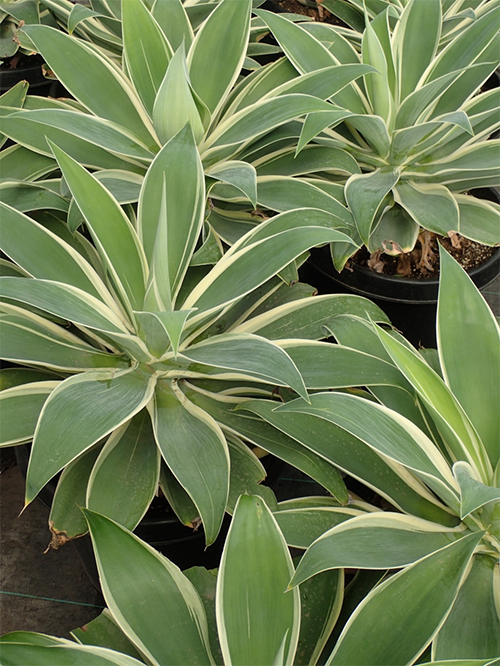 #3. A nice variegated new Agave attenuata.This is an easy outdoor succulent in the landscape or a large container. Ten gallon plants like this would probably price out at about $100. Yeah or nay?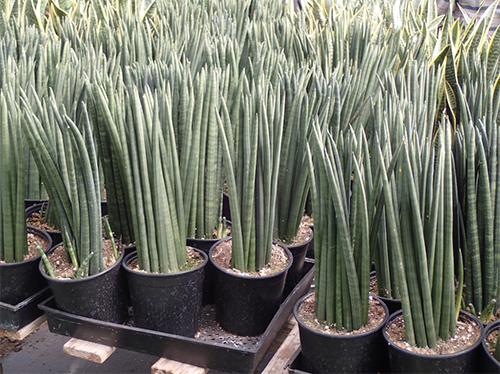 #4. Sanseverias or snake plants now come in a myriad of forms and colors and habits. They are about the easiest of all plants to grow, but quite slow growing, so a little pricey. Would something like this sell? Probably about $60-90.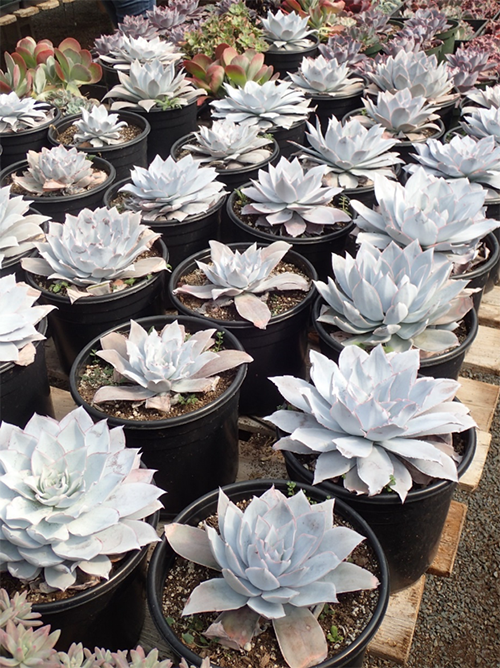 #5. A succulent, named Echeveria cante isn't the easiest to grow, but the powdery, ghostly color of the foliage is incredible and fashion forward people scoop these up. These would be pricey, at about $50 each. What do you think?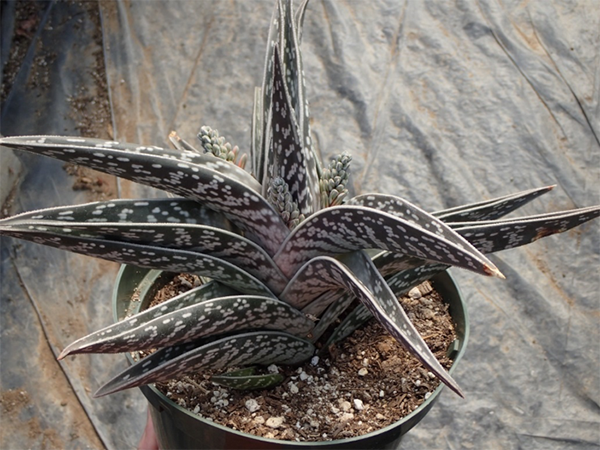 #6. This plant, called Aloe variegata, is another of the many architectural Agaves that can look especially nice in a clean, contemporary pot. A plant like this is only about $15.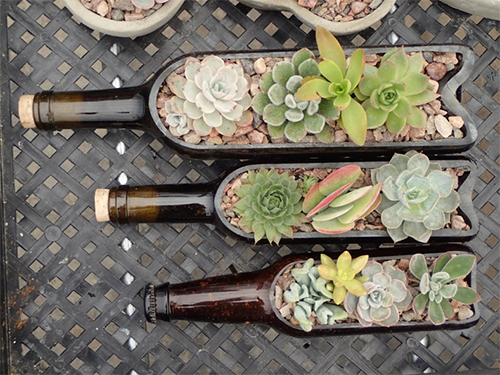 #7. How about wine bottle succulents? Cool and trendy or just a silly novelty with no sales appeal?
#8. Here's a completely crazy idea, or not. This is a big gorgeous tomato plant in a big tub, suitable for staying in this pot for then entire season. More important is that this is the end of February. If Roger's Gardens had a crop of these, just like this, loaded with flowers and about ready to begin fruiting on March 1st would it sell. It would give the owner probably a two month jump on the season. They won't be cheap though; probably in the $49.99 range. And these would be compact "determinate" varieties that won't overgrow the containers. We're thinking hard about this one. Should we do it?
Thanks for coming along on our plant buying trip and perhaps for giving us some feedback. If you liked this article also let us know, so we can do more.
Lastly, would a few of our most dedicated, over-the-top plant customers ever be interested in joining us on one of these plant buying trips? You would be in the van with the rest of the Roger's Gardens buyers and involved in the conversations and buying decisions. We've never done anything like that before, but what do you think?
Best wishes and great gardening,
Isaac, Kathleen, Matt, Rex and Ron