by Kathleen Nestell, Original Designs Living Arrangements Designer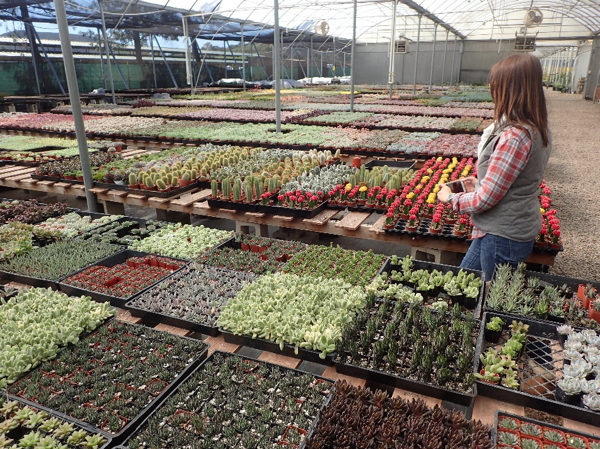 If a picture is worth a thousand words, I could write several books based on the inspiration I received from the photographs I snapped while on one of our most recent day trips to a very popular nursery growers region in Southern California. Our general manager had a vision for the plant buyers at Roger's Gardens, not only did we have another great team building moment, but we were reminded just how much hard work and dedication goes in to every plant our growers produce. We got a chance to talk with our growers to see how we could mutually benefit each other with some creative and innovative thinking.
As the buyer for our production team and the Horticulturist & Original Designs Designer at Roger's Gardens, I want to paint a picture for you of how touring operations and how building relationships with these dedicated craftsmen can translate into the distinctive living arrangements we are proud to display on the grounds of one of the most award-winning garden centers in the country.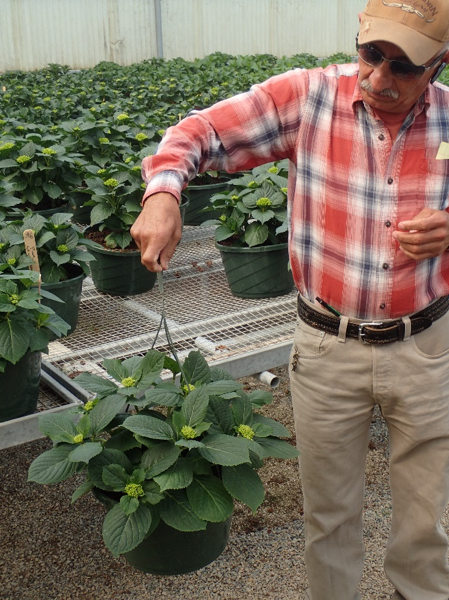 Southern California might as well be the center of the universe, as far as plant growers are concerned. Growing in USDA hardiness zone 10, within close proximity of the coast, there isn't much that can't be grown here. In and around the San Diego area we visited a handful of our favorite growers. Some of these growers specialize in a few niches, while for others their niche is a large diversity of products. We even found some new small operations! Sometimes it is the lesser known operations that are eager for growth that turn out to be biggest net gain from a trip like this. As a plant junkie and an artist whose canvases are empty planters, living, working and designing with plants in southern California so close to the source is a treat to say the least!
I was brimming with questions and curiosities as we strolled through miles of greenhouses. As far as the eye could see, there were rows and rows full of the types of plants I often used in my designs. There where annual and perennial bedding plants, indoor foliage plants, orchids, cacti and succulents, palm trees and more. As a designer, I knew many of my questions would focus on how I could have more control over the ingredients that would go in to my designs. As follows, these were my most pressing questions.
While there are basic and familiar ingredients that have always worked well in a plant design and will always deserve their place in a design, I challenge myself to keep a watchful eye on some characteristics of plants that could make these classic plant design ingredients seem new again. For instance, think of a geranium, it is one of those classic elements that will always deserve a place in living arrangements. There was a time when a geranium was, well, just a geranium. Probably plain green leaves in an upright growing habit, consistent size and shape expectations with limited bloom colors. Spending some time with some of our growers, who focus not just on growing but on breeding, helped me understand how I now have stronger, more robust and colorful varieties of geraniums in sizes from dwarf to giant and everything in between, upright or cascading and on and on to design with. Being in-the-know when new varieties will hit the market will help me stay on the cutting edge bringing the newest and best of the plant breeds into my designs.
I am loving the shades of purple in this senecio 'string of bananas!'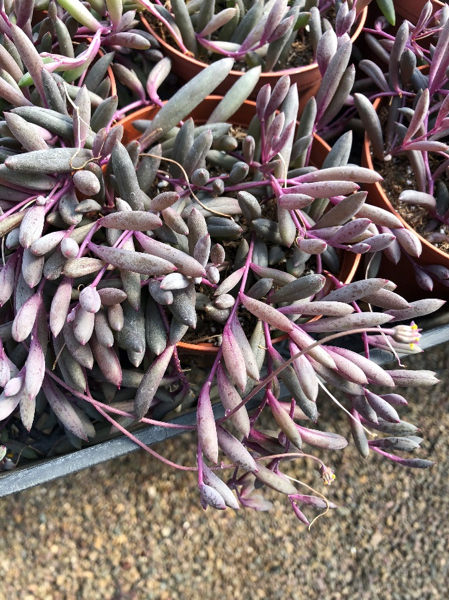 "Does that come in any other size"
There are several reasons why I might ask a grower if they can deviate from the way they normally produce and sell something. If a grower usually grows citrus trees in 5-gallon sized containers or larger, I might have a need for a smaller version of that tree that works well as a small patio tree. I might be able to get the grower to grow that tree just for me in a 2-gallon container. Or, I have a short squat planter that I just love and it needs a patio olive tree shaped in a pompom. Usually the grower only offers this tree in a three-foot-tall specimen but because my pot is so short, I think a 2-foot-tall specimen would work better from a design perspective. After the grower fulfills my request and I plant up my special-order olives and the design is just perfect, I am grateful that I have such a collaborative relationship with my grower.
I found some great patio pepper trees that are just the right size just the way they are.
I didn't know about this compact Plumeria. The size is perfect for a smaller planter presentation. And if I can get just the right color, even better!
Much of what I design is built into programs that are seasonal. If I am working on some concepts for spring but it is still fall the year before when I am in the planning stages, I have the opportunity to reach out to my growers who specialize in custom orders to get plants in a specific stage of development at very specific times. Let's say I want to have a compact cherry tomato plant that is mature and producing fruit when it arrives from the grower so I can work it in to an edible patio planter. With a little planning I can get just what I want for my unique design that might not otherwise be available.
I found this spectacular strain of cyclamen. What I want to order the color and quantity that I want in advance to be sure I have enough for that seasons program but I also want to pay attention to the timing of the buds. I want the plants to arrive for my design when they are in bud and just cracking open and showing some color.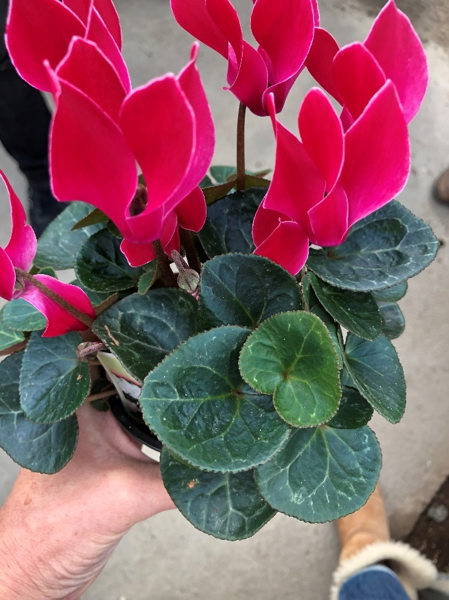 "Let me see what I can do"
Sometimes I come across something that isn't on the "availability" list. Availability lists are what growers use to communicate with buyers what is available at any given time. If I come across a plant that I'd like to work into a design but isn't something I've seen on the availability list, my relationship with these growers becomes invaluable at this point. With a little planning and thinking ahead, I might gain access to a plant that is grown just for me.
I have been watching for some unique Dischidia. I found this one but I'm hoping I can get "million hearts" grown for us.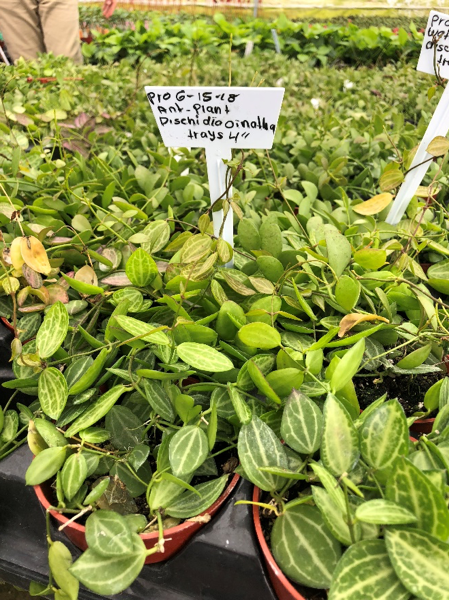 For all the reasons I stated and more, it pays to take the time to go on a road trip through some beautiful Southern California country to understand how the relationships we cultivate with our own team and our growers can be molded and shaped into the beautifully and carefully created designs at Roger's Gardens.