Ask anyone who regularly shops for plants and I can guarantee they are familiar with the Monrovia Green Pot. This branding has helped separate them from the rest of growers. However, after touring their 600+ acre nursery in Visalia, California, their branded green pot is not the only thing that makes Monrovia Nursery the premier retail grower.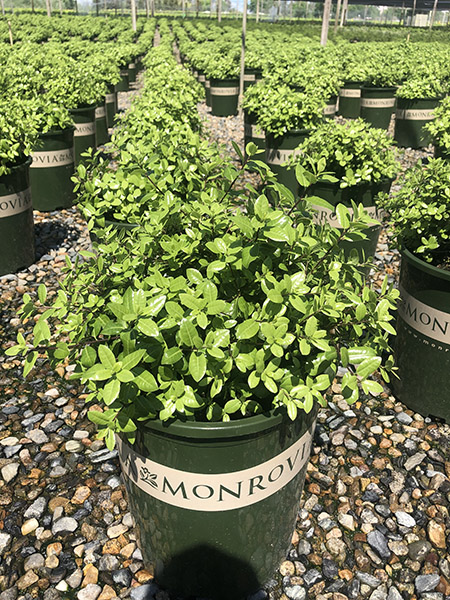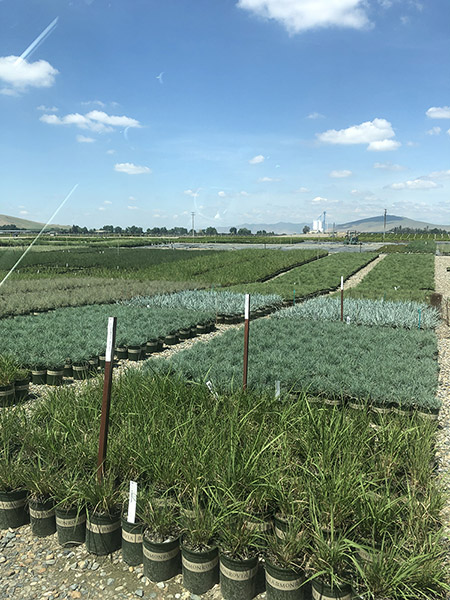 Pulling in I could tell this place was special. There were no weeds, trash, and very minimal dust. Most people do not realize how detrimental dust can be to plant crops. Instead, nothing but long clean rows of high-quality plant material, exactly what a Roger's Gardens Plant Nursery customer expects.
My sales rep, Brad, and I stopped by the office to meet the rest of their team. Both national and regional sales managers are part of the group among many others. It's nice to put faces with names you only really communicate with through phone or email. Even like our locals, everyone in Visalia wants to know what's new at Roger's Gardens! After lunch and a few quick stories and updates, it's time to get business.
The main priority for the trip is to secure product for 2020 and even 2021. These plants might currently be in liners (2" pots) but in 8-18 months they will be retail quality and ready to ship. Some traditional top sellers and some new varieties make my list. Their new "Newport" Hydrangea is a must for Roger's Gardens.
Moving on from the hydrangea area I have another item I need to see. In the last few years our landscape department has grown fond of a variety of Podocarpus called "ICEE BLUE." This tree is the first podocarpus tree with distinctive blue foliage. New growth emerges lime-gray-blue then matures to a cool gray-blue-green. It makes an exceptional specimen, lawn or screen tree. Booking these before they sell out gives our landscape team the ability to quote and bid potential jobs knowing they have the product they need. It's really an awesome sight to see a crop of 500 of these trees all retail quality.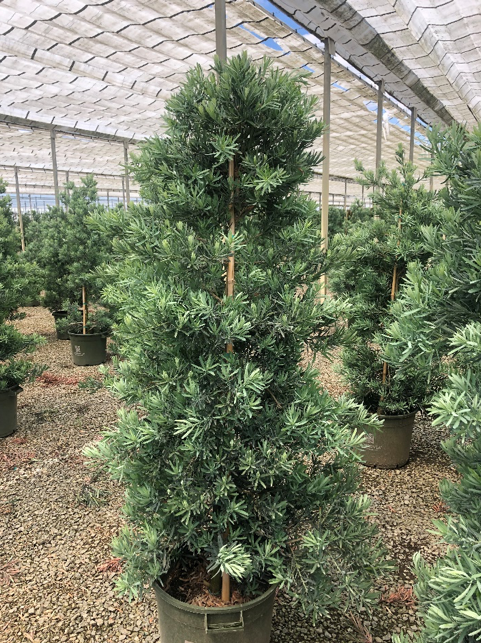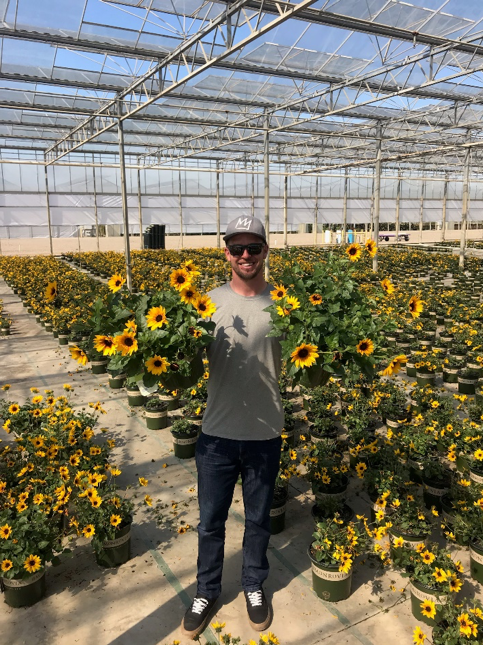 This year we took a bet on the re-blooming Sunflower from Monrovia called the Brown Eyed Girl. We have had some good success with our first few batches, but we need a steady supply of these all the way through Halloween. Brad explained they were doing some test crops outside the greenhouse to see if they hardened off a little bit as the weather gets hotter. Roughly half of their crop is now outside, and the blooms are really starting to show!
Monrovia does a lot of plants better than most, but where I think they really stand out is their patio tree and topiaries. Everything from a grated bougainvillea patio tree to a two ball olea ball topiary is top quality. These topiaries are the perfect icing for a landscaped yard with a barren porch or back patio. Booking some different varieties of these is essential to the creating the look Roger's Gardens customers want. On a personal note, I purchased a gardenia veitchii patio tree from Monrovia about three years ago for my mom on Mother's Day. I planted it in a large wooden round box on her porch that does not get much direct sun. This tree is now huge and blooms every spring. The fragrance is so pleasant and inviting. Every time I go to her house, I have to do a little shape trimming, but overall the plant is so healthy. Monrovia plants are so well grown, grafted, and maintained that when they finally make it to our outdoor plant nursery for retail purchase they are fully rooted and well established.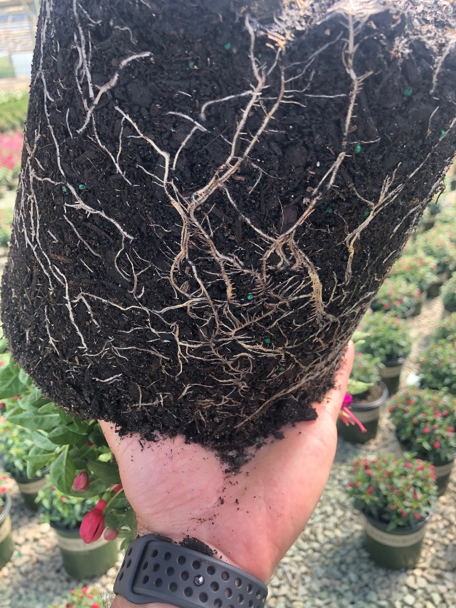 As we get deeper into the nursery, I see tractors and carts of all shapes and sizes navigating through this organized maze of plants. It seems slightly chaotic to an untrained eye, but everyone here is functioning at a highly efficient level as thousands of orders slowly start assembling on a sophisticated, well planned loading dock. Plants are dropped off, labels are applied, and the order gets loaded for delivery. This is the hard evidence that plants do not just magically show up at the nursery. The amount of coordination it takes from a grower is truly remarkable.
Overall the trip was a successful one. I got to lay eyes on some of next year's product and see the operation from the inside. Keep your eyes out for the new "Newport" hydrangea that should be hitting Roger's sales floor soon! Stay tuned for another blog when we take our Oregon Monrovia trip later this summer!