To the finalists of the 2018 California Friendly® Garden Contest
Please take a moment to scroll through the following images of great California Friendly gardens.
These gardens are not only beautiful, but often contains a multitude of nearly invisible features that attract birds and butterflies, support pollinators, reduce water runoff and green waste, avoid groundwater and stormwater pollution and so much more.
If you are considering changes to your own garden we hope these great gardens, right here in Orange County, will inspire you to conserve and protect our natural resources.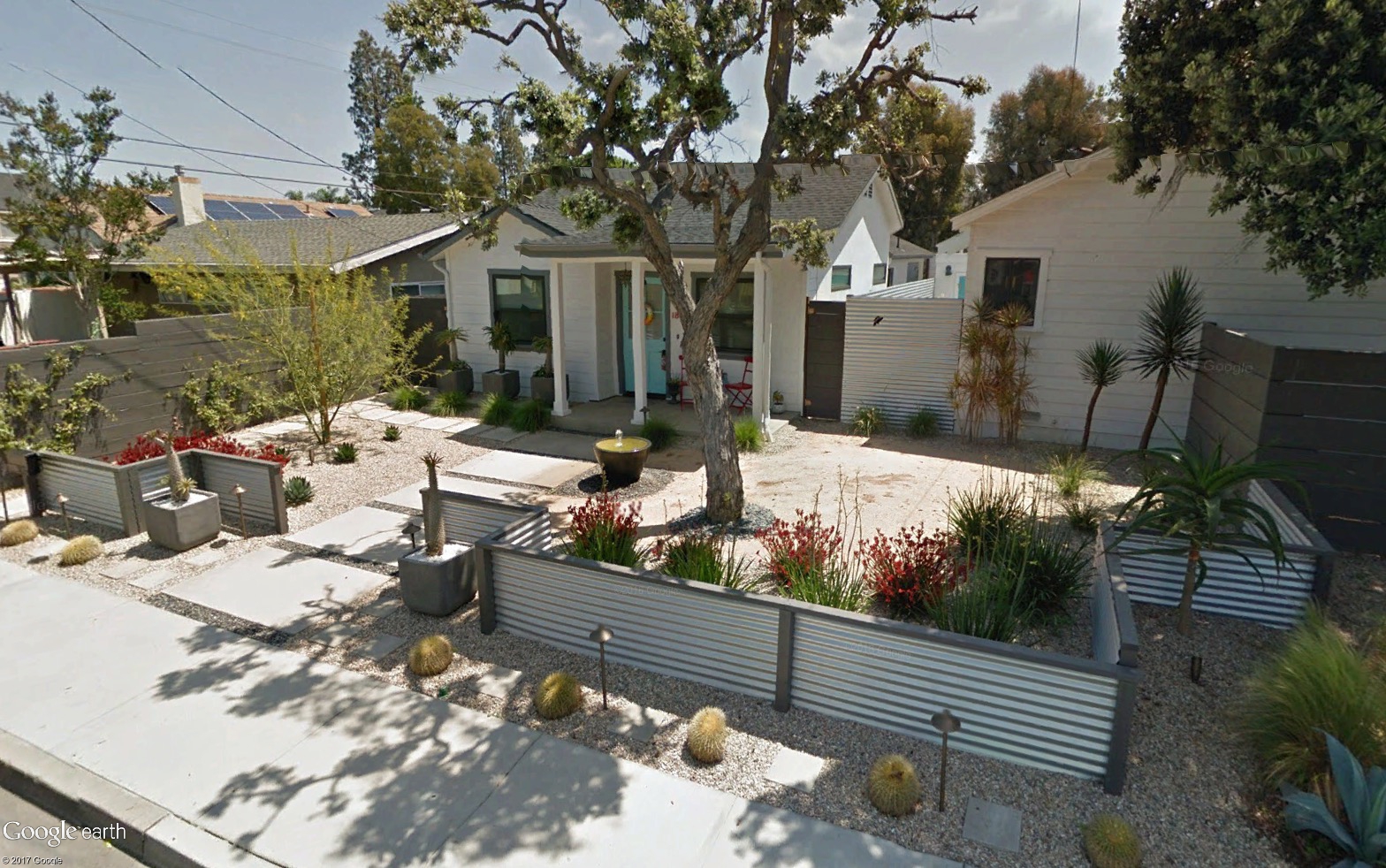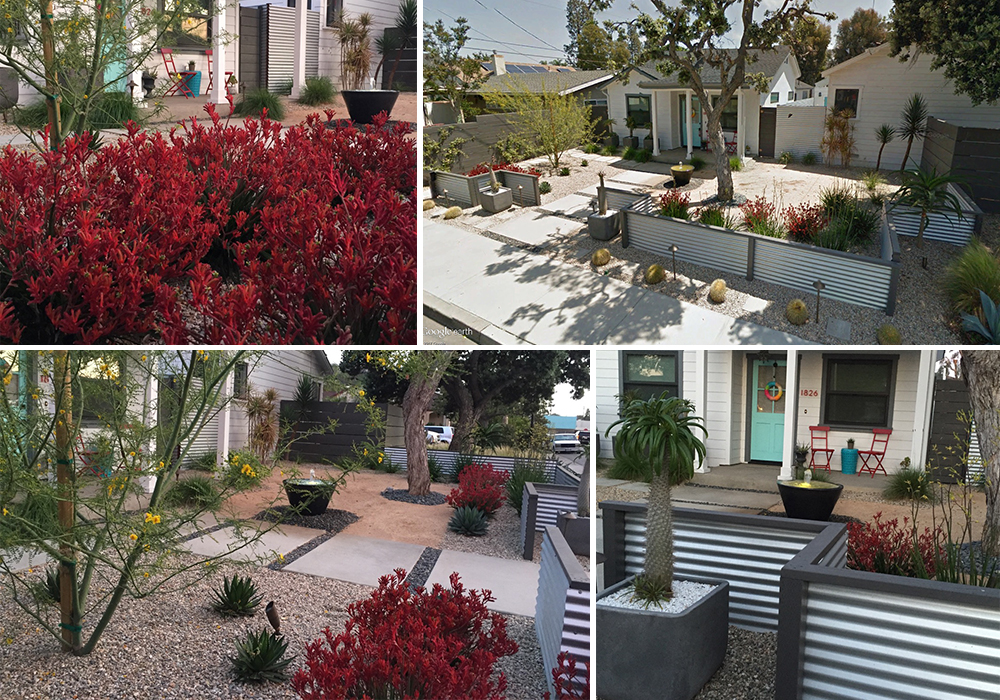 Why is your front landscape California Friendly?:
We pride our design process to be sustainable, by extracting turf and replacing with highly functioning drought tolerant alternatives. Creating usable courtyards and informal spaces with pea gravel, decomposed granite, low water plantings and low maintenance finishes. We try to use pre manufactured products in the field which also reduces construction time in field and minimizes waste.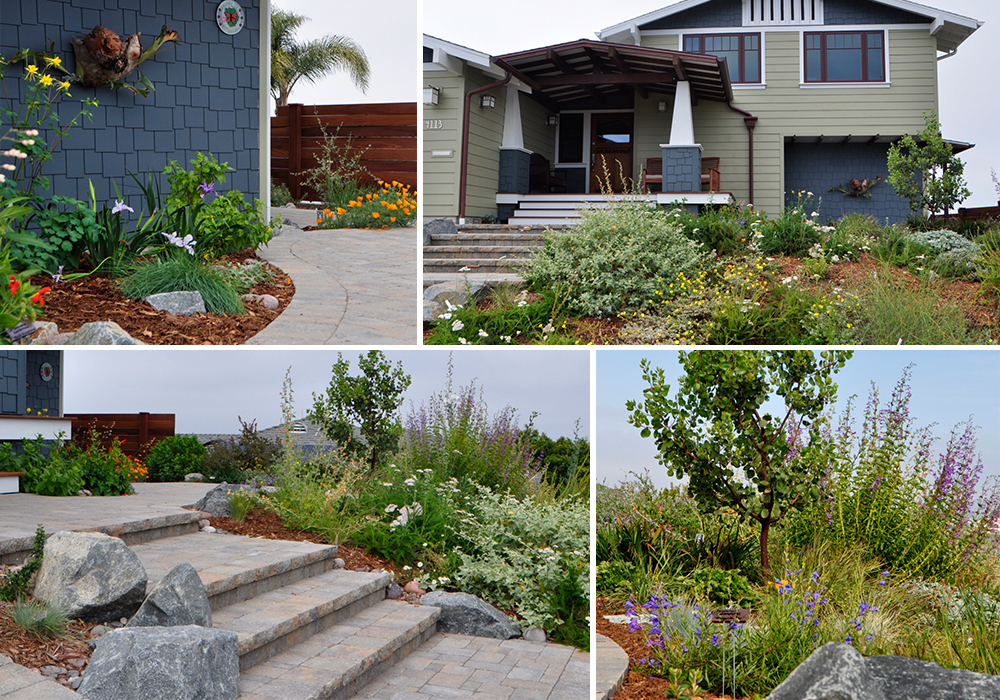 Why is your front landscape California Friendly?:
Our home, located near the top of a ridge, less than a mile from the ocean is on a split-level site with a steep bank/slope in front. We enjoy the coastal influence and frequent cool ocean breezes. We removed a lawn and an ivy/juniper bank and replanted with CA natives selected for their dryness in a coastal environment that benefit pollinators and wildlife. We selected and installed the plants between July 2016 and December 2017. We incorporated a roof gutter fed dry-well with overflow in the site drainage. This temporarily captures dew and rain from the porch roof in a 2′ x 3′ reserve, deepening the water table accessible for nearby natives. It also helps to filter pollutants and reduce water entering storm drains. We irrigate by hand, every 3 or 4 weeks depending on season or rain events. The front slope is planted with erosion control natives appropriate for dry coastal environments and is mulched. The upper patio near the porch and house includes native dry/semi-dry part-shade woodland plantings; the patio perimeter is anchored by two Manzanita trees and perennials that give structure and pollinator benefit to the patio area.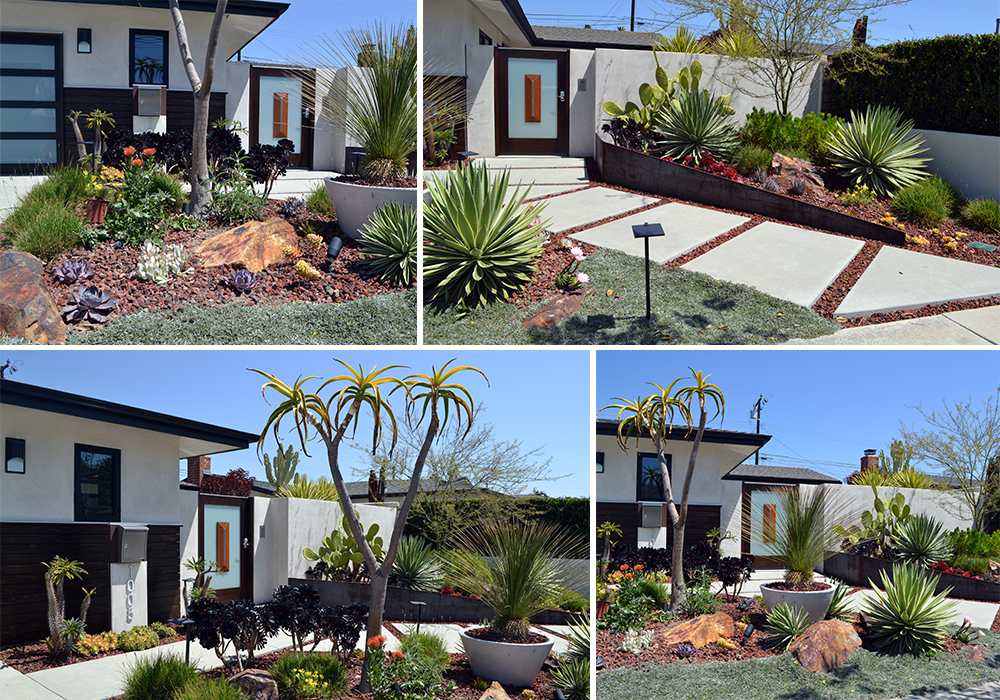 Why is your front landscape California Friendly?:
Our landscape is low water, low waste, low maintenance and friendly to local wildlife. The irrigation is a highly efficient drip system which only runs in the warm months. The run-off from our property flows through a drain which deposits it's water in the rock area for ground absorption. This thick layer of rock mulch also eliminates evaporation and protects the soil. We don't have to replenish it often and can use that time enjoying the plants, butterflies and birds that come to visit.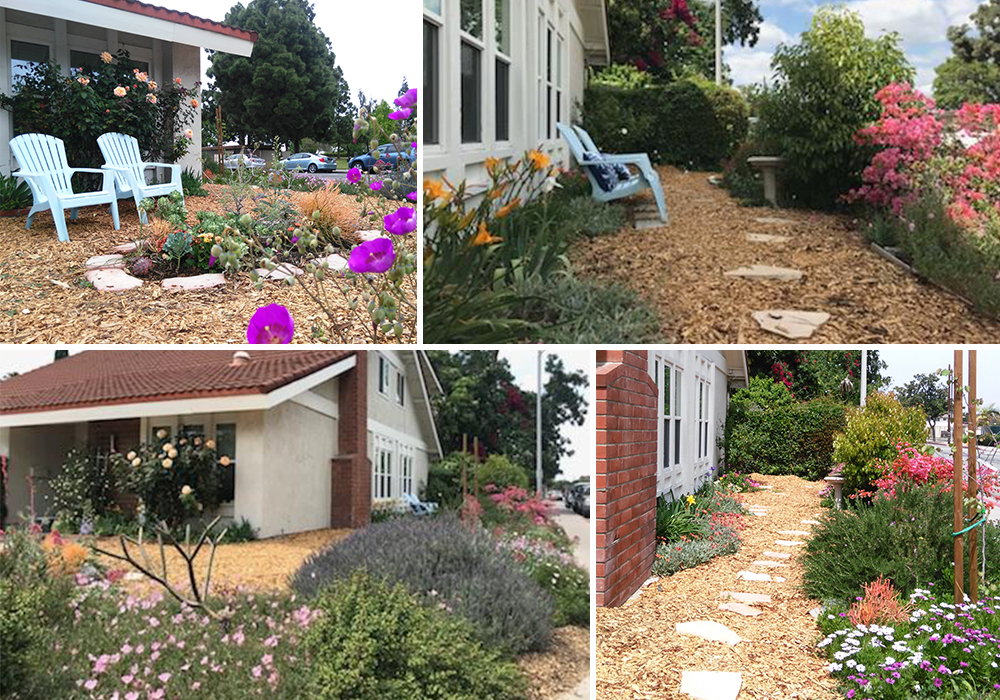 Why is your front landscape California Friendly?:
The lawn was replaced with drought resistant plants. It greatly reduces irrigation need and provides year round interest and color. Most of plants are perennials or annuals that self seed. New trees have been added recently to add shade and beauty.
Why is your front landscape California Friendly?:
Use of drought tolerant plants, wood chips, flagstone, rocks & boulders.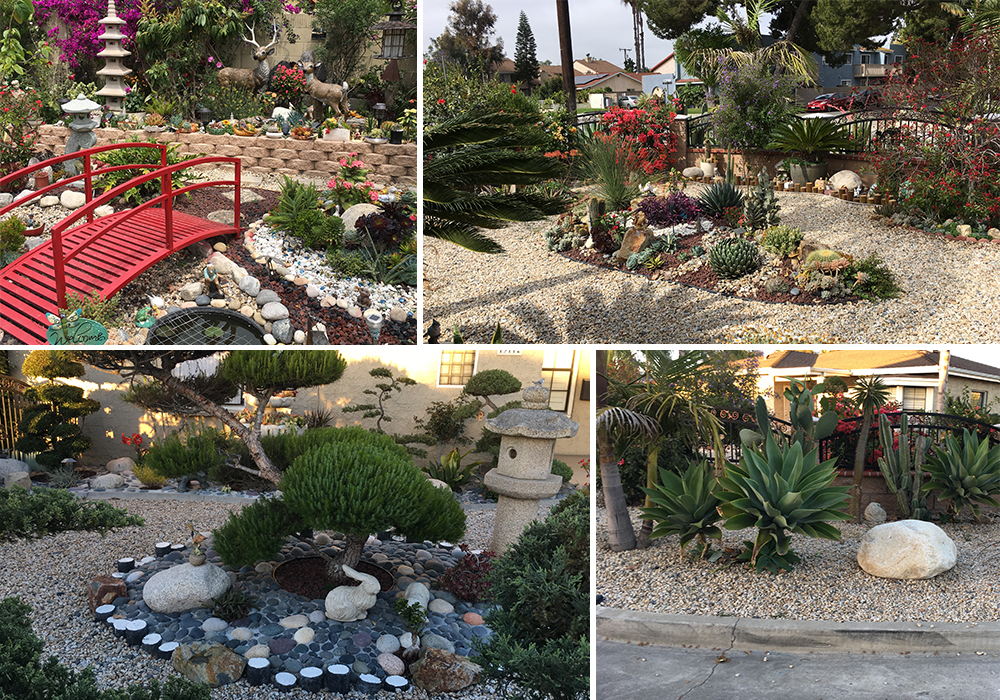 Why is your front landscape California Friendly?:
Our front landscape is California Friendly since we plant many water-wise plants, such as cacti, succulents, and junipers. We have a gravel base that compliments many different cultures and styles, such as a Japanese garden and desert garden. Many different plants are incorporated to establish a colorful garden, such as hibiscus and bougainvillea plants.
Why is your front landscape California Friendly?:
I removed all lawn and palm trees and wanted a garden to attract bees, butterflies and birds. It was important to have a perennial garden with ever changing color throughout the year. It was also extremely important to have water-wise plantings and a water system which promoted conservation. The programmable water system I used has wireless weather sensing and utilizes Toro bubblers and smart sprinklers and valves, There is no wasted run-off and I have been very happy with the results.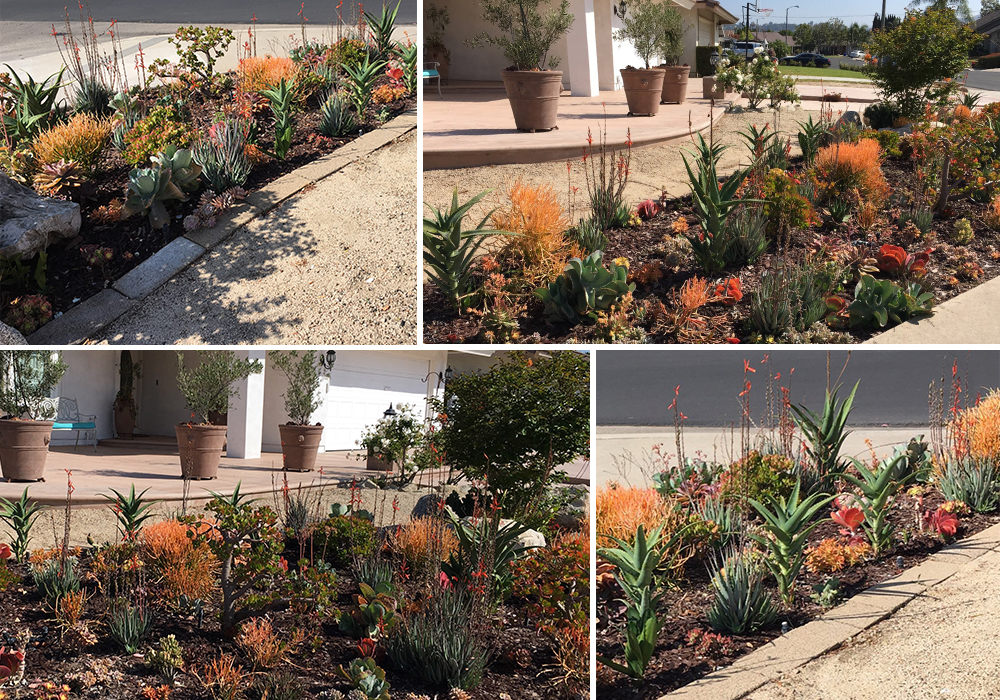 Why is your front landscape California Friendly?:
The pictures speak for themselves. Plus my water consumption has decreased by 50% since I have installed./ Remodeled it.
Why is your front landscape California Friendly?:
My front, as well as back yard incoporate plants that requires minimal watering and are native to my area. I used a drip watering system and try to purchase plants that are tough, resilient drought tolerant. The current plants yield a wide selection of flowers for a continuous bloom through the seasons. I recycle yard trimmings and kitchen plant-based scraps (organic matter) as compose for the plants. There is always a 2 inch layer of mulch on top of the soil at all times to reduce the need of concentrated fertilizer.
In terms of design, my landscapes does not have a traditional/manicured look. I permit and encourage the plants to be a little overgrown and disorderly. I definitely do not use gas-powered machinery to maintain it.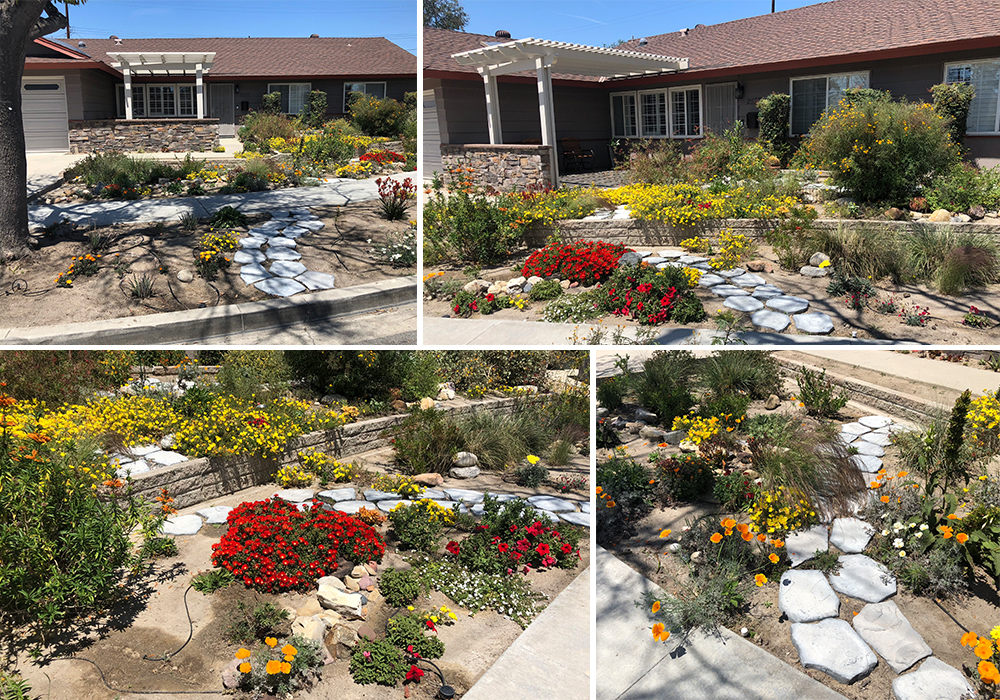 Why is your front landscape California Friendly?:
My landscape has low water requirements. There are always little visitors stopping by like hummingbirds, butterflies, bees and lady bugs. Lizards and birds eat any unwanted bugs. I do not use any pesticides or herbicides on my plants.