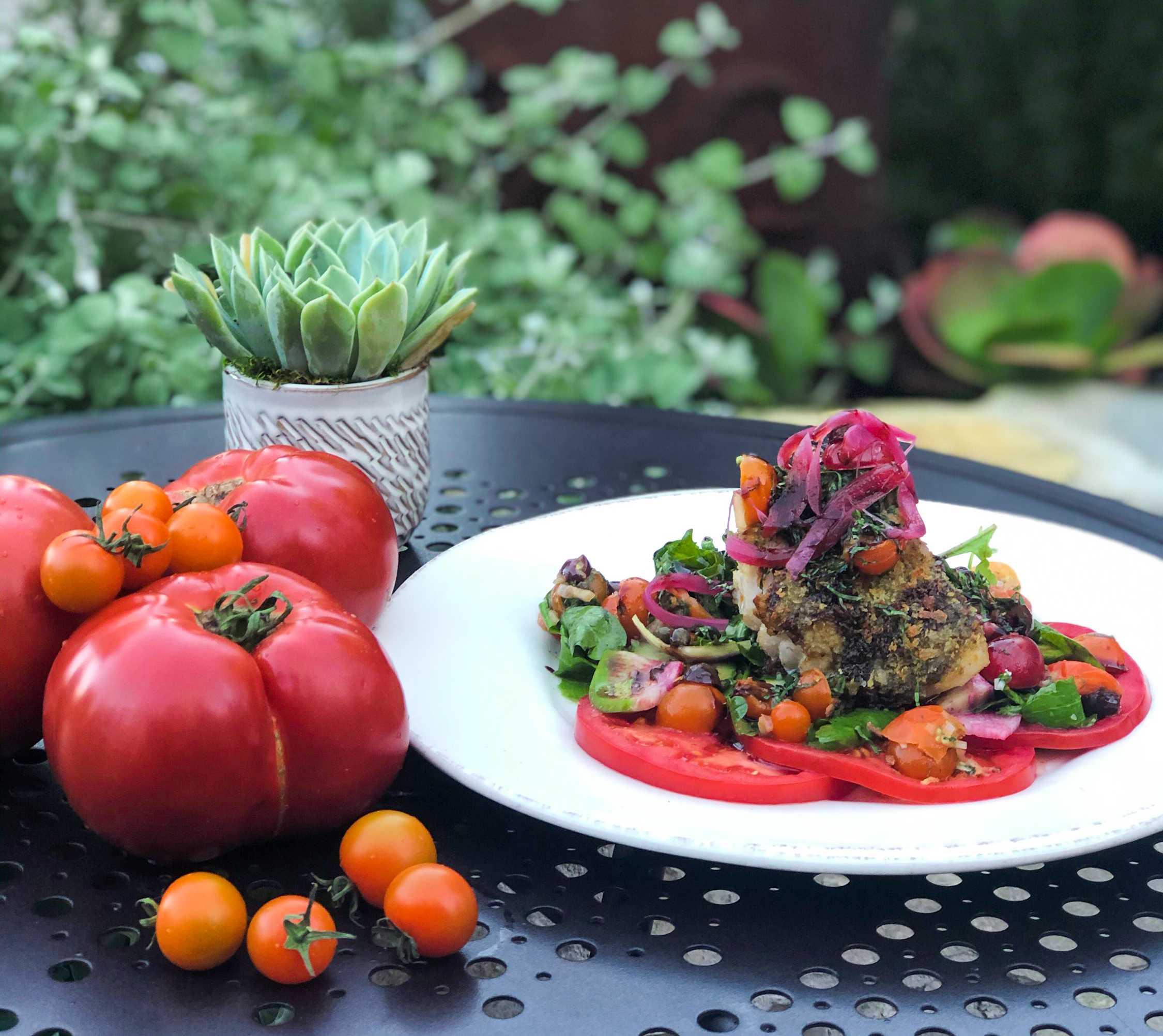 Roast Pesto and Panko Crusted Pink Grouper, Wong Farm Tomatoes and Winter Arugula
6 oz Pink Grouper filet
1 TBS Panko
Pesto sauce
3 nice slices of beef steak/shady lady tomatoes
2 cups clean arugula
1⁄4 cup sliced Persian cucumber
1⁄4 cup sliced watermelon radish
Sun Gold tomato niçoise olive relish, as desired
Pickled red onions, as desired
Lemon shallot vinaigrette, to taste
Balsamic reduction, as desired
2 leaves minced basil
3 leaves minced mint
Sun Gold Tomato Niçoise Olive Relish
1 cup split Sun Gold tomatoes
2 TBS minced niçoise olives (no seeds)
2 TBS minced shallots
2 tsp capers
2 TBS chopped Italian parsley
Salt, fresh ground pepper to taste
Mix together and set aside
Lemon Shallot Vinaigrette
1⁄2 cup fresh lemon juice
1⁄2 cup extra virgin olive oil
1⁄2 shallot minced
Mix lemon juice, extra virgin olive oil and shallots in a jar with a lid. Season with salt and fresh ground pepper. To serve, close lid, shake and drizzle onto salad and toss.
Heat 1 cup balsamic vinegar in sauce pan on low heat and allow to reduce to 1/3 cup.
Remove from heat, place in a container and allow to cool.
6 oz Pink Grouper filet
1 TBS Panko
Pesto sauce
3 nice slices of beef steak/shady lady tomatoes
2 cups clean arugula
1⁄4 cup sliced Persian cucumber
1⁄4 cup sliced watermelon radish
Sun Gold tomato niçoise olive relish, as desired
Pickled red onions, as desired
Lemon shallot vinaigrette, to taste
Balsamic reduction, as desired
2 leaves minced basil
3 leaves minced mint
In a blender, place 2 cups clean basil leaves, 3 cloves roughly chopped garlic, 1⁄2 cup parmesan cheese, 1⁄4 cup raw unsalted pine nuts. Blend until a paste and with machine running, drizzle in 1 cup extra olive oil. Season with salt and fresh ground pepper.
Season grouper filet with salt and fresh ground pepper.
Heat olive oil in pan and sear grouper.
Top with 2 TBS of pesto sauce and sprinkle with panko.
Place pan in a 325 degree oven and roast, about 8 minutes.
Place tomatoes fanned on half a plate and sprinkle with sea salt and fresh ground pepper.
Toss arugula with cucumbers, watermelon radish and lemon shallot vinaigrette to taste.
Place arugula salad on plate overlapping part of the tomatoes.
Place finished fish partially on tomatoes and arugula and spoon relish over fish and around salad.
Garnish with pickled red onions, julienned mint and basil and drizzle with balsamic reduction.