WARM & MELTY CHOCOLATE-TRUFFLE COOKIES
Makes Around 2 Dozen Cookies
Ingredients:
1/2 cup all purpose flour
1/2 cup sugar
1/4 cup unsweetened Dutch-process cocoa powder
1/2 tsp baking powder
1/4 tsp salt
2 Tbsp unsalted butter, room temp. and cut in pieces
1/3 cup (about 3 oz) chopped dark chocolate
1 large egg
1 Tbsp vanilla extract
1 cup powdered sugar
Preparation:
Preheat oven to 375° and spray 2 baking pans with a non-stick cooking spray or oil.
Combine the flour, sugar, cocoa powder, baking powder and the salt together. With your hands or a fork, rub butter into dry ingredients until mixture resembles breadcrumbs. Stir in chocolate.
Whisk together egg and vanilla. Add egg mixture to chocolate mixture; stir with a fork until mixture is slightly moistened. Form dough into a ball; wrap in plastic; refrigerate 30 minutes.
Shape dough into tablespoon size balls. Roll each in powdered sugar and coat the balls. Place on prepared pans 2″ apart.
Bake until just set but still slightly undercooked, about 10 minutes.
Let cool on sheets 5 minutes and transfer to wire racks to cool completely.
The cookies are best served warm.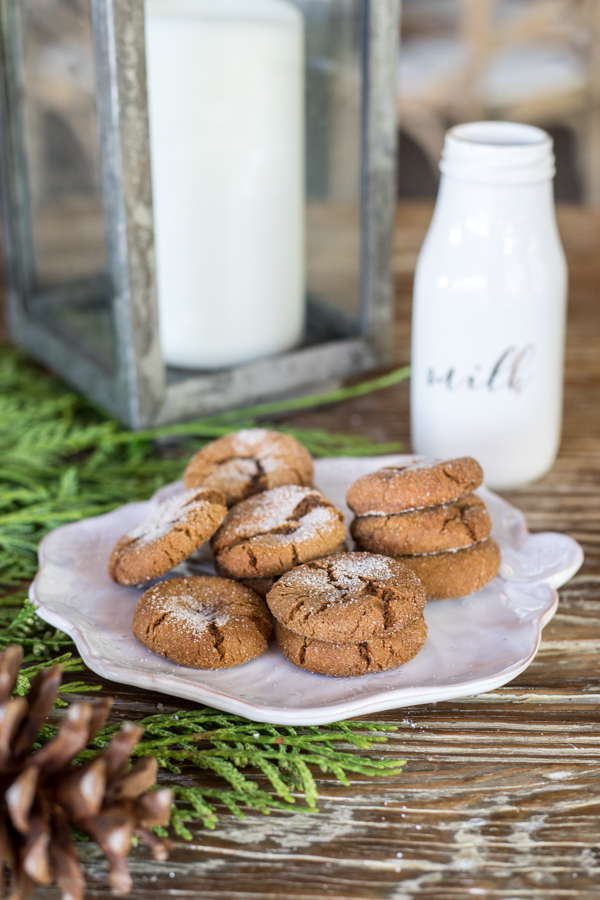 SPICY & SOFT MOLASSES COOKIES
Makes Around 2 Dozen Cookies
Ingredients:
2 cups all purpose flour
2 teaspoons baking soda
1 1/2 teaspoons ground cinnamon
1 teaspoon ground ginger
3/4 teaspoons ground cardamom
1/2 teaspoons kosher salt
1 large egg
1/2 cup (1 stick) unsalted butter, melted
1/3 cup granulated sugar
1/3 cup dark molasses
1/4 cup dark brown sugar sugar for rolling
Preparation:
Preheat oven to 375° and spray with a non-stick cooking spray or oil.
Combine flour, baking soda, cinnamon, ginger, cardamom, and salt in a small bowl.
Whisk egg, butter, granulated sugar, molasses, and brown sugar in a medium bowl.
Mix in dry ingredients and combine.
Scoop out dough by the tablespoonful and roll into balls and if the dough feels sticky go ahead and chill for20 minutes.
Place the sugar in a shallow bowl.
Roll the balls of dough in sugar and place on greased baking sheets. Spacing 2″ apart.
Bake cookies and try to turn the pans half way through cooking time.
The cookies should are ready when they look puffed, cracked, and just set around edges. If the cookies are over baked they will not be chewy.
Bake about 8–10 minutes and transfer to wire racks and let cool.

DANISH SALTED-BUTTER COOKIES
Makes Around 2 Dozen Cookies
Ingredients:
1 cup (2 sticks) chilled salted butter, cut into pieces
3/4 cup granulated sugar
1 tsp vanilla extract
2 large eggs
2 cups all-purpose flour, plus more
1 cup sugar (sanding or turbinado)
3″-diameter and a 1 1/2″-diameter fluted cookie cutter
Preparation:
Combine butter, granulated sugar and vanilla extract in a large bowl. Using an electric mixer on high speed and beat until very light and fluffy, about 5 minutes.
Beat in 1 of the eggs and reduce the mixing speed to low. Gradually mix in 2 cups of the flour. Form dough into a disk and wrap in plastic. Chill until for about 2 hours and it should be firm.
Preheat to 350°F. Let disk of dough sit at room temperature until softened. Roll out dough on a lightly floured work space, until about 3/8″ thick.
Punch out rounds with large cutter and continue to punch out centers with smaller cutter. Transfer to a parchment lined baking sheet. Make sure that the cookies are spaced 1 1/2″ apart. Pat scraps and chill again until needed.
Beat remaining egg in a small bowl with 1 tsp. water; brush cookies with egg wash; sprinkle with sugar. Chill for 15 minutes.
Bake, rotating baking sheets halfway through, until edges are golden brown, 10–15 minutes. Transfer to wire racks; let cool.
Repeat with chilled scraps and remaining egg wash and sugar.