I get to work in a richly visual world (yes, there are days when I just pinch myself!). This time of year at Roger's Gardens is especially vibrant. Our gallery is overflowing with a bounty of beautiful Christmas keepsakes. Here, we are respectful of tradition, but we also move to the beat of our own drum.
This is a place where you can expect the unexpected – where traditional plaid-covered walls are adorned with glittery animal heads, where a Harry Potteresque bookish vibe meets refined gentlemen's quarters, where traditional Christmas trees peacefully coexist with pastel-colored tinsel trees that are topped with pinatas. Dare to be different this holiday season. Every surface in your home is an opportunity to create a scape, a story. Add some design intrigue to your own home. Here are some ideas using our Christmas must-haves…
"Hail Mary, Full of Grace"
Creating a beautiful focal point in your entryway doesn't require divine intervention, but it does help to have an anchor piece to begin with. Here, the ethereal statue of the Blessed Mary takes center stage. Strike a perfect balance by mixing modern with traditional. Traditional elements like this statue look less fussy when juxtaposed with modern elements, like these sleek, glass finials. Combining both gold and silver finials brings a richness and depth to your palette. This vignette is anchored by a stately antique dresser and antique Belgian door, helping to make the modern elements look less sterile. Gold votives add a welcoming glow and snow-dusted greenery softens the overall look.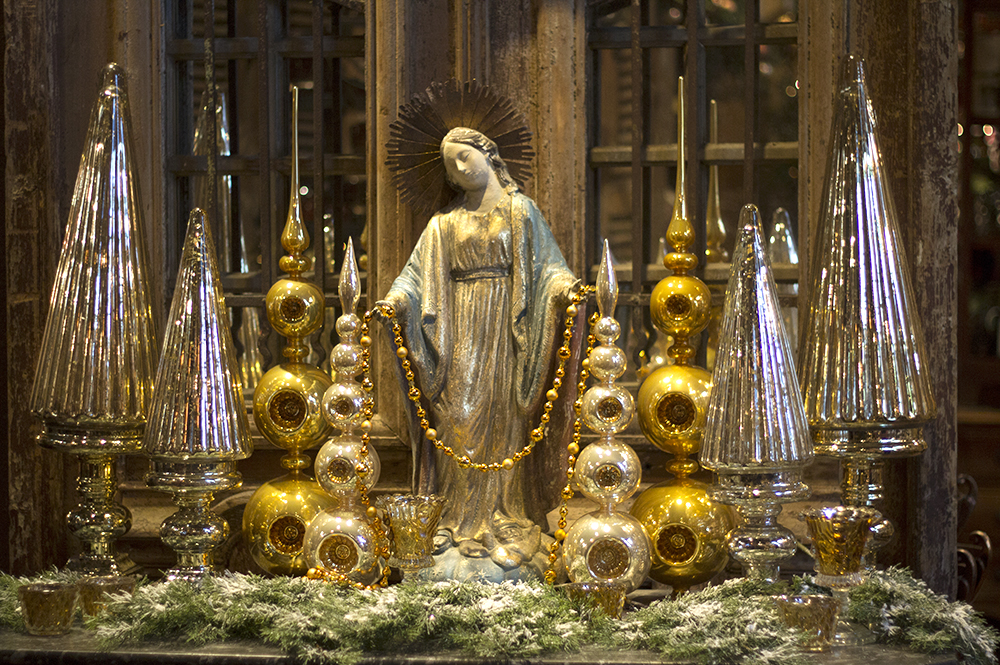 Eric Cortina Collection – "Perfectly Imperfect"

Designing a vignette does not have to involve table or mantel space. Here, our focal point is a Christmas tree, a likely suspect for the holiday season. But all predictability stops there. The ornaments on this tree were designed by our creative director, Eric Cortina, who has been designing his own line of unique hand blown glass ornaments for over a decade. His heirloom creations are handmade by expert craftsmen in Poland, and his use of multi molds produce ornaments with more realism and dimension than those found in single mold ornaments. This is by far my favorite tree in the Gallery this year…it just makes me smile! Eric Cortina designs with an impeccable eye but allows room for playfulness. His pieces are authentic and honest, resulting in unexpected combinations (ie, "Tattoo Man," meet "Geisha Girl"). Here, juxtaposed ornaments commingle to create a beautifully modern mix and a statement tree for your home, if ever there was one.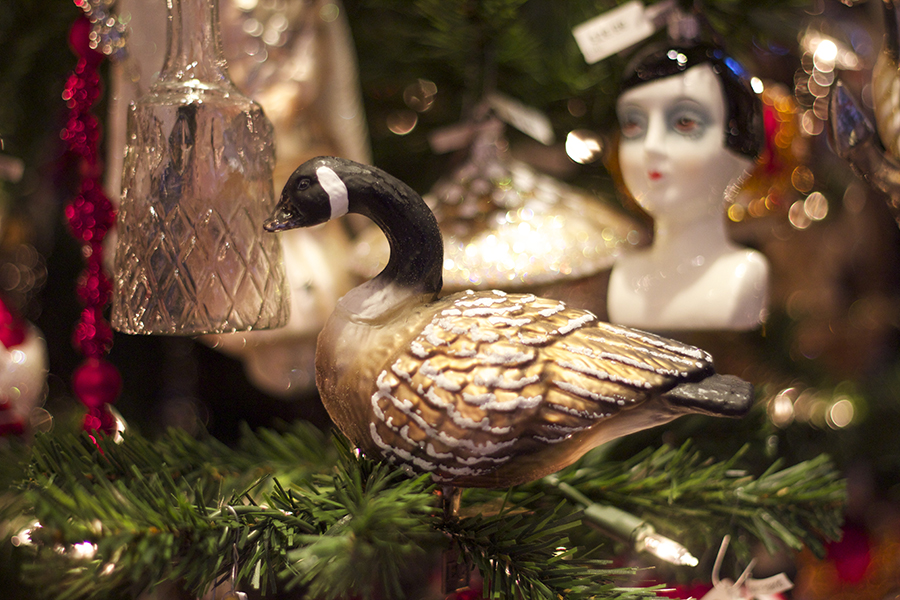 Cocktails, Anyone?
Here, we double-up on function. Re-purpose a library desk for double duty as a bar area. A bold, original art piece from our Fine Arts Gallery anchors the space. Beauty and function meet in this mercury glass table lamp, serving as an additional tabletop anchor piece. Our decorative mirrored tray instantly makes a random grouping of objects feel united. Michael Aram stainless steel nut dish and coasters help to foster that irresistible combination of earthy and refined. To finish the look, style your tray amongst other eye-catching accessories, like these sculptural candlesticks, stacked books, and one of our beautiful potted plants. The artwork's dominant color is reinforced in subtle ways in our tapered candles and terracotta pot.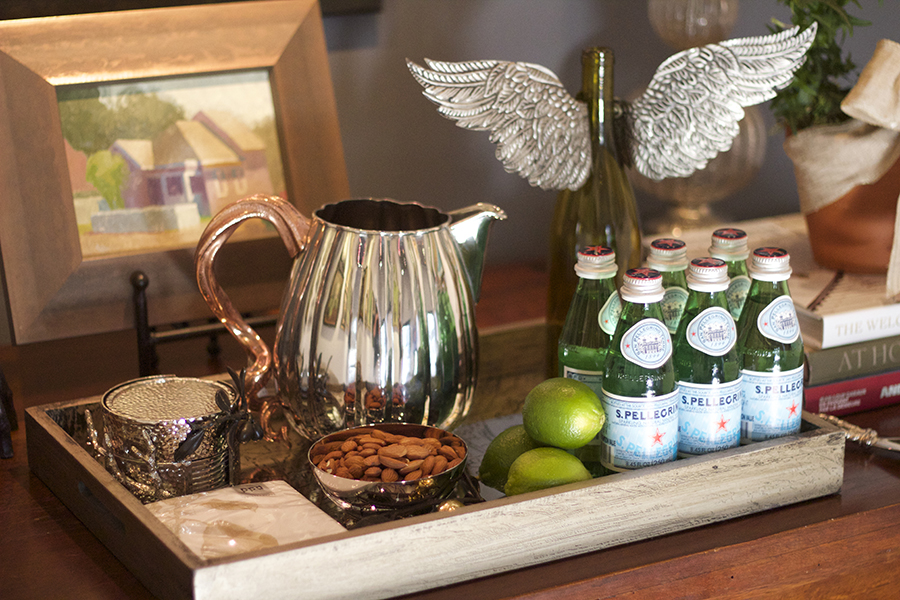 Kriss Kringle Your Christmas
For those that like to decorate in a traditional red at Christmas time, these Ino Schaller santas will do the trick. This collection is perfect grouped en masse, proving there is definitely strength in numbers. What was once an empty, neglected corner of your home is now a show-stopper in a shimmery sea of robust red santas. Here we group only our red Schaller santas together, so it's less distracting to the eye. Color blocking prevents your vignette from looking cluttered and overwhelming. Schaller santas are handmade in Germany from the same family that began the tradition four generations ago. Come in and discover all your color options and start your own collection today.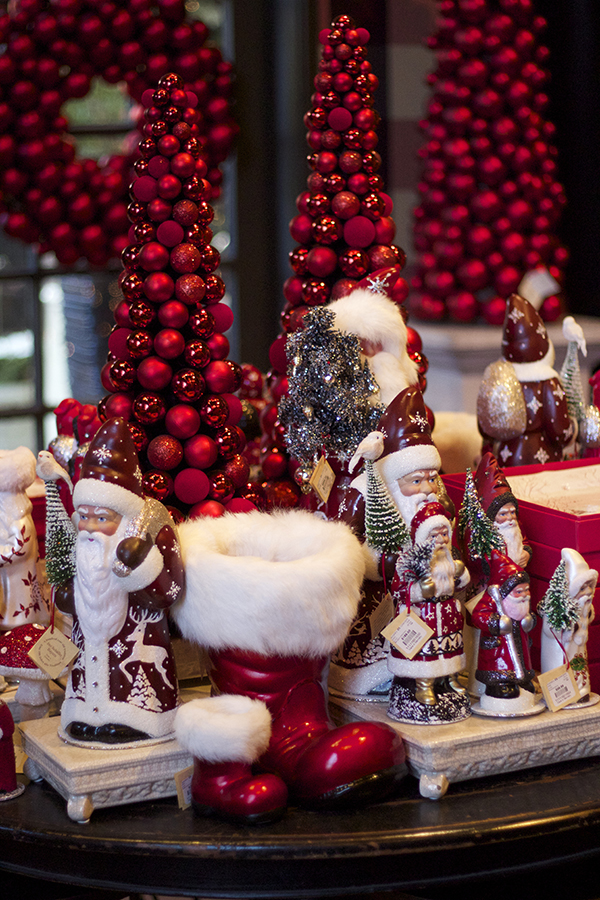 Woodn't It Be Nice
We are nuts about Ulbricht nutcrackers, and this season's selection does not disappoint. Christmas spent lakeside is still a trend for 2015 (think earth tones and a woodsy motif). If you're color-shy, or you're looking for a more masculine approach to your Christmas, this vignette is proof that earth tones can still be interesting. Wood is the dominant texture here, as seen in these dark-hued Ulbricht nutcrackers from Germany. The natural hues help draw appreciation to the attention to detail that these German artisans pour into their craft. To soften the linear aspect of the nutcrackers, consider adding a curvaceous wooden bridge in natural tones that also serves as a light source and draws the eye in deeper. Take advantage of vertical wall space by adding a beautiful wreath made by our in-house production team. The reflective glass quality helps to balance the heavy wood look surrounding it. Finish off the look with some of our rustic pinecone sprays.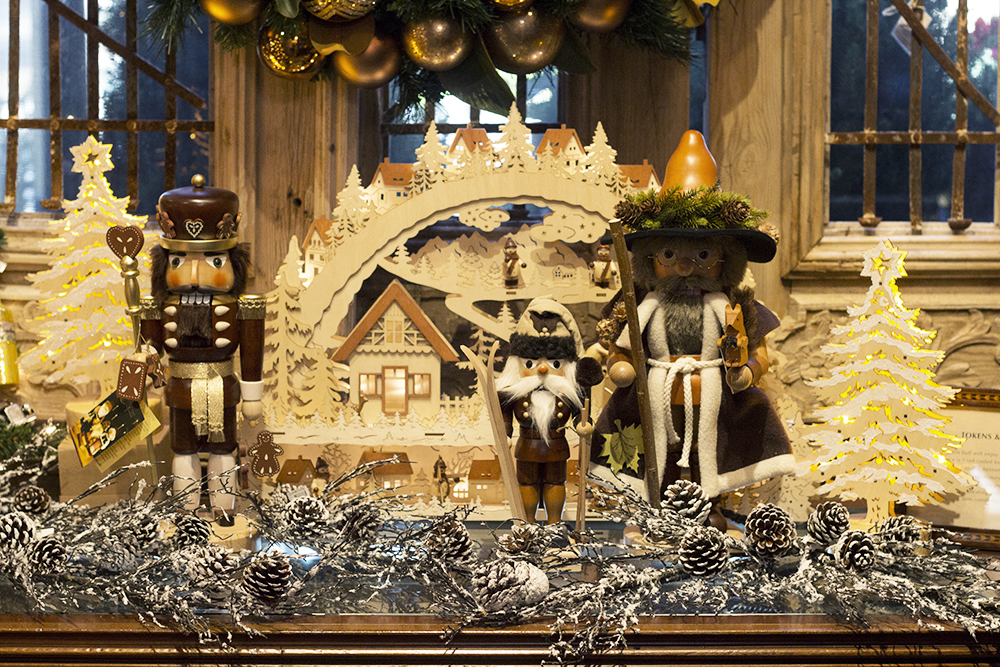 Child's Play
"Seek the wisdom of the ages, but look at the world through the eyes of a child." This Ron Wild quote comes to mind as I explore the back of our Gallery; it is fresh and alive, with a youthful spirit. Create a fun and magical environment for your children, nieces and nephews this Christmas. Designate a kids-only zone in a quiet bedroom, utilizing a bed as your vignette to stack classic games, crafts, books and retro-inspired tin toys. Looking for a cat nap? There is nothing better to curl up with than our plush Jellycat animals. Creating a fanciful vignette like this is sure to brighten anybody's mood…even adults will want to linger here!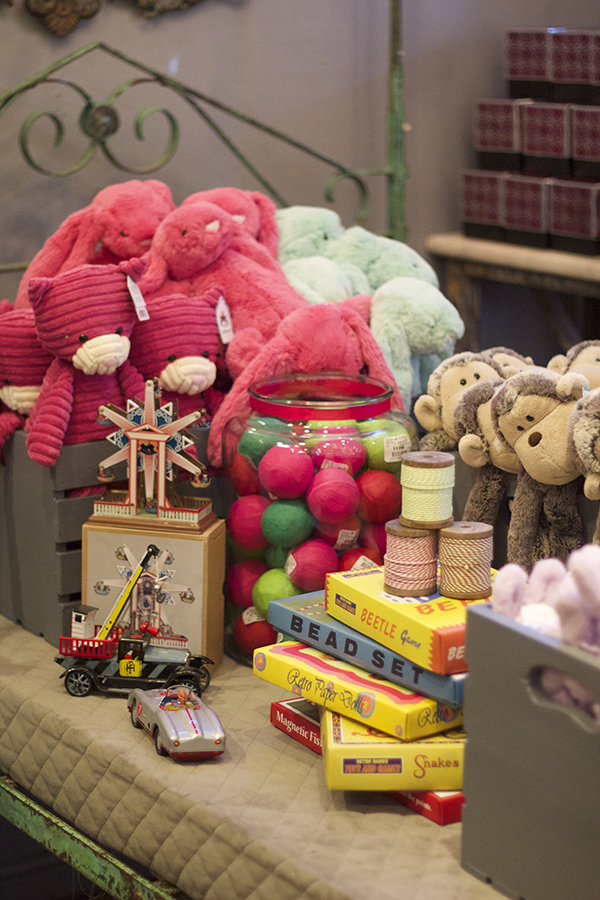 Cravings Be Gone!
Indulge your sweet tooth and that of your guests by creating a confectionary of Christmas treats. Think in terms of layers. Start with a pretty table linen, using our Gingerbread houses as a backdrop. Then group cookies and candies in baskets and taller glass vessels for varying heights, so that your vignette doesn't fall flat. Use a recipe from one of our books to make a memorable dessert for your guests. No time to make your own? Not to worry! We have that covered with signature items like our "B-Toffee," a mouth-watering temptation that is made locally.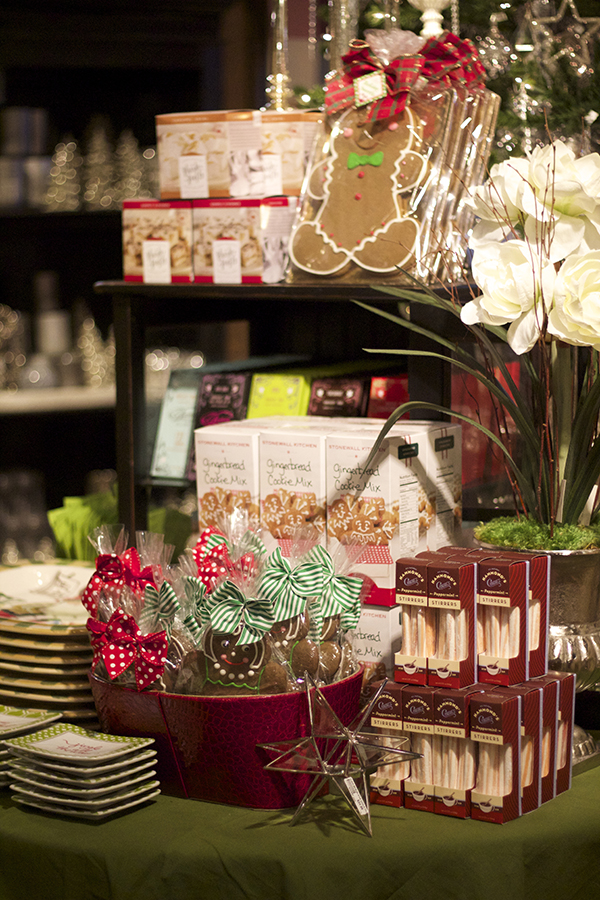 Well that about sums it up. Remember to have fun with your decorating this season, and don't be afraid to mix it up. Re-purpose the things that are important to you by trying them in a new spot in your home, experimenting with different patterns and textures. And try to introduce something new to the mix. What's your story going to be?