Holiday Entertaining Guide
Holiday gathering is so much more than the meal itself. It's how we pass on traditions from one generation to the next. It's how we nourish our souls and honor our history. Formal or casual, holiday entertaining is all about family and friendship.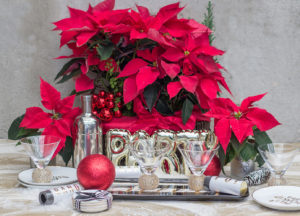 In this season of celebration, it's often the little extra touches that make your party or dinner memorable. A beautifully folded napkin, a special place card or a thoughtful party favor at each setting all indicate how much you care.
Here are a few ideas to help you set the scene, and not just the table: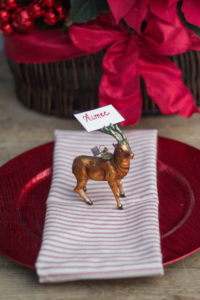 Try a little humor. This helpful reindeer holds a place card in his antlers.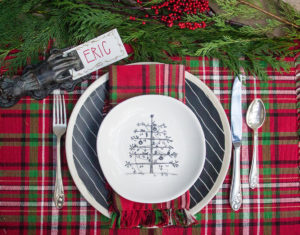 A Victorian style hand is a whimsical way to designate your guest's seat. Carry the theme with black accents and tartan for a graphic touch.
Write your guest's name on a clothes pin, and add a sprig of rosemary for a casual rustic look.
Wrap a small tree in burlap, add a name tag.  This would make an appropriate party favor for your garden club luncheon.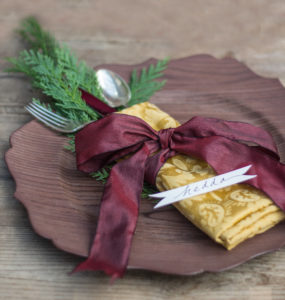 Place silverware in a napkin and tie it up with a bow. This is also perfect for a buffet setting.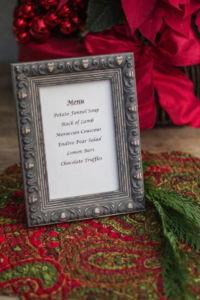 A framed menu is a lovely keepsake from a memorable dinner. Use frames that coordinate with your table setting.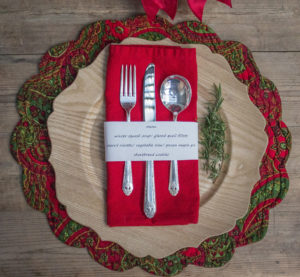 Or wrap a horizontal menu around a napkin for a modern informal vibe.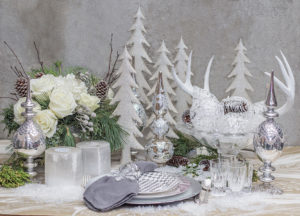 Keep your table décor in a tight theme so you have something to build on. Your theme can even carry over into your menu which adds to the fun. Look to Hollywood for inspiration. Icy accents with frosty whites and silvers all contribute to a Dr. Zhivago setting.  Pretend Lara and Yuri are invited for dinner and have plenty of caviar and vodka on hand.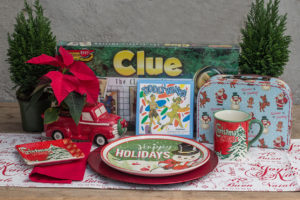 Go all out fun and channel the Brady Bunch for a retro night dinner. Break out the board games you played as a kid. Serve up meatloaf, green bean casserole and jell-o with whipped cream for dessert.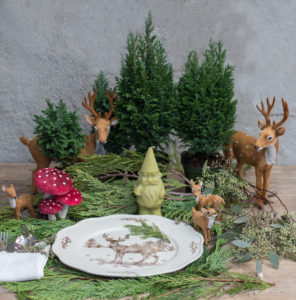 Imagine a Disney inspired table with adorable woodland creatures. Set deer plates on fresh greenery and add in small trees and forest animals for a bit of enchantment.  Serve a vegetable stew.
Opening your home to entertain is all about making others feel loved and appreciated. Find a holiday style that speaks to you and have fun decorating around that theme. Your guests will appreciate the extra care you took to make the night special. These are the memories people will keep. So ring in the season with laughter and love to celebrate this joyful Christmas holiday season.