Most people don't realize spring isn't the only season we need to think about planting. Great gardeners know that early autumn is just as important to get back into your garden as the Spring months to keep the bounties of color going all year long on your patio, plant containers and in your garden. After clearing away the excesses of summer and turning over the soil once again, you're ready to consider some vibrant additions to your fall yard scape. Here are just a few hot tips for cooler seasonal plantings.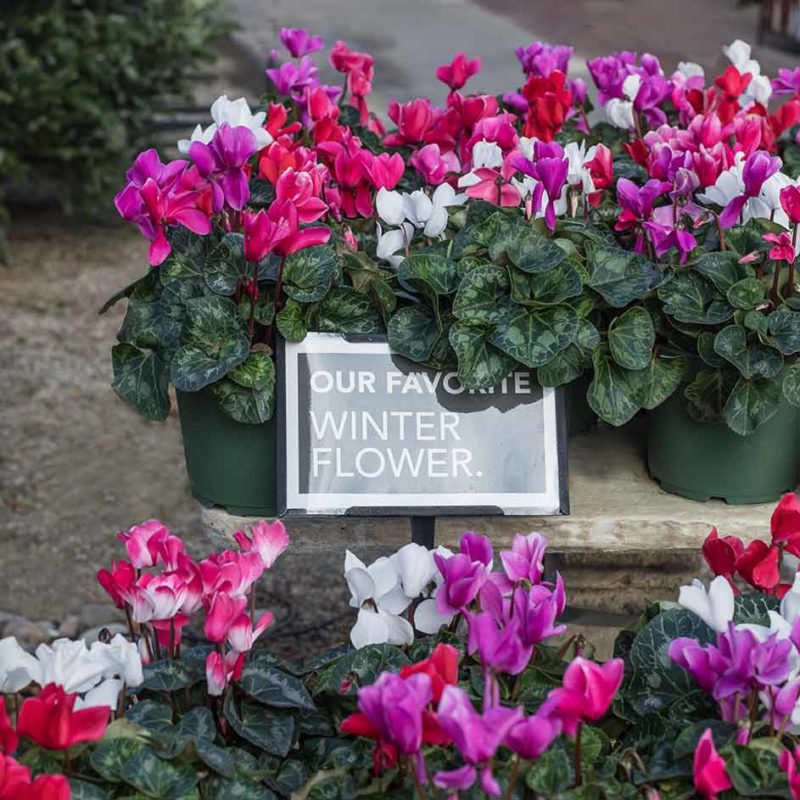 We LOVE cyclamen and judging by our customer's demand, you do too. Fall by contrast to Spring's gentle arrival is tougher, harder… wiser and demands a heartier natured plant. In comes Cyclamen to answer the call. From the Primulaceae family, the strong bright plentiful petals and often saucer-sized leaves of the upright Cyclamen make a proud statement in your flowering beds and patio pots.
The sharp colors of the humble cyclamen blast through the diming days and lower sun of the winter months and their long-lasting flowering season can take you charitably well back into very early Spring.
From the intensity of its generous Christmas reds to the purity of its snow white petals, the Cyclamen plant brightens even the darker corners of your yard and makes a showy yet welcoming holiday display at your front door.
Like an old friend, we're looking forward to their arrival. Look out for them very soon outside on the Garden Room's Patio.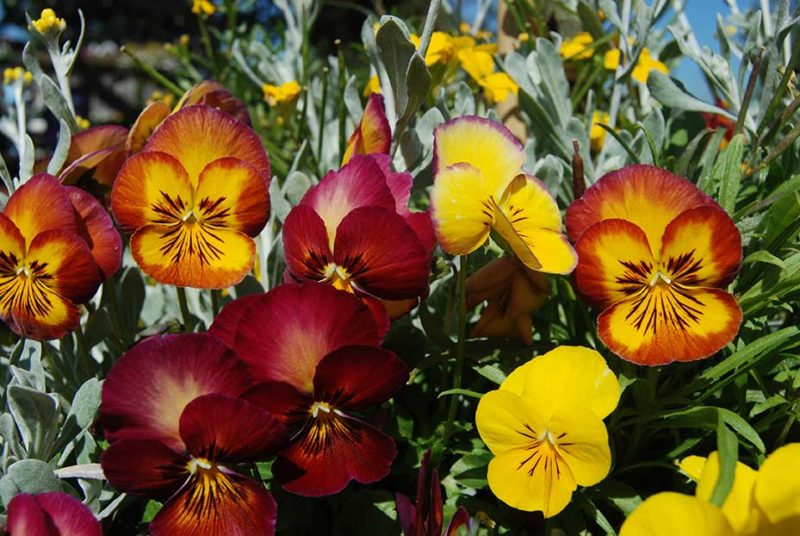 There are subtle differences between Pansies and Violas but essentially it comes down to the number of petals. Although all Pansies are not Violas, all Violas are Pansies. If that doesn't clear it up maybe this explanation will:
''If the flower has four petals pointing upward and only one pointing downward, you're looking at a Pansy; If the flower has two petals pointing upward and three petals pointing downward, you've got yourself a Viola.'' – Complete Landscaping Service
Whether you can or cannot tell the difference really doesn't matter as both of these fantastic fall flowering plants are a great way to Happy-Up your home. The cheerfully diminutive purple and yellow, orange, white, violet and black faces are surprisingly robust and will overflow any planter you dare to contain them in, making them a perfect plant for hanging baskets.
Mixing violas with other indirect sun varieties make for a very colorful container on your porch that will look fabulous much of the winter months. A small investment pays off in a multitude of growth so fill up any old pot, jar or used coffee tin and as a bonus, most varieties are edible! Pansies and Violas are easy to grow and do best in partial sun. At the end of the day, they are just a happy, pretty flower and their informal beauty always brings a smile to my face through my kitchen window as I sip my morning coffee.
The New Guinea Impatiens are a formal more structured annual and just as colorful and splashy in the shady nooks of your yard as their popular cousins.
The leaf composition is also special with some varieties variegated and often come in a magnificent bronze. According to Sarah Smith, one of our knowledgeable and friendly horticulturists, the New Guinea Impatiens are more controlled and will retain their upright shape making them ideal for a garden path or will finish the edge of a hedge beautifully. ''They are a little like soldiers… and will stand at attention!''
They can take full as well as partial sun and come in white, red, pink, violet, coral, purple, and yellow.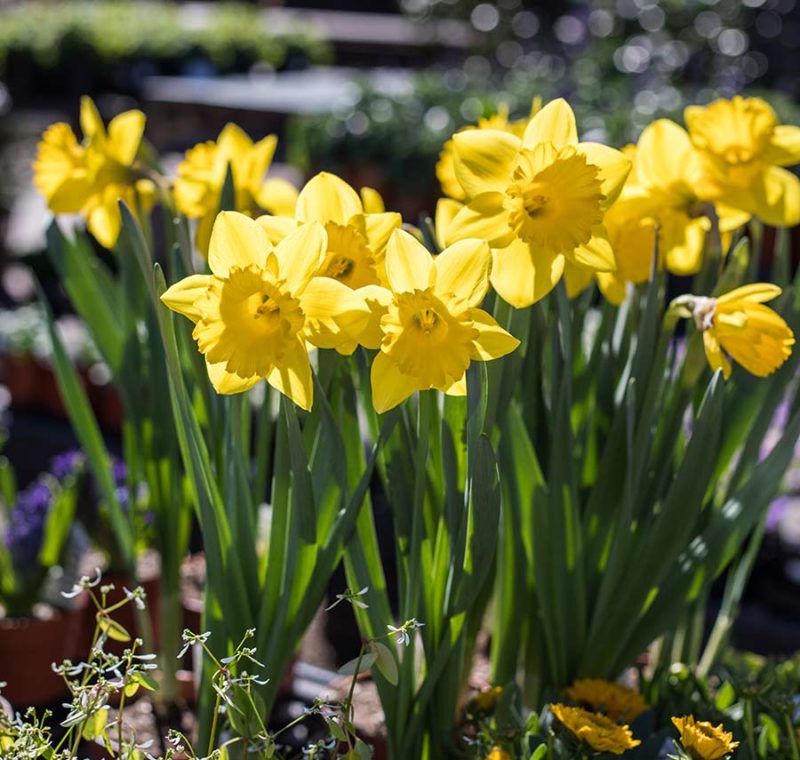 Time to get your favorite bulbs in the ground and plan ahead for a delightful Spring, bringing your year-round garden full circle once again. From the many incredible varieties and colors of the Tulip to the sweet and simple Paperwhite (Narcissi)… to Daffodils, Ranunculi and Amaryllis, bulbs are truly the essence of Spring Time and a few hours of planning now pays off in spades in just a few short months.
Planting your bulbs is fairly simple. Make sure the bulb is about two inches under the soil with about a six inch space between it and the next bulb with the sprout pointing up. A bit of bulb fertilizer with bone meal in the hole just before the bulb goes in will ensure a full flowering plant. Top planting bulbs under Pansies is a great idea too when you want a surprise after your Violas are finished for the season. And don't forget your containers!
TOP TIP: Forcing Bulbs for the Holiday Season
Forcing bulbs for the Holiday to come up a little early is a wonderful way to bring the sweet smell of Spring a little early in the home. Nothing could be easier than adding a little water and warmth to a hibernating Narcissi Bulb and up-comes a bloom in 4-6 weeks. Get your bulbs into a glass bulb container around the middle of November, add water just so it touches the bottom of the bulb .. give it some light and it should ensure your flower to be in full bloom for the holiday season.
Remember: Some bulbs will come up faster than others and the blooms of some flowers will outlast others. For instance, an Amaryllis bloom will often stay longer than the Paperwhite.