Roger's Gardens is proud to introduce our latest gardening addition, "Theme Gardens." Our Designers have created seven new Theme Gardens that can be found throughout the gardens. Each is designed to inspire so you can take the ideas, vision, knowledge and easily recreate and transform your own garden, balcony or yard-scape. Each garden has specific plants and benefits associated.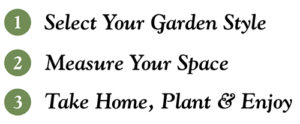 Our gardens will change with the seasons and sometimes during the season depending on plant availability and other factors.
Check back with us often to see the latest creations from our team of expert horticulturists.
BUY PLANTS ONLINE!
We now have specially curated plants for sale to create your own themed garden.
Shop Now