Only a few years ago summer color consisted of marigolds, petunias and impatiens. While there is nothing wrong with these reliable plants, a veritable plethora of introductions has improved the palette.
Take a look at impatiens, the traditional work horse for summer shade color. The new and sensational improvement comes from a series of New Guinea Impatiens called the Infinity Series. Bigger flowers, bolder colors and better growth habits highlight these Impatiens, plus they are sun-tolerant in coastal climates. In the garden or in pots, these are show-stoppers for sure.
Roger's Gardens offers Infinities in four inch pots and a fabulous crop of 8 inch pots is expected any day now.
These 8 inch pots are full of flowers and bold enough to be kept in their containers and snuggled into large pots or holes in the garden.
While on the subject of traditional shade plants that have been hybridized for the better,sun-tolerant Coleus will provide bright foliar color from now until deep into the fall months. Look for some of these fun names and mix the colors: Grape Expectations, Kingswood Torch, Fishnet Stockings, Life Lime and Black Jack, Dipt n Wine . These Coleus make great pot plants and are available in 4 inch pots.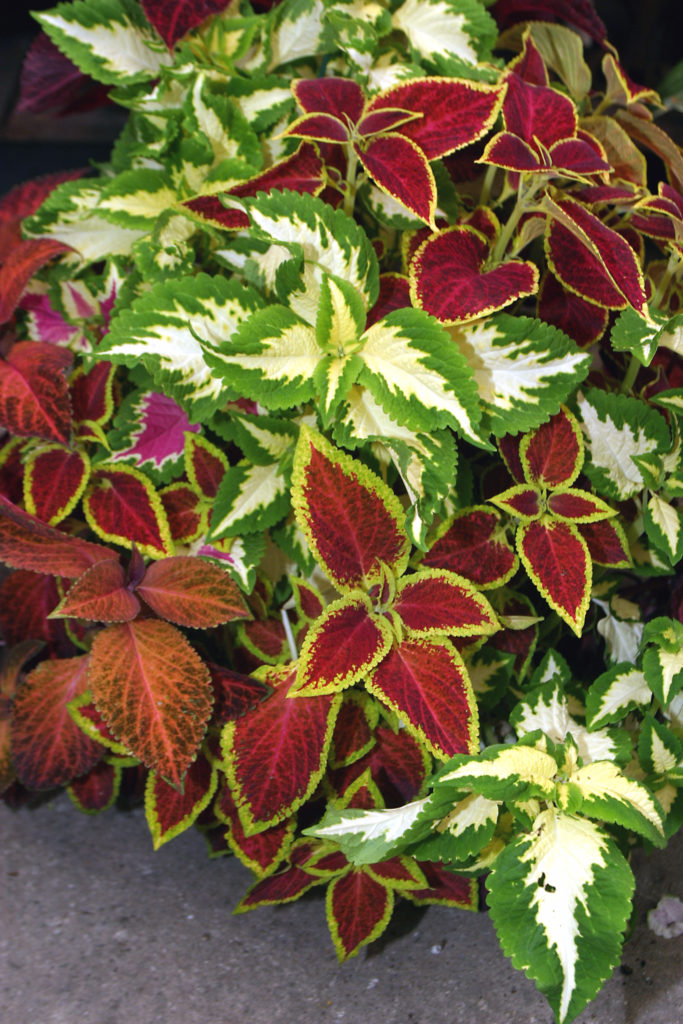 For pots in the coastal zone, Tuberous Begonias are an old favorite that will always be hard to improve. As a boy, some 60 plus years ago, my parents grew pots of tuberous Begonias every summer. While it is too late to start them from Tubers, Roger's Gardens always grows several hundred in clay pots. If the tubers are stored properly, the same tuber can be regrown year after year. I have some that are at least 10 years old and now 6 inches across.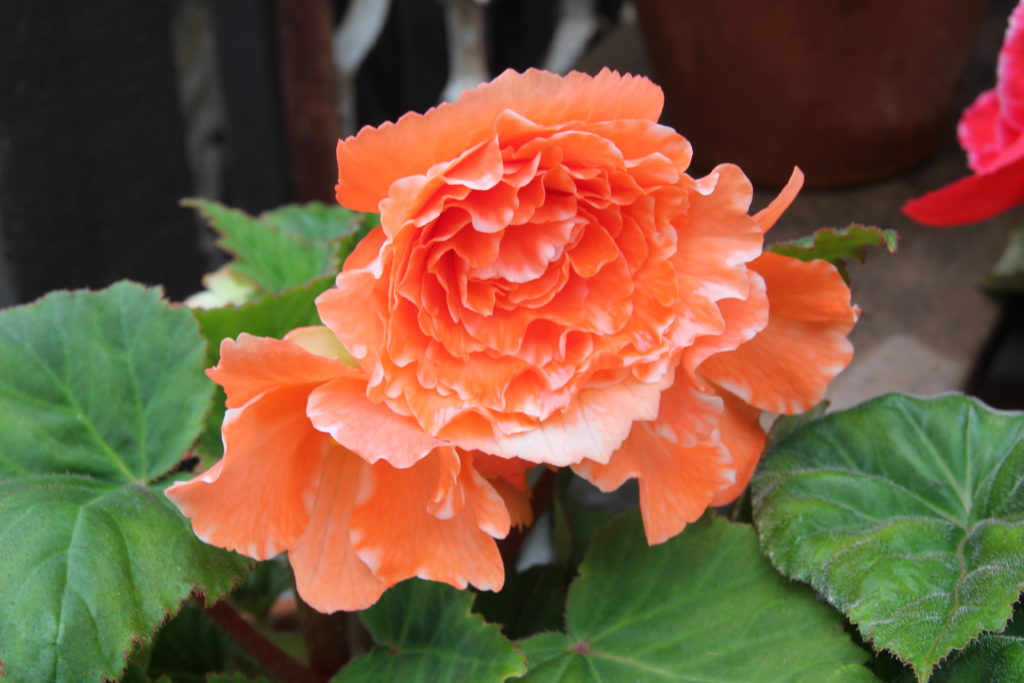 While the flowers are not as big, Non-Stop Begonias are part of the same family, but these you can buy in four inch pots. Because they don't like wet leaves, NonStops will usually be happier in pots and baskets than in the ground. I am particularly fond of the white ones with mocha leaves.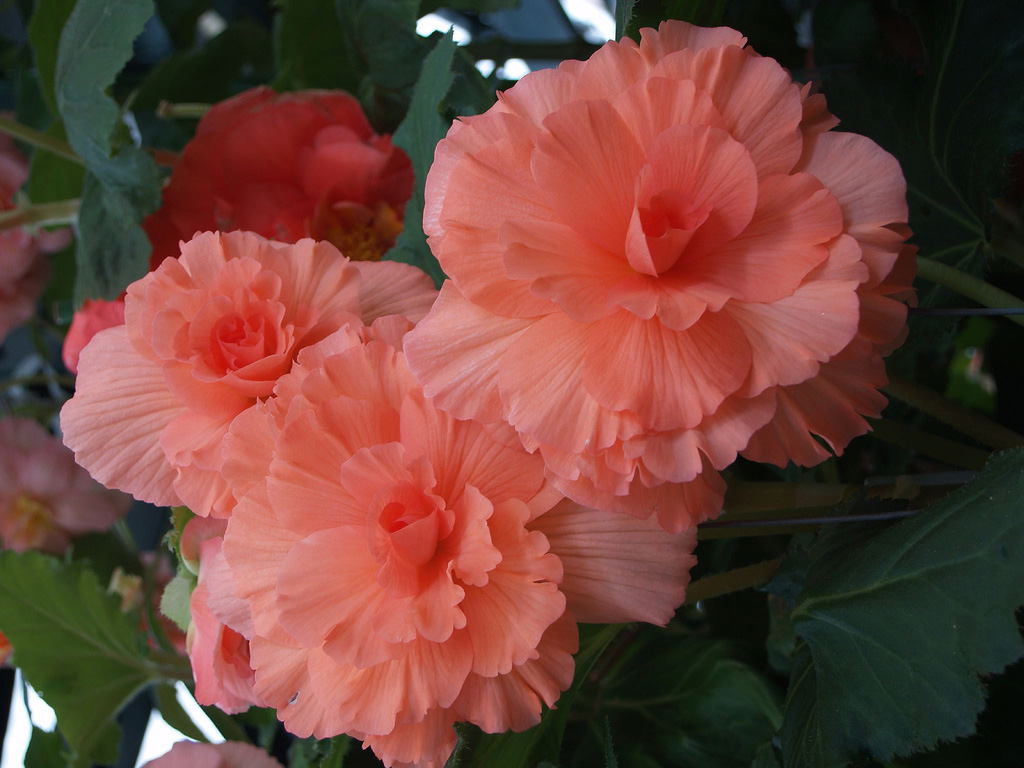 For each gardener there are different reasons to grow summer color. If cut flowers are your objective, Dahlias and Rudbeckia (commonly called Gloriosa Daisies) are the best choices.
If you read this column regularly, you have already been deluged with Dahlia information and, really, the best way to start them is from tubers back in February or March. However, Roger's Gardens rides to the rescue and we regularly offer a nice selection of fully grown Dahlias in 5 gallon containers, one advantage being that you can see and choose the actual flower colors. Dahlias will grow in big pots and, I confess, I have 27 pots producing bundles of flowers as I write.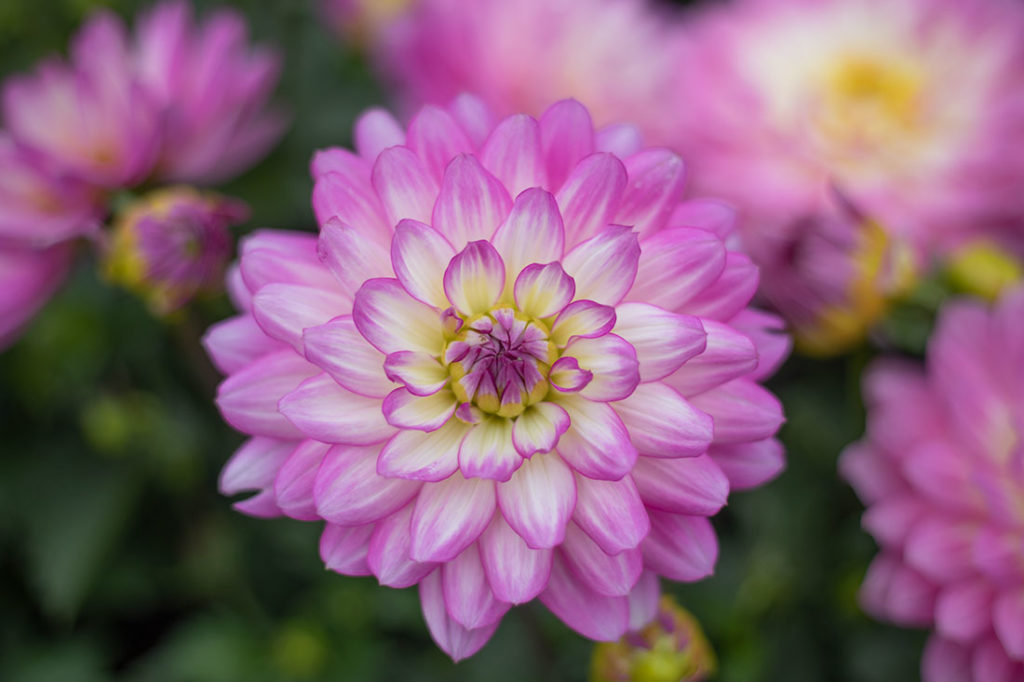 One advantage to Gloriosa Daisies is economy. Gloriosas are readily available in color packs and will grow rapidly in bright sunlight. Flower production will continue into the fall when their color tones all of which include shades of yellow compliment the season. My personal favorite is called Irish Eyes. The flowers are a golden yellow with green stamens in the center. I also like Cherokee Sunset in which each flower is its own original composition of colors including yellow, burnt orange, bronze and mahogany.A more compact but equally worthy version is called Tiger Eye Gold (In my next life, I am going to become a professional plant namer…….these names are nothing but fun!!!)
The color blue has magical qualities when included in summer color recipes. The blues make the pinks pinker, and the hot colors hotter. I always include some blues. Lobelia is an old favorite that still works, but Lobelia, too, has been improved by the hybridizers in recent years. The Techno heat series provides stronger plants that bloom longer as do the Laguna series. Our best selling lobelia is named Super Star (finally a over-used name) and is a blue and white mixture.
Another source of blue comes from Salvias where once again the old reliable, Victoria, has been improved upon with the introduction of Mystic Spires with stronger plants and bigger flowers.
Finally, Lisianthus has been aforever florist favorite, but now you can grow your own with florist quality flowers for cutting. The Laguna series features large single flowers in all the colors from white through pinks to lavenders and blues to purples, while the Mariachis are quadruples, meaning four times as many petals.
The Lisianthus Mariachi Picotees, blue with white fringes, are truly drop dead beautiful as cut flowers.
Summer is just starting and there is plenty of time to add color to your garden. The possibilities are both immense and exciting.