A clean and modern space that can be converted to a garden for larger landscapes. A retreat, this garden is intended to be low maintenance so you can enjoy its beauty. Formal yet, fluid, this garden's color contrasts complement each other while remaining individual with their textures, forms and sizes. Playing off the classic black and white, it's softer palette will please everyone throughout the year.
Shop Modern Outdoor Planters Now!
Ready to get started? Receive a 20% discount on the plants and products related to the entire garden. See sales associate for more details.
Olea 'Little Ollie' Patio Tree and shurbs
Lavandula stoechas 'Javelin Forte'

Aeonium urbicum 'Salad Bowl'
Senecio radicans 'String of Bananas'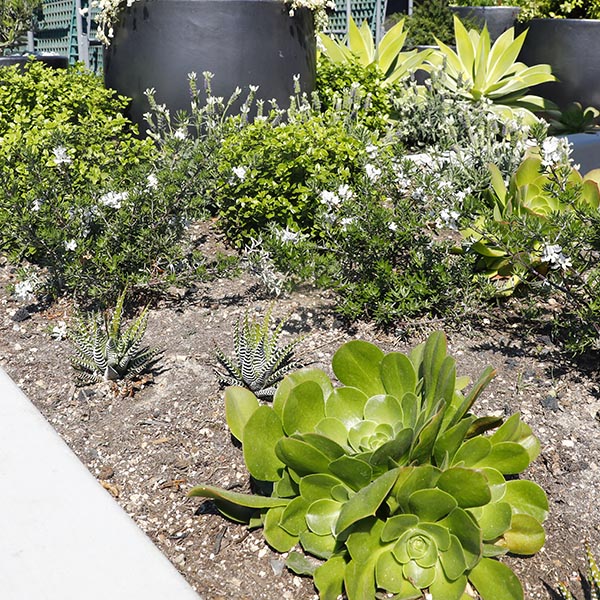 The goal was to create a clean and modern space that would actually be a small garden within a larger landscape. The concept was to have a retreat, where the garden is so low maintenance that you can enjoy the beauty, and not always feel that you should be maintaining the space. The design for this garden began with architectural outdoor planters, then built the garden based off their geometric shapes. There is a juxtaposition of these shapes along with the organic structures of the succulents. When the plants grow and mature the planters will become more incorporated into the design.
1. Find a space within your garden to create a retreat.
2. Determine the shape and configuration of your raised bed and attached sitting area.
3. Have a contractor frame and pour your raised bed.
4. When the planter has completely dried, fill with soil and add in perlite.
5. Place the added planters on top of the soil and add pavers underneath to keep them level.
6. Plant your focal pots first, then add in your secondary plants in drifts throughout the remaining space.