Northwest Travels
Part 1: Christmas Trees, the Best in the West
Yes, it sounds a little big-headed, but at Roger's Gardens we offer the best and highest quality Christmas trees anywhere, at the best value. But it doesn't happen by accident.
So, in late August, 2019 our nursery buying team took yet another trip to Washington to insure exactly that – the best fresh Christmas Trees anywhere.
Come along with us for a few minutes as our buyers inspect this year's crop – and breath in the fragrant mountain air.
There are a lot of Christmas tree growers in the Northwest to choose from. How do you make a decision?
There are several factors to consider, but we believe the two most important are the location of the farm and the commitment and character of the owners. We buy our trees from two growers and they each tick both of these boxes.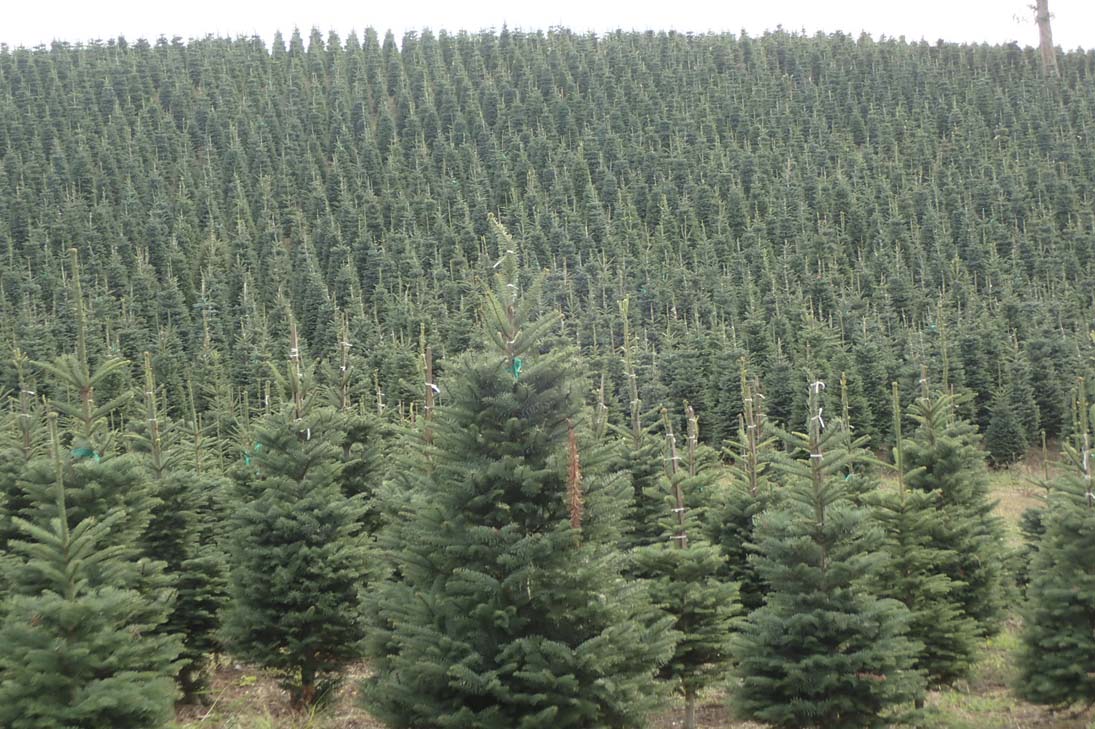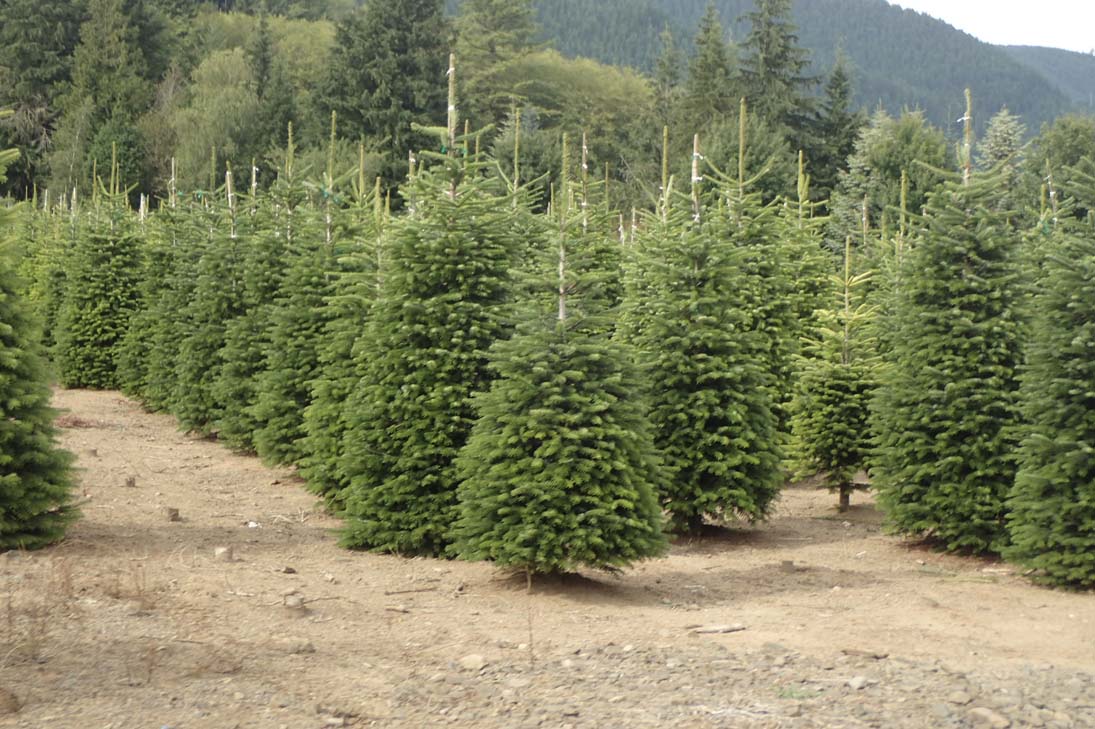 Most Christmas tree farms in the Northwest are in Oregon, but our suppliers are North of that, in the foothills of the Cascade Mountains in Washington. Actually, they are from a very specific area in Washington that has just the perfect climate; not too wet, not too dry, not too cold and not too warm. This aea in Washington is just slightly cooler than the big Oregon mega-farms and the soil is a bit richer. Have you ever driven from California to Washington and noticed how the trees get bigger, thicker and healthier as you go North? The further South, the easier the harvest and the longer the growing season> But the best trees are up here in Washington.
The second factor is the commitment and character of the owners. It's easy to "cheat" in Christmas tree growing, since no one is looking. But with the right grower that just won't happen – they take too much pride. The best growers are craftsmen and they take enormous pride in the product.
Our two suppliers are both from the same family, are award winning and are now in their third generation of tree farming. In fact, our main grower, in the 1940's, was the very first to ever grow a Noble Fir for the Christmas Tree market. Yes, they introduced Noble Firs! And they have been growing them perfectly for 70 years now.
This photo is of the owner's home garden, with Christmas trees all around it. Quality in everything they do. They are passionate and they are the best.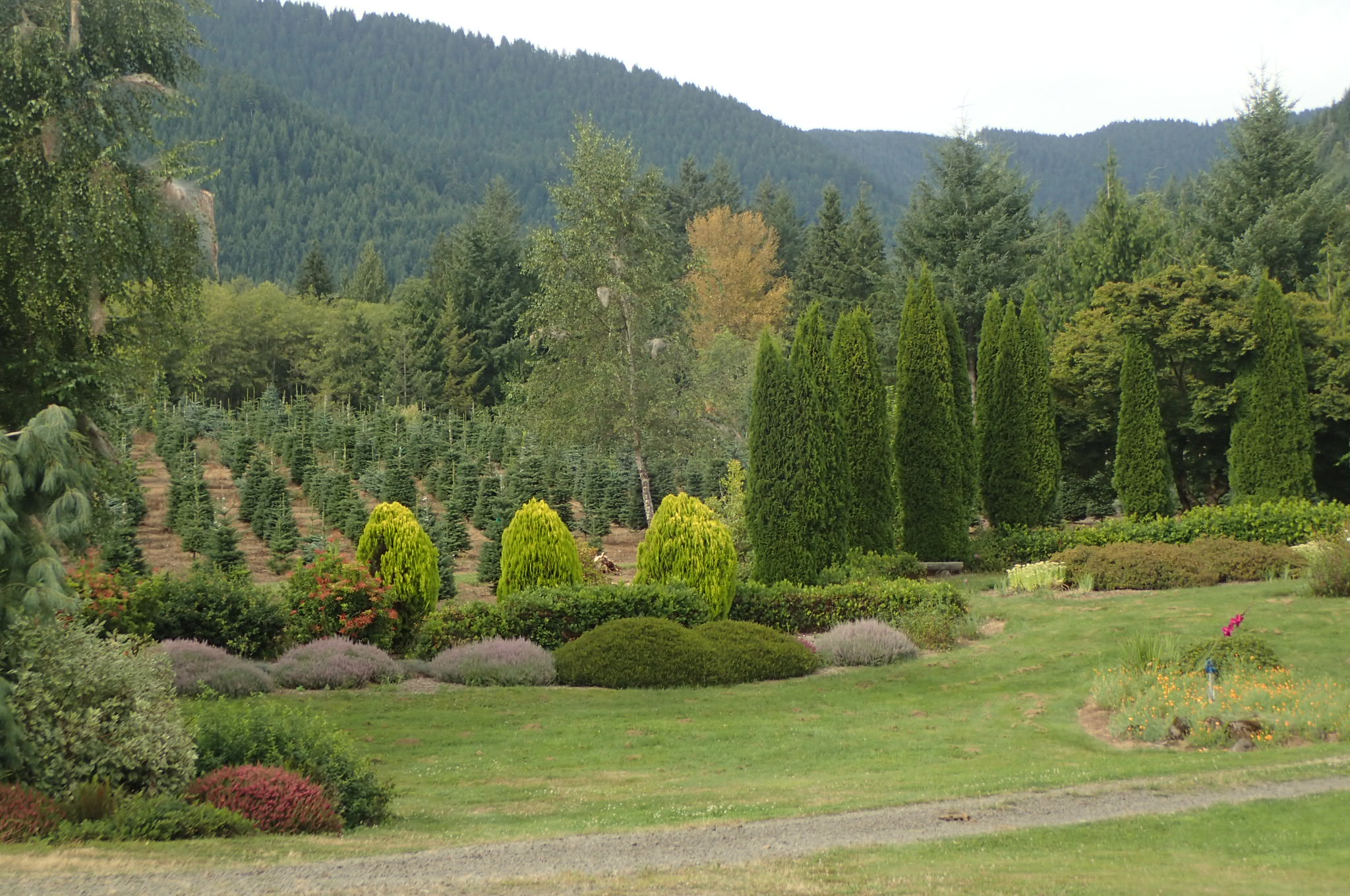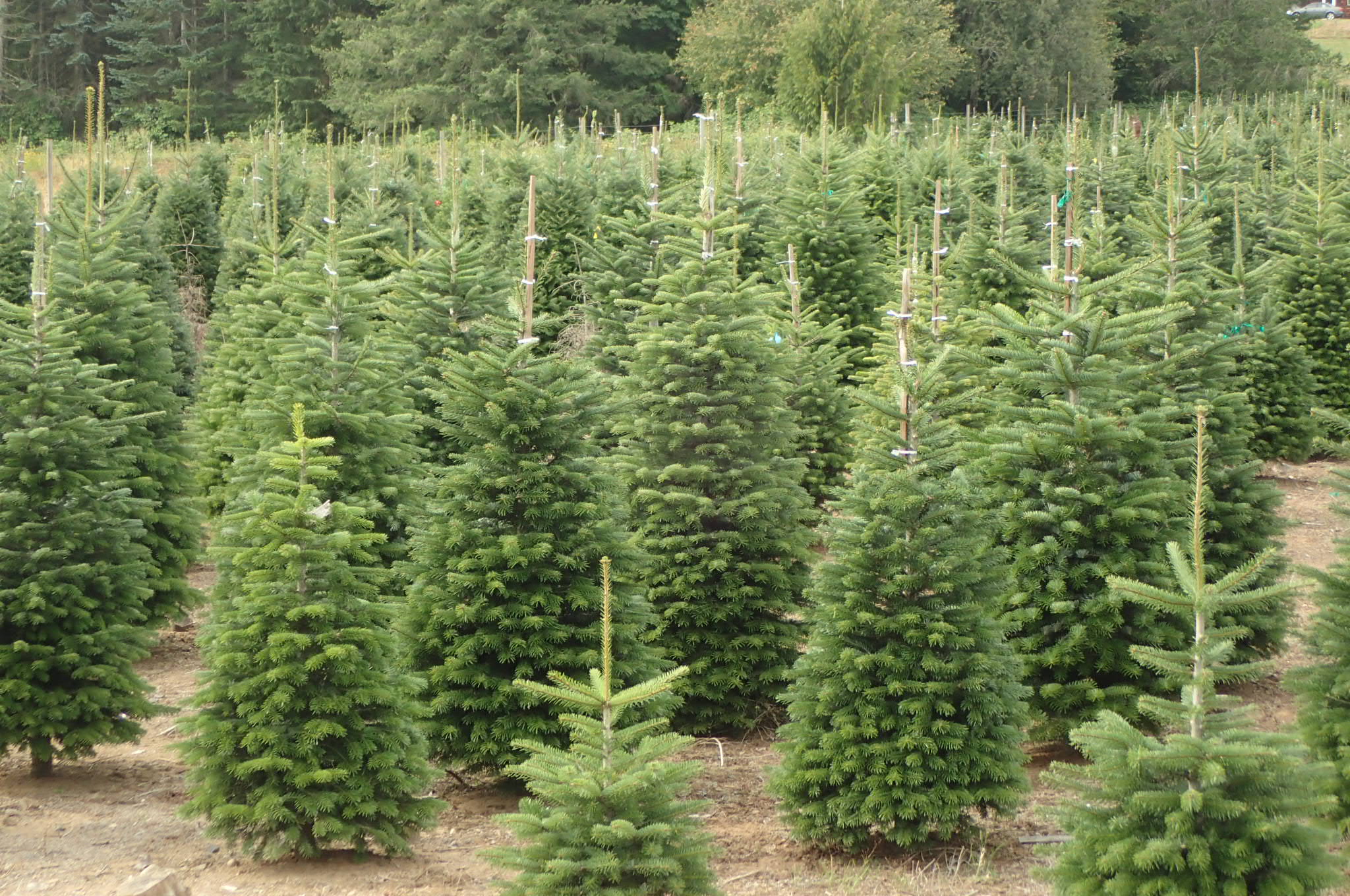 Christmas tree growing is also complicated because in any given field of trees only 10 or 20 percent will be harvested in a particular year. These trees, for example, have some that will be tagged for harvest this season, while most will be held for future years.
The other critical factor to consider when viewing trees at the farm is their grading system. Some growers, especially the huge mega-farms in Oregon, don't even grade their trees at all. You can imagine where those trees end up. However, our growers use a very detailed grading system, numbering all they way from from 1 through 10. Grades 9 and 10 are the most premium trees. Roger's Gardens only receives grade 10. How many grade 10 trees are are in this field? Those are ours.
A few years ago our principal supplier had a special honor. Among the thousands of tree growers in the United States, the White House called and their Head Usher and Chief Horticulturist asked if they would supply the Christmas tree for Blue Room in the White House. They were honored. It was a beautiful 18 foot Noble Fir, right out of this field.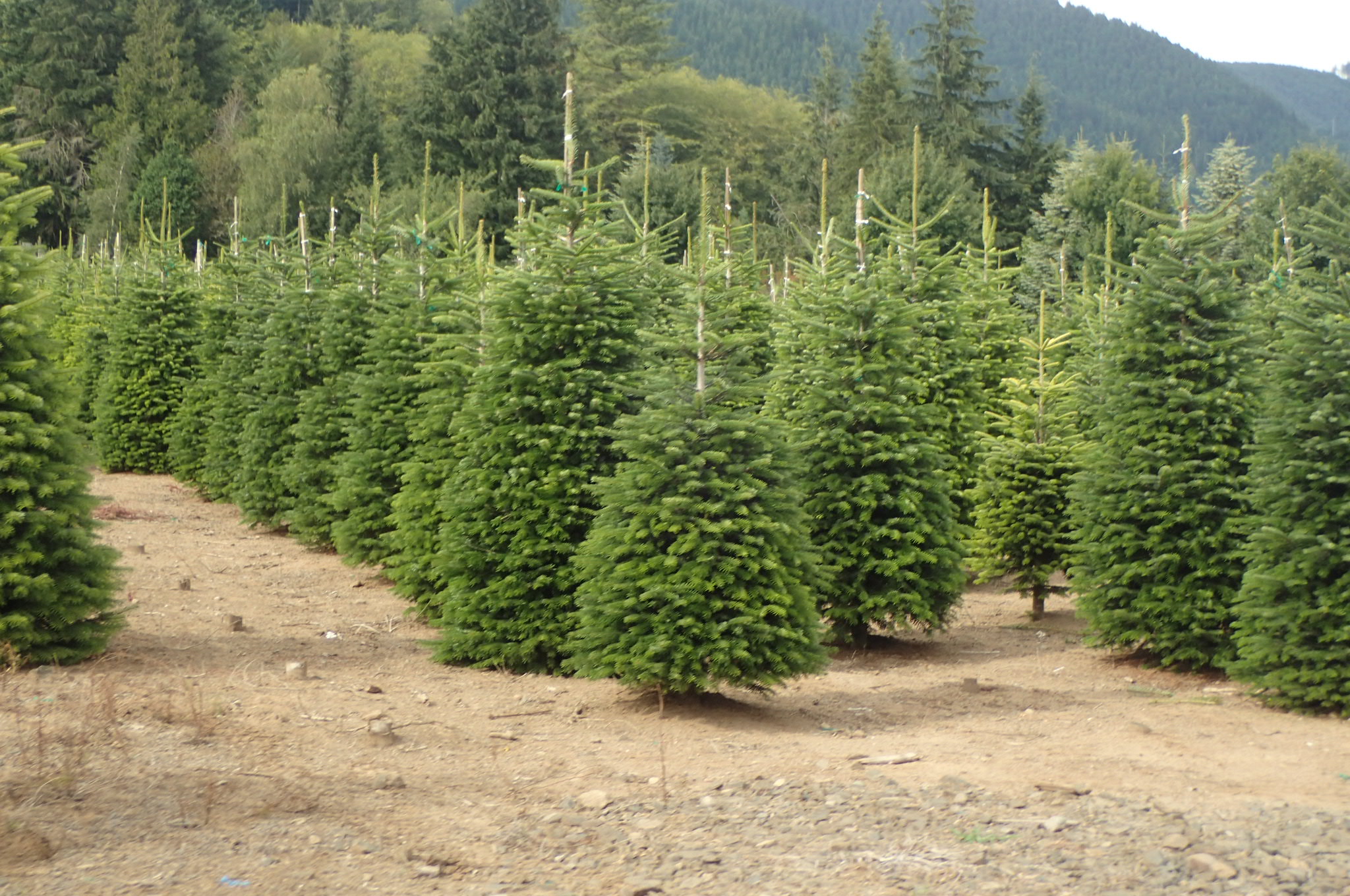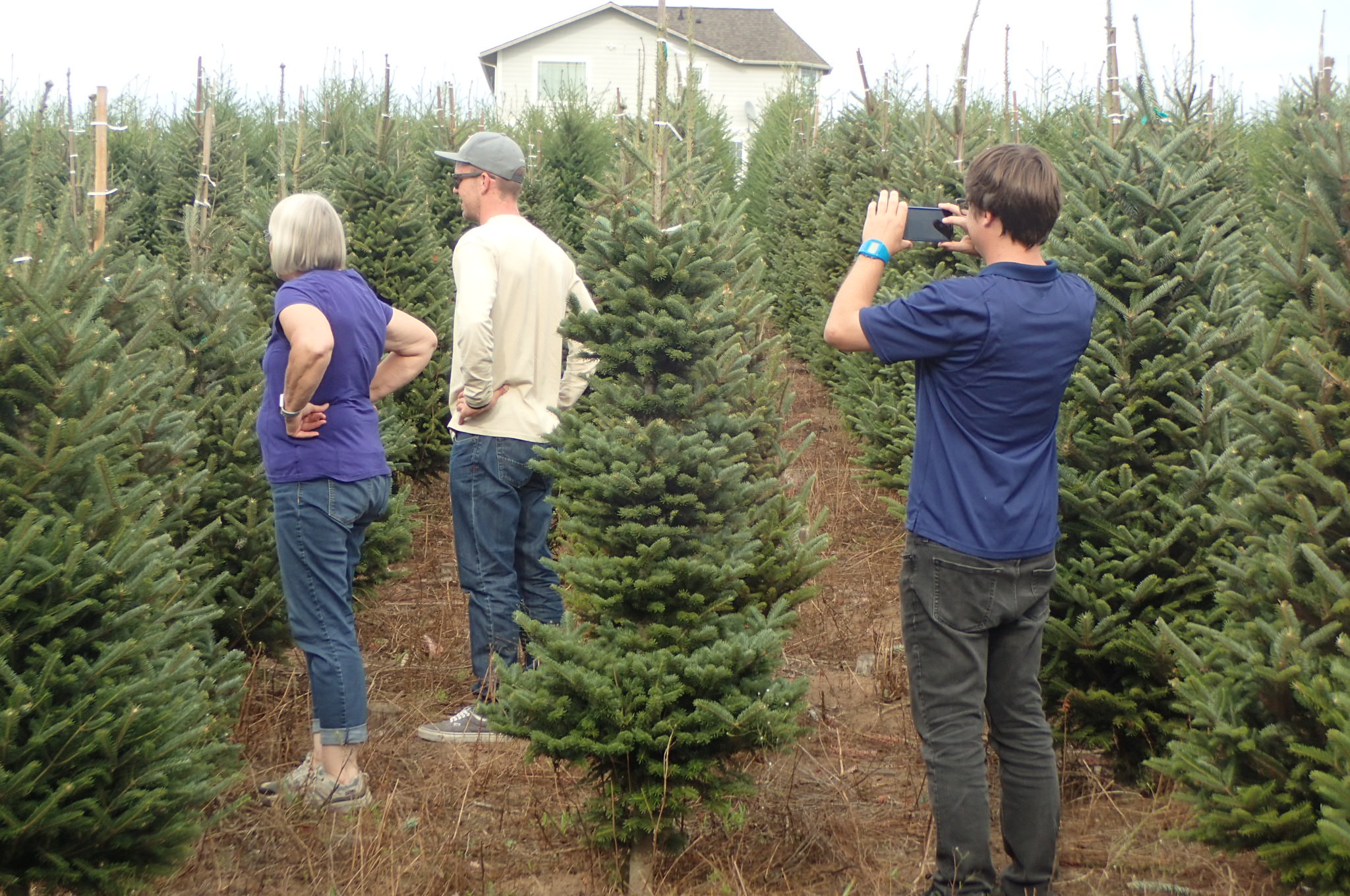 Our buyers inspecting a few Noble Firs. That is Barbara to the left, the second generation in this long lineage of excellent Christmas tree growing. We drove all over the hundreds of acres with Barbara. She is also a top-notch artist – no surprise, since tree growing is also an art. What a great person to spend the afternoon with.
The trees are sheared every year in order to produce the perfect tree. The quality and timing of the shearing is critical in order to produce a perfect tree by the exact time of the harvest in November or December. And shearing trees is an art also. Our supplier offers three different densities of the trees: dense trees, open trees and layered trees. More and more, our Roger's Gardens customers seem to be preferring more open and layered trees, which make decorating easier.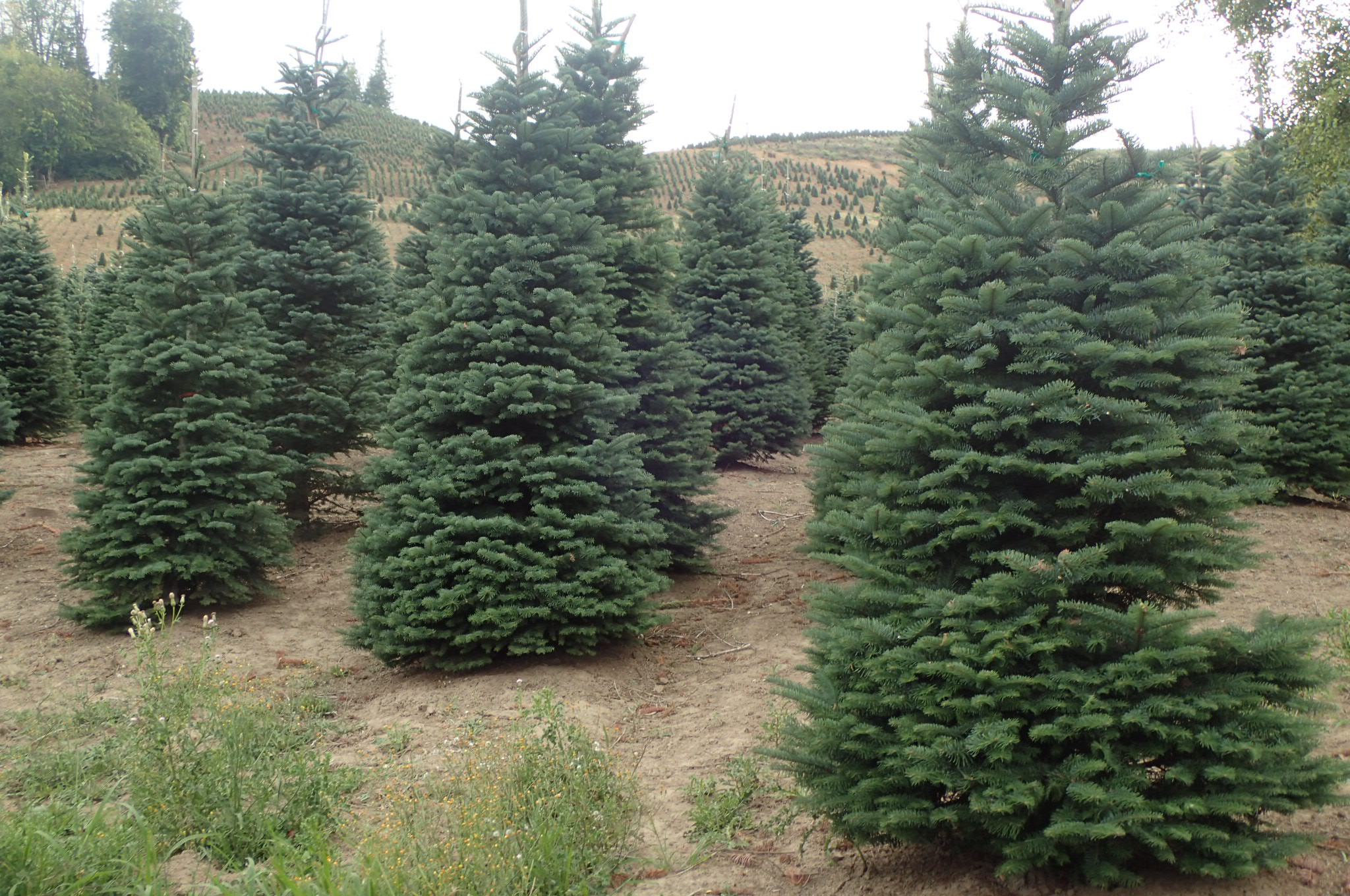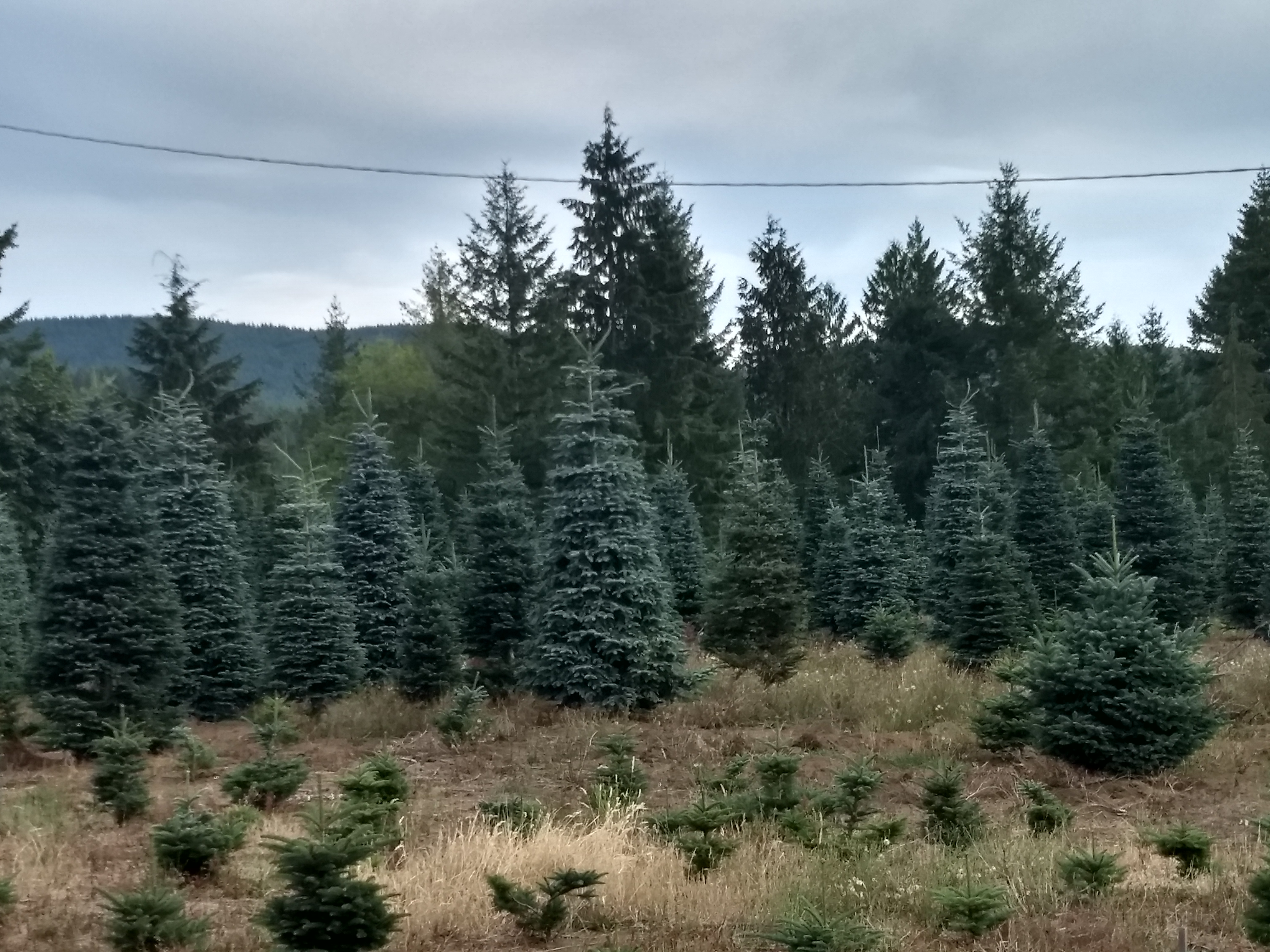 One of the most exciting breakthroughs in fresh cut Christmas trees is the "Blue" noble fir. They are spectacular and pictures do not tell the story. These are the result of decades of breeding and selection by this same pioneering family. Last year we introduced these are the response was overwhelmingly positive. Not only is the color of the tree amazing, but the shape and quality of these trees is superior in our opinion to all others.
Our trees are cut by hand crews on the ground, who then assemble several trees onto a large net. The net is then cinched together at the corners and hooked to a cable that dangles from a helicopter. The entire group is then transported off the mountainside by the helicopter, one load at a time, and brought to a central staging and assembly area. It is a very fast paced time, with loads of trees zipping through the air, back and forth, all day long.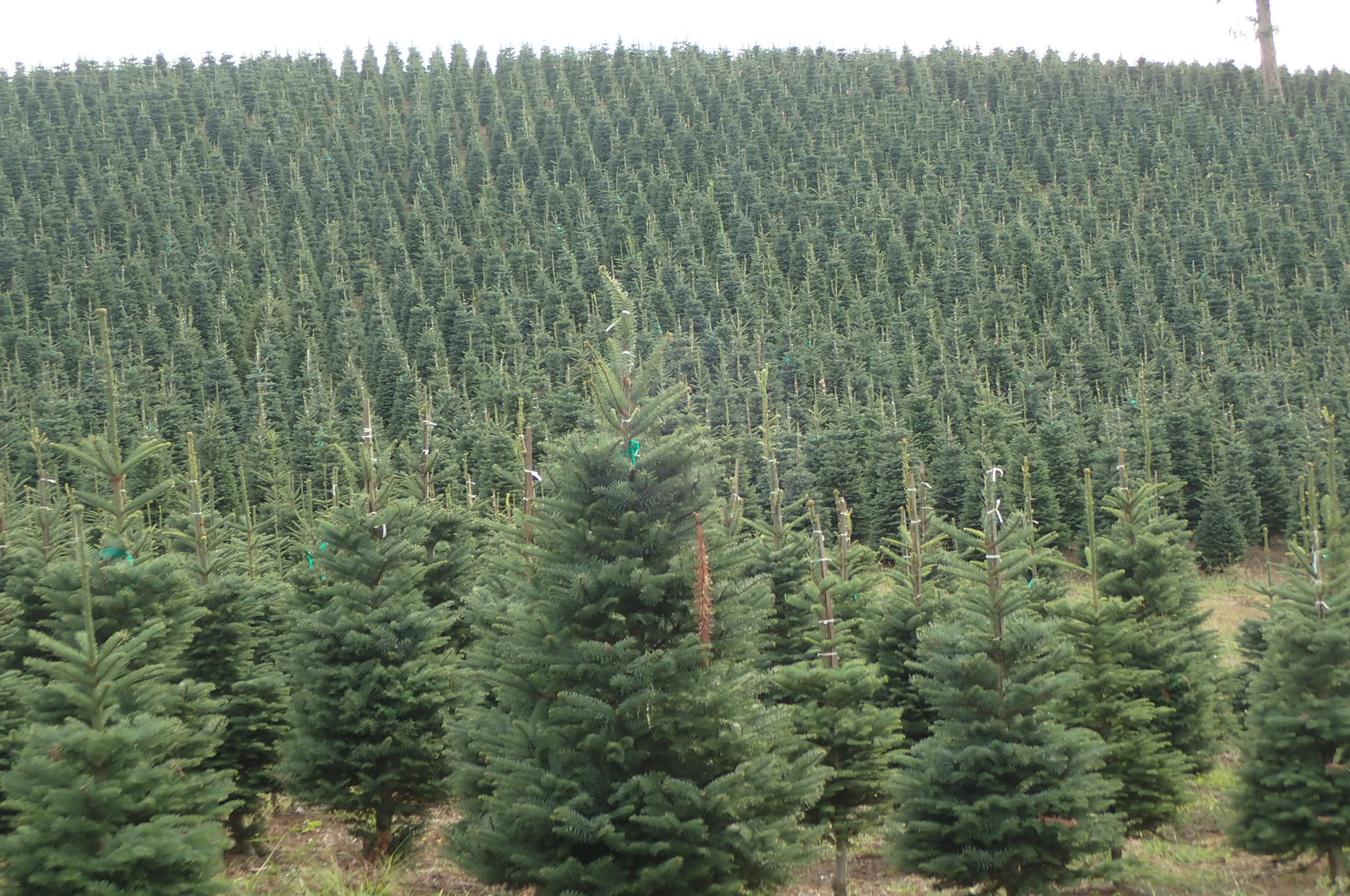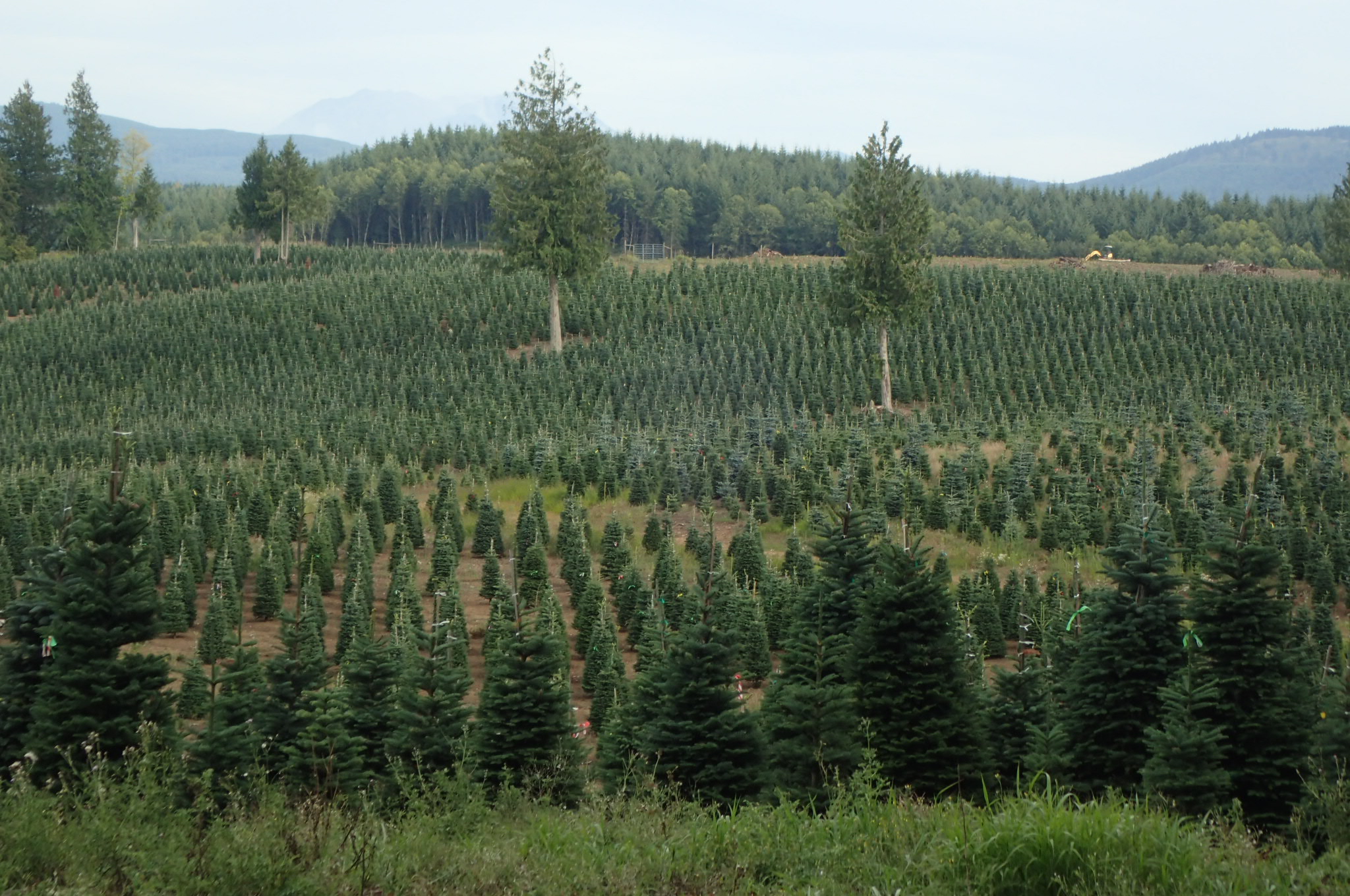 In fear of touting our own horn again, we also want our trees to be the freshest possible. It may sound odd, but many tree growers cut their trees weeks or even a month in advance of shipping. This is a nice convenience for the grower, since it is much more efficient, but it doesn't produce the freshest trees. The retailer has no way of knowing.
Instead, our tree suppliers cut the trees you see here at Roger's Gardens as little as 48 hours before they are shipped – really. Then, each tree is packed into refrigerated trucks for the two day drive to Roger's Gardens.
When the trees arrive at our store they are cold and wet, which is perfect! Sometimes they even have ice on them. You can't get a fresher tree than that.
Time to say goodbye to Washington and our tree growers. Hope you have enjoyed tagging along with our buyers on this little visit to the best Christmas tree growers in the United States.
Our first shipment of trees this year will arrive at Roger's Gardens during the week of November 18thand deliveries will continue through early December. I hope you will come see us and find just the perfect tree.
And we hope you now have a better appreciation of the effort that has gone into providing you and your family the best fresh Christmas tree anywhere.