Northwest Travels
Part 2: The Plant Growers
During the week of August 19, 2019 our plant buyers made another trip to Oregon and Washington in search of the best plants for Roger's Gardens. While most of our plants are purchased more locally, we do bring down several loads each year from the Northwest, where there are some incredible plant growers.
Come along with our buyers for Part 2 in our Northwest travels series. In this part we will visit two of the best plant growers in the country.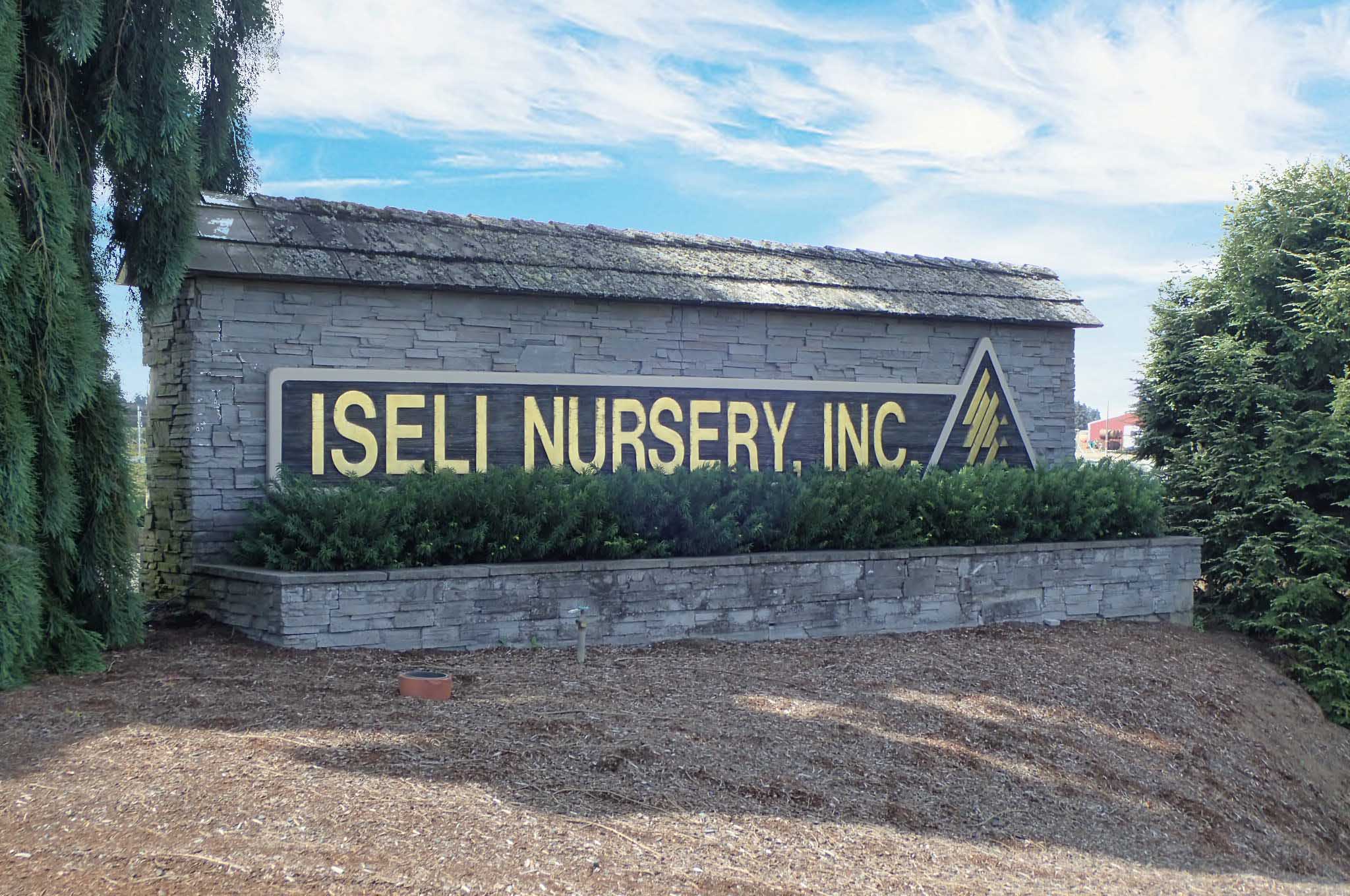 One of the premier growers in the Northwest is Iseli Nursery, Inc.. They are located about 45 minutes outside of Portland on a bit over 500 acres and they were our first stop after getting off the plane.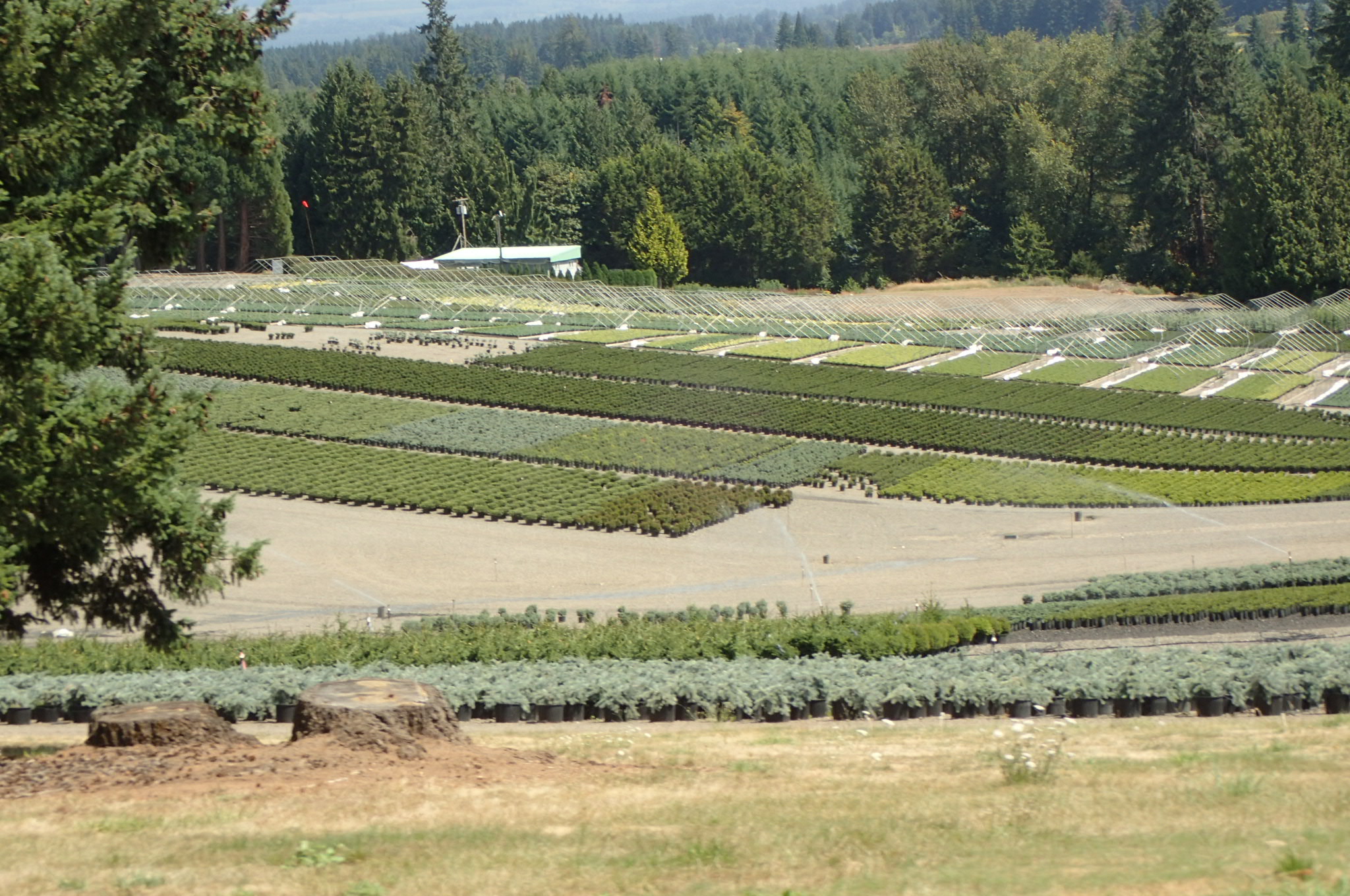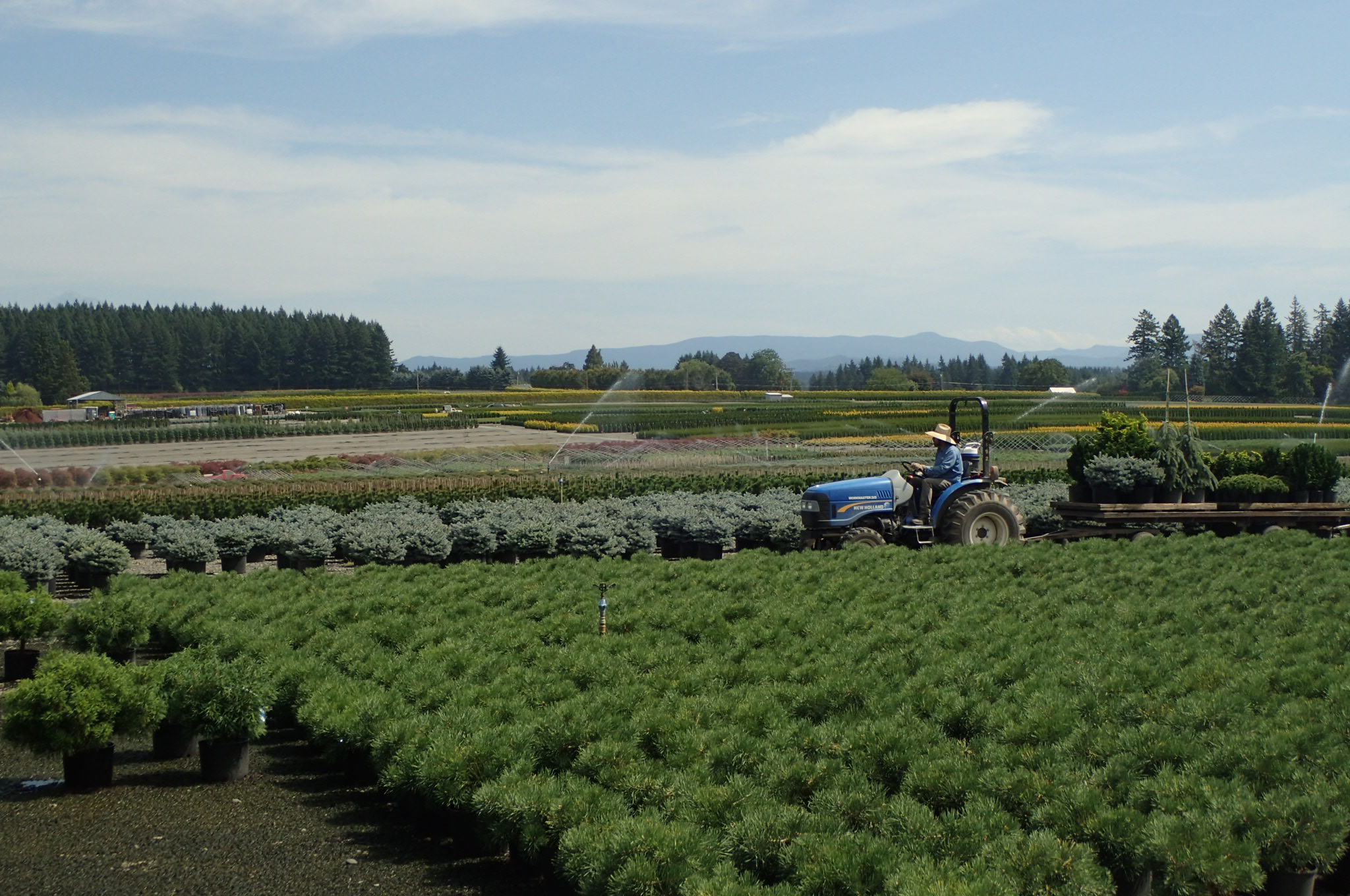 Iseli is not your ordinary plant grower, they are an extraordinary plant grower. Their quality, craftsmanship and passion are far above what is normally experienced at a wholesale plant grower. Trust us, we have seen a lot.
Iseli specializes in rare and unusual conifers, especially dwarf conifers, as well as Japanese maples. They are dedicated to producing the finest quality plants and only sell to a limited list of quality garden center retailers in the United States. We are proud to be one of those quality customers.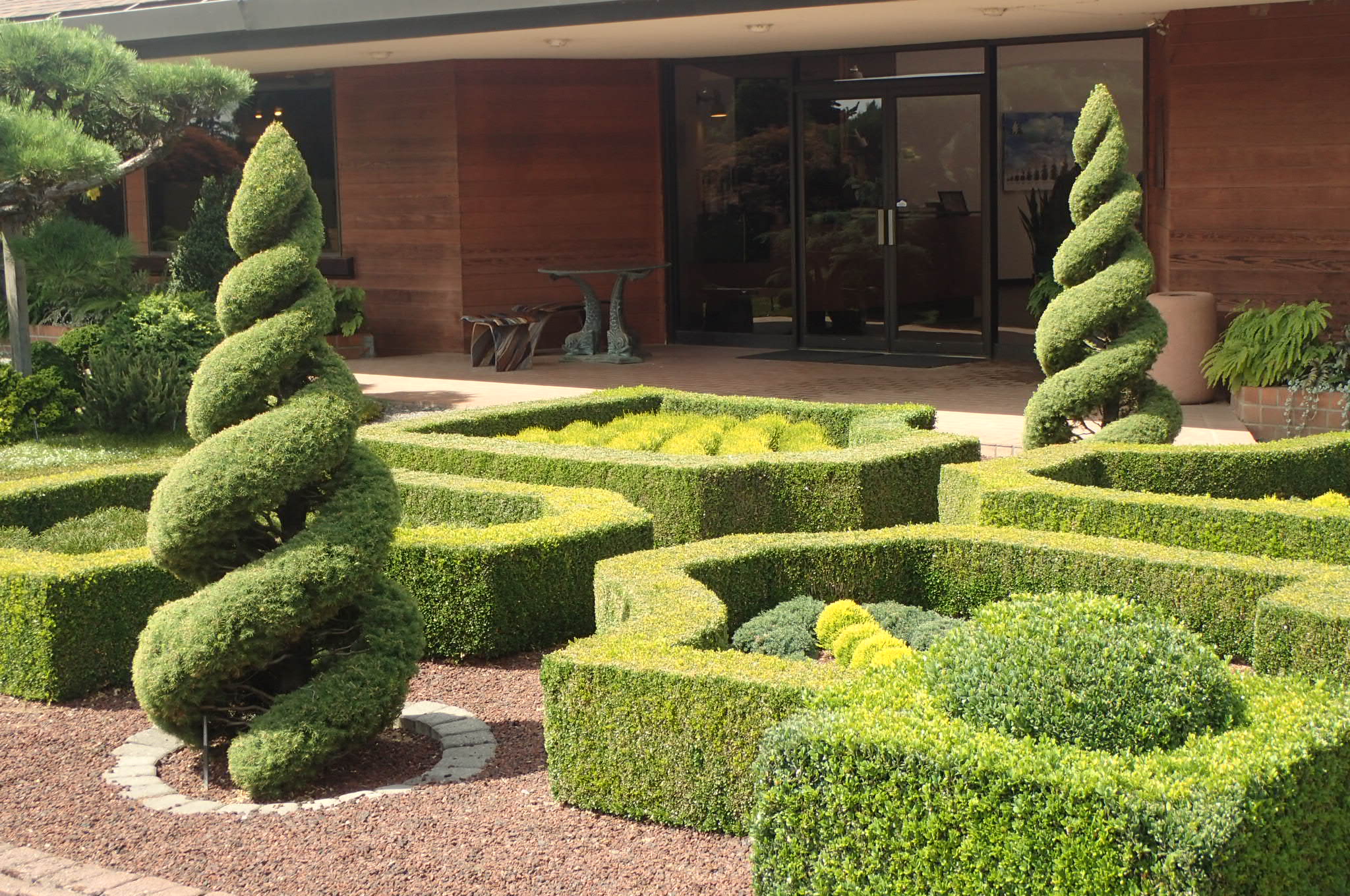 Quality and craftsmanship are everywhere at Iseli and starts right at their office doors. Founded in 1975 by Jean Iseli.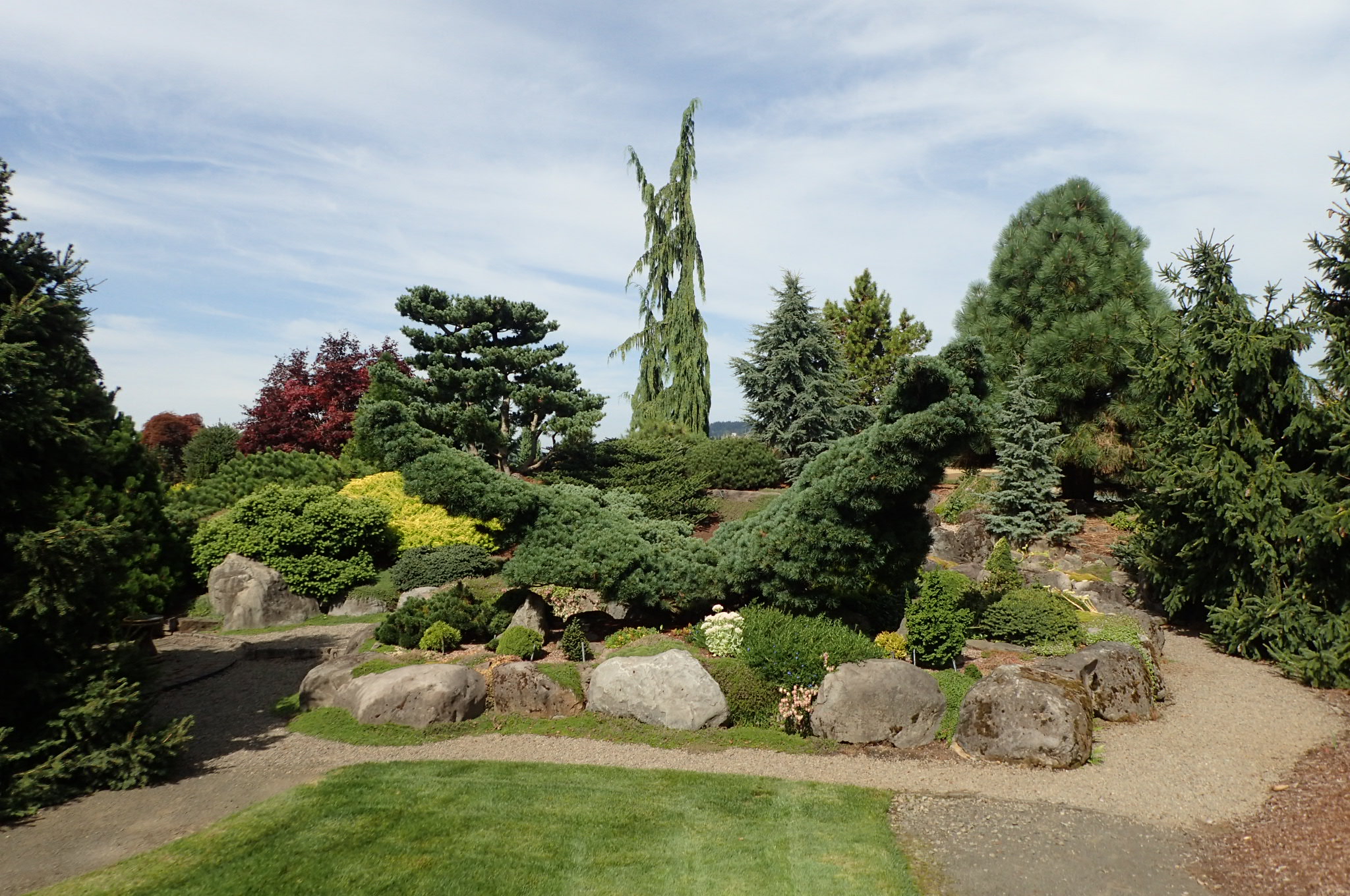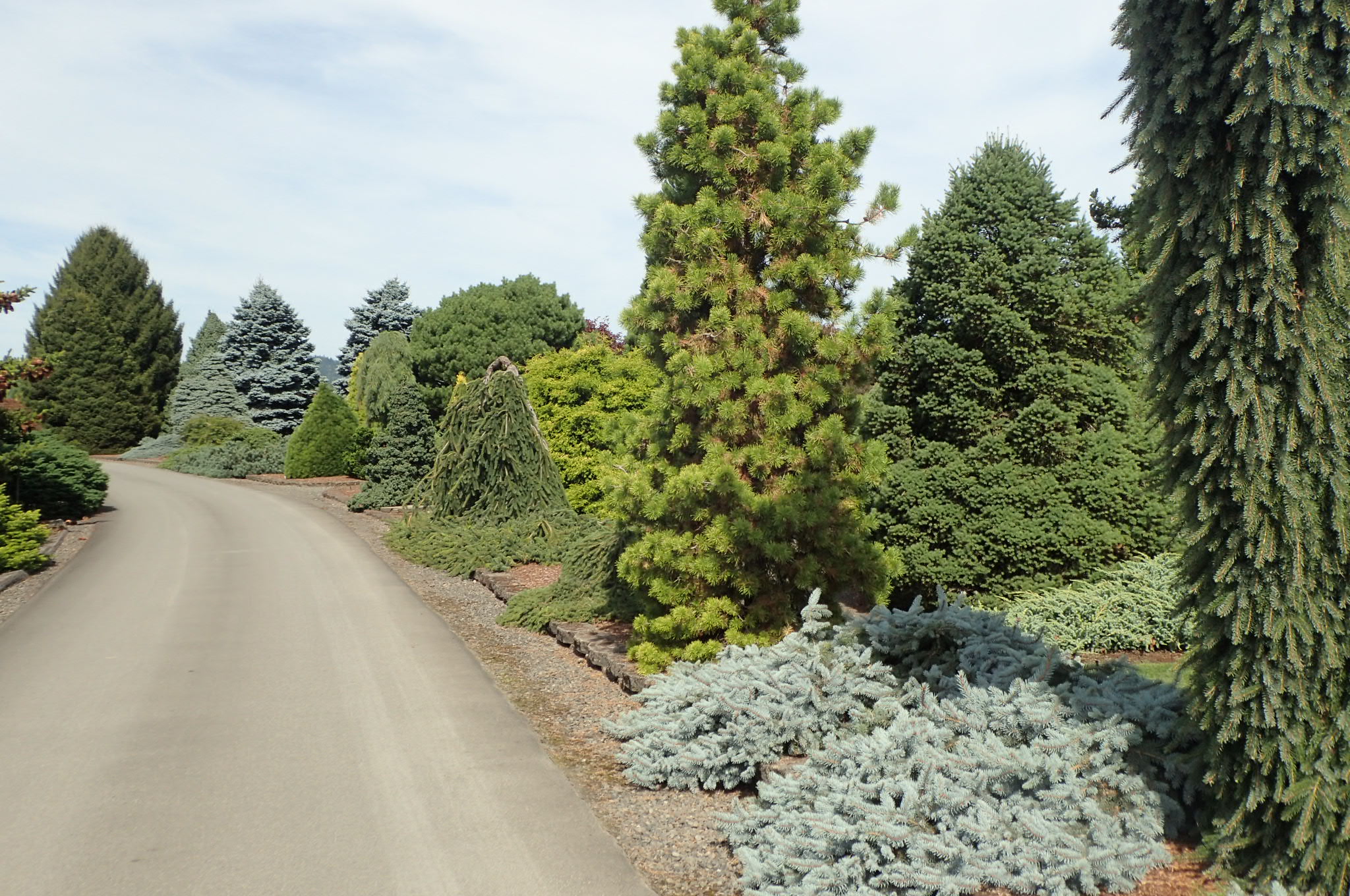 Iseli maintains significant display and test gardens at their site, covering several acres where experimental plants are grown for many years and evaluated. Others are maintained purely for their beauty.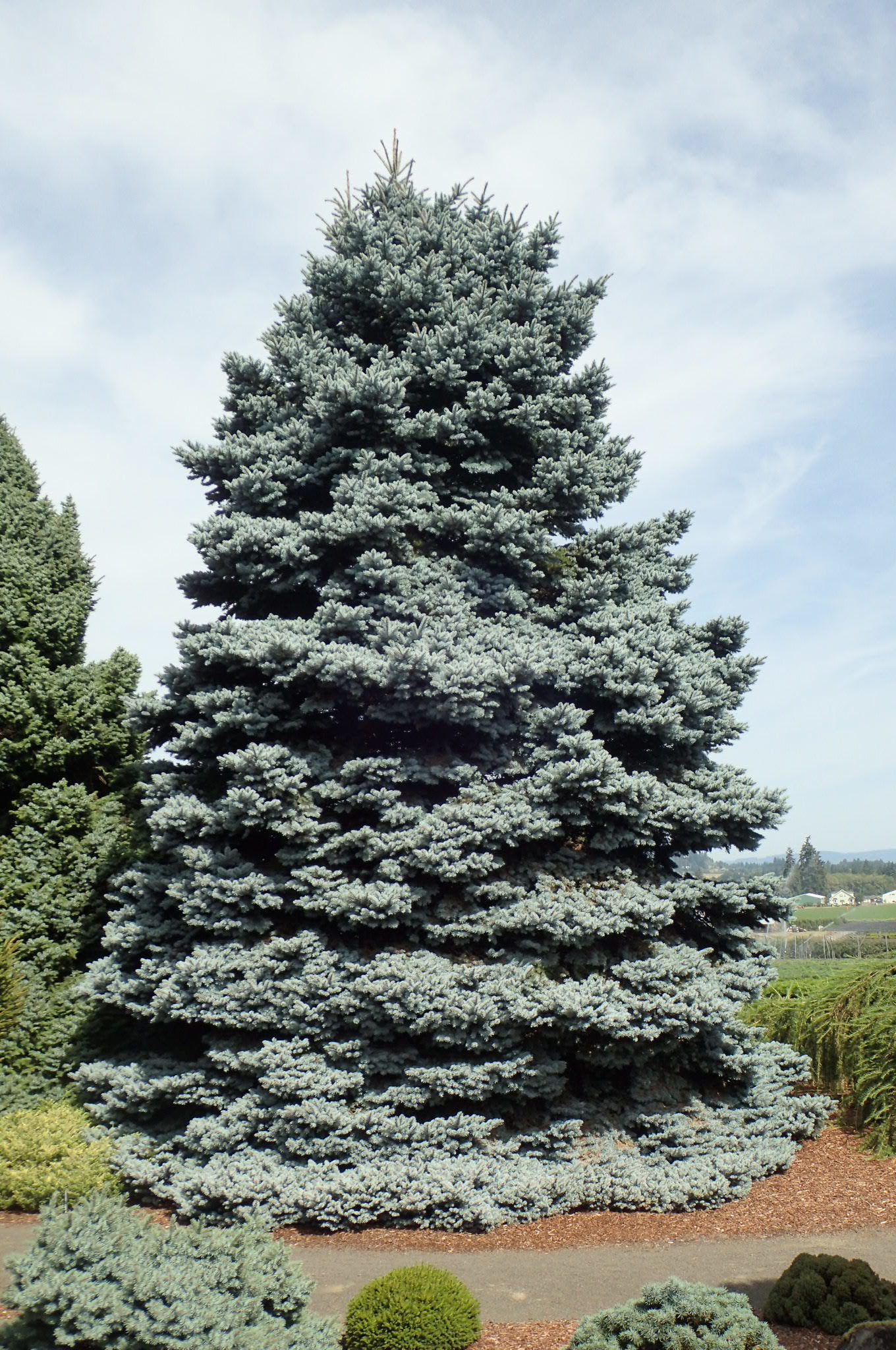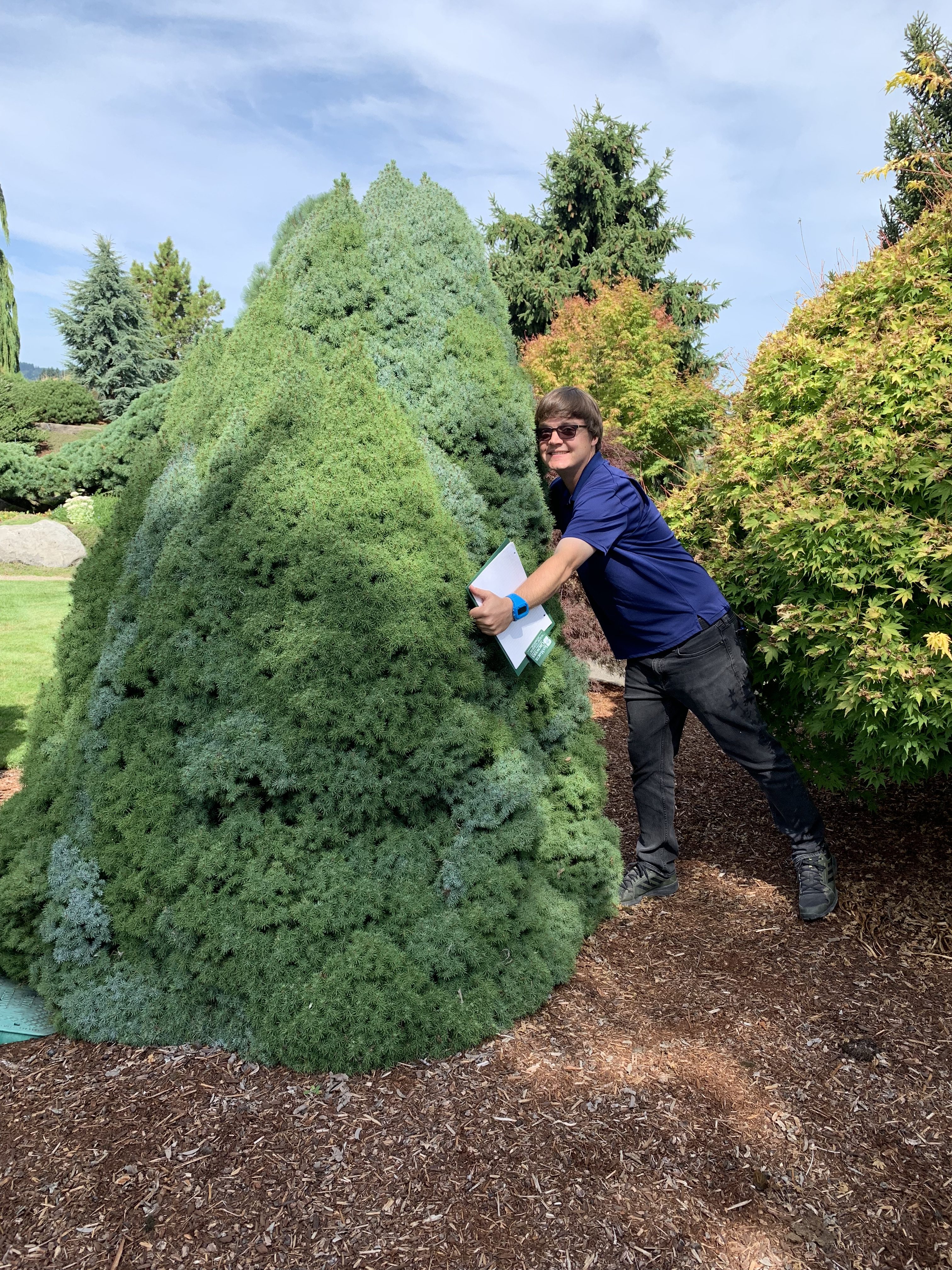 The Colorado Blue Spruce on the top is a beautiful example of a selection called 'Fat Albert'. On the bottom, one of our buyers, Isaac, seems to be enjoying the dwarf Alberta Spruce. Those are probably 30-40 years old and are amazing.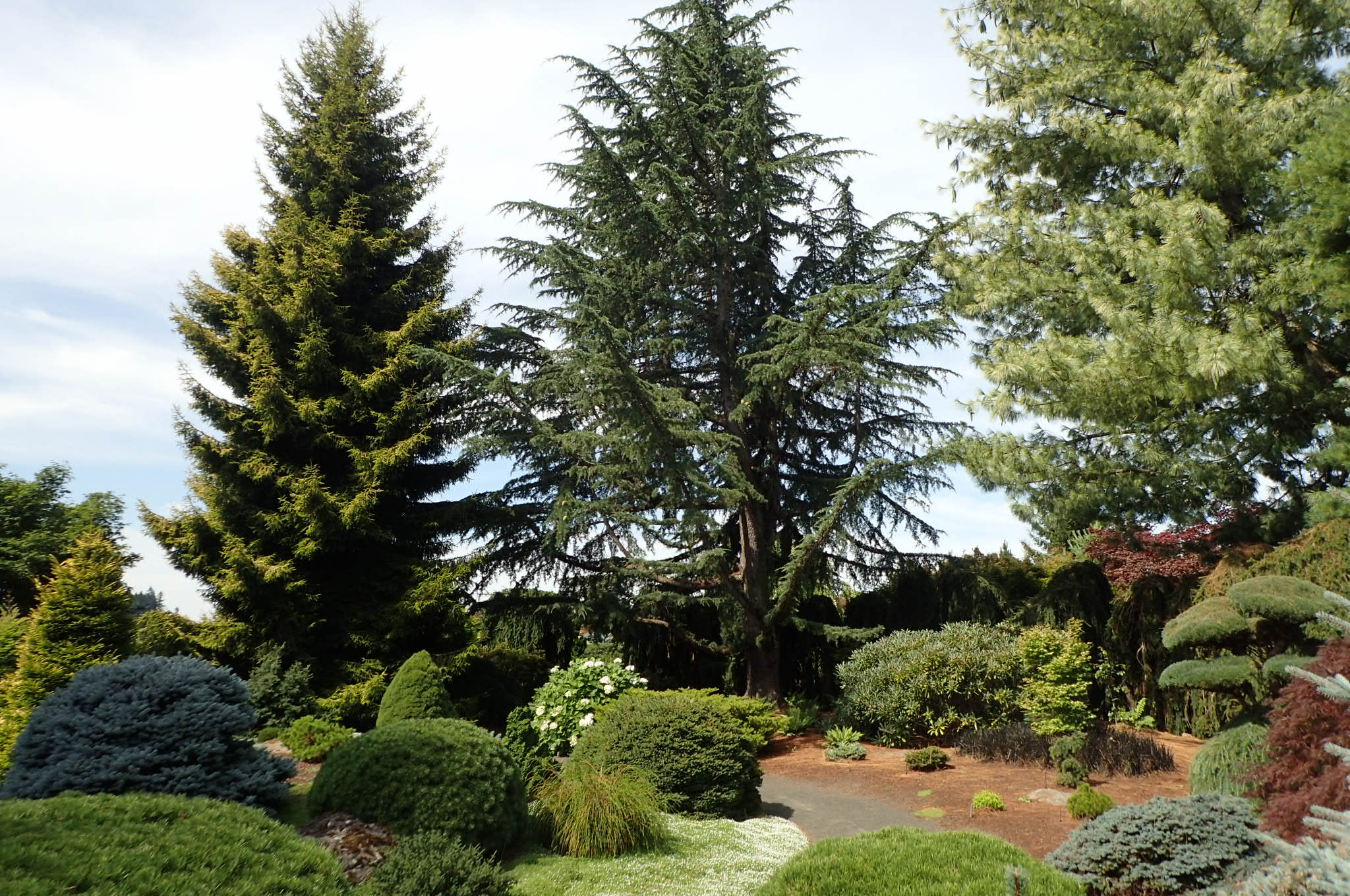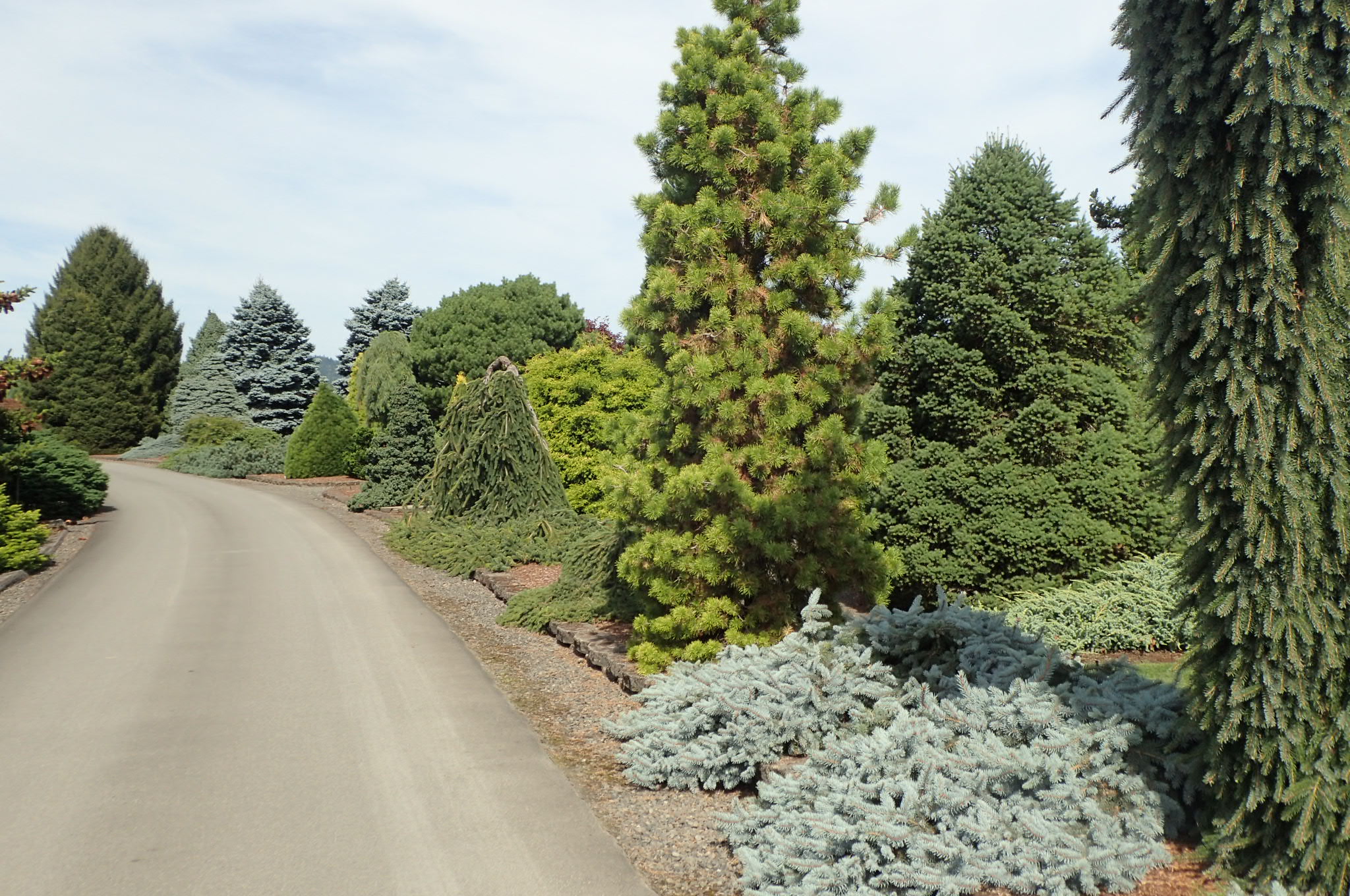 Pride of workmanship and quality is everywhere at Iseli. When we say this is not "normal" in a plant grower, we really mean it. You very, very rarely have this kind of quality experience when visiting a wholesale plant grower. Usually, you are dealing with puddles, endless gravel, rickety building, trash, broken down equipment and scattered weeds, and often somewhat irregular plants. A botanical garden like this is almost never part of a grower visit.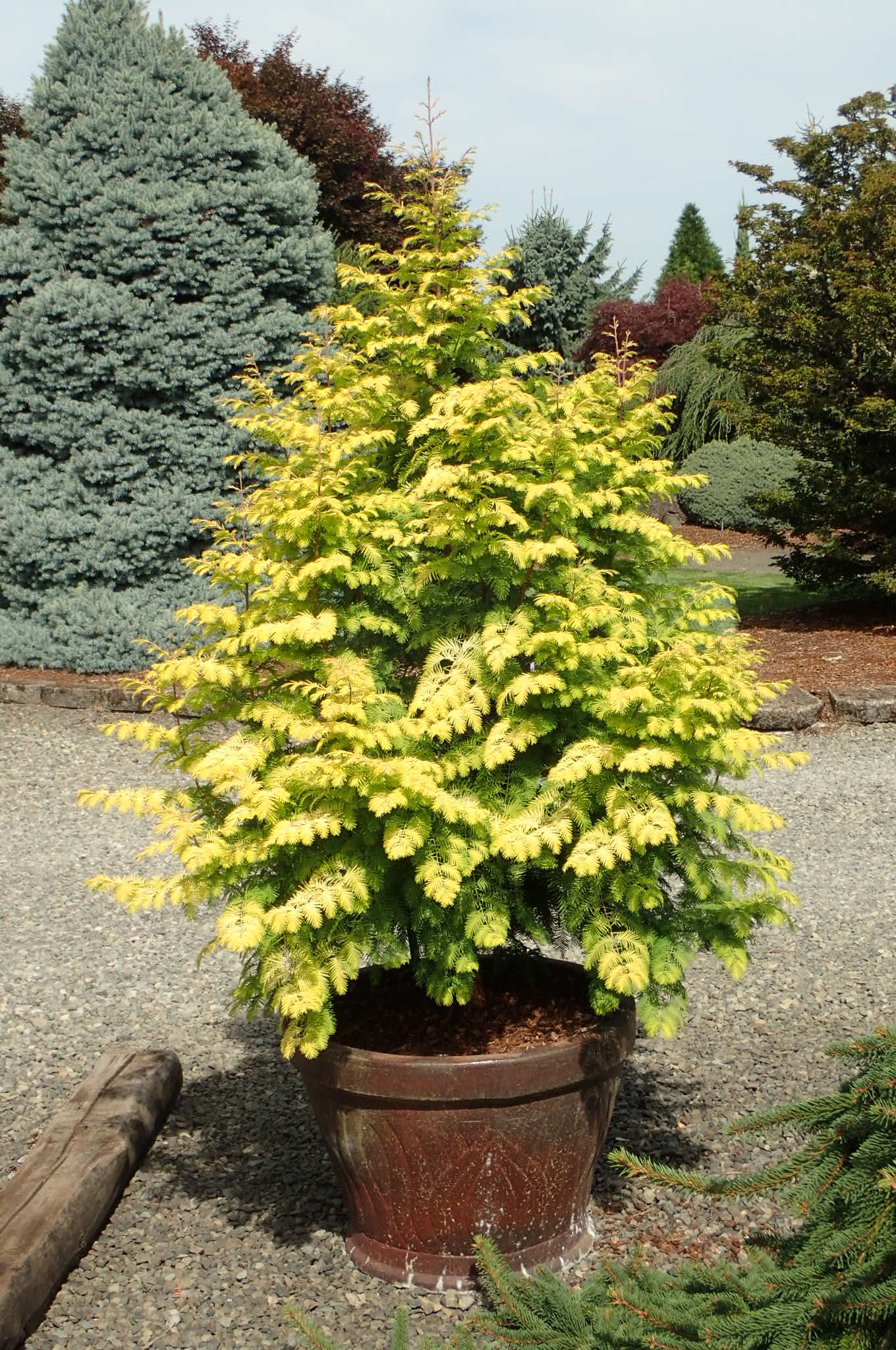 We really liked this little plant. It is a rare selection of a plant called Metasequoia glyptostrodoides. It is an un-named cultivar that is similar to one called 'Gold Rush' but much more compact and even more golden in color. Not for sale – this is the one and only. Don't you love it?
We think this picture on the wall of the Iseli office tells an important story. Plants take time, and often the moist choice plants take much more time than the rest of the plants. It's easy to grow an Aleppo Pine or a privit and have it be six feet in as little as two or three years. But what happens to that plant later is where the surprise lies.
A plant that grows quickly is much less costly to grow and much less expensive expensive to buy, since what you are really paying for when you are buying a plant is time. The biggest surprise to many gardeners is that relatively inexpensive and fast-growing plants don't suddenly stop growing when they reach the perfect size that you were hoping for. They keep growing, and usually very quickly.
Then, out come the pruners and the gardeners, in an attempt to contain the issue. Maintenance time and costs go crazy, the plants lose their proper appearance and frustration grows. Yes, "Grandeur Takes Time". When you come in to Roger's Gardens and see these plants, remember they may have been growing somewhere for ten years before you are seeing them.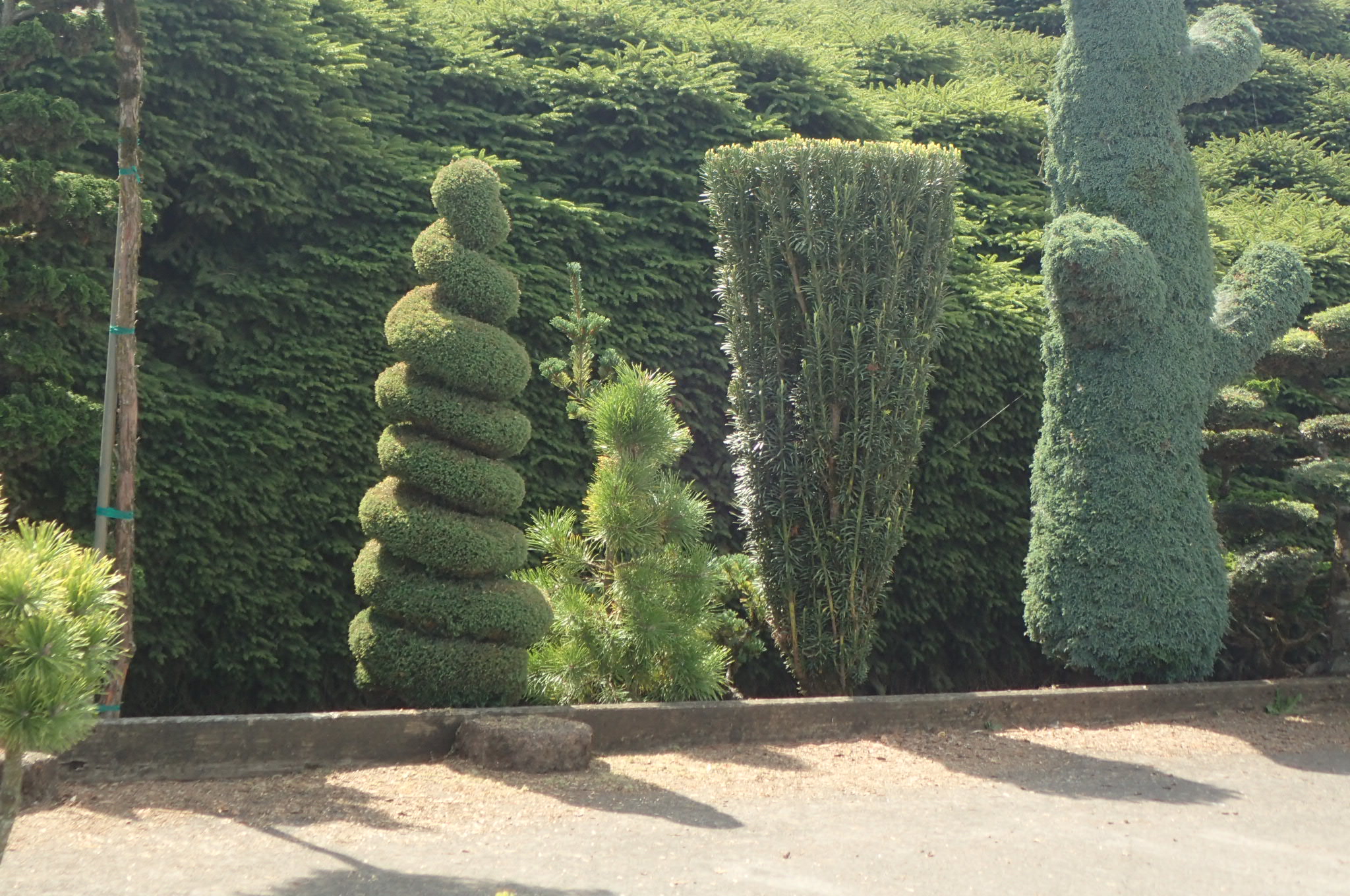 Here's another example of patience. This little row of conifers have been planted near the parking area and patiently pruned and trained as a hobby by one of the long-term employees. They are more than 30 years old now. Wow.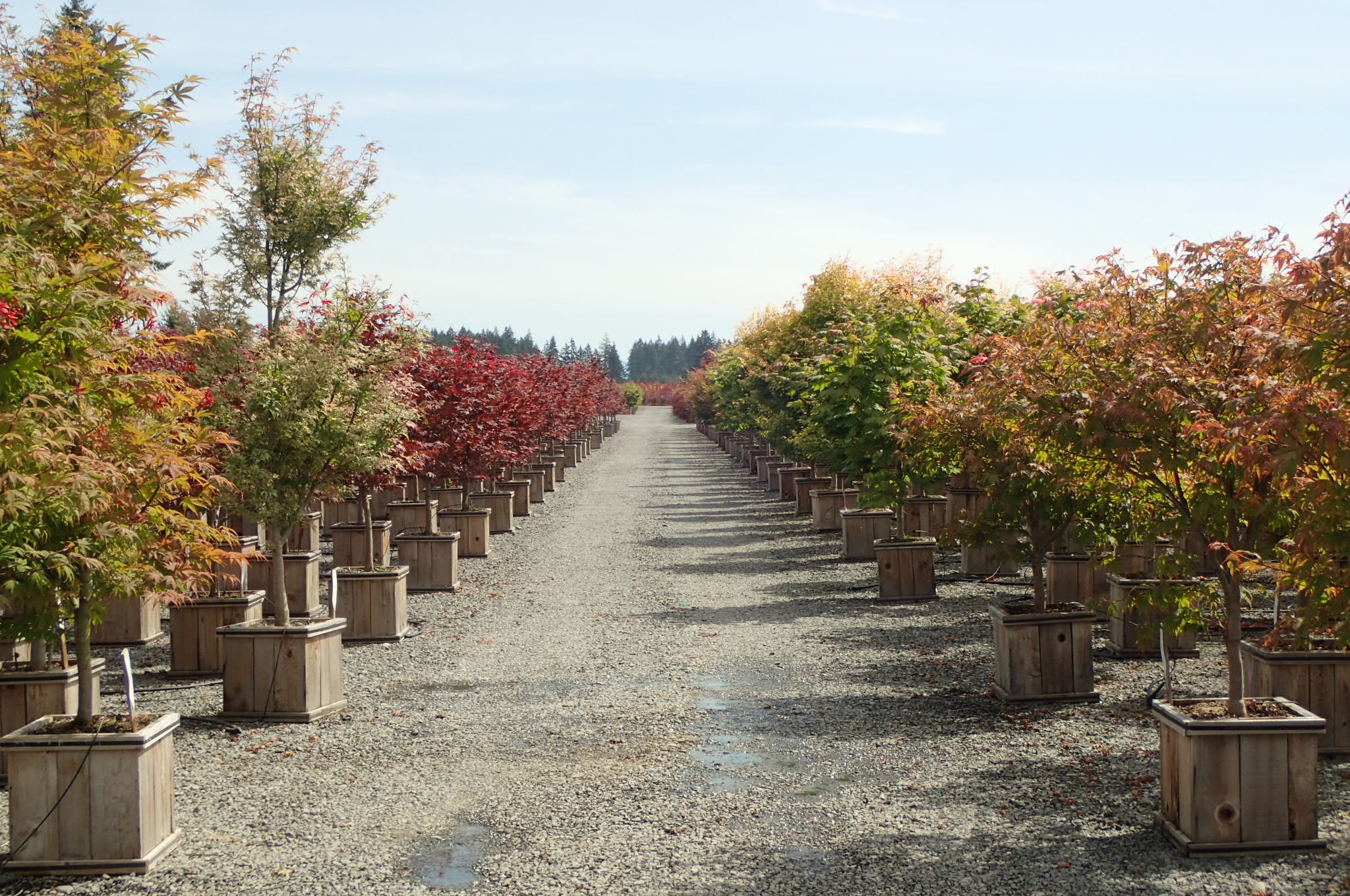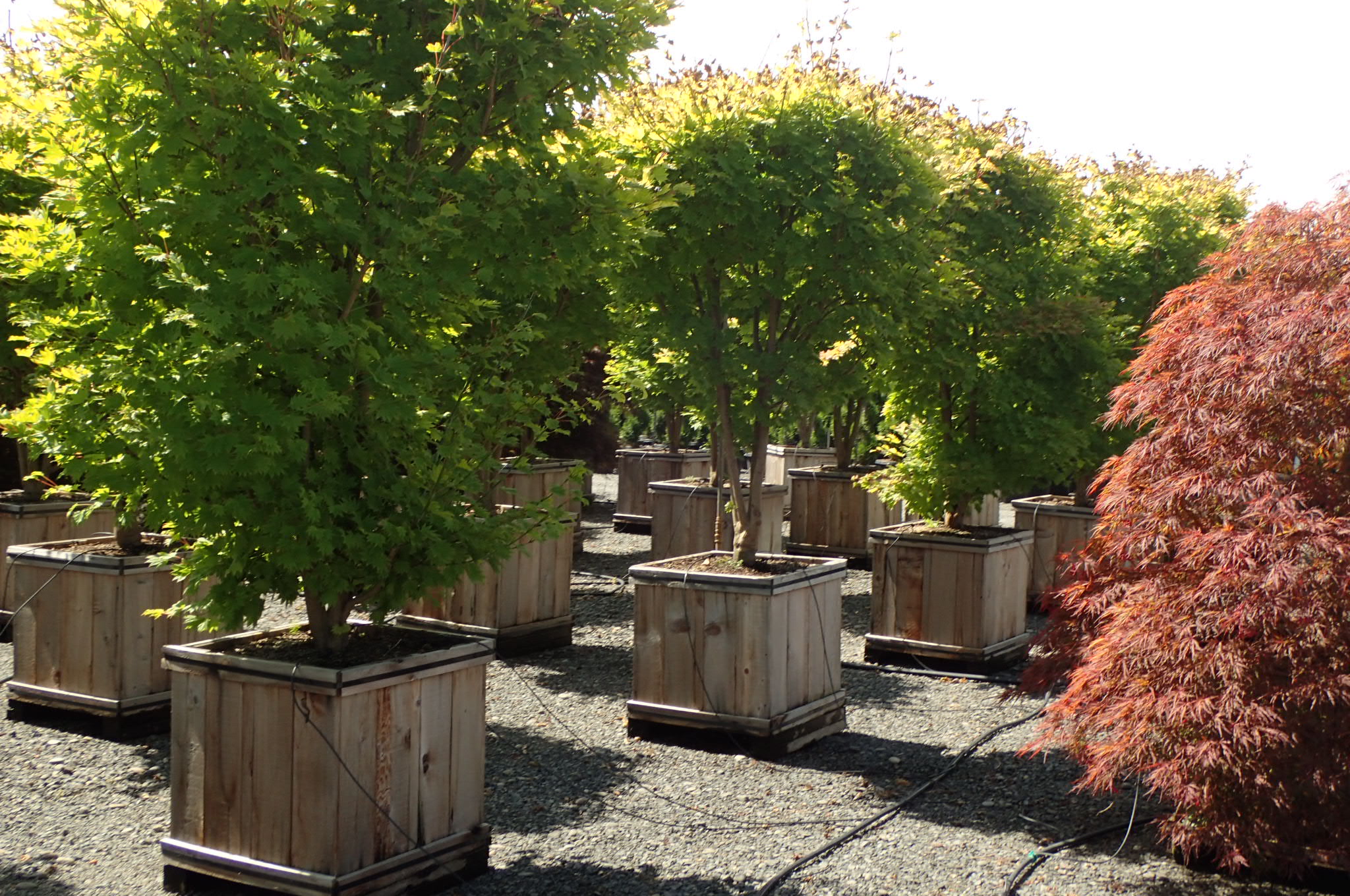 As mentioned, Japanese Maples are one of Iseli's specialties. We think they grow the best in the country and they are our primary supplier, of course.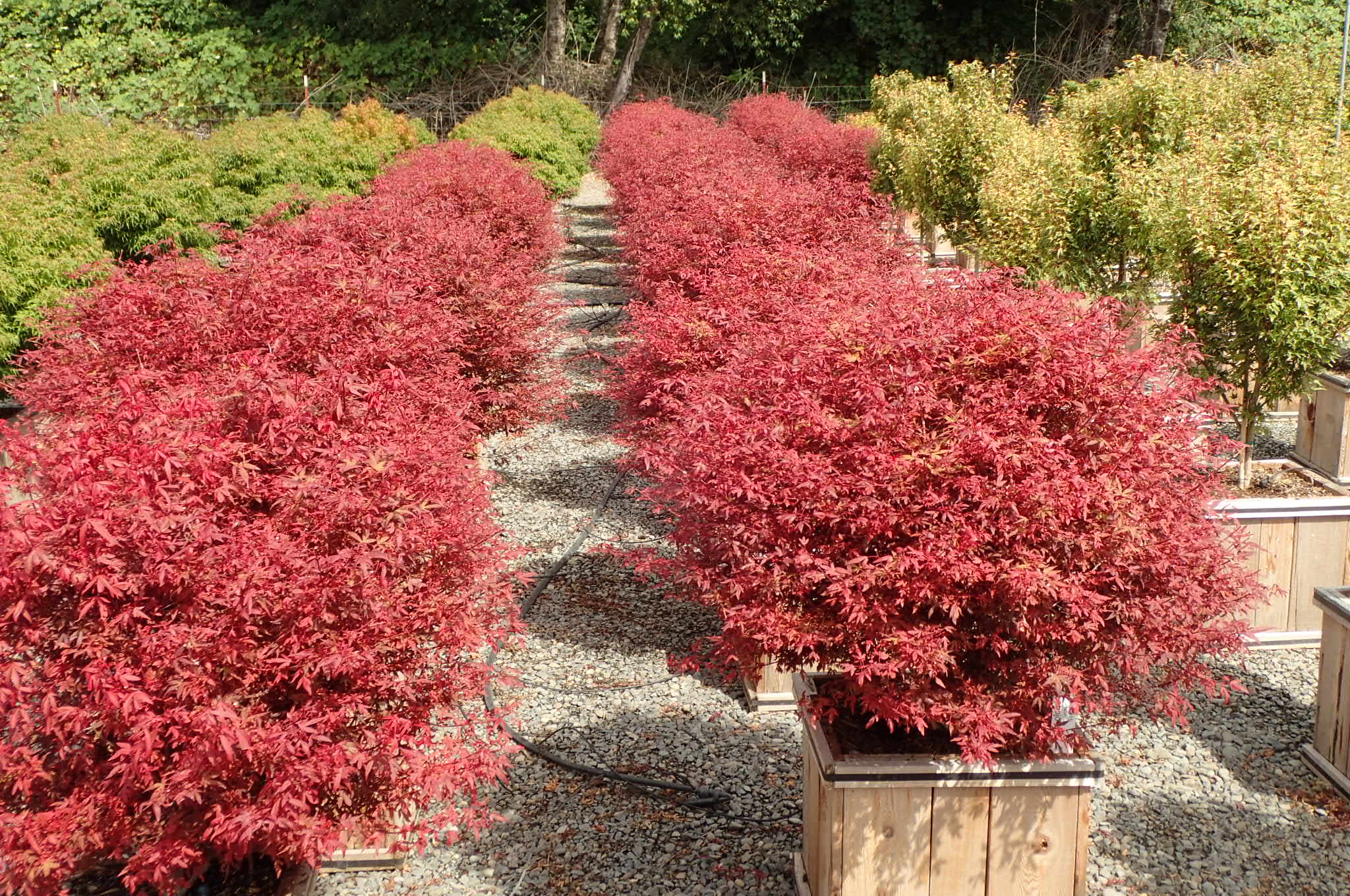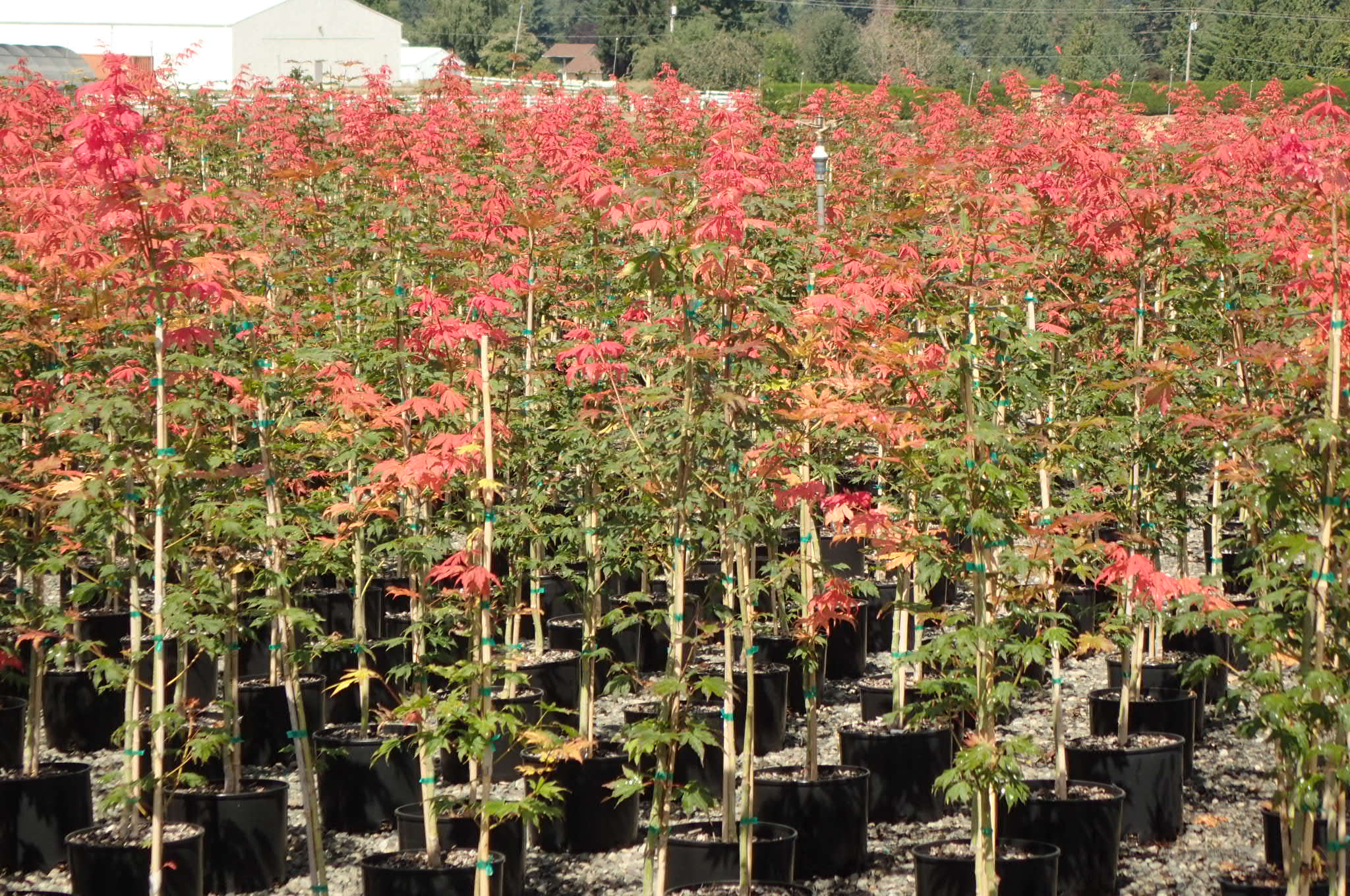 Iseli grows a wide range of Japanese Maple selections, from very small, compact varieties, like the photo at the top (these are about 8-10-year-old plants) to larger, more upright selections, like those in the bottom photo. All of them are perfect.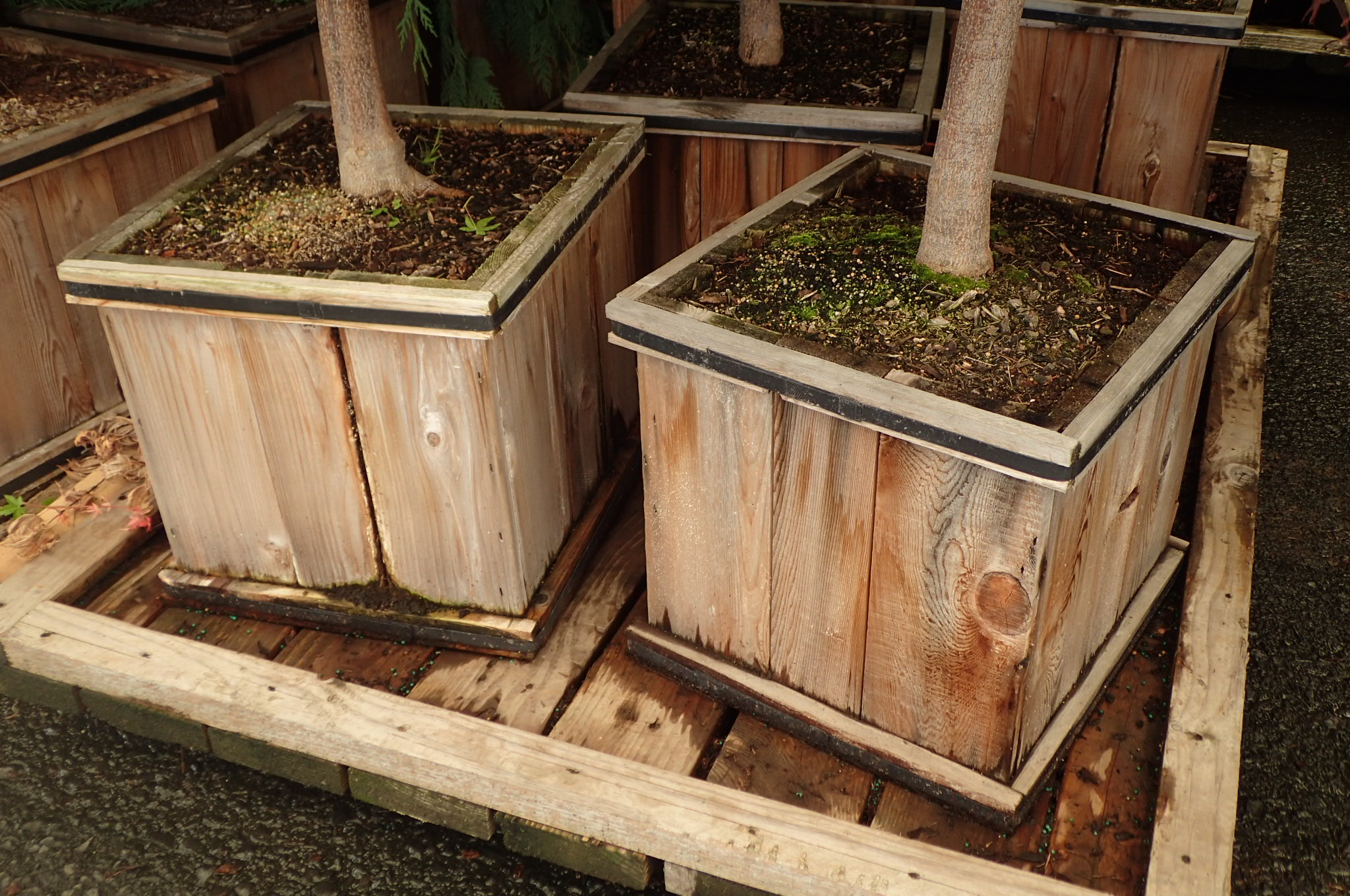 One distinctive characteristic of larger Iseli grown planta is the handmade cedar wooden boxes that they grow them in. The cedar is not only beautiful and long lasting, but it absolutely grows a better plant. Wood insulates the soil and keeps the roots considerably cooler than the same plant growing in a normal plastic container. Cool roots, especially with a Japanese Maple, make a big difference to the health and vigor of the plant. This is even more true in warm Southern California.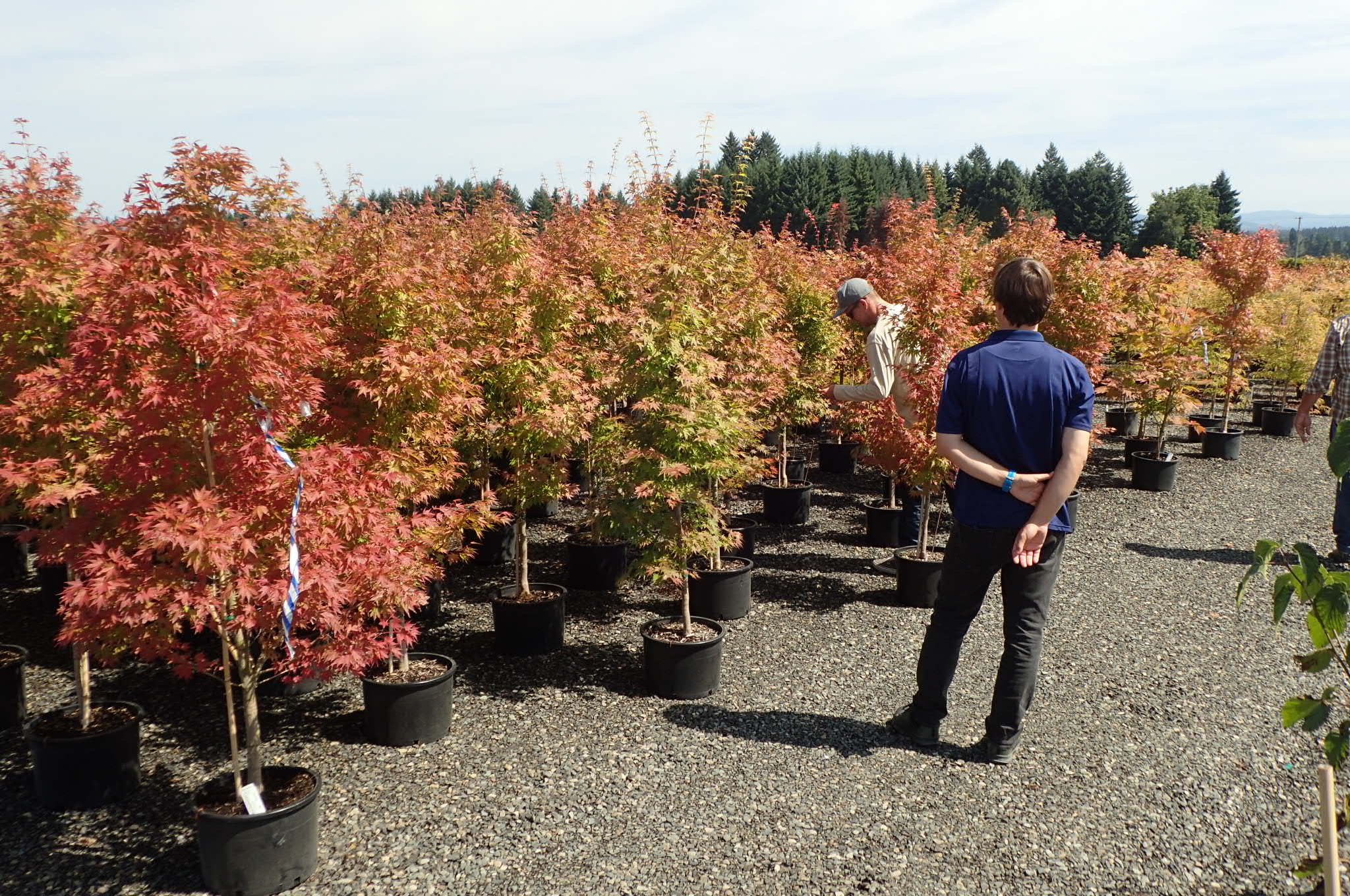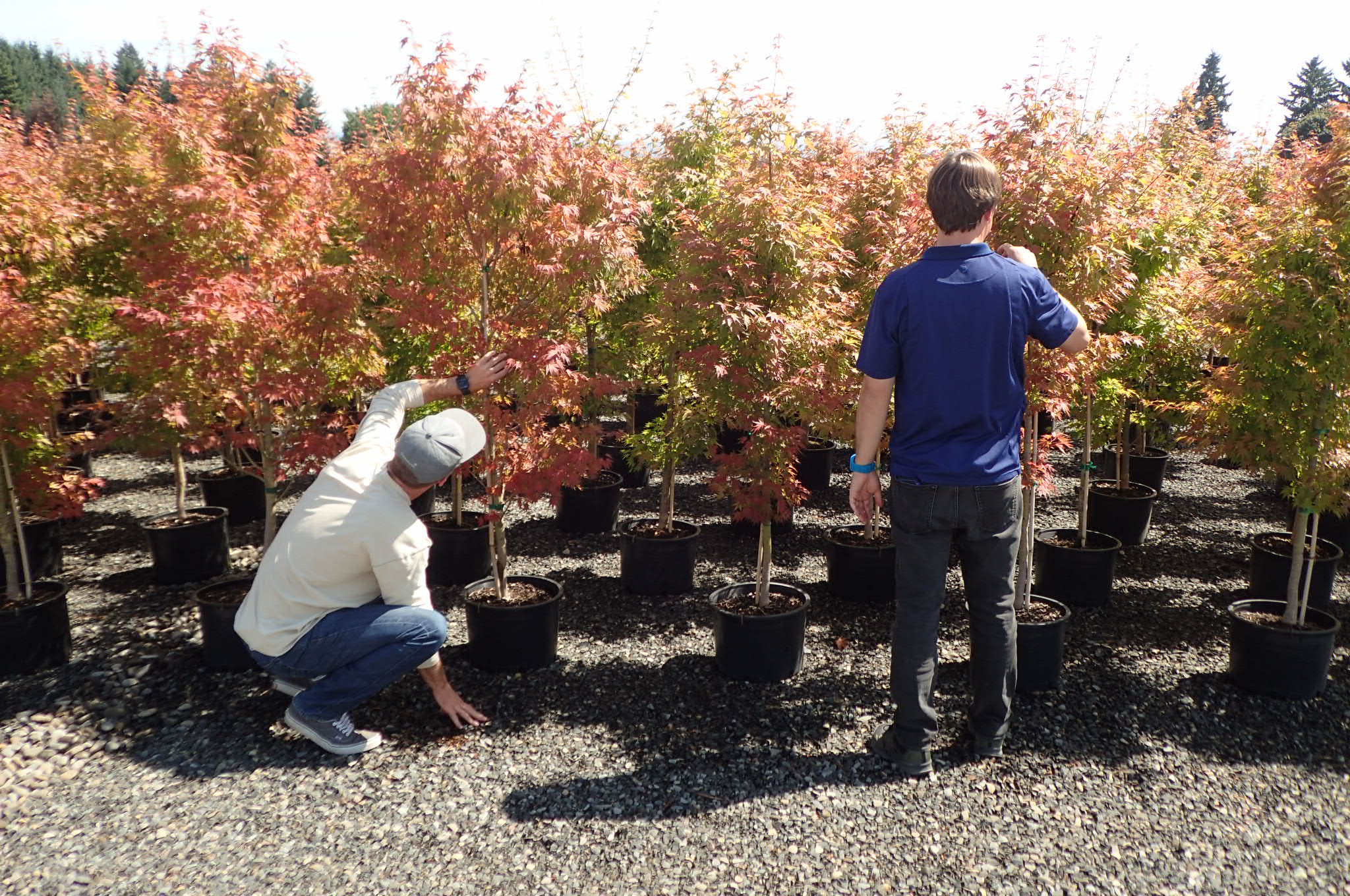 This Japanese Maple variety is one of our special and secret selections. We have been testing it in Southern California in small numbers over the past couple of seasons – and it's a winner.
It has a fabulous habit and beautiful foliage that retains an amazing color, often with varying tones throughout the year. This is August, and look at that color. And it holds up to the SoCal heat and sun well too. We can't tell you the name quite yet, but look for it at Roger's Gardens early next year. There will be limited supplies, so shop early.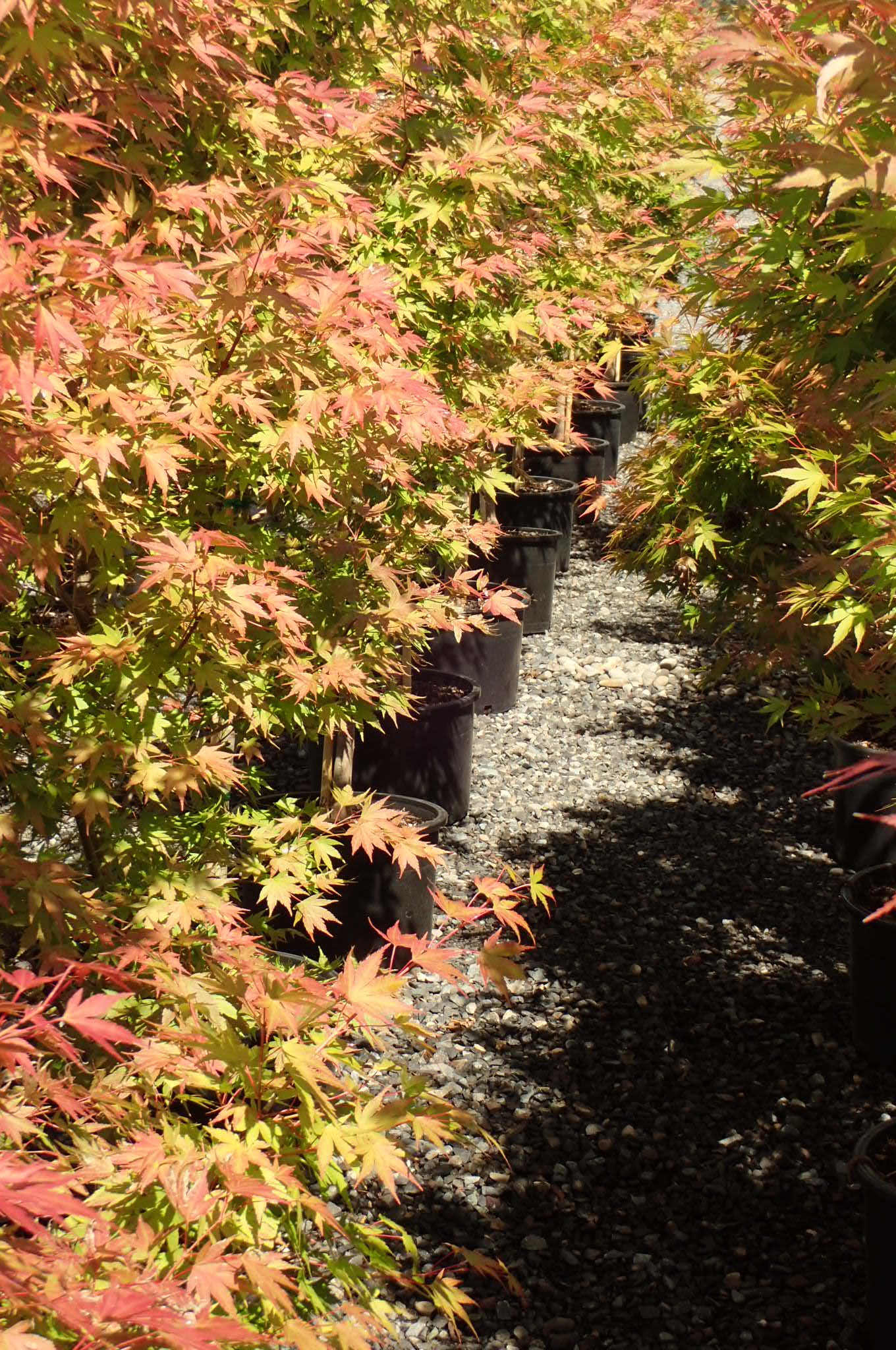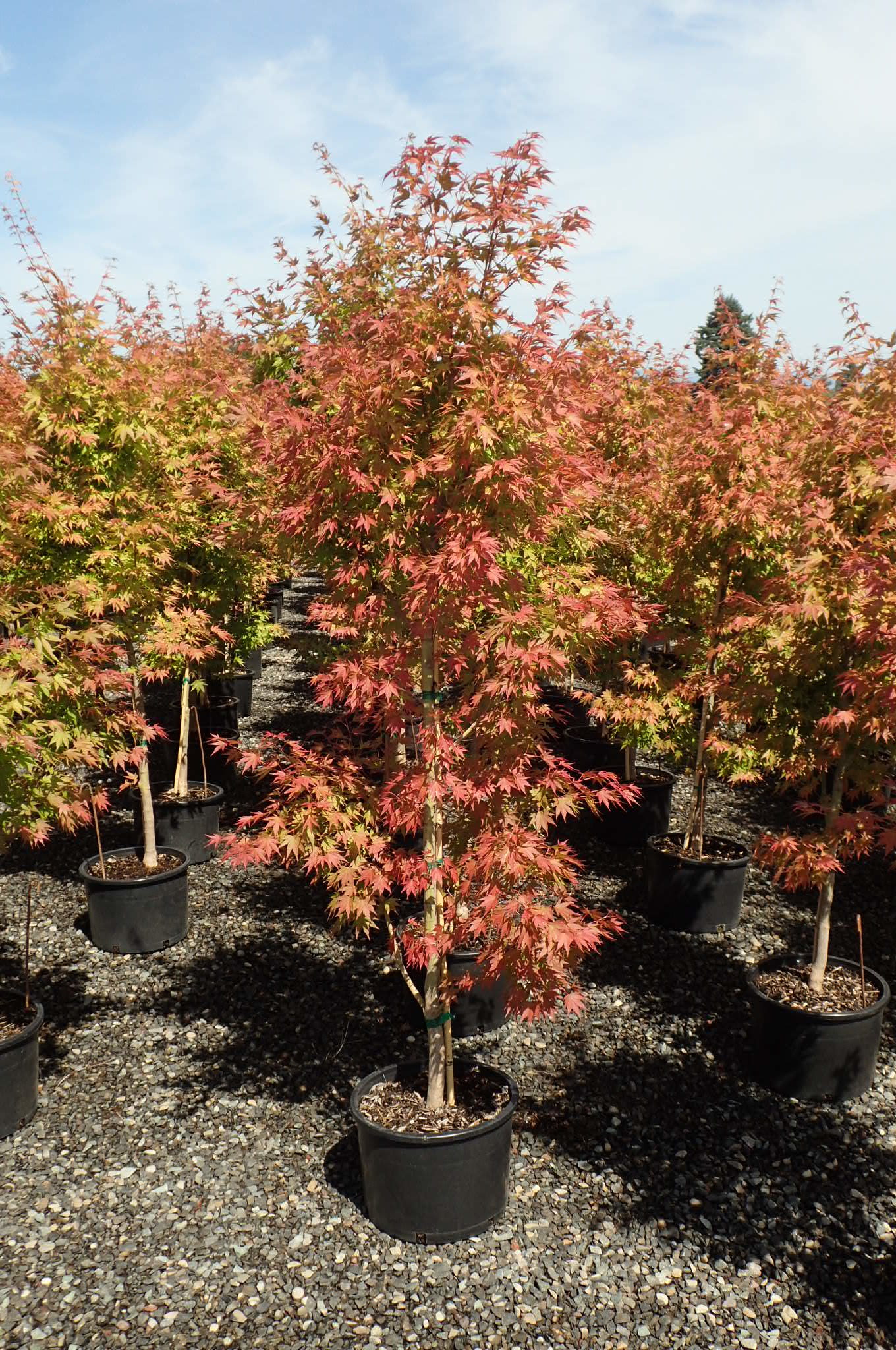 Here are a few more of the same special Japanese Maple variety. A real winner. If you agree, drop us a note in the "comments" section at the end of this article. We would love to hear from you.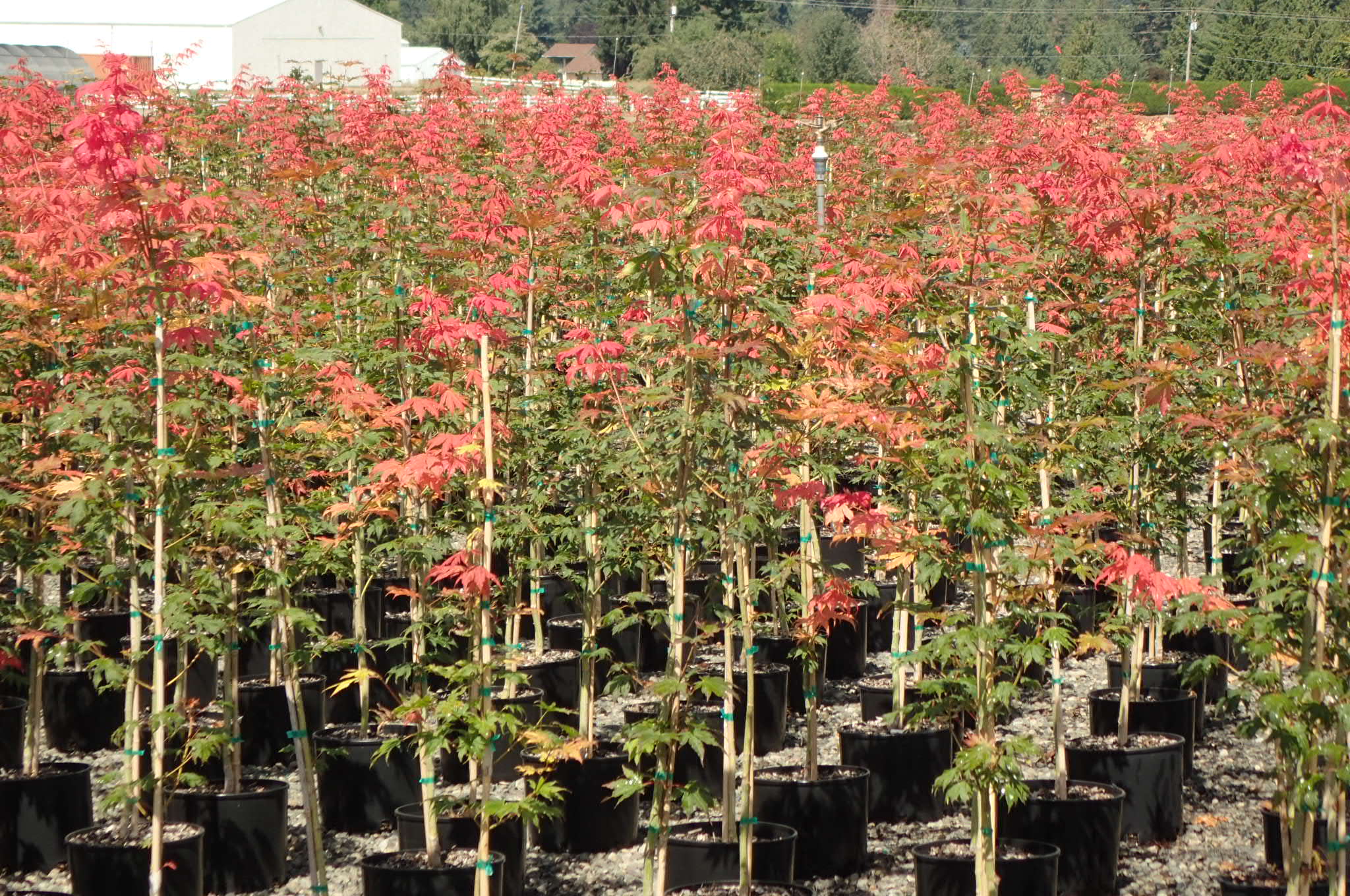 Time to say goodbye to the Japanese Maples and head over to the conifers.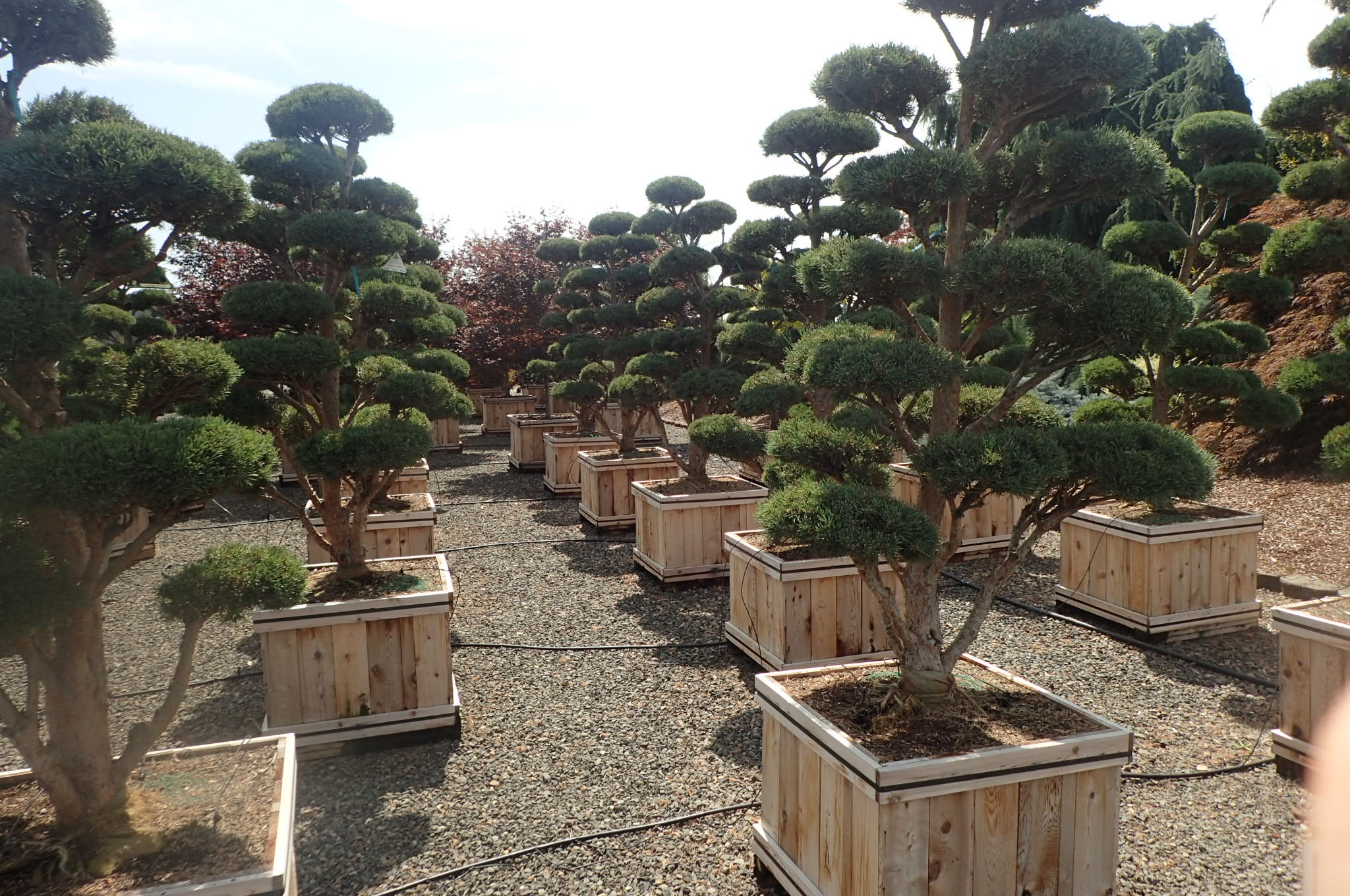 Just like maples, Iseli grows the nation's best conifers, including these sculptured Austrian pines (Pinus nigra). The craftsmanship required to grow plants of this quality is quite a rare thing.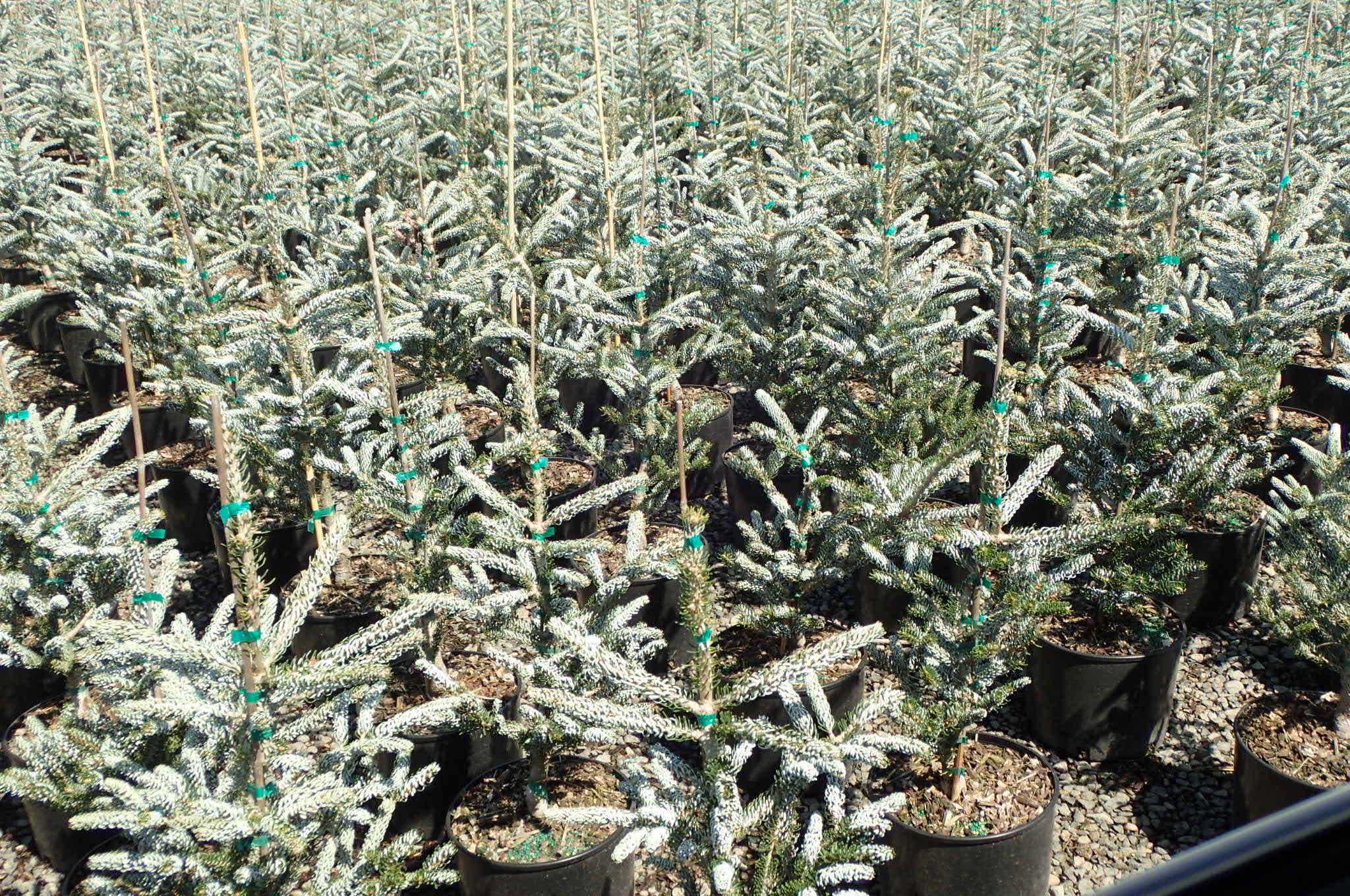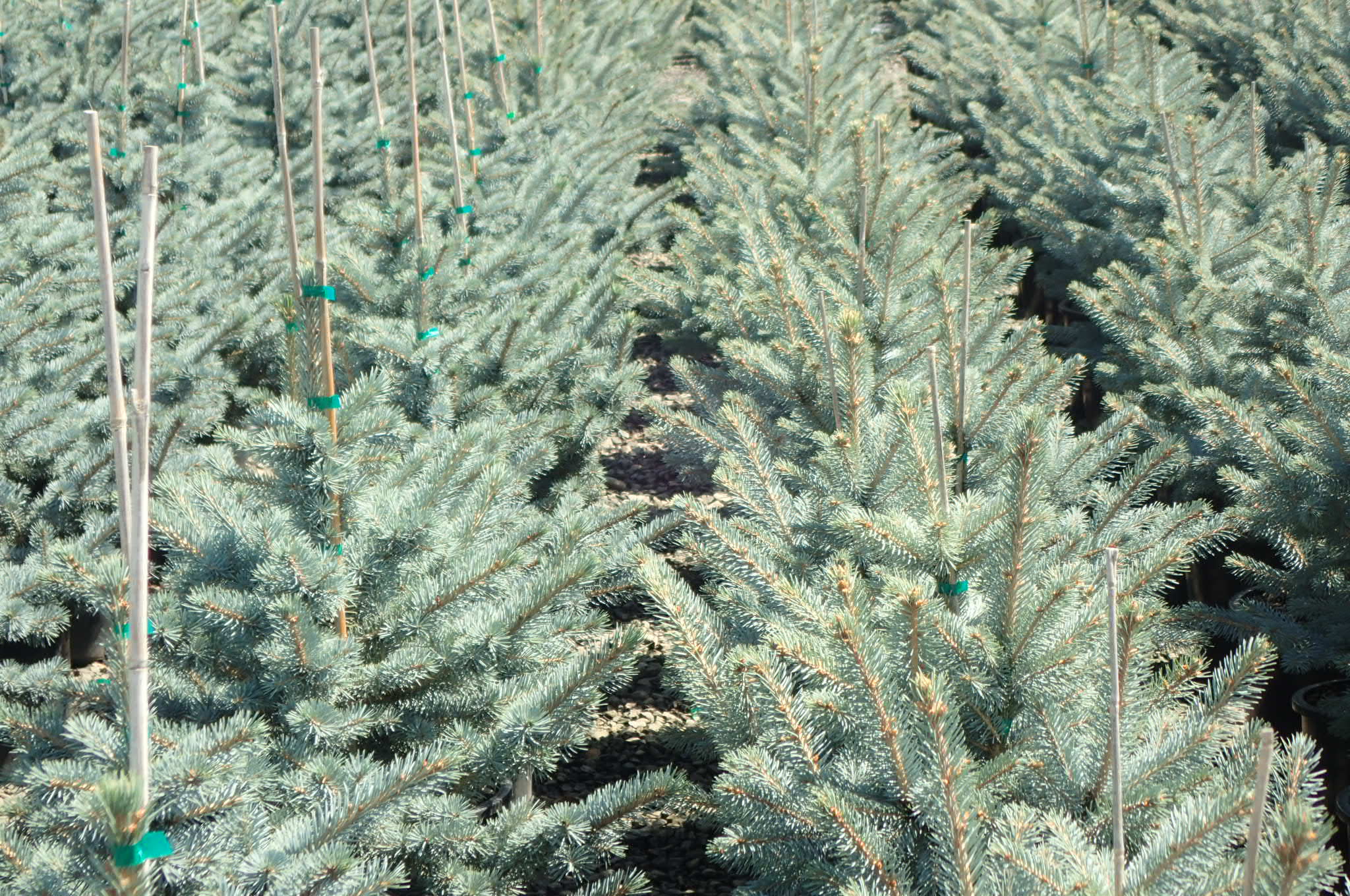 Iseli grows a large range of specialty conifers. They also breed conifers and have made numerous selections that have been introduced into horticulture over the past 40 years. Both of these photos are spruce selections. These two are especially blue-silver; at the top is a selection of Abies koreana (Korean Fir) called 'Silver Show', and below is a selection of Picea pungens (Colorado Blue Spruce) called 'Avatar'.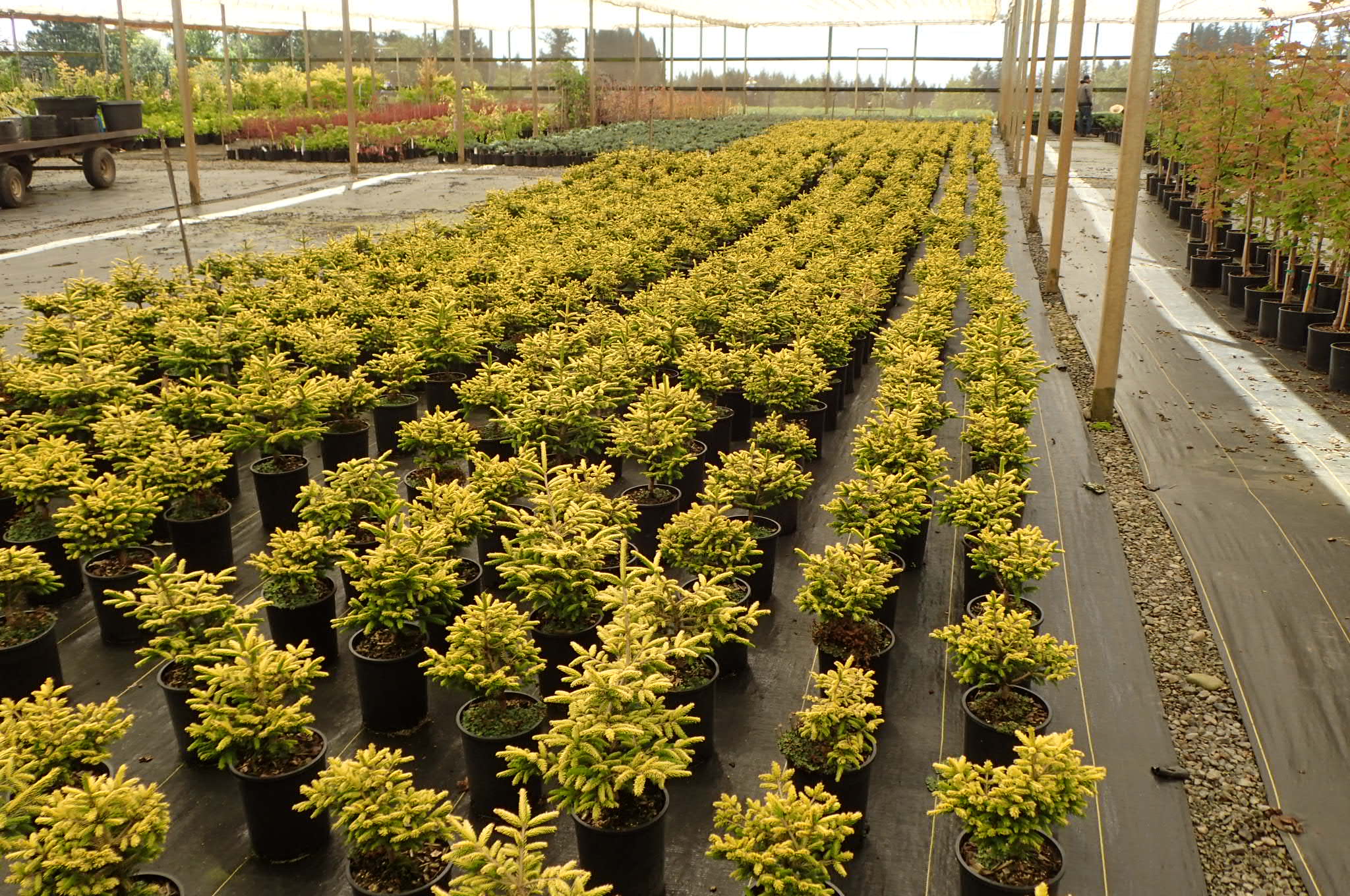 Gold tones are also especially popular in conifers.
The plants at the top are a selection of Norway Spruce (Abies glauca) with very golden yellow foliage called 'Gold Drift'. 'The Limey', at the bottom, is also a selection of Norway Spruce, also with golden colored new growth.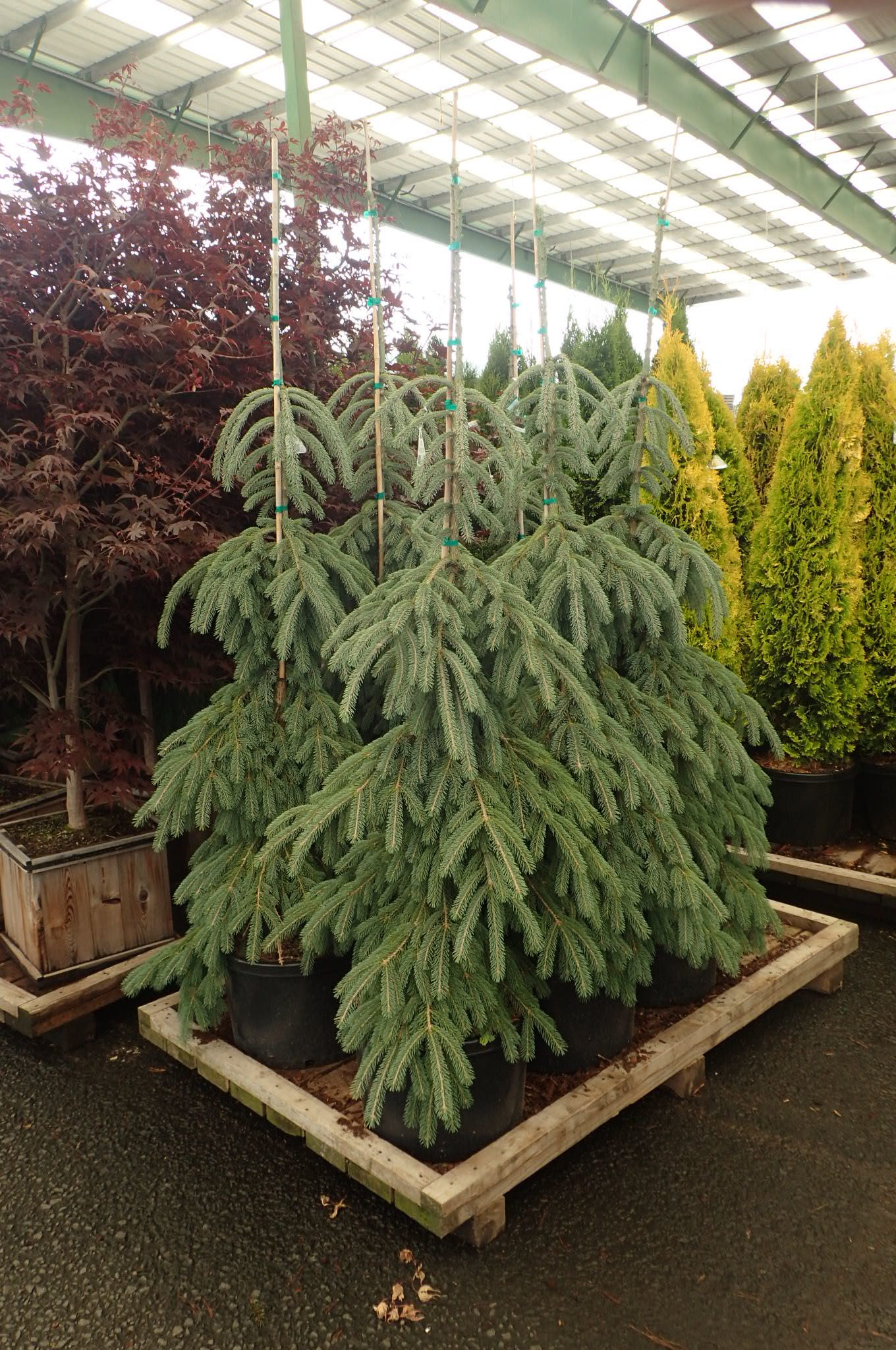 Weeping or cascading growth is a character that can be quite dramatic in a garden design, adding a sense of relaxation and calm to a well crafter garden. At the bottom are some very nice moderate sized Cupressus cashmeriana (Cashmer Cypress). This is a plant that performs particularly well in much of our SoCal region.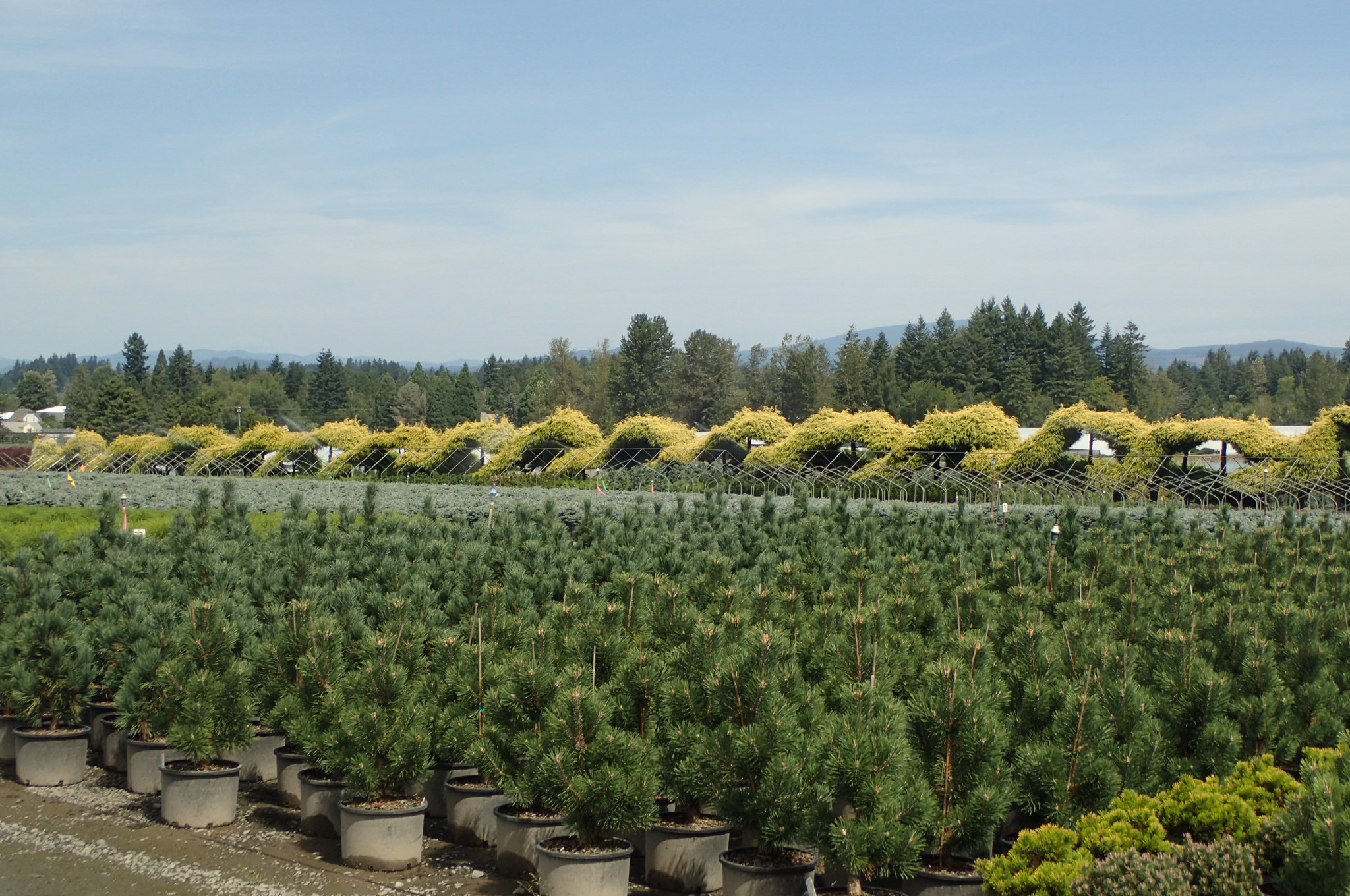 Pines are in abundance here, but not the common varieties you might expect. At the top is a selection of Austrian Pine (Pinus nigra) and below are some very dwarf mounding Mugo Pines (Pinus mugo).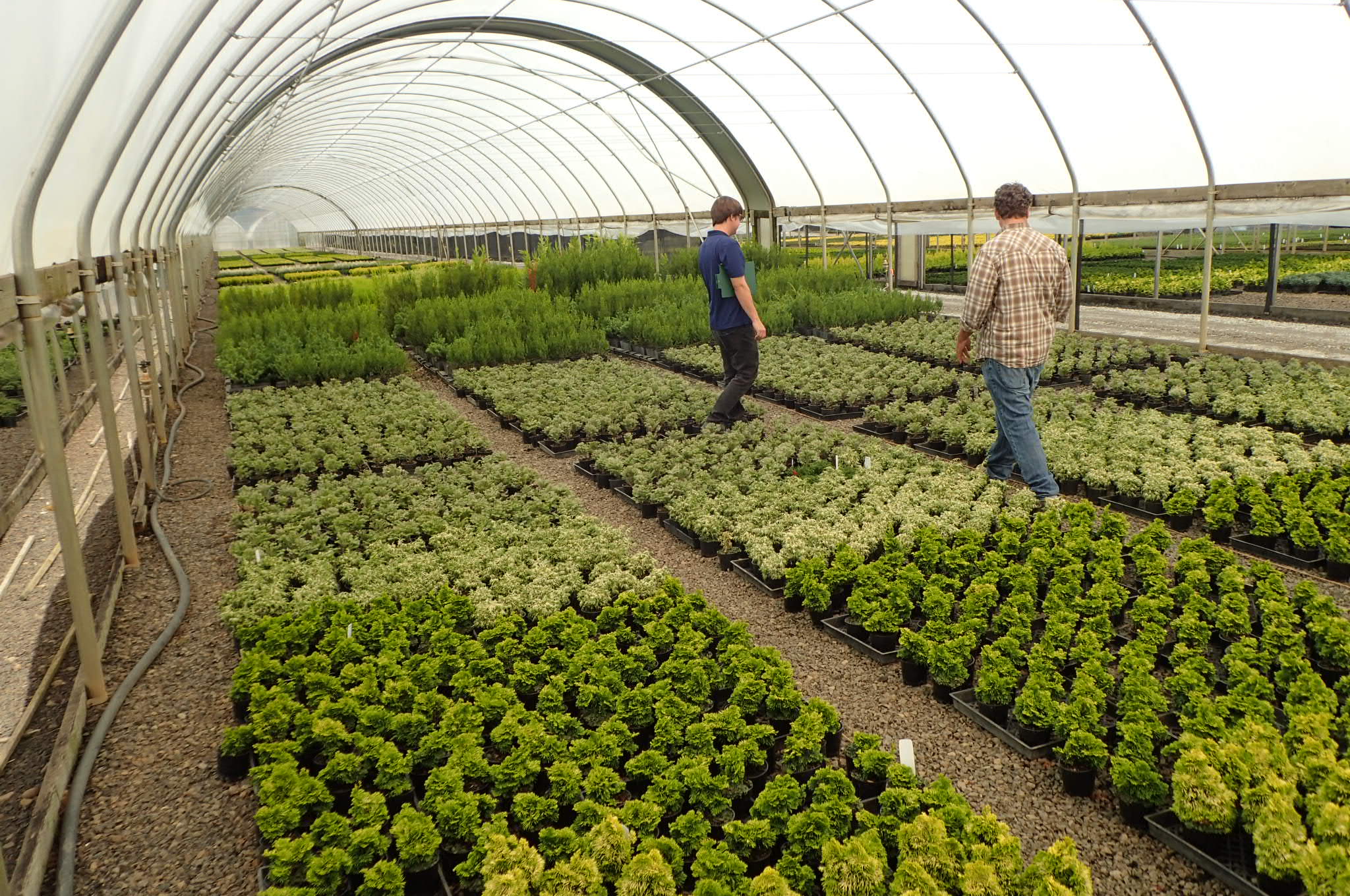 One of the most exciting groups of plants that Iseli offers are very small dwarf conifers. These are ideal for miniature gardens and fairy gardening, because they grow so slowly and stay small for a very, very long time.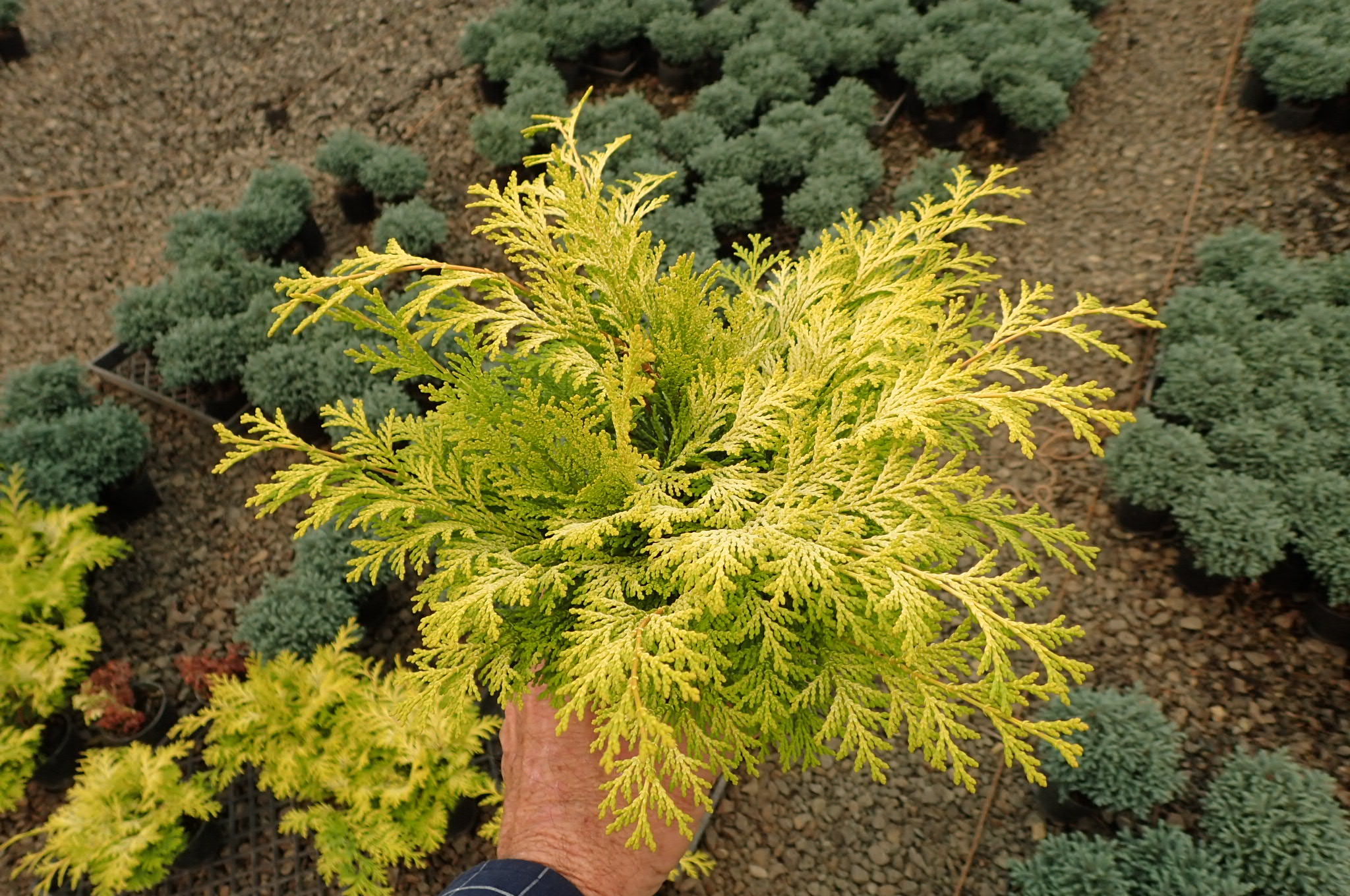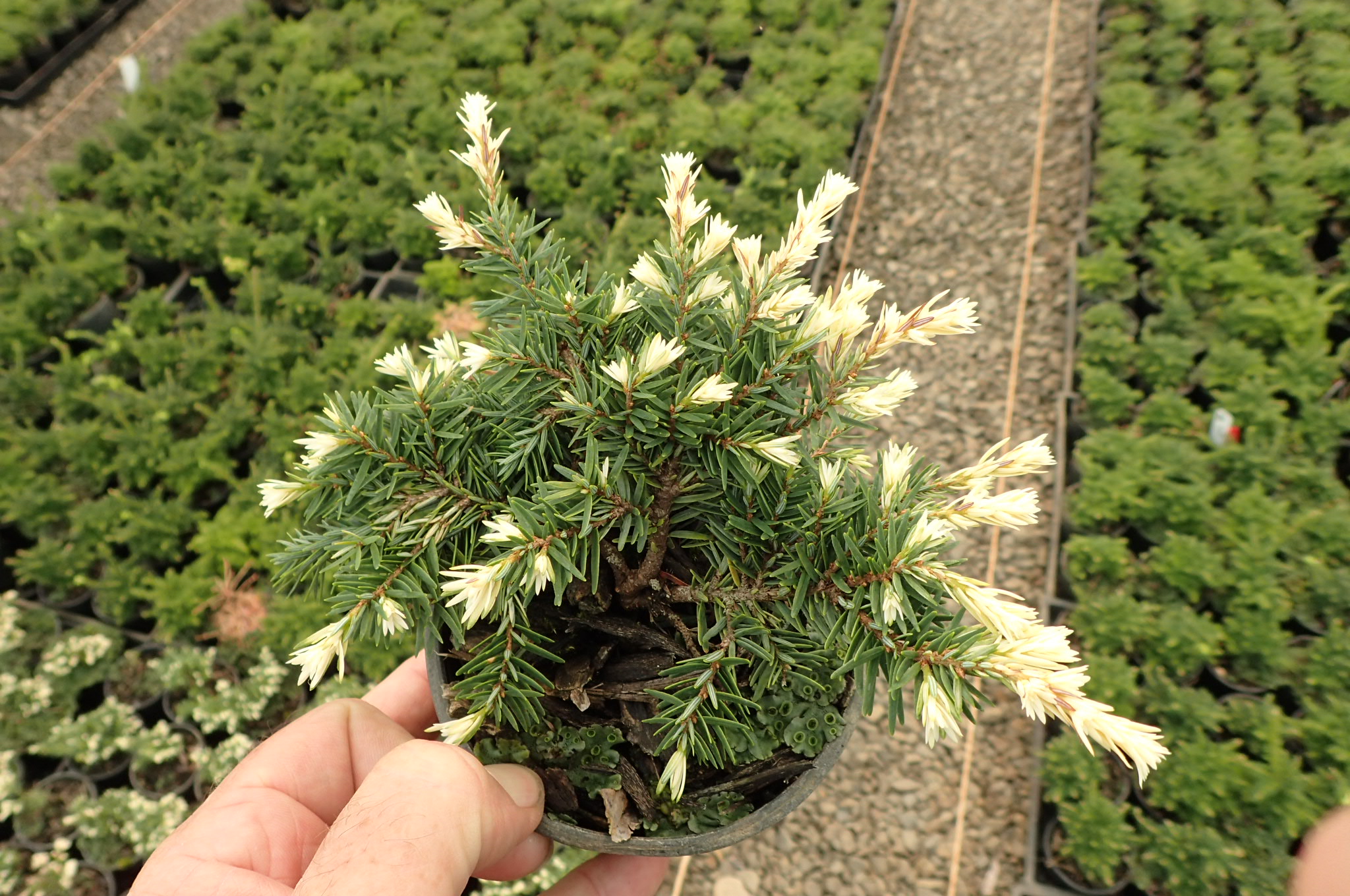 Just a few of the small pots of very dwarf conifers. We carry many of these during the course of the year in our Miniature Plant area.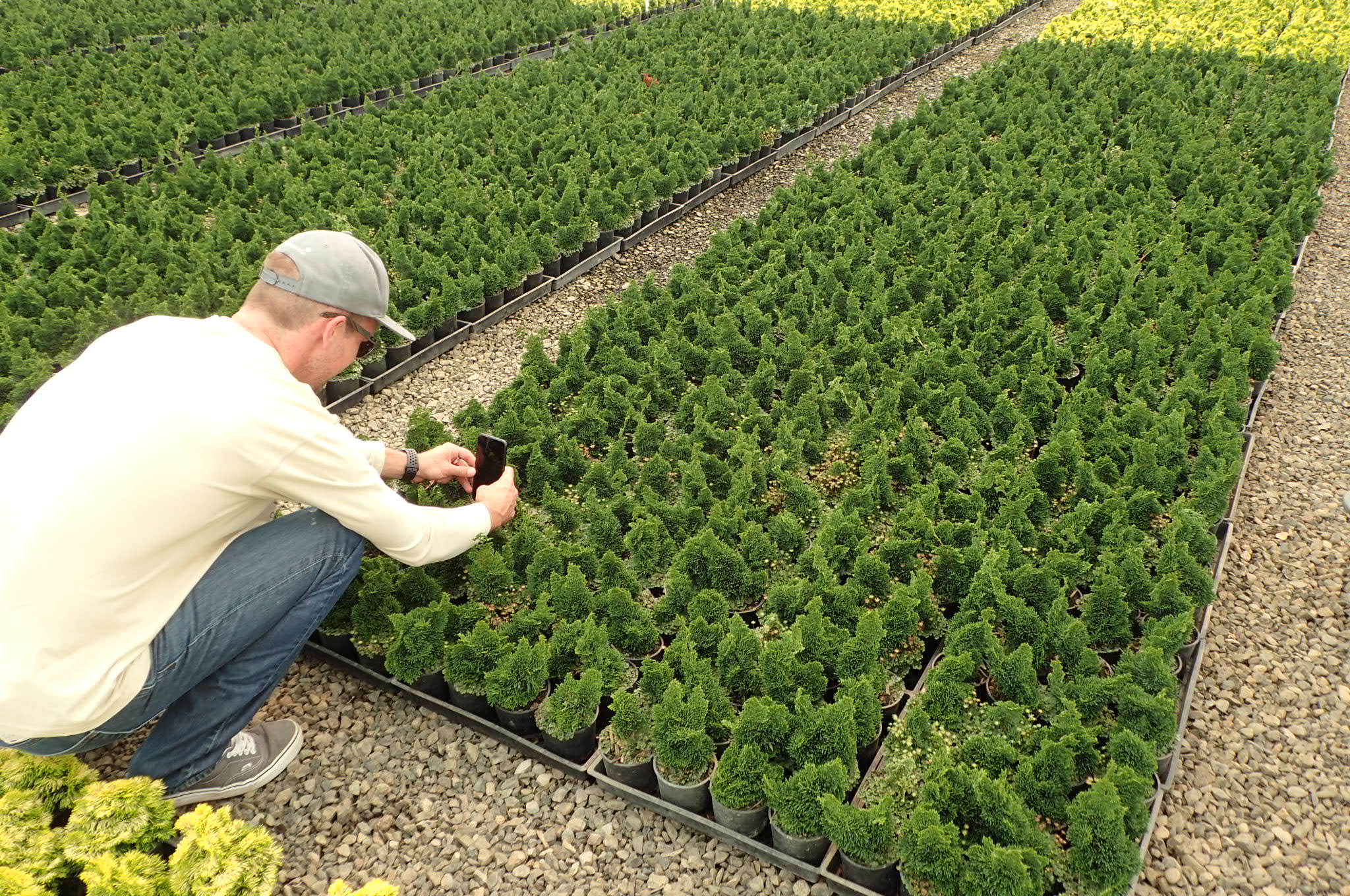 An entire house of dwarf Red Cedars (Thuja plicata). The little super dwarf one on the far right was one of our favorites, called Thuja plicata 'Haley Bop'. The perfect miniature garden plant.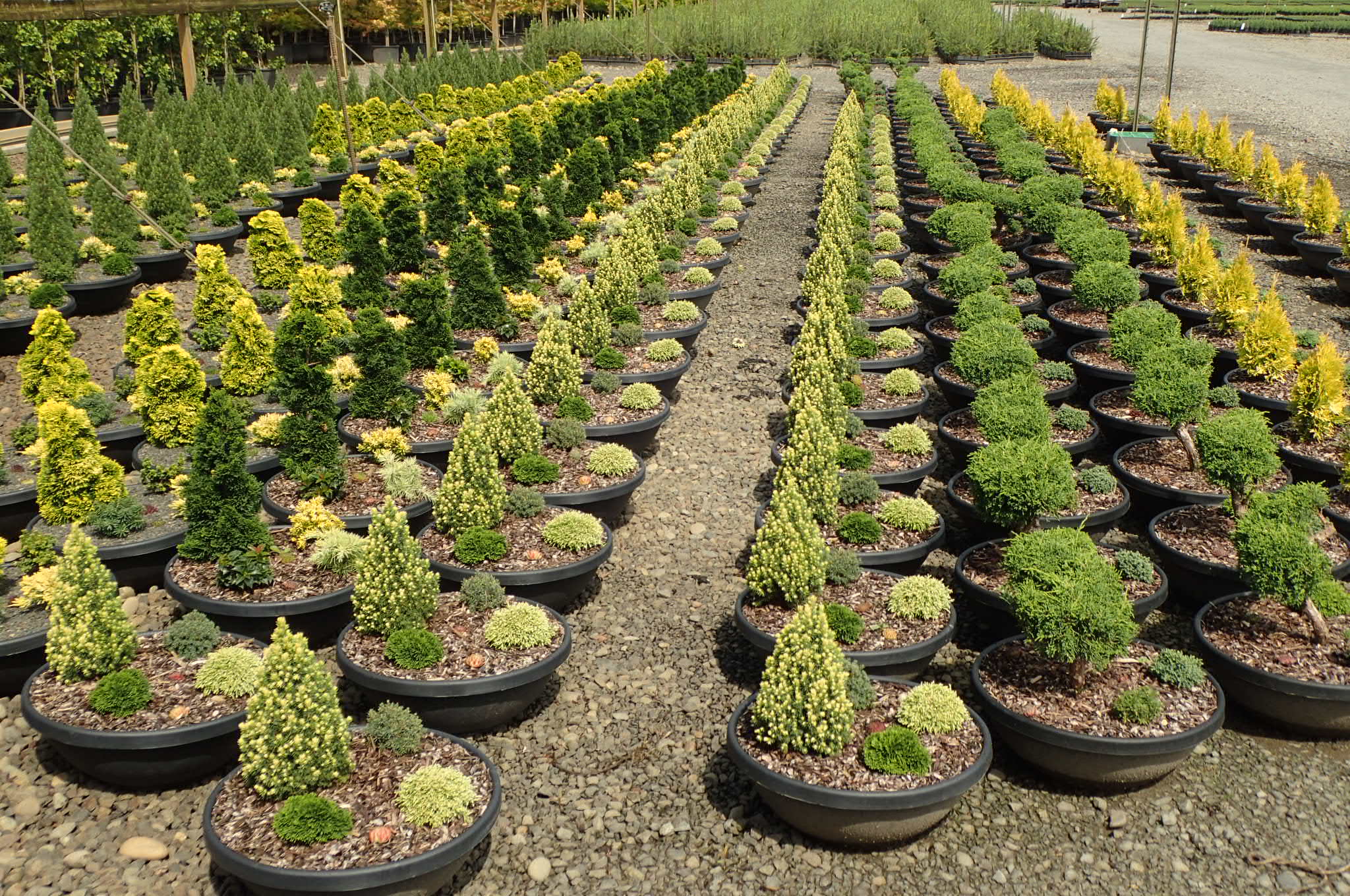 Dwarf conifers can be assembled together into a low bowl and an instant miniature garden can be created. But the best part is that these potted miniature conifer gardens can last for years and years with no need for transplanting or fear of outgrowing the container. An almost no maintenance and very long lasting investment.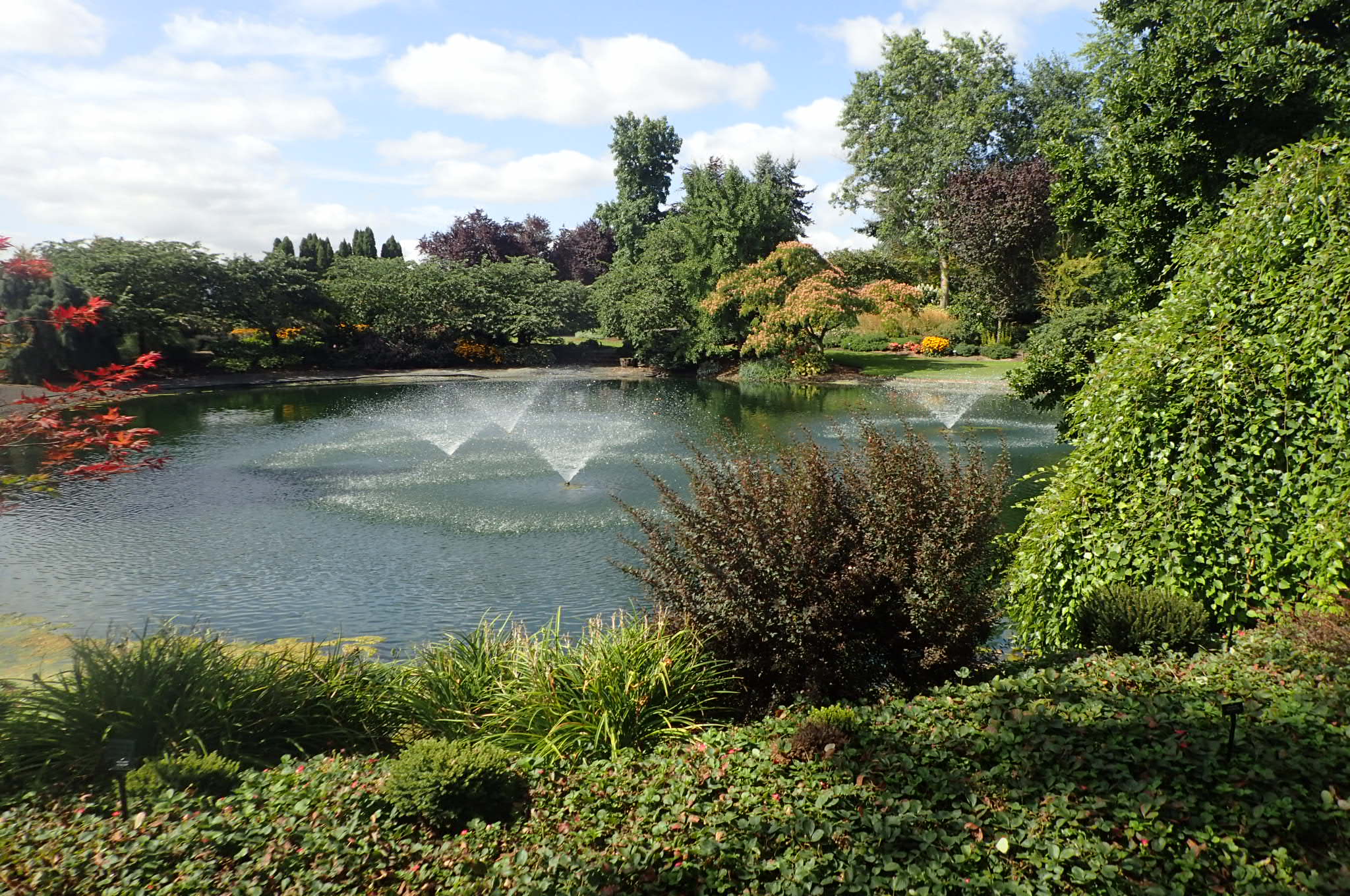 Our other grower visited while in Oregon was to well-known Monrovia Growers. Monrovia is a recognized plant brand that most of our shoppers will probably be familiar with. Founded 93 years ago, Monrovia Nursery sets the standard for the plant growing industry.
Monrovia maintains growing locations in several locations around the country and ships the highest quality plants to all areas of the continent. Most of the Monrovia plants seen at Roger's Gardens come from their 600-acre California growing operation. However, we also bring down several orders every year from this 550-acre farm just outside of Dayton, Oregon.
Monrovia Nursery is a class organization at every level, including their offices and display gardens, but especially their people.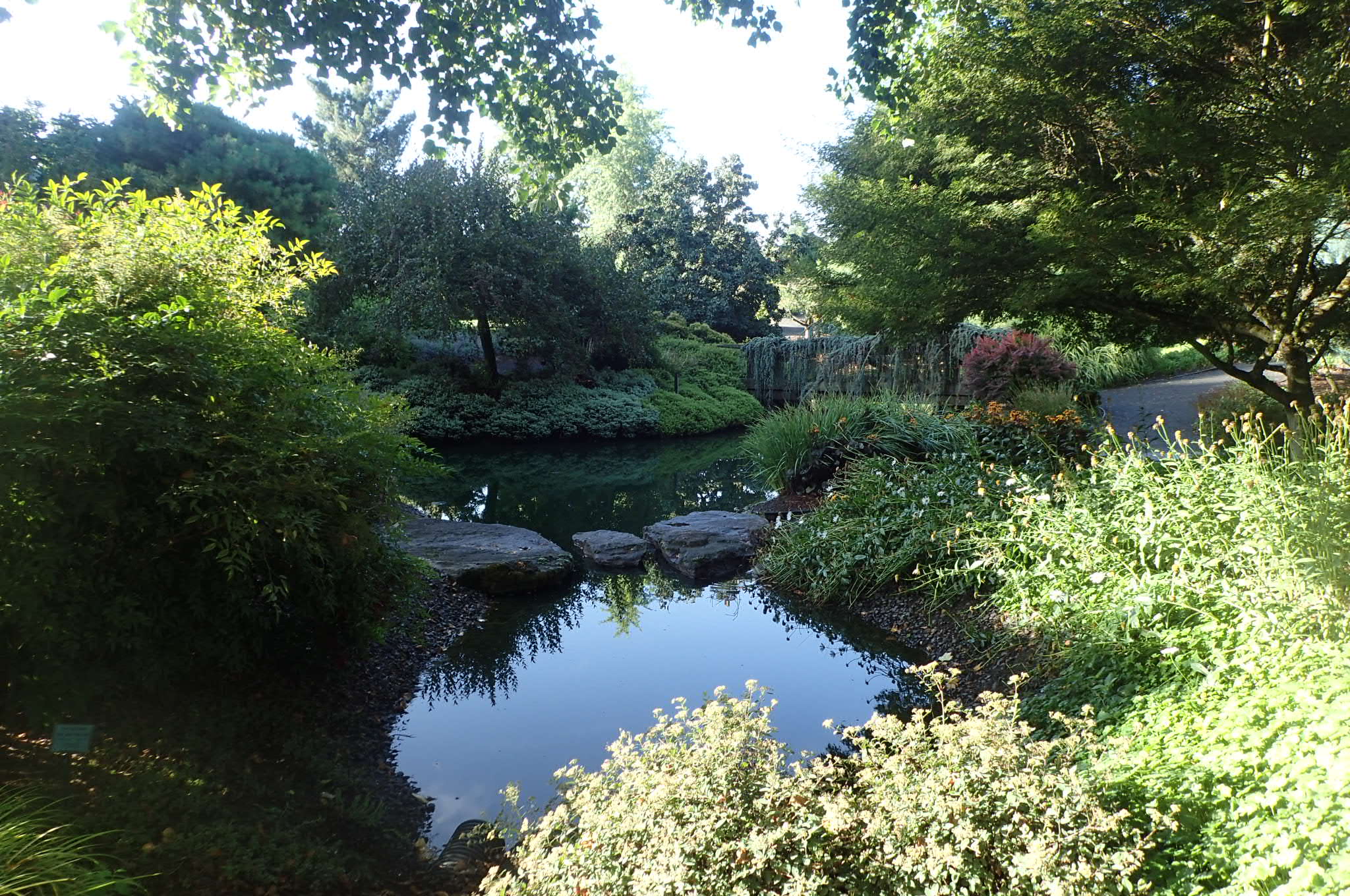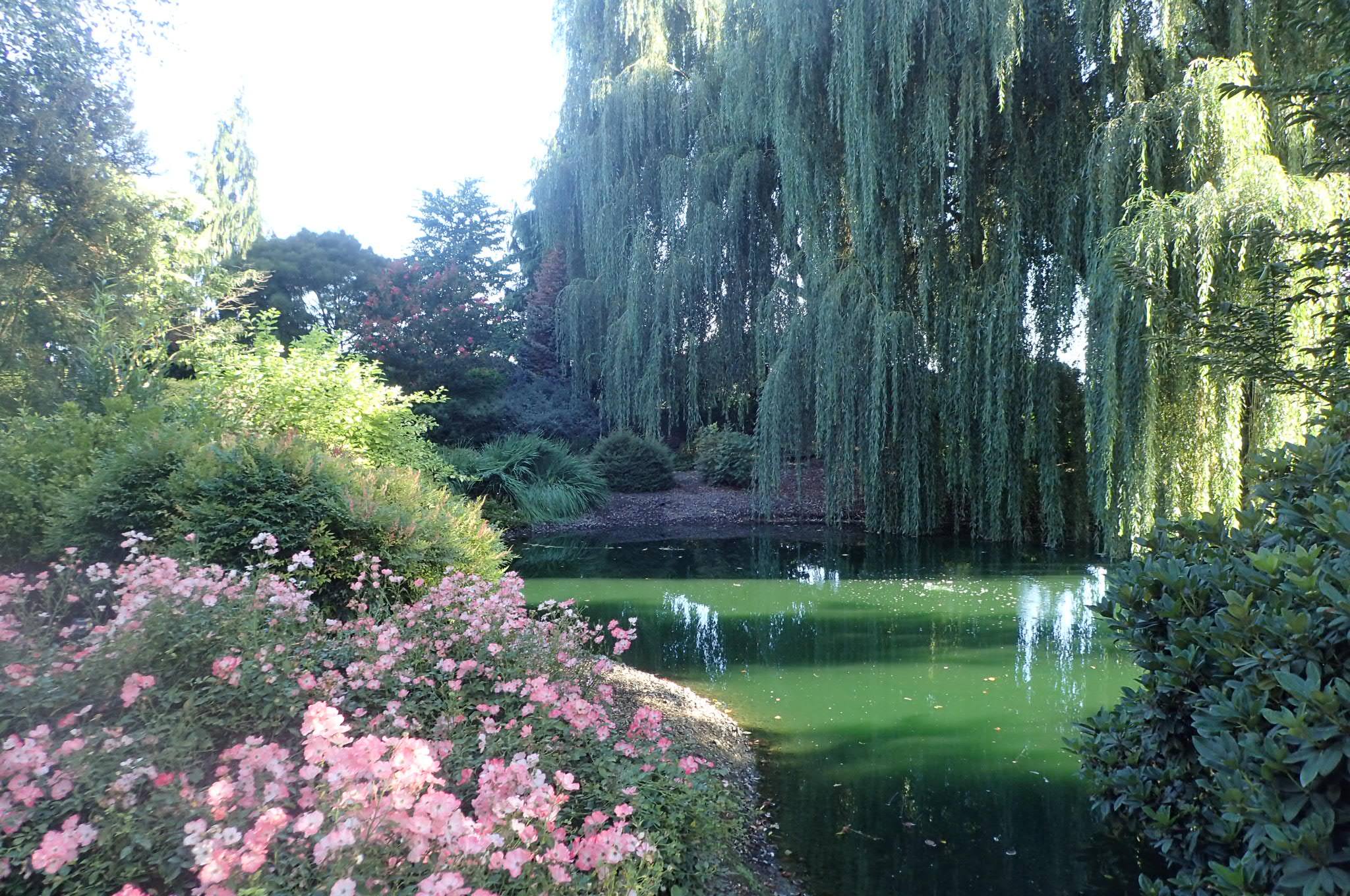 The display gardens at Monrovia are equal to that of any botanical garden, with immaculately maintained specimen plants in a perfectly designed garden environment.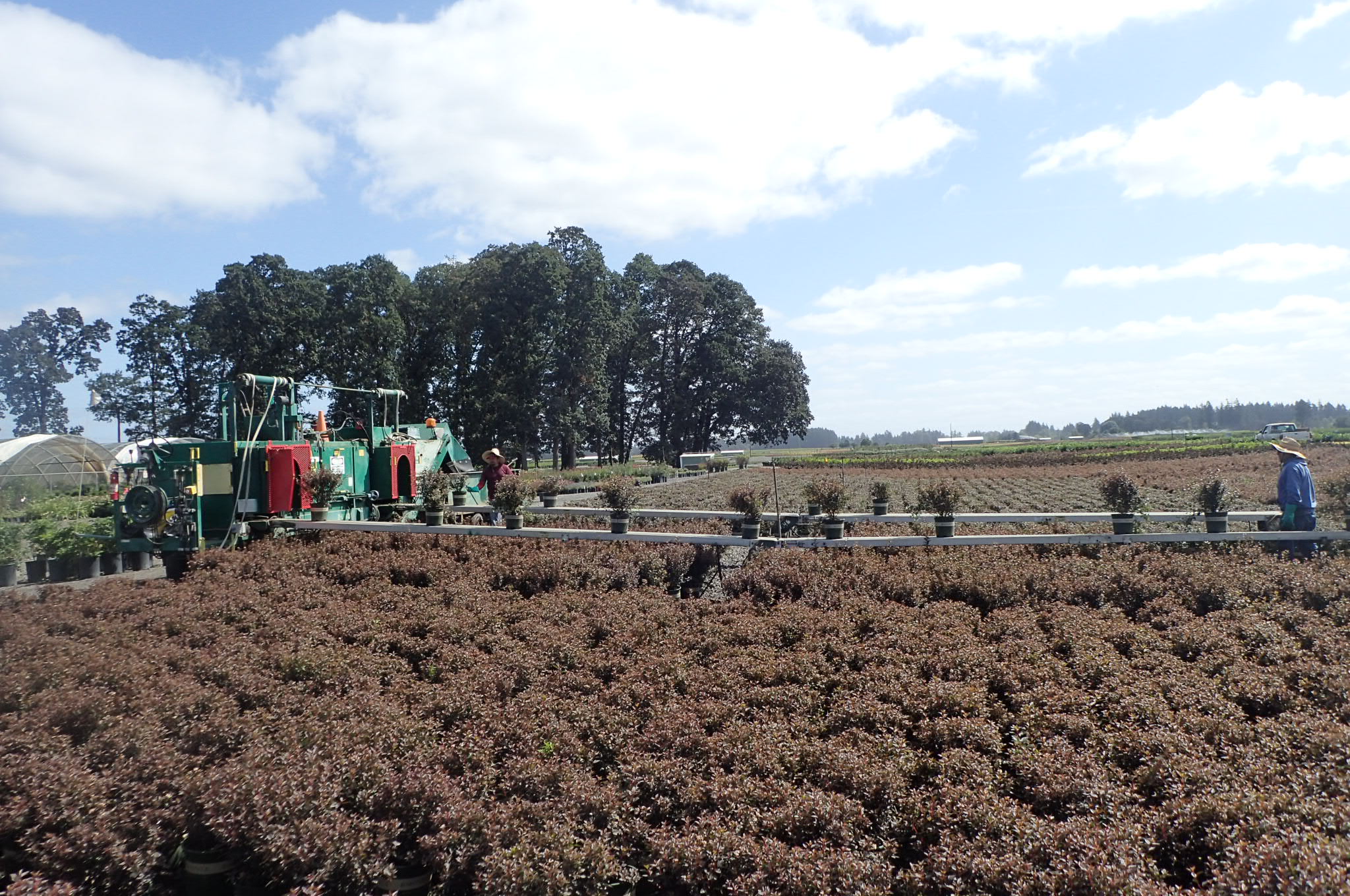 Out in the Monrovia fields the plants are grown to the highest standards in the wholesale plant industry. Monrovia takes no shortcuts. In this picture a pruning machine is giving these plants a nice even trim. In this field, one worker places plants single-file onto a conveyer belt that brings them in for an "auto-trim". Out the other side, the plants come down an opposing conveyer belt and the other worker re-spaces the plants back into the bed for a little more growing time. All of this adds up to excellent, well-shaped plants.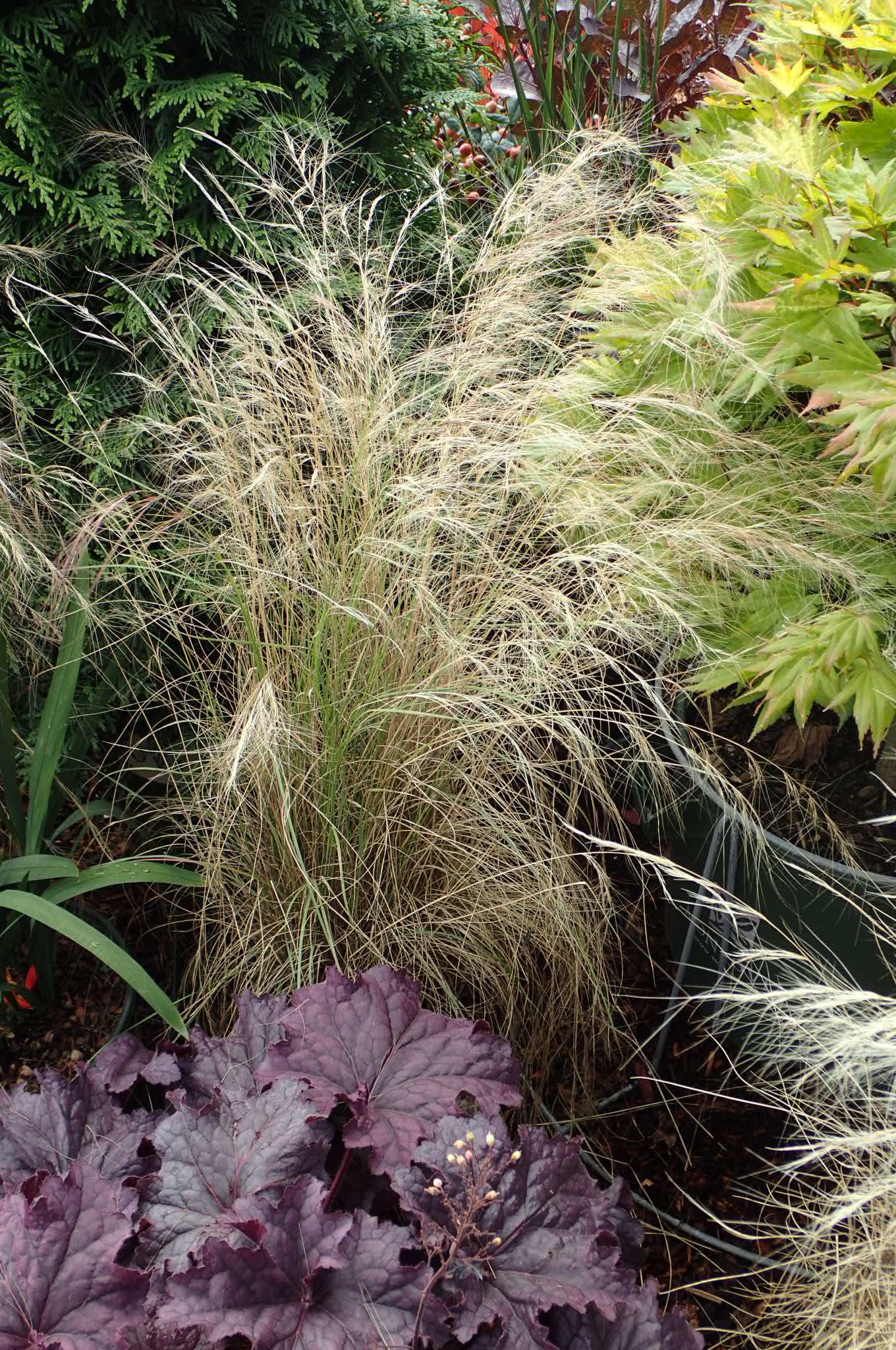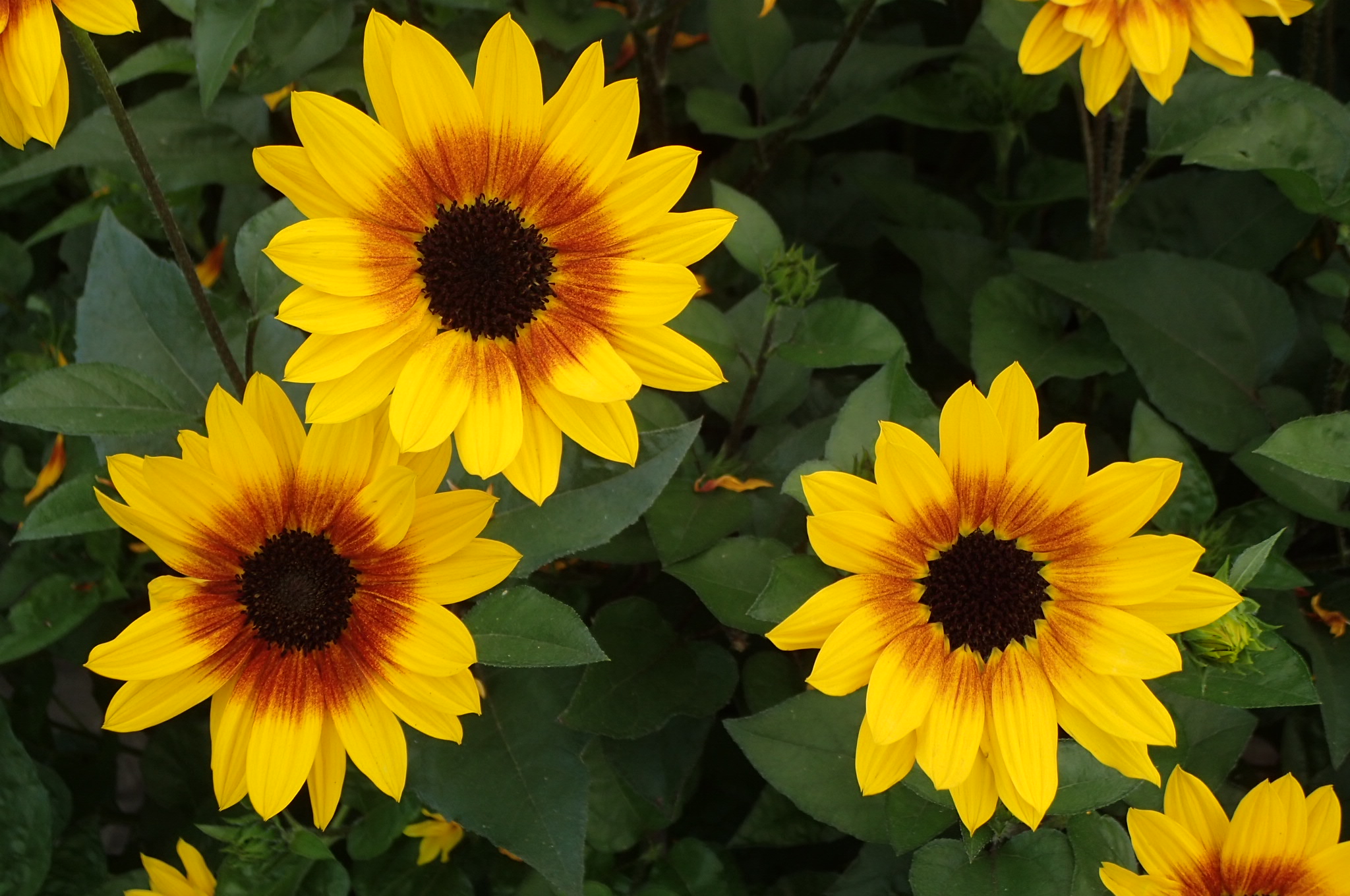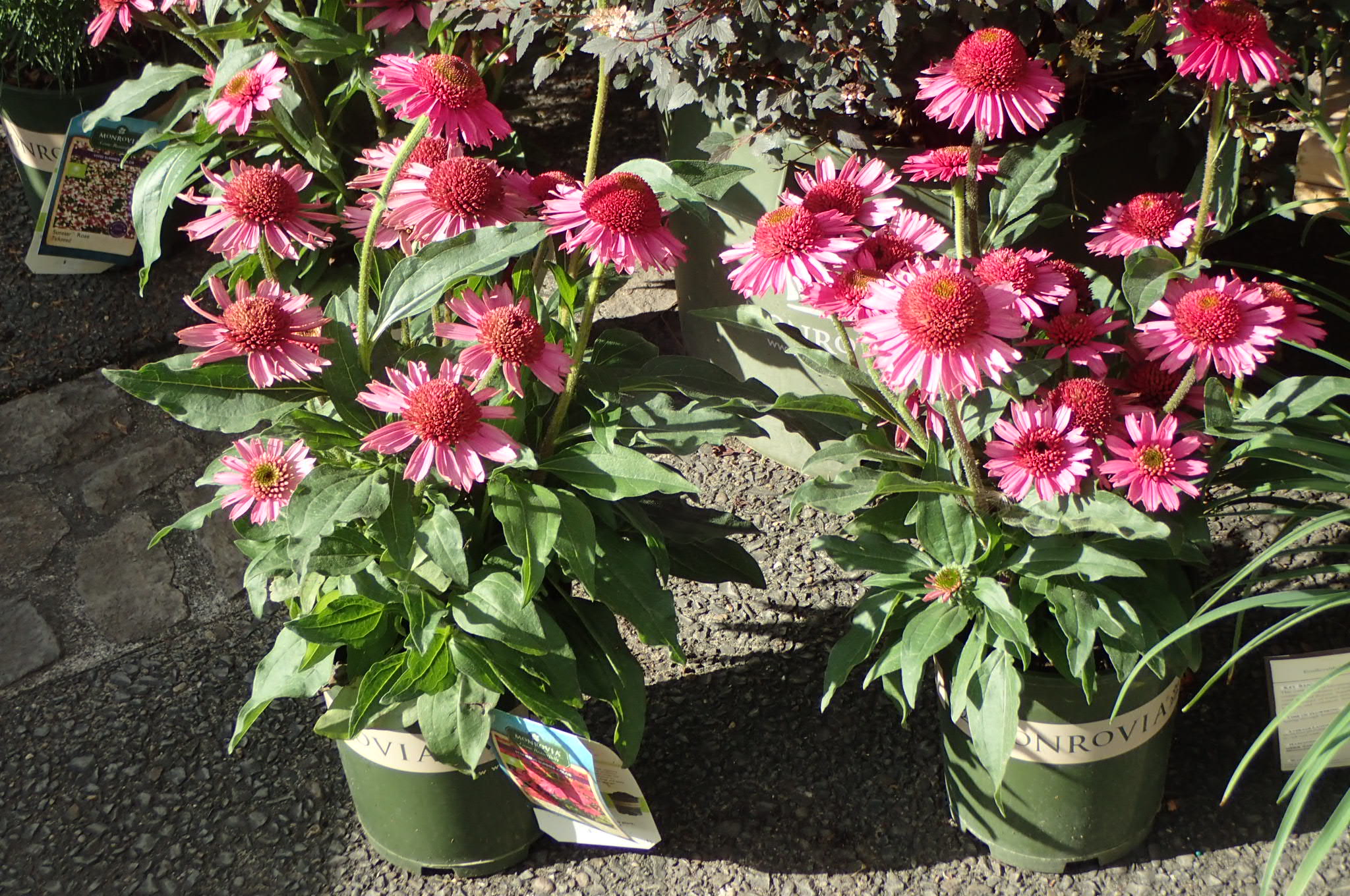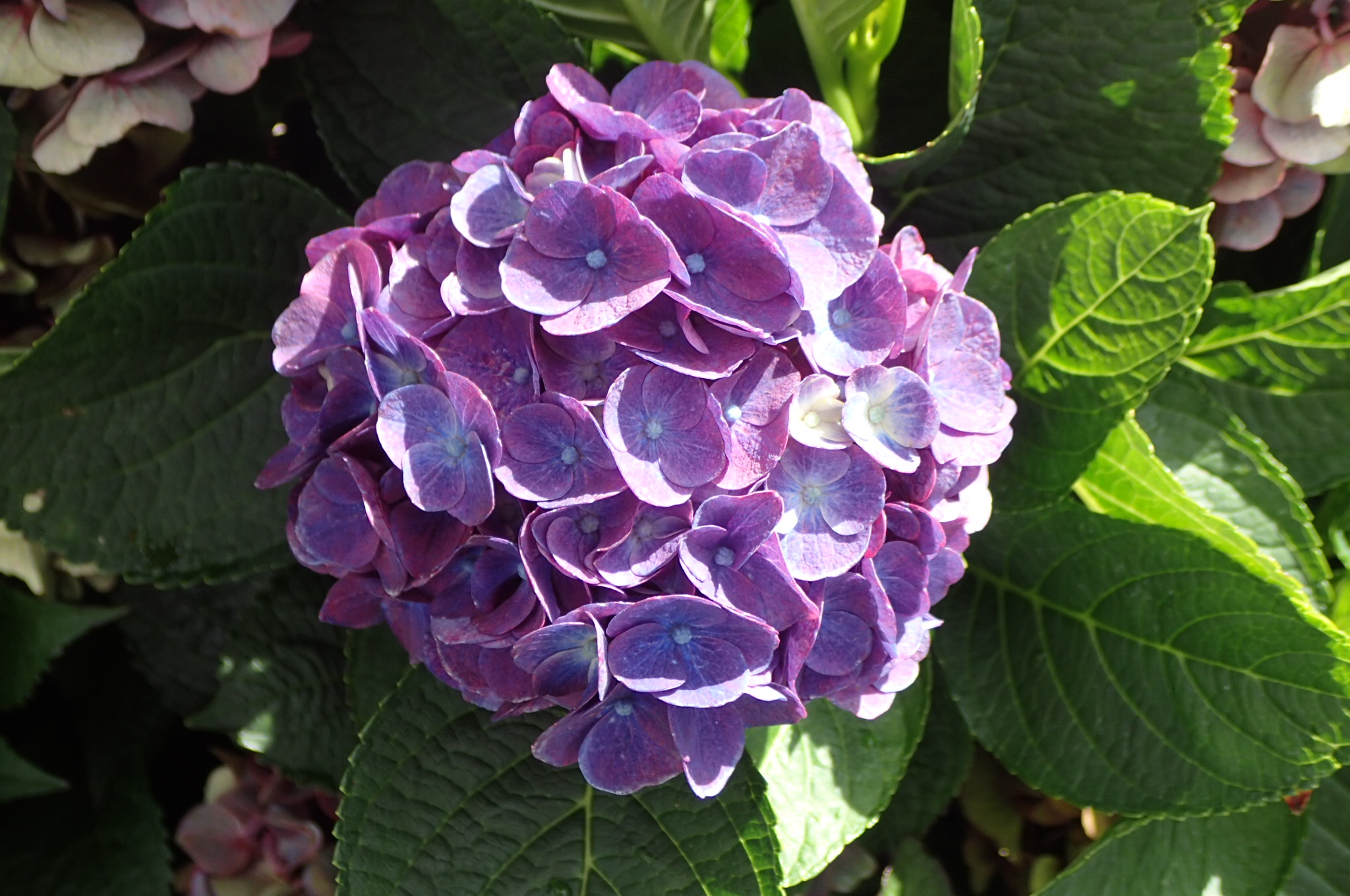 New and better plants are also what Monrovia Nursery and Roger's Gardens are all about. Here are a few new ones. Top: a new selection of the native grass Aristida purpurea called 'Chino Hills'. It was originally discovered, where else, in Chino Hills. (A great replacement for that weedy non-native Mexican feather grass that seems to be everywhere.) 2nd top: The 2018 award winning plant from the Chelsea Flower Show, a sunflower called 'Sunbelievable'. We have been selling these all year and love them. 3rd top: A new Coneflower hybrid (Echinacea purpurea). 4th top: we are really excited about this one and plan to make it one of our premier plants in 2020. It is a brand new re-blooming compact hydrangea. It's name? What else, Hydrangea 'Newport'.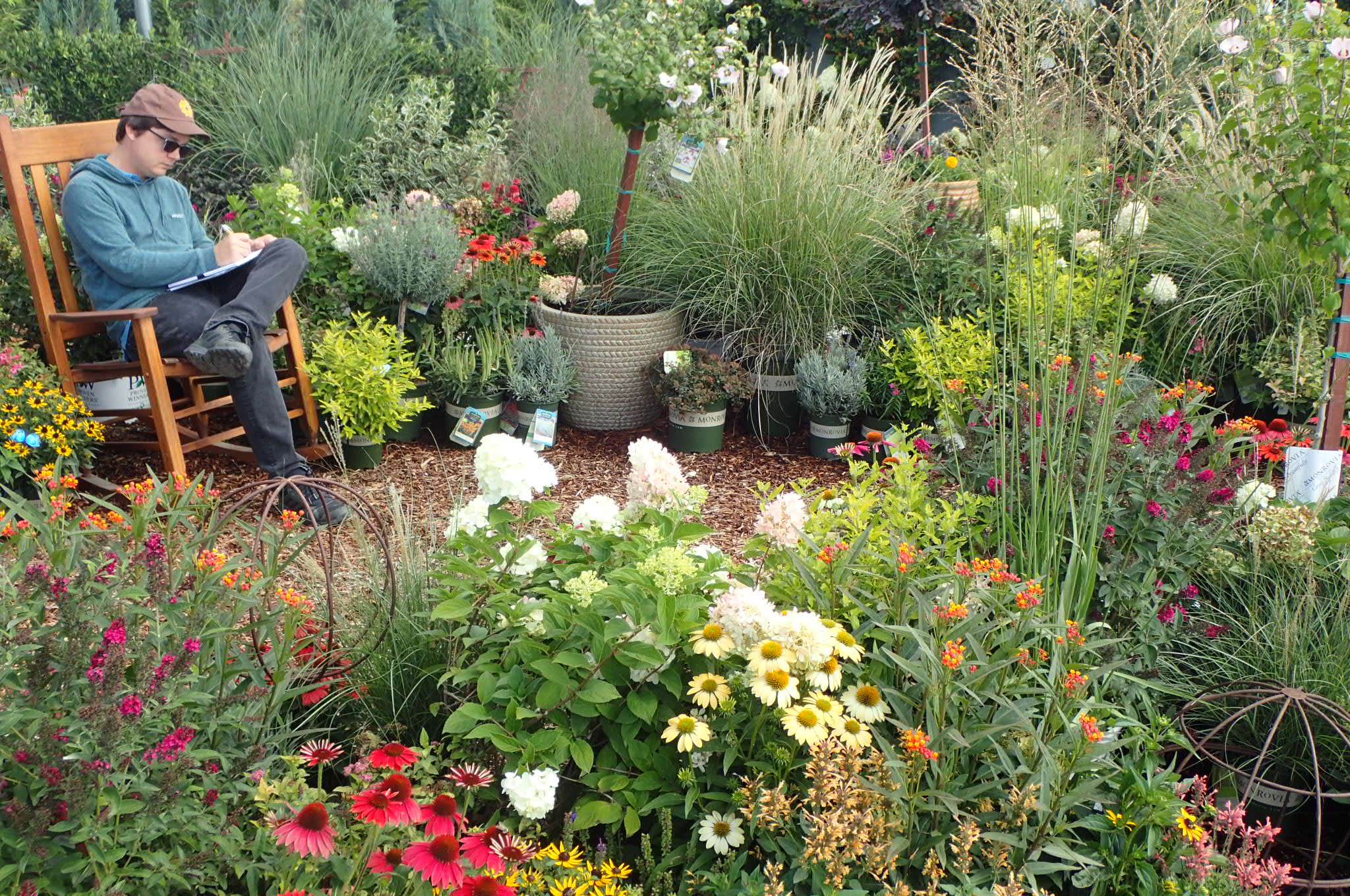 Just another day in the office. One of our buyers, Isaac, making some notes in a field of new plant varieties. Yes, he actually gets paid to do this.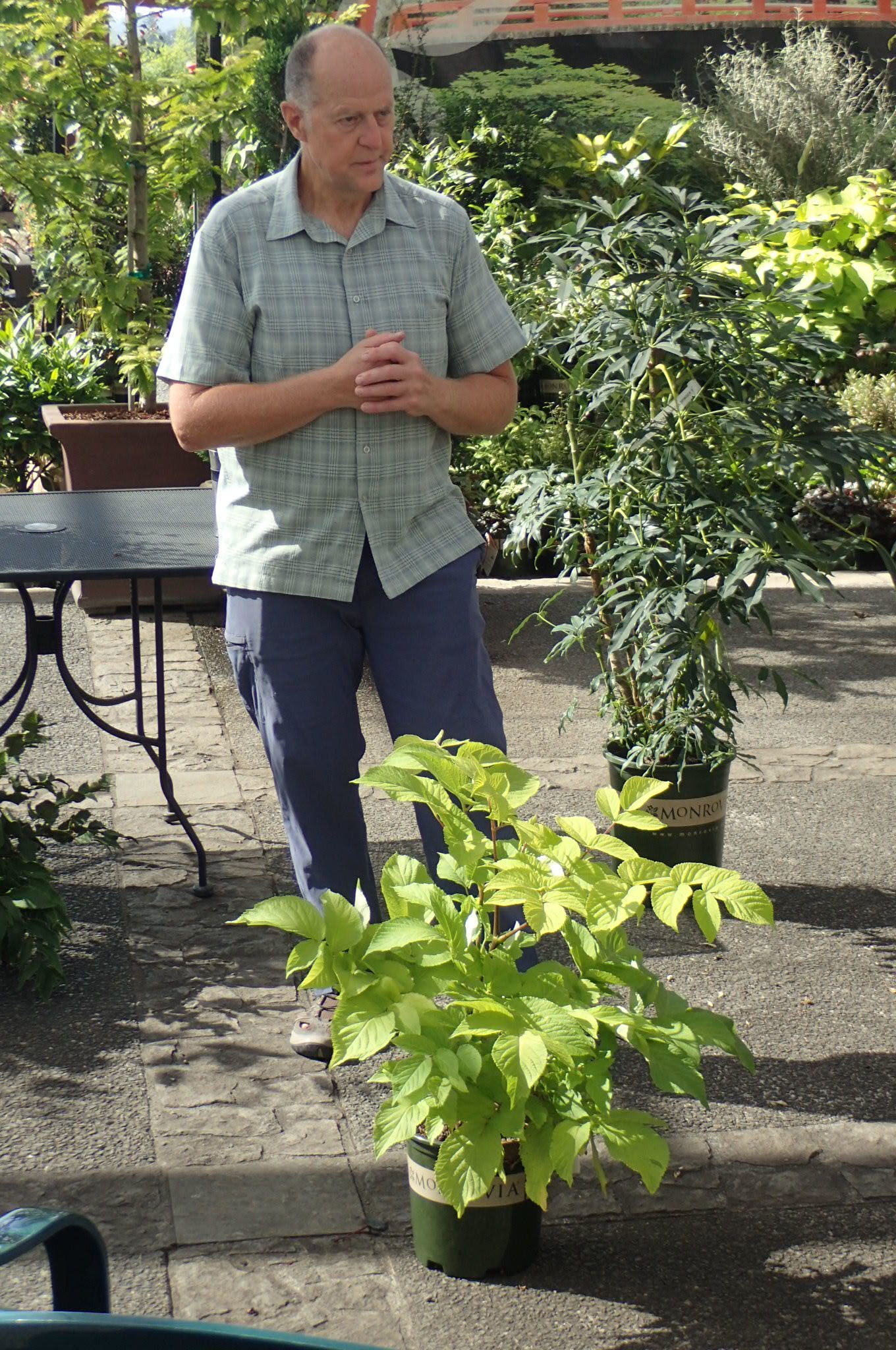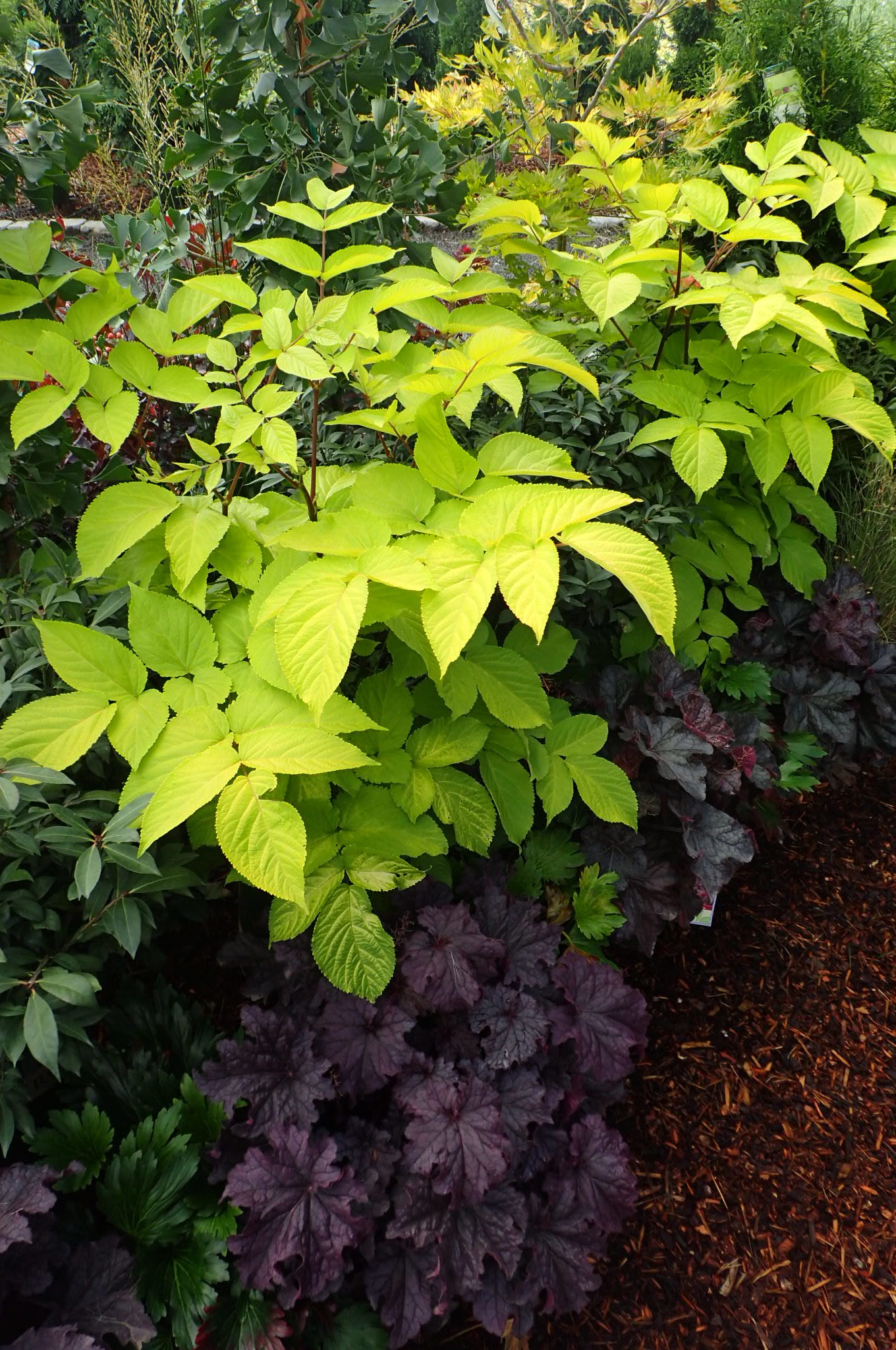 Who is the best and most respected plantsman in the United States? If you ask enough really smart plant people you will probably find a fellow named Dan Hinkley are just about everyone's list. There he is, the expert himself discussing a new gold leafed Aralia selection that he discovered a few years ago in a remote valley in China. He returned to the same location several months later and collected seed. Now, years later it is about ready for a limited release to the gardening public. Yes, Roger's Gardens will have it next year.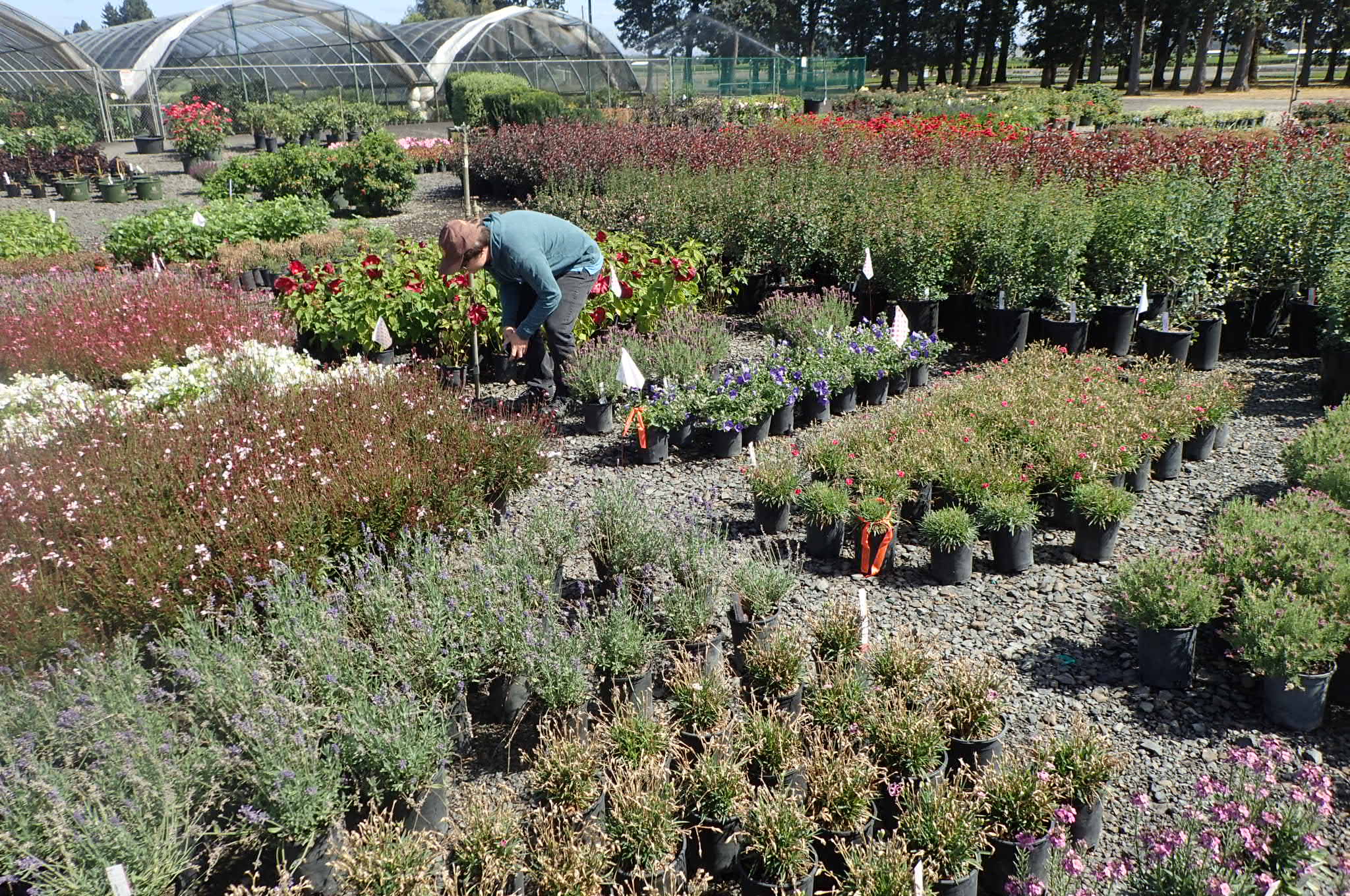 For plant junkies, one of the best parts of a visit to Monrovia Nursery is their new plant trial area. Not normally open to visitors, even retail nurseries, we were given special permission to rummage through the plants and see what might be in the new plant pipeline. I can't share most of these, as they are still very secret, but there they are.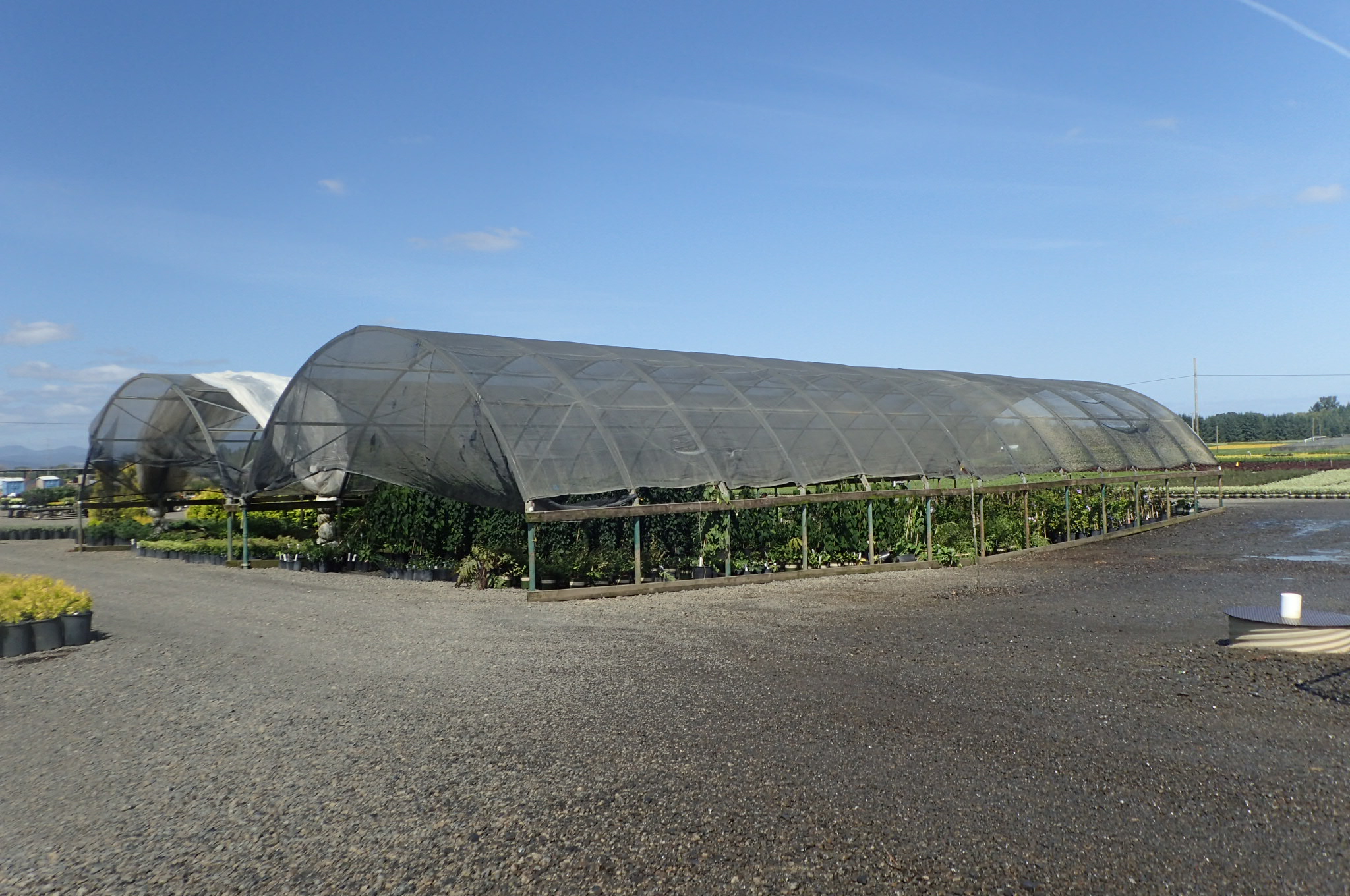 This is the shade house of the new plant and test area at Monrovia Nursery. Inside that is much of the future of garden plants.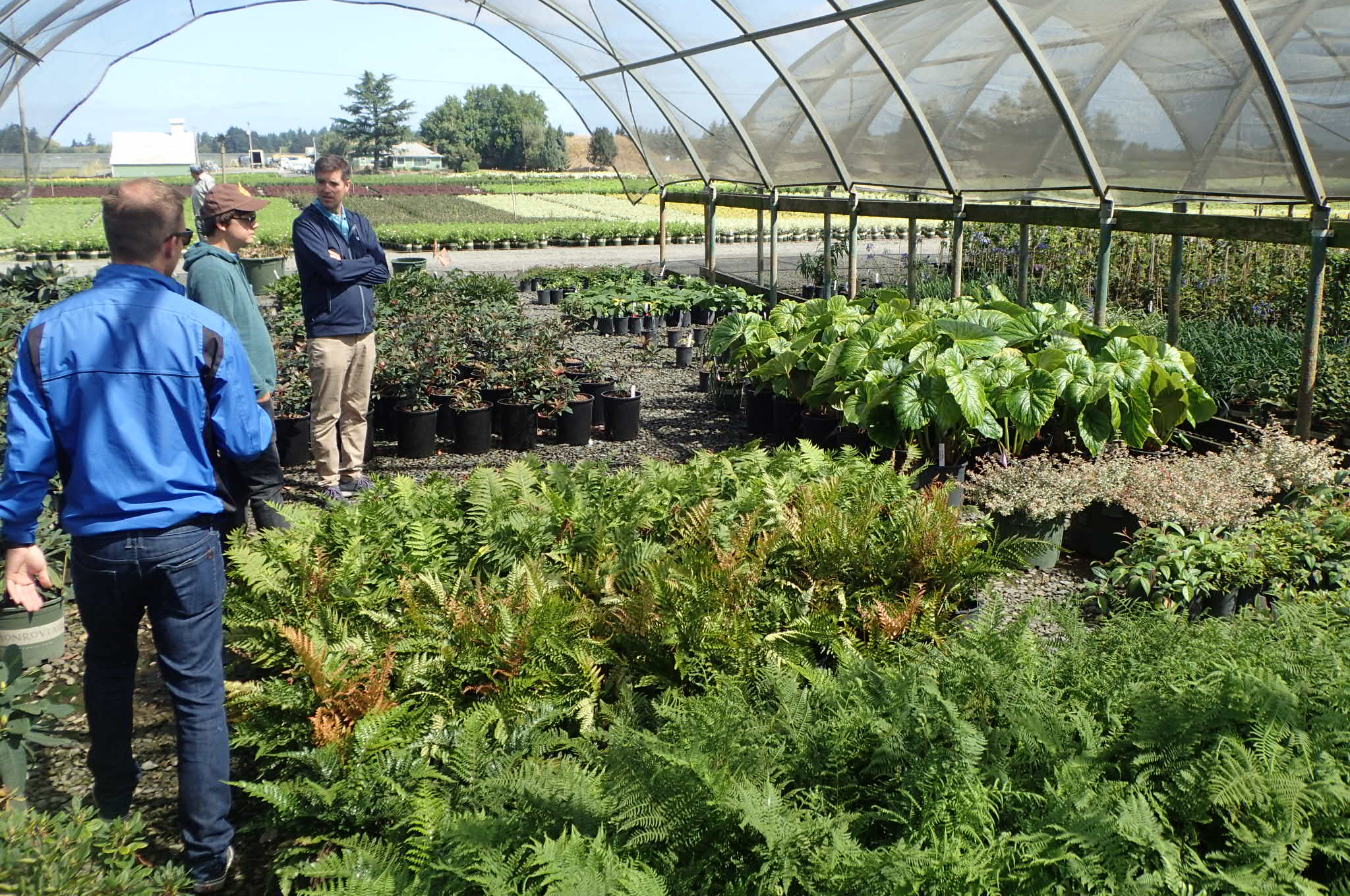 Two of our buyers, along with our Monrovia partner, inspecting and offering feedback on some of the plants in the private Monrovia test area.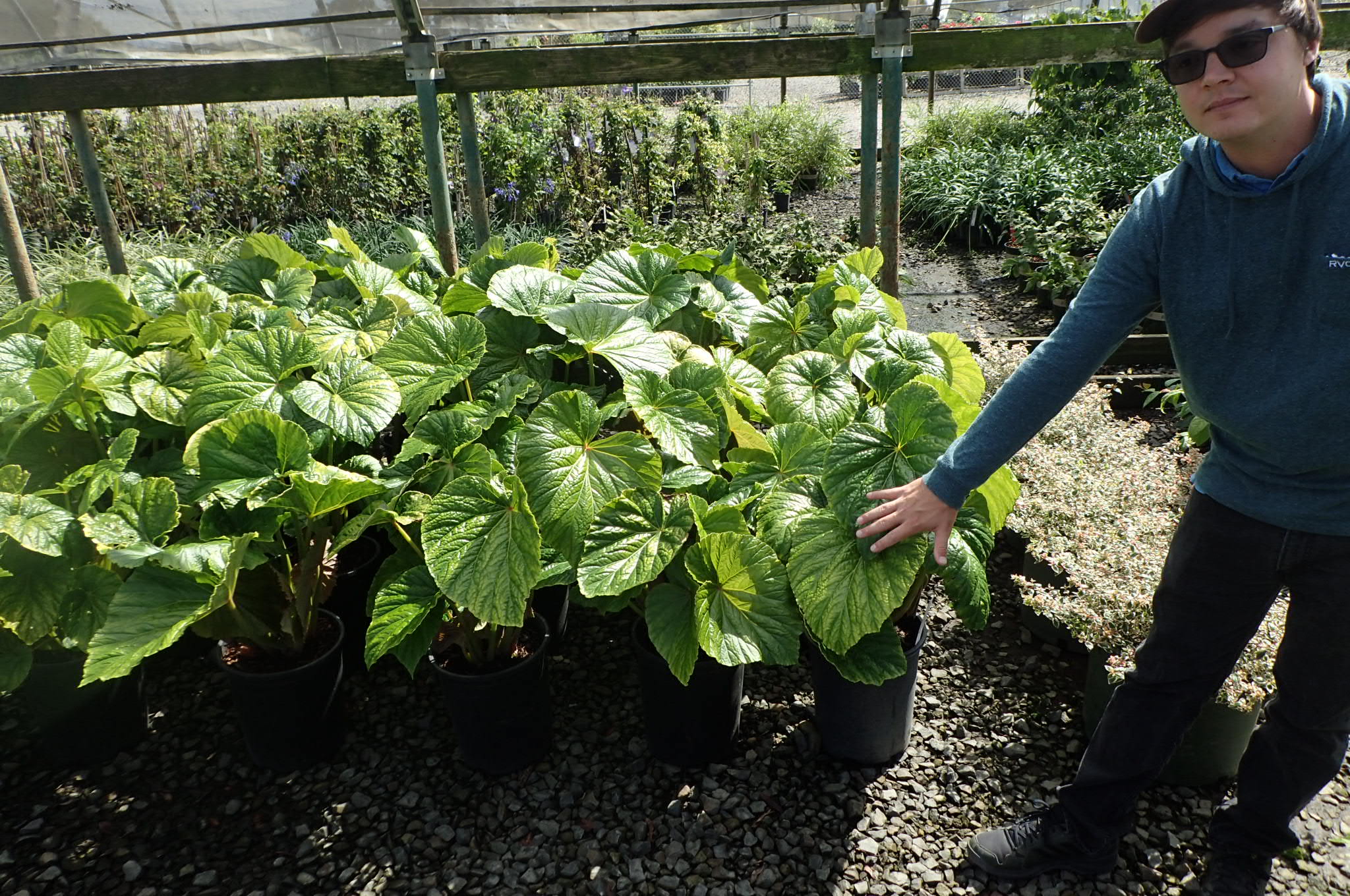 This large leafed begonia really caught our eye. It is another exceptional collection from one of Dan Hinkley's botanical expeditions to the remote Far East.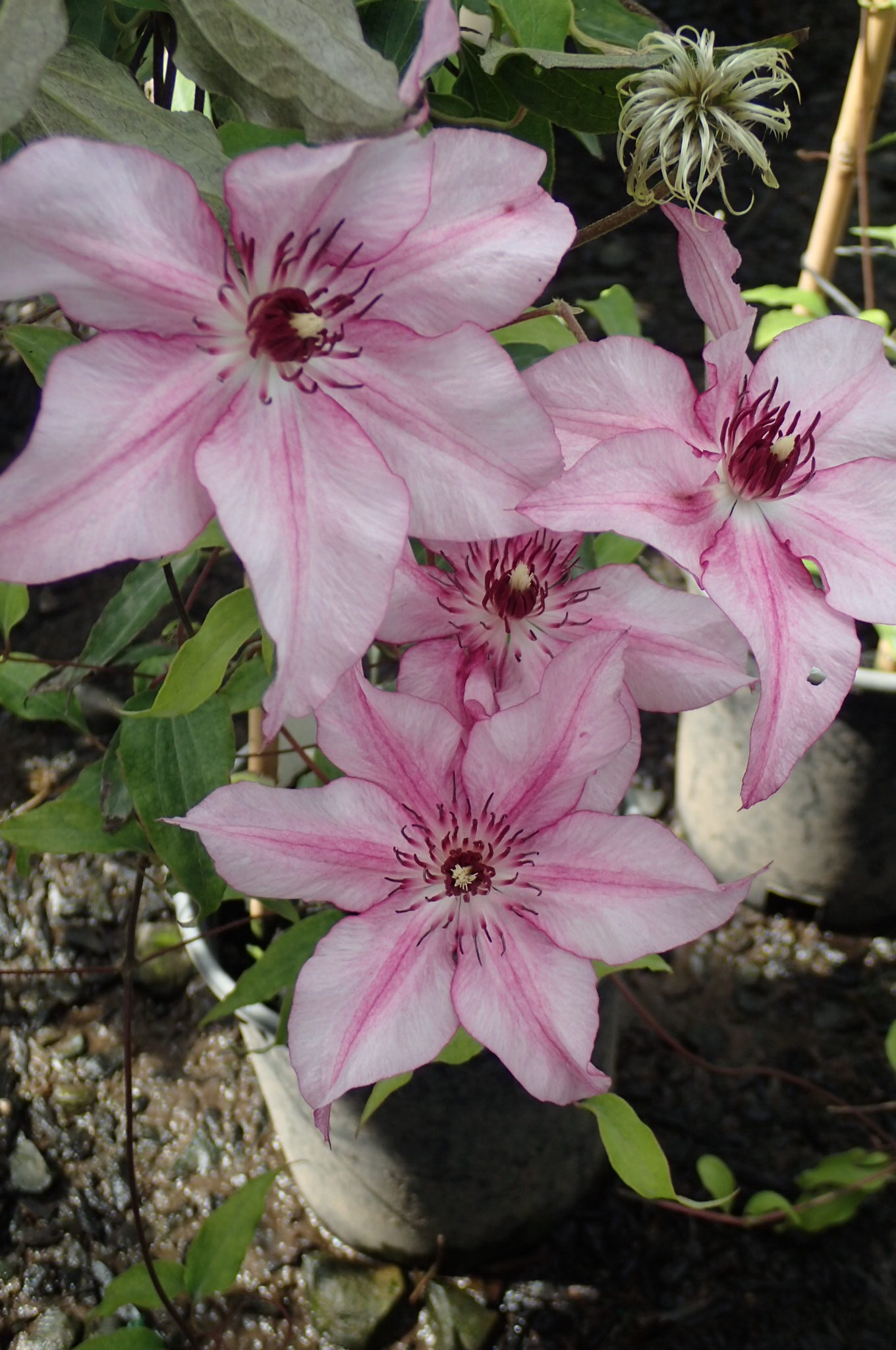 This new Clematis also caught our eye. The color was an especially unusual mauve pink, which didn't photograph as well as it looks in person. It was special.
We hope you have enjoyed travelling along with some of the Roger's Gardens horticulture team for Part 2 of our recent trip to the Oregon and Washington area. Be sure to add your comments at the end of this article. We enjoy reading your likes and dislikes and getting your feedback. And if you have any questions, be sure to post those as well.
See you in the garden.
Ron Vanderhoff