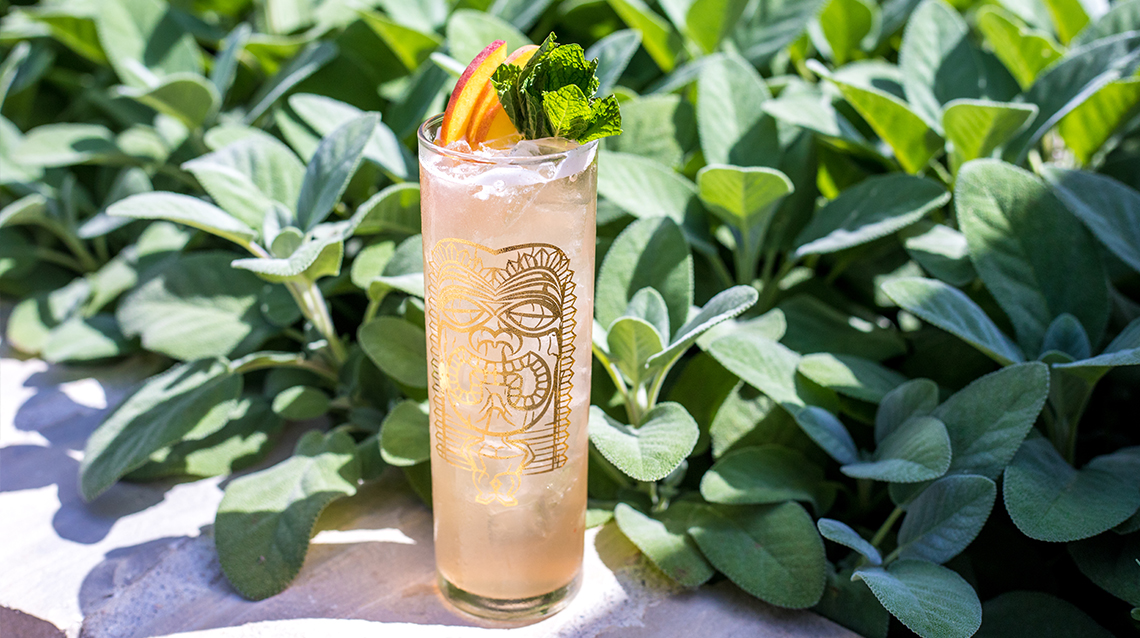 5 dashes lemon and thyme tincture (recipe below)

1 oz honey syrup (recipe below)

1 1/2 peach infused gin (recipe below)
Mix all ingredients in a shaking tin (except the cava)
Add ice
Shake vigorously for about 8-10 seconds
Open the tin and add 2 oz of cava.
Double strain into a Collins glass filled with ice
Garnish with a mint sprig and a few sliced peaches
Drink multiple and enjoy!
Lemon/Thyme Tincture Recipe
Ingredients
2 lemons
4-6 sprigs of thyme
5 oz of vodka
Procedure
Using a citrus peeler, peel 2 lemons (try and get as little of the pith as possible).

Combine the lemon peels and a few sprigs of thyme into a canning jar and let set overnight.

Strain out the ingredients and put tincture in a dasher.
Ingredients
Procedure
Take 4 oz of your favorite honey and place in a mixing bowl or plastic container. Add 4 oz of hot water (this helps mix the honey easier, if you use cold water it won't break down the honey).
After it is mixed you can place in the fridge until ready.
Ingredients
1-2 Peaches
1 bottle of favorite Gin
Procedure
Cut 1-2 peaches into half moon slices and add them to a plastic container.

Pour a bottle of your favorite gin on top of them.

Cover and let rest over night.

Strain out the peaches and put the gin back in the bottle.

Use the peaches for an adult ice cream Sunday or eat them.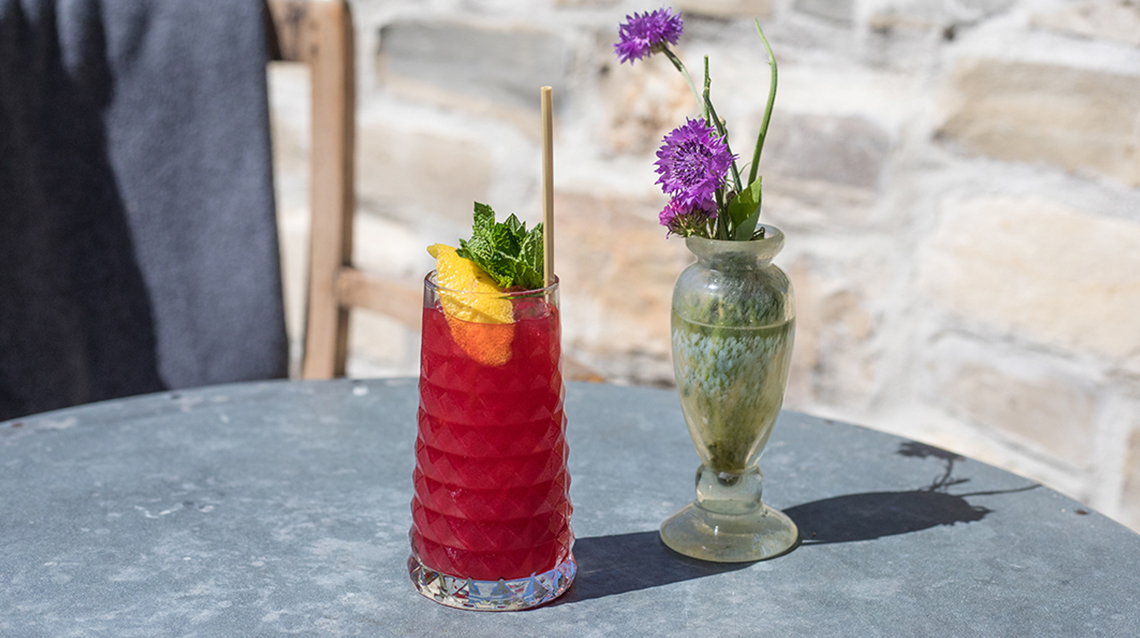 Turn your Mocktail into a cocktail by adding your favorite spirit; any spirit would go great with the flavors of this mocktail. Enjoy!
3/4 oz blackberry shrub (recipe below)

2 oz Seedlip Spice non-alcoholic spirit

2 oz soda water (reserved)
Procedure
Mix all ingredients into a shaking tin (except the soda water).
Add ice.

Shake for about 10 seconds.

Top with 2 oz of soda water.

Add ice to favorite collins glass.

Strain into glass.
Ingredients
2 cups blackerries
3/4 raw can sugar
3/4 red wine vinegar
Procedure
Place blackberries and sugar in a medium bowl, smash the berries and stir to combine.
Cover bowl with plastic wrap and place in refrigerator; allow to macerate for a day.
Strain out the solids through a fine mesh strainer. You want the syrup that has accumulated.
Combine the syrup with the vinegar in a clean mason jar. Cap it, shake it well to incorporate any undissolved sugar and place in the refrigerator.