By Visual Merchandiser, Emily Morgan
It's summer and it's HOT! Dine alfresco, relax on a lounge chair, and surround yourself with beautiful plants, garden styles, and décor that reflect the season. Bring the heat and liven up your outdoor space with bright and energetic colors such as coral and oranges mixed with organic neutrals. Create an effortless space that makes guests comfortable with the rustic elegance of natural textures and earthy hued accents that are warm and inviting.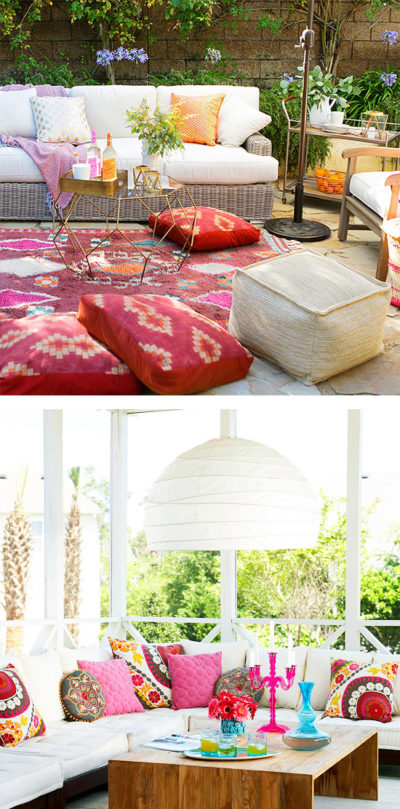 Pattern is Key This Season
It doesn't mean one pattern, but a combination of styles used together. The important thing is to keep the color palette the same tonally and the plain furniture acts as a blank canvas, which helps the overall hot coral and oranges to pop. Prints add color and character to any space while the light furniture creates calmness. Starting with fun pillows featuring these colors, succulents emphasizing the same color family. This idea can be used inside or outside.
The success of creating a decorated space is getting all of the elements to work well together: this can be done by layering. Layering is taking individual design elements and putting them together to form a cohesive look. It's important that the layers are similar enough to make your design purposeful and can help avoid your space from appearing too busy. A great way to do this is to mirror the same color tone or product material throughout and plants can also be viewed the same way. This can add depth and create a beautiful living space.
Artisanal and organic elements such as baskets, pottery, and wood trays add another layer that can be perfect statement pieces, house blankets for cooler nights, hold plants or flowers, or be used for serving pieces for drinks and snacks. This can bring character, warmth, and a sense of history to any space.
Dining al Fresco
The word "picnic" can give an immediate informal tone and is an easy way to have family style meal or potluck. Why not create a picnic space in your own backyard or take it to the beach! It's a quick and easy setting to throw together: grab a blanket or an outdoor rug to sit on and small tables or even a plank of wood forms a quick table. This is the same idea of everyone grabbing various chairs and tables for an impromptu gathering.
Melamine plate-ware and glassware are great to use outdoors with the without the worry of breaking any good ceramic dishes or actual glass. Melamine is durable and comes in so many colors and patterns. To create a neutral and relaxed place setting, wood tone patterning is a perfect choice that gives an added layer of subtle texture. Because the wood plank table and the plates are similar in color, it blends and can get lost. A light marble patterned charger gives enough of a pop without overpowering the overall look.
Knotting napkins isn't a new concept, but it's definitely made a comeback with place settings. The look subtly elevates the setting and helps with the casual nature of the overall table scape. Clear melamine glassware, copper mugs, and pewter cutlery blend mixed metals and complete the table.
Colorful and eclectic table scapes can showcase a lot of plants and unusual flowers.
Use various succulents in beautiful shapes, sizes, textures, that feature the hot color scheme of the summer. Floral stems can also complement not only the colors used, but mix well with the plants and add a layer of softness. Stems can be mixed together in "perfectly imperfect" arrangement or create a vessel of a single stem. This is a perfect excuse to mix and match a variety of plants, but also to incorporate a few florals as well. Florals can complement the same colors and textures as the succulents and create a beautiful statement on your table.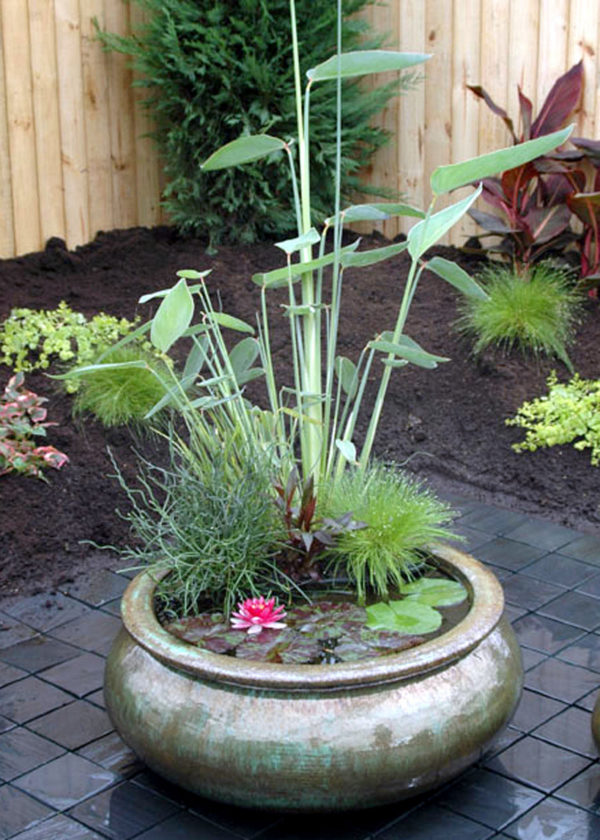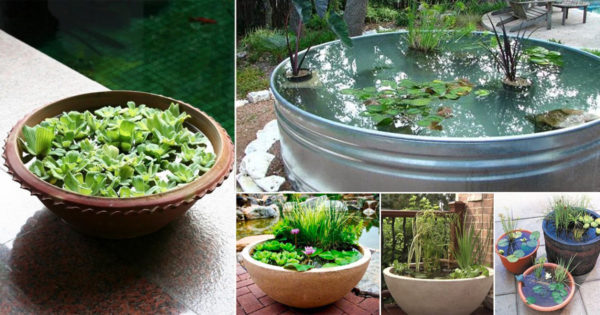 Water Gardens or Hydroponic Garden
All you add is water. That's pretty much what it takes to become a successful container water gardener. Incredibly, small pots filled with water plants take care of themselves most of the time, as long as you keep adding fresh water. The plants, still in individual pots, derive most of their nutrients from the garden soil they're planted in. There are a few things from time to time in addition to adding water — keep on the lookout for algae, prevent mosquitoes from using the little garden, and scrub out the pot.
Aquatic Plants

Aquatic plants have adapted to living in aquatic environments. These types of plants can grow in water or in soil that is permanently saturated in water.
Marginal Plants

Marginal plants are those, which grow around the margins of the pond where the water is shallow. They usually have their soil and crown underwater, and sometimes their lower foliage as well. They are generally placed on planting shelves within the pond. In order to be considered a true marginal pond plant, the variety must be able to tolerate waterlogged soil or water over its crown all year. A plant, which will tolerate permanently moist soil but will not tolerate water over its crown or foliage, is considered a marsh plant.
Floaters: Floating plants such as water lettuce help reduce algae in the water garden. Algae need light and nutrients to thrive, but floater plants can help cut down the light.
Deep-water plants:Some plants like water lilies need deep water — at least one foot of water above their roots, and they need a few square feet in which to spread their foliage. To grow one of these well, you'll want an extra-large container. Water lilies help cool the water and reduce algae growth.
To start, find a non-draining, non-porous outdoor pot and some water plants. The size of your pot can depend on the space in or outside your home and how many plants you want within it. Avoid using wood containers, especially old wine barrels that may still hold some bacteria that can be harmful to plants.
Full sun is perfect for these types of gardens. Bubblers are great to use to ward off any lurking mosquitos.
Every once in a while, drain the pond pot. You'll know it's time when two inches of decomposed matter accumulates on the bottom of the pond pot. At this time also scrub the inside surfaces of the water pot with a stiff brush.
Fun Plants for Water Gardens
Calla Lilies
Elephant Ears
Water Lettuce
Pennywort
Spiral Rush
Vertical Gardening
A living wall, or vertical garden, is a collection of wall-mounted plants.
Vertical wall gardens continue to be on trend in home design and are the perfect way to bring a bit of the outdoors in or add life to any outdoor space. Lower maintenance plants such as succulents, ferns and low ground covers are good candidates. Vertical gardens work well for any sunny or shady spot and can really be a showstopper.
A vertical garden, sometimes called a living wall, is an organized system of plants that grow vertically up a wall, fence, or other vertical surface. This type of garden is a beautiful way to show off plants, cover unsightly walls, or create privacy. Because they are vertical, they hardly take up any space.
Plants need oxygen in their soil in order to thrive. These pockets are made of felt derived from recycled plastic bottles that allows the soil to refresh its oxygen supply.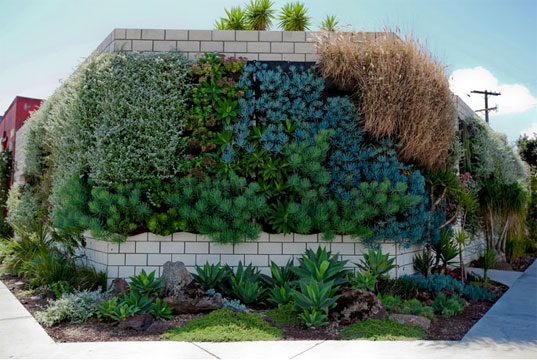 Tips for Planting a Living Wall
The bigger the pocket the bigger the plant you can house within it.
Best to plant when attached to a wall.
Use Potting Soil. Fill pocket with soil and leave about two inches or so at the top depending on how much soil is added from the plants themselves.
Can add a drip system or water with a hose.
Think Texture!
Remember:

Annuals- change out seasonally
Perennials- can live year round

Do it the Roger's way!

Thriller (eye candy)
Filler
Spiller
Vertical Gardens can tie in perfectly for entertaining!
For the gardener who enjoys eating the fruits of their labor, edibles are my favorite for living walls. It is easy to reach over and use herbs for cooking meals, zesting up cocktails, garnishing desserts, and adding some flavor to water. Having a citrus bush or tree nearby just adds to the yummy flavor possibilities!
SUMMER EDIBLES FOR LIVING WALLS
Rosemary
Jalapeno Peppers
Basil
Thyme
Mint
Fun Drinks to Try
Muddled Blackberries, Prosecco, and Rosemary
Muddled Raspberries, Sage, Lime Juice, Vodka
For Cilantro Lovers- Limeade, Vodka, Cilantro
** Also works well with sparkling water instead of spirits.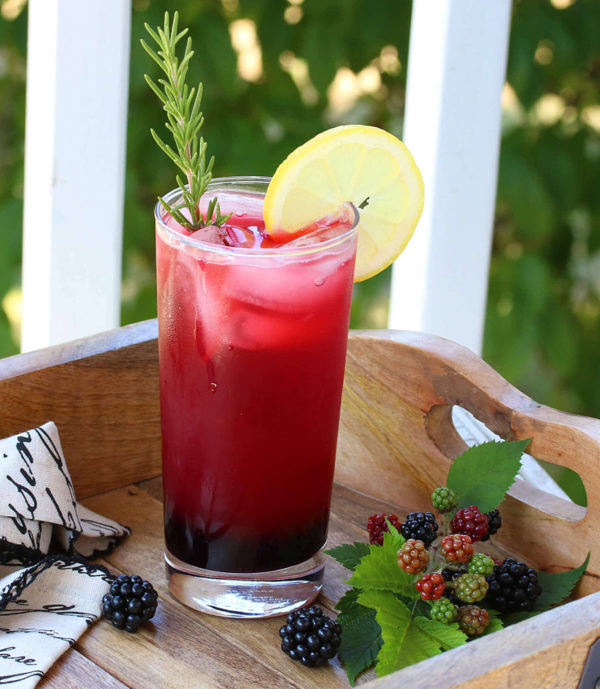 Fun Plants with Summer Color
Grevillea-Kings Fire

Tough, drought resistant, and well adapted to warm coastal and adjacent inland areas.
Great for use as a barrier, for screening, or as a hedge plant, and will take easily to slopes and banks
Full Sun
Water regularly-weekly or more often in extreme heat of containers
Flowering shrub: 5-6 feet tall, 6-8 feet wide
Perennial
Leucadendron- Safari Sunset

Full Sun
Once established, water occasionally; more in extreme heat or in containers
8-10 ft H, 6-8 W
Euphorbia-Blackbird

Perennial
Full-Partial Sun
1-2 ft H, 1-2 ft W
Low-Average Watering
Low Maintenance
Coleus

Partial Shade-Partial Sun
Weekly watering; keep soil moist but not soggy
18-24" H, 16-24" W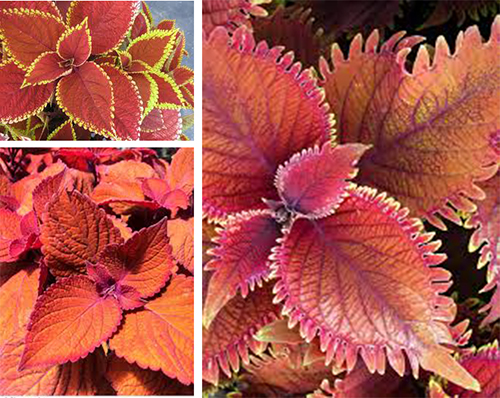 Photography Sources
Woolley Pockets: Build your own Garden of Eden by Mike Chino • The Daring Gourmet: Blackberry Lemon Rosemary • 13 Peaceful DIY Container Garden Ideas for Container Gardeners by Balcony Garden Web • Make a Splash in the Back Yard by Virginia N. Sherry