A View from the Garden Rooms … Outdoor Living.
Summer is officially here! Gone are the short, cold days of Winter. Hurrah!!
Make room for warmer, longer, slower, breezy, easy afternoons of Summer… sit in your comfy chair in your respective garden, deck, pool, gazeboe and/or patio with family and friends, sipping on a Riesling and listening to the faint sounds of laughter coming from the surrounding neighbors gardens.
I see it so clearly I almost feel the warmth of the evening sun dipping pleasantly into the yard for the briefest moment, a welcomed return. I can smell the fired up grill and see the plants and flowers bursting back into their happy display all around the garden. Everything is alive again and it feels so good to be outside.
Although I work in the Garden Rooms, I spend a lot of time out in the Gardens checking out the new displays. At the moment, I particularly find interest in anything that makes my own OUTDOOR LIVING SPACE look amazing.
So here are just a few of my favorite OUTDOOR things…
These chairs! Oh my.. I was stopped in my tracks by the beauty of design of these Janus et Cie outdoor chairs. Brad, one of our talented outdoor design specialists, coaxed me to sit down in them when he noticed me admiring their impeccable craftsmanship. Let's just say, getting up was a challenge.
Comfort does not begin to describe the way these chairs hug you into relaxation. Their earth-friendly fibers make you feel right at home between those perfectly placed armrests. I was smitten the minute I laid eyes on them but sitting in them sealed the deal. A MUST have for anyone looking to make their outdoor space special and inviting.
A tiny warning: Unplanned Napping may occur.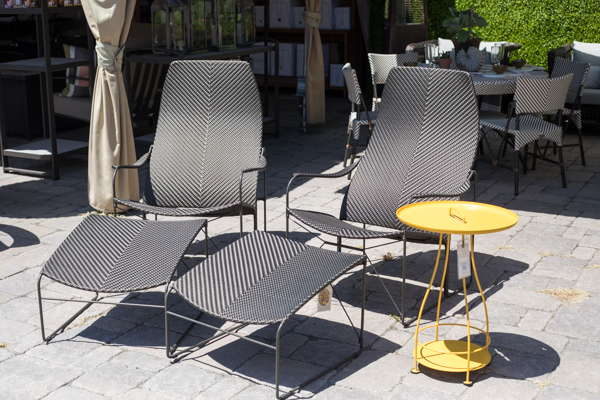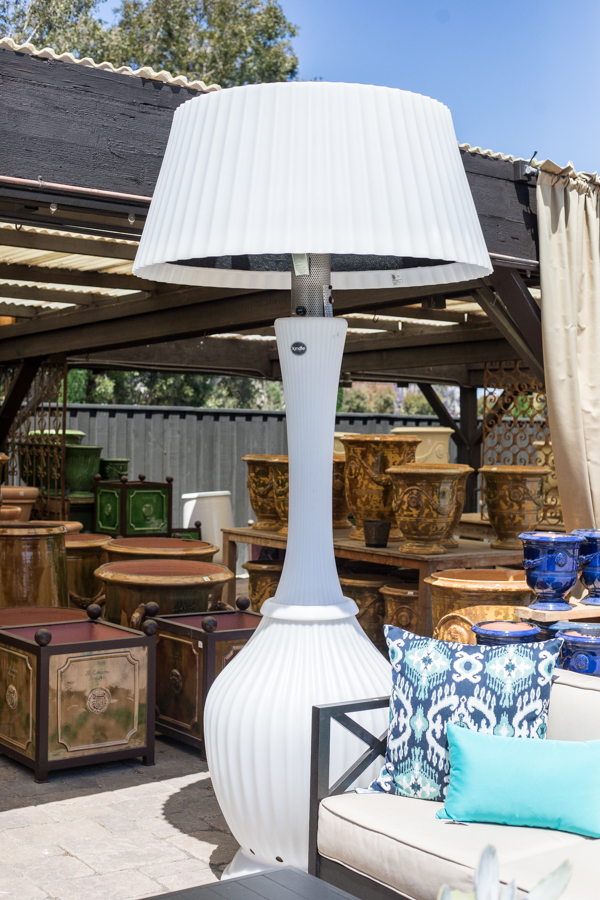 My next pick is, as I call it the BIG WHITE LAMP, one of the coolest pieces of outdoor design I have ever seen. Its over-large and unapologetic design is a nod to one of my favoite pieces of art by Robert Therrien, Under the Table 1994 (Broad Gallery).
The fact that it seems so outrageous, yet typically recognizable as a lamp, is what makes it such a credible and fun design. For a moment, you get that Lilliputian feel and although it takes you off your center… as all good design should… you return to it even more besotted than before.
I believe that a home should reflect your life and for me, as an English Literature major and lover of all things Jonathan Swift… having the BIG LAMP in my garden reflects that love back on the world… or at least my garden.
Aesthetically, I cannot pinpoint what it is exactly that I adore about the combination of two simple colors, Blue and White (well, technically white is a shade not a color but this is not the place for a hue vs shade debate). Alone I like them, as individuals I respect them, but together they are magnetically appealing.
I actually have to pull myself away from buying too much blue and white … I'm an absolute goner! I simply cannot have too much of it. So the angels did sing when I saw this tapestry [Pictured]. (I may have shed a little tear but I'm admitting nothing.)
The accompanying table settings for outdoor are pretty and smartly made from a melamine hard plastic but it's very hard to tell they are not… which I love.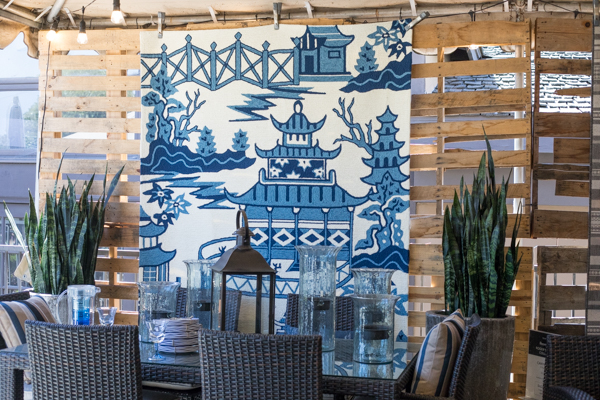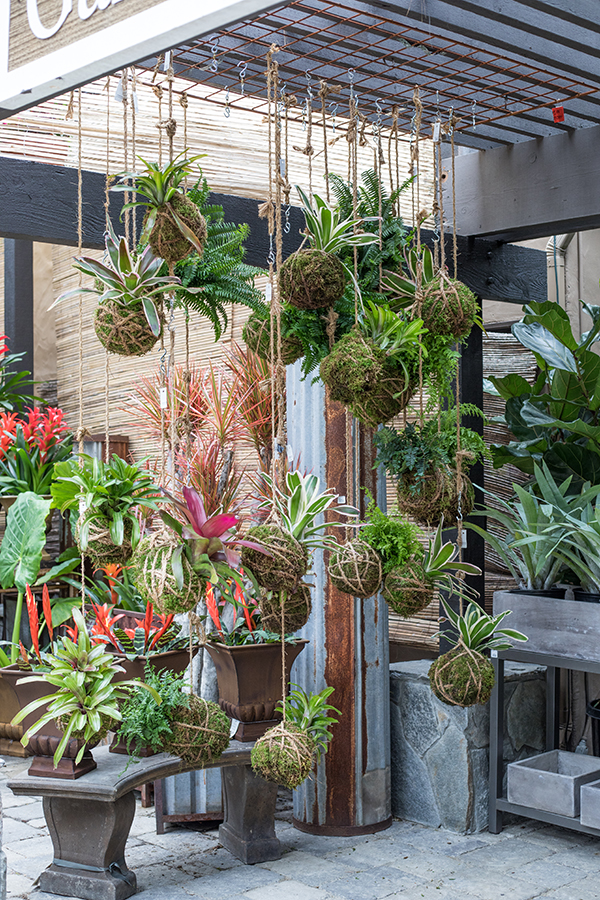 It would be rude not to include one of the newest and 'zen-iest' additions to the Garden Room Patio. The Kokedama, alone or in groups, is a curious, adorable little creature.
Take your favorite patio plant and remove the container… add moss and some heavy twine and there you have the clever Kokedama. Actually, the process is slightly more complicated but Roger's Orginal Designs Team makes it look so easy.
They hang best in semi-shaded conditions, from a pergola or overhang– A shaded patio with filtered light is best. Watering for most of the Kokedama balls is as easy as dunking the moss ball into water until it soaks thoroughly, then rehanging. Occasional feeding is also advised.
Also new to the Garden Room's Patio area is our Bromeliad Pergola, located just down the path from the front gate on your way to the Garden Rooms.
Our Visual Design Team really did a spectacular job at creating a beautiful display home for all our tropical, colourful bromeliaeds. They look really happy, I think you'll agree.
Bromeliads are right at home in a tropical aspect in and out of your home. They relish the sun but not direct and [almost] water themselves by taking up the water slowly from the 'cups' at the top of the plant. TIP: Never water Bromeliads at the base as their short root systems can rot quickly with over-watering.
Shop Our Outdoor Plants Store Now!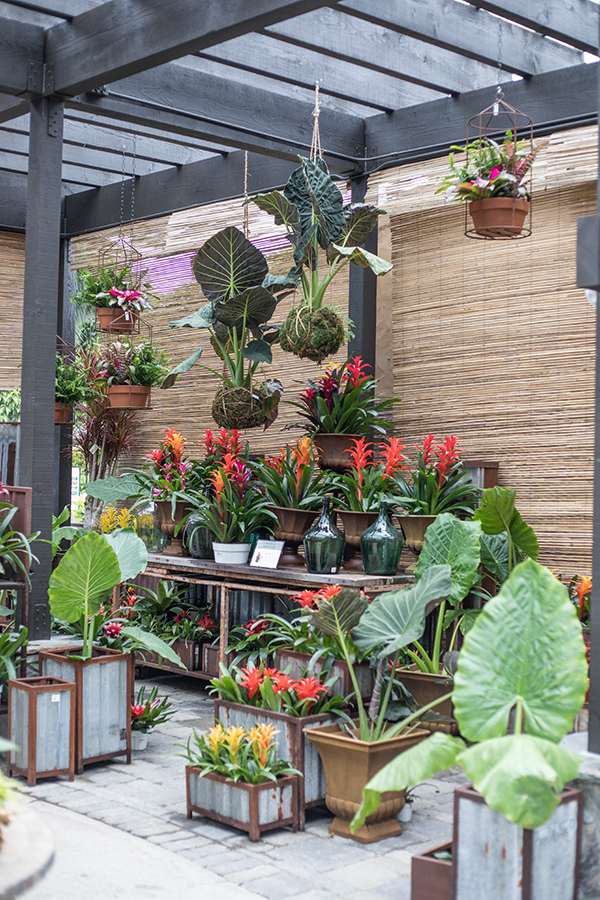 On my way back into the Garden Rooms from my wander around the great Roger's Gardens outdoors, I spotted this spectacular succulent wall-hanging in their outdoor planter arrangements. Just WOW!
We carry different sizes and we have different driftwood pieces for custom designs (See the great Horticulturists located in our outdoor gazebos) but I think a piece this size would look amazing on a smaller wall too, letting it take over the place it inhabits. What a focal point for any outdoor space.
My new obsession is these terrific beach umbrellas. You will find them all over the property but primarily up in Outdoor Living. Marian in Outdoor Living will be delighted to find you the right one for your family.
I bought the ever so cute Red French Pin Stripe. It has a swivel on the stake and secures very well into the sand with a cork-screw on the end. In fact, we took ours to the beach a few weeks ago on a windy day. Ours was one of the few planted firmly enough not to blow away… like our many unlucky neighbours.
The Beach Tents (a NEW MUST HAVE) are very European and incredibly handy when you have small children and dogs. The Beach Tents are totally charming and a nice little easy space away from the hot sun or blowing sand.
Have a wonderful summer and see you soon in the Gardens!
You can find me in Garden Rooms, Cheers – Lynda