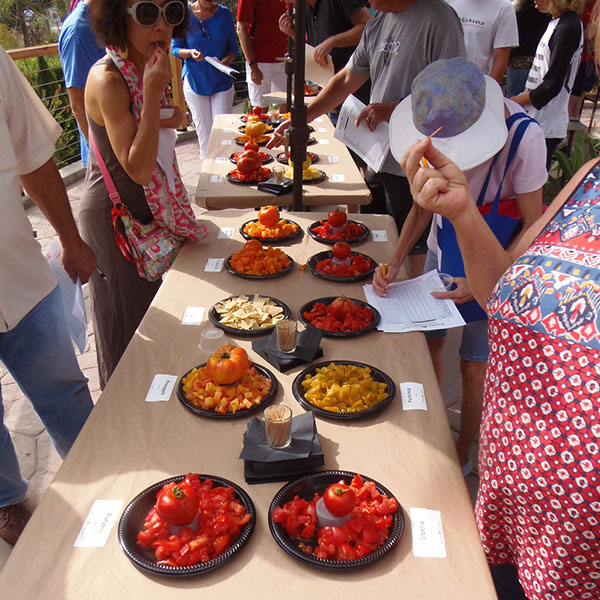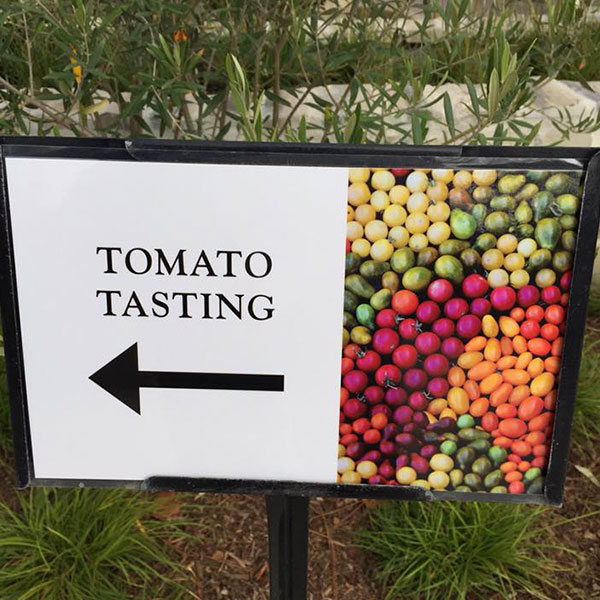 2016 was the beginning of even bigger and better Tomato Tastings than ever before. Most important is that Steve Goto, the king of tomatoes here on the west coast, has now joined the Roger's Gardens staff. Steve has always been the engine that drove these tastings, but now that he is a permanent member of Roger's Gardens the tasting rose to an even higher level. While Steve historically conducted several tomato tastings all along the west coast, Roger's Gardens is now his one and only event, so we get the full effect of his efforts.
The second reason we are so excited, is that this years' Annual Tomato Tasting was conducted on the grounds of our brand new Farmhouse restaurant. The synergy of a great farm-to-fork restaurant that focuses on only the freshest local vegetables with a the best heirloom tomato tasting event is going to be wonderful. Stay tuned for next year!
Roger's Gardens has been producing this popular summer event for 16 years. We were thrilled this year to see the largest attendance in its history, over 400 tomato tasters of all ages and experiences.
By 9 AM tomato enthusiasts were lined up at both entrances waiting to get in and anxious to taste over 400 pounds of organically grown tomatoes, encompassing over 80 varieties. The tables were well laid out with each variety carefully prepared and labelled. Each guest carefully tasted the tomatoes, then cast their votes for their favorites. We harvested the tomatoes ourselves the afternoon before, then at 6 AM, added a few more from an Oceanside grower. Staff and a few of our great customers even added tomatoes to the tables. Another tradition at this event is April Goto's famous homemade tomato salsa. It was superb, and so simple to make
Download April's famous recipe here.
For the fourth year, well-known Roger's Gardens edible expert David Rizzo, manned a pepper tasting area as well. Twenty varieties of peppers, mostly from David's own garden, were quite popular with hundreds of people. The pepper varieties included some real hotties, like various Habaneros, Scotch Bonnets and Ghost Peppers, but also included more sane varieties, like Serrano, Pablano, Hatch, Thai and others. Nobody needed the paramedics, but a fire extinguisher was on standby just in case.
Every year we encourage customers to bring in a few of their own home grown tomatoes for this tasting and in return they receive a nursery discount and also get to go to the front of the line for the tasting. A big "thank you" to those customers who brought in some of their own garden fruit. Sharing like this is what makes this Tomato Tasting such a great community event.
Start planning now for your 2017 tomato season. A good place to get started is with our March 2017 ToMaToMania! event, the biggest in California.
In the meantime, we are thrilled to have tabulated the results from this year's tasting ballots. Enjoy!
Tomato Name
Score
Number of votes

Sungold Cherry
Sungreen Cherry
Indigo Blue Beauty
Cuban Yellow Grape
Siberia
Stupice
Cosmonaut Volkov
Snow White Cherry
Rutgers
Ananas Noir
Mr. Stripey
Mango
San Marzano
Sweet Treats
Indigo Rose
Sub Arctic Plenty
Mortgage Lifter
Aunt Ruby's German Green
Black Krim
Cherokee Purple
Glacier
Tigerella
Lemon Boy
Sweet Baby Girl
Galina's Cherry
Pineapple
Valencia
German Johnson Pink
Dixie Golden Giant
Legend
Jetsetter
Brandywine
Apple
Andrew Rahart
Jubilee
Fantastic
Peasant
Silvery Fir Tree
Gem State
Homestead
Yellow Pear
Nebraska Wedding
Gold Medal
Green Zebra
Tomatoberry
Kellogg's Breakfast
Manitoba
Big Rainbow
Brandywine-Sudduth Strain
Jaune Flamme
Nepal
Dr. Wychee's
White Wonder
Persimmon
Super Sioux
Carmelo
Siletz
Tangella
Aunt Gertie's Gold
Chocolate
Dona
Golden Jubilee
Sweet 100
Fireworks
Carbon
Oxacan Jewel
Porkchop
Brandy Boy
Great White
Grape

4.71
4.49
4.25
4.01
3.92
3.92
3.88
3.83
3.74
3.72
3.65
3.53
3.51
3.43
3.39
3.38
3.36
3.33
3.32
3.31
3.31
3.28
3.27
3.25
3.24
3.24
3.22
3.19
3.13
3.12
3.09
3.08
3.07
3.06
3.06
3.04
3.03
3.02
3.01
3.01
3.01
2.98
2.96
2.96
2.96
2.95
2.92
2.85
2.85
2.84
2.83
2.82
2.82
2.81
2.79
2.78
2.78
2.78
2.77
2.72
2.69
2.67
2.67
2.63
2.59
2.51
2.51
2.44
2.21
2.01

65
47
57
47
48
48
48
6
46
36
54
59
16
35
36
32
45
55
41
51
47
39
49
20
33
50
37
48
38
42
47
46
61
63
48
50
35
41
3
9
27
49
45
52
24
39
37
54
13
55
40
39
34
37
33
60
32
37
56
47
45
18
30
48
51
37
34
50
35
3