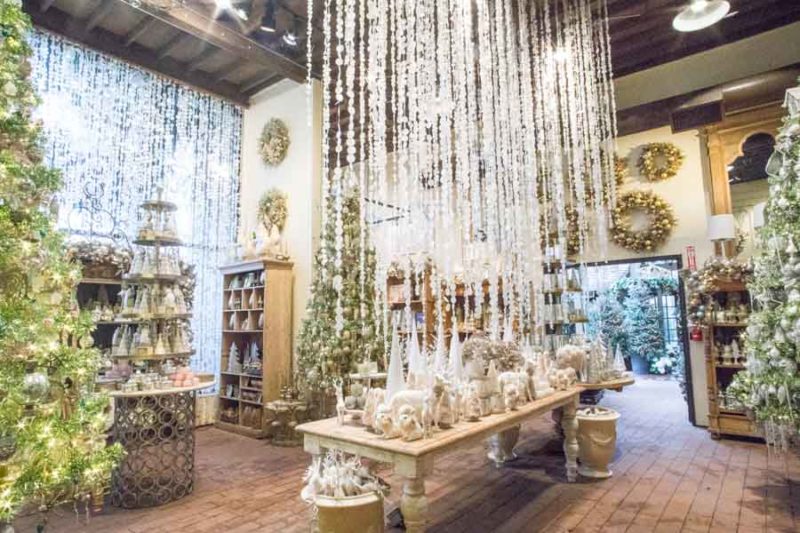 Even though it's early October and you haven't even started stocking up on your Halloween candy, the creative design team at Roger's Gardens have been busy little elves. The Gallery transformation is now almost complete.. just a few more magical touches before the doors swing open welcoming one and all!
Don't tell anyone, but I've been sneaking a few peaks and stealing some snaps, risking life and limb to bring you an ALL- ACCESS look behind the curtain. So, prepare yourself for a shimmering, twinkling, vintage metallic menagerie, a 4D ILLUSTRATION of our very own Roger's Gardens Christmas Story.
From the cute and cosy furry mini Christmas Tree to the Glitteringly Glorious spectacle of a bedazzled Nordic Fir filled with over two thousand crystal ornaments … and the thousands of unique and wonderful gifts in between. The 2018 Rogers Gardens Christmas Display has arrived and it truly is a Wonder.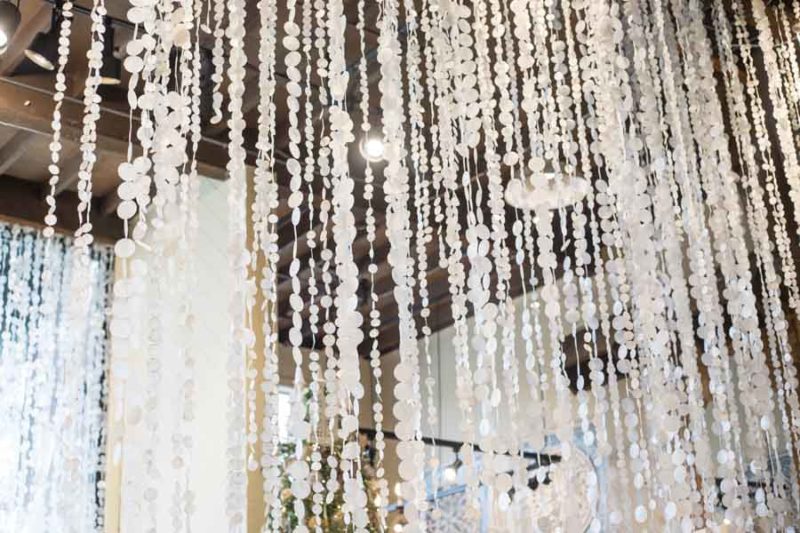 Is it snowing? You might answer, YES, yes it is! …when you walk through the doors of the Gallery. The room is full of impossibly long strands of snowy white Capriz Shell Garland creating a soft and glinty winter backdrop. Recreate the snowy scene in your own home with Capriz Shell garlands, available for purchase.
These are a delightfully magical take on the humble snow globe. The Trees come in Green or Crystal Clear and certainly shimmer when lit. Take a Shimmering Santa or Nativity home for the holidays and they make the perfect original gift for family or friends.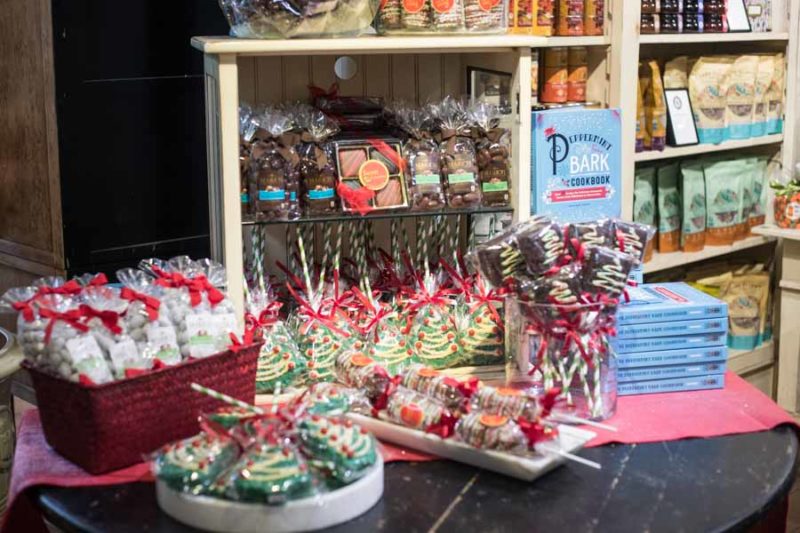 From the Vintage Candy Kitchen of Sweet Creations come Rice Krispy Tree Top Lollies, Chocolate Covered Pretzels and Milk Chocolate Caramel Marshmallow Pops. They are hearty, chunky and chock-full of Christmas decadence. Fill your pantry or your stockings with these seriously Sweet Creations.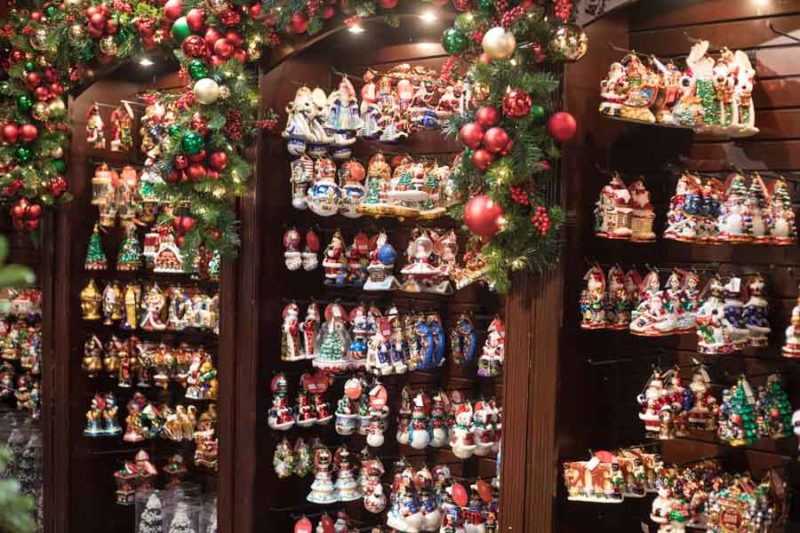 It's been some time since we dedicated such a beautiful space to our beloved Radko, one-of-a-kind ornaments. It's really something of an attraction on its own to see so many Radko Ornaments in one place. The whimsical designs are of the highest quality and have made Radko Ornaments a Roger's Shopper's favorite for thirty years, says Deb Coye, our resident Radko expert.
Deb's favorite Radko this year? Thinking for a moment and with a smile she says, "Floating Through The Holidays on a Unicorn Inner tube." – I'd have to agree.
Original Designs garland and wreaths will properly and expertly adorn any hall, arch, staircase, fireplace or front door. Many come with lights built in!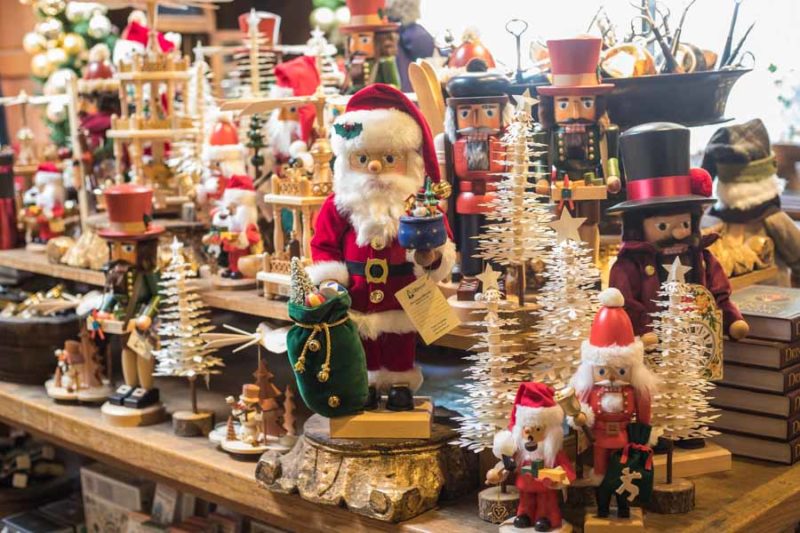 Nutcrackers are a personal weakness of mine so I am positively spinning over these Happy little Holiday chaps. German made and designed by Christian Ulbricht, they are instant family heirlooms and it will be terribly hard to choose your favorite cracker.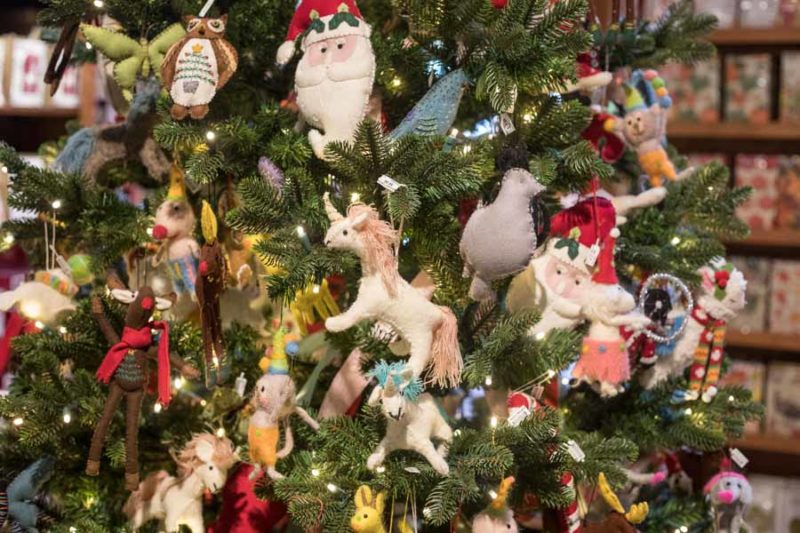 Kids and adults will love this tree equally. Jam packed with hand-felted ornaments in adorable designs, from Puppies in Party Hats to bright and magical Unicorns, I predict this sweet children's tree will draw a crowd. You'll be inspired to put up another tree at home just for the kids.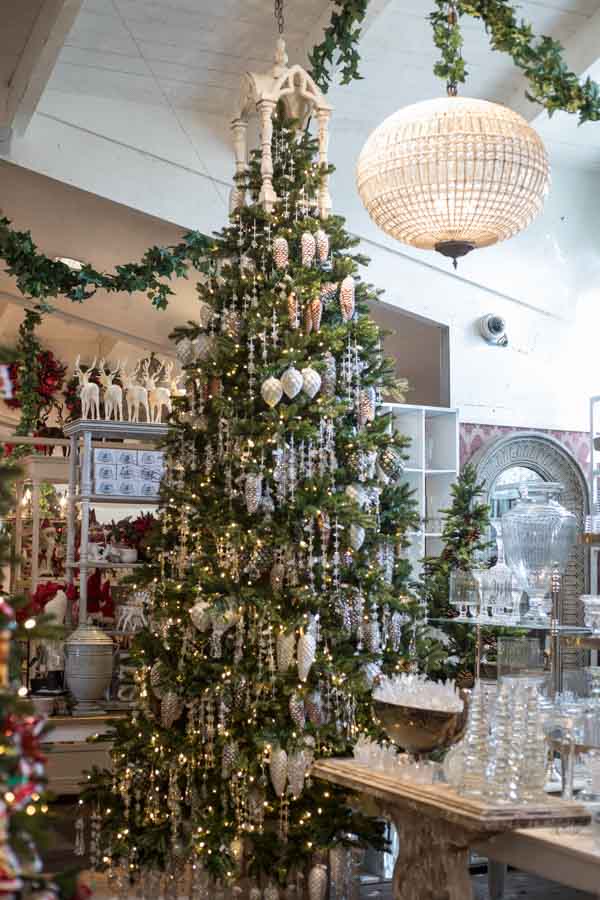 Over 2,000 clear crystal glass hand cut ornaments adorn this glamorous Christmas Tree and you'll want to purchase every single one! ..That's a lot of gift boxes to wrap, better start early!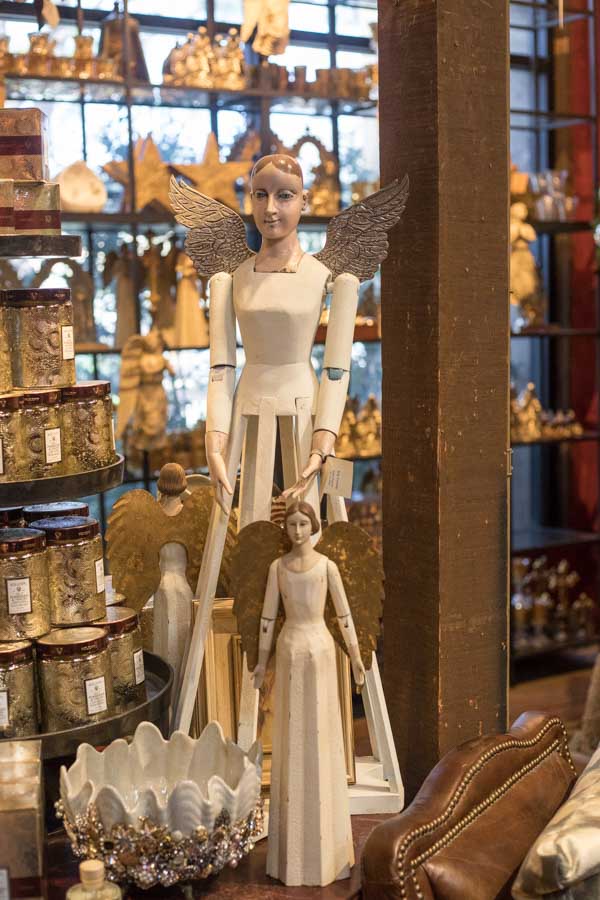 The Santos originates from traditional designs in Spain where they were carved in villages from wood usually in the image of a Saint. This vintage Santos would herald Christmas beautifully from a stone hearth or by the tree and will be a unique family heirloom for years to come.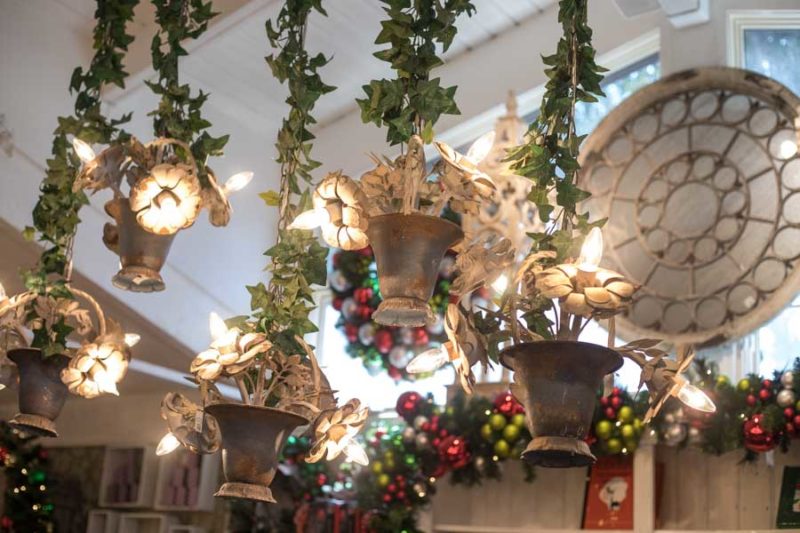 I love these delightful Flower Pot Lights. They are artfully designed and wonderfully unique. And as a lover of all things floral, I'll need at least three in my house almost immediately, In fact, I may be in line ahead of you.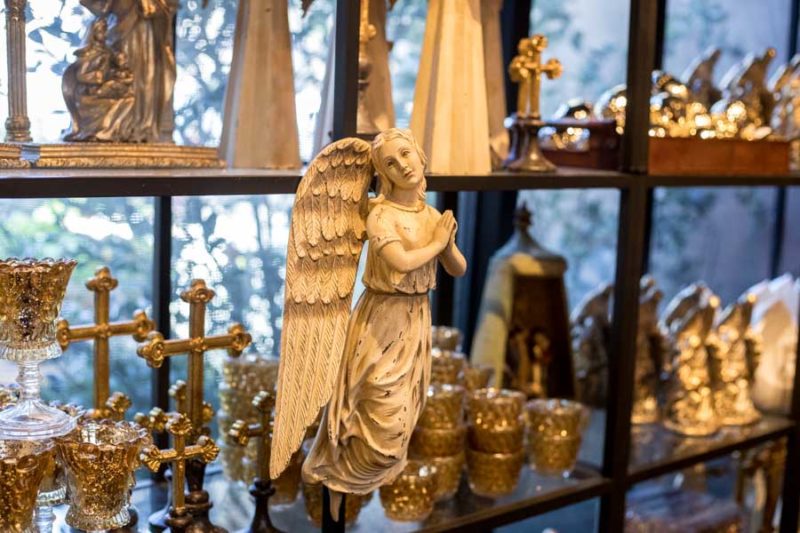 This little Angel is just waiting to come home with me this Christmas. Her face is so chubby happy cherub. She would make a wonderful addition in the baby's room.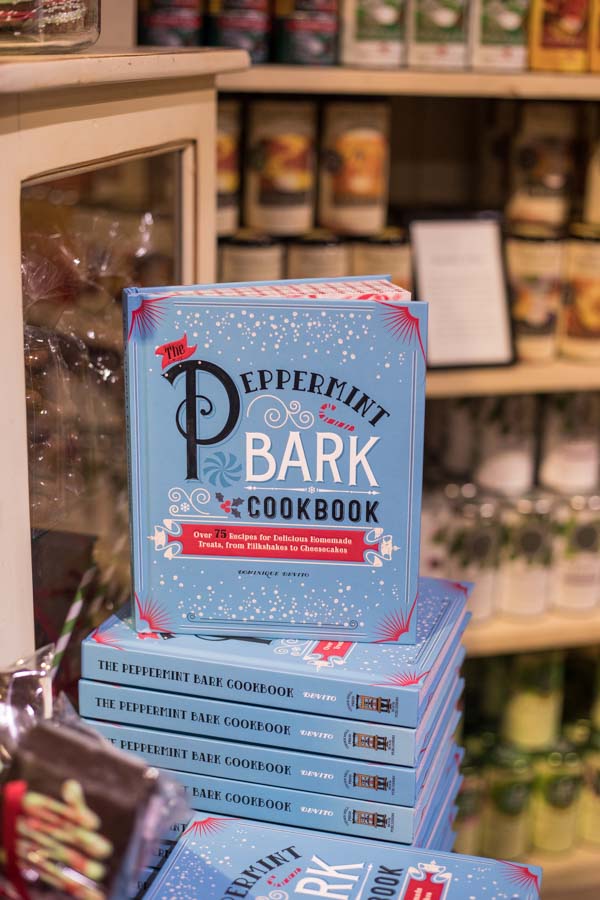 For little more than the recipe for homemade Peanut Butter Cups, this cookbook looks to be the essential sweet treat anthology for 2018!
I hope you enjoy every enchanted inch of the Wonder of Christmas in the Gallery this year.  To you and yours… Have a very Happy Christmas and a warm, peaceful and New Year!