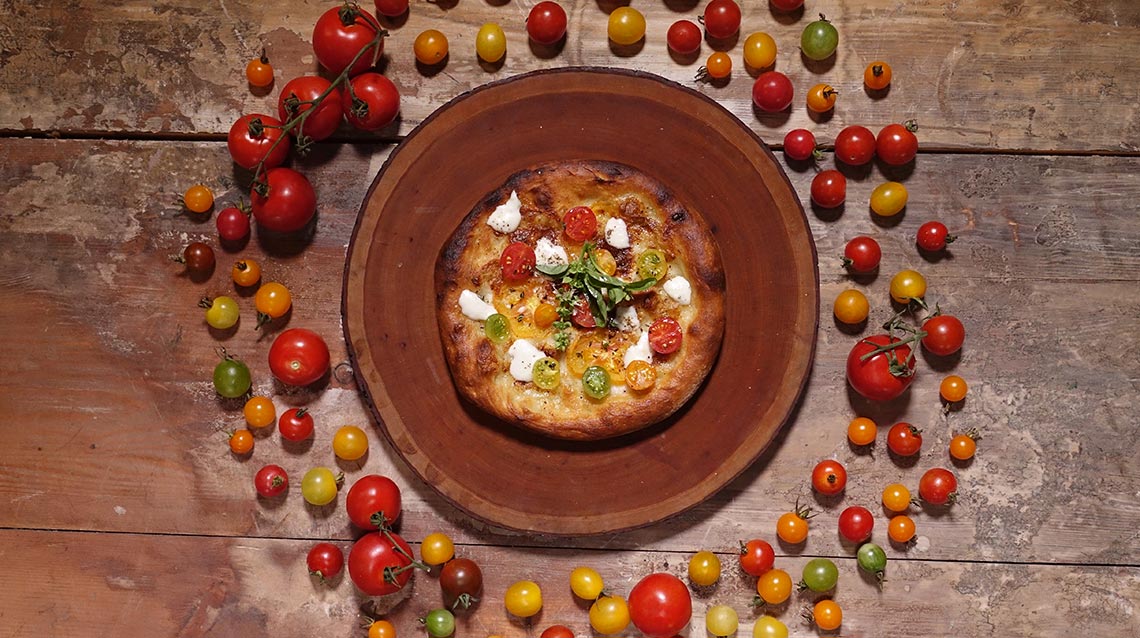 Ingredients
7 – 8 lbs. ripe tomatoes
2 teaspoons salt
1 teaspoon dried basil (optional)
1 teaspoon dried oregano (optional)
1 teaspoon dried thyme (optional)
Procedure
Cut the tomatoes in half, lengthwise. If the tomato is more than about 2 inches long, cut it in quarters.
Scrape out all of the seeds that you can without removing the pulp.
Mix together thoroughly basil, oregano, thyme, and salt.
Sprinkle a small amount of this mixture on each tomato.
Place the tomatoes, cut side up, directly onto the dehydrator trays.
Set dehydrator temperature to about 140°F.
Halfway through cooking time, flip the tomatoes.
After a few hours, turn the tomatoes again and flatten gently.
Tips
Not all tomatoes are the same! They do not all have the same amount of moisture, nor do they experience the same temperature and air circulation while they are drying. They are done when they are very dry, but still pliable.
If dried too long, they become tough and leathery.
If not dried long enough, they will mold and mildew, unless packed in oil, so watch them carefully while they dry.
Ingredients
7 – 8 lbs. of ripe tomatoes
Procedure
Rinse the tomatoes well and remove the stems.
Slice the tomatoes about ½" thick and place the tomato slices on dehydrator trays, spreading the tomatoes out so that they are not touching or on top of each other.
In the dehydrator, dry at 140 degrees for about 12 to 14 hours until they are dry and brittle.
After they have completely dried, store in airtight bag in the freezer for about two to three hours. This step makes it easier to break down the tomatoes when grinding.
Use a coffee grinder or spice grinder in stages to blend the tomatoes into a powder.
Tips
Tomatoes take up a lot of room because of their water content, but tomato powder doesn't take up very much room at all. If you store it in in an airtight container in the fridge, it is said to last indefinitely. That is, of course, if you did a good job of dehydrating the tomatoes well from the beginning, which is also important for easy grinding into a powder.
The tomato powder can be used for sauces, adding to proteins, blending in a vinaigrette, adding to cream cheese for a nice spread. The possibilities are endless.
Ingredients
Ripe Tomatoes (As many as you want)
Cheesecloth
Sieve
Procedure
Take your tomatoes, quarter them and blend in a food processor.
Line the inside of a sieve with cheesecloth and place over a container large enough to set sieve in and deep enough for resulting tomato liquid to drain without touching bottom of sieve.
Pour pureed tomato mixture into sieve and cheesecloth—you do not want cheesecloth to slip into sieve (it is important that cheesecloth is used to strain all of the solids from tomato mixture).
Place container, sieve with cheesecloth and tomato mixture in your refrigerator and allow mixture to drain slowly for at least 8 hours.
Remove and lift strainer with cheesecloth and tomato puree out of container taking care not to spill mixture into tomato "water". The remaining "water" will have essence of tomato.
Uses
This water can be used for a "white" bloody mary mix, seasoned and used as a base for a clear gazpacho and/or maybe a poaching liquid for seafood.
It can be frozen and saved , used for some future use, be creative.
I have steeped herbs like lemon verbena in this water, poached vegetable ribbons, "pasta" and salmon in broth and served drizzled with extra virgin olive oil for a wonderful light summer meal.
Tips
Great use for ripe tomatoes—can use heirlooms as well as big beef—trying to create the essence of tomato.