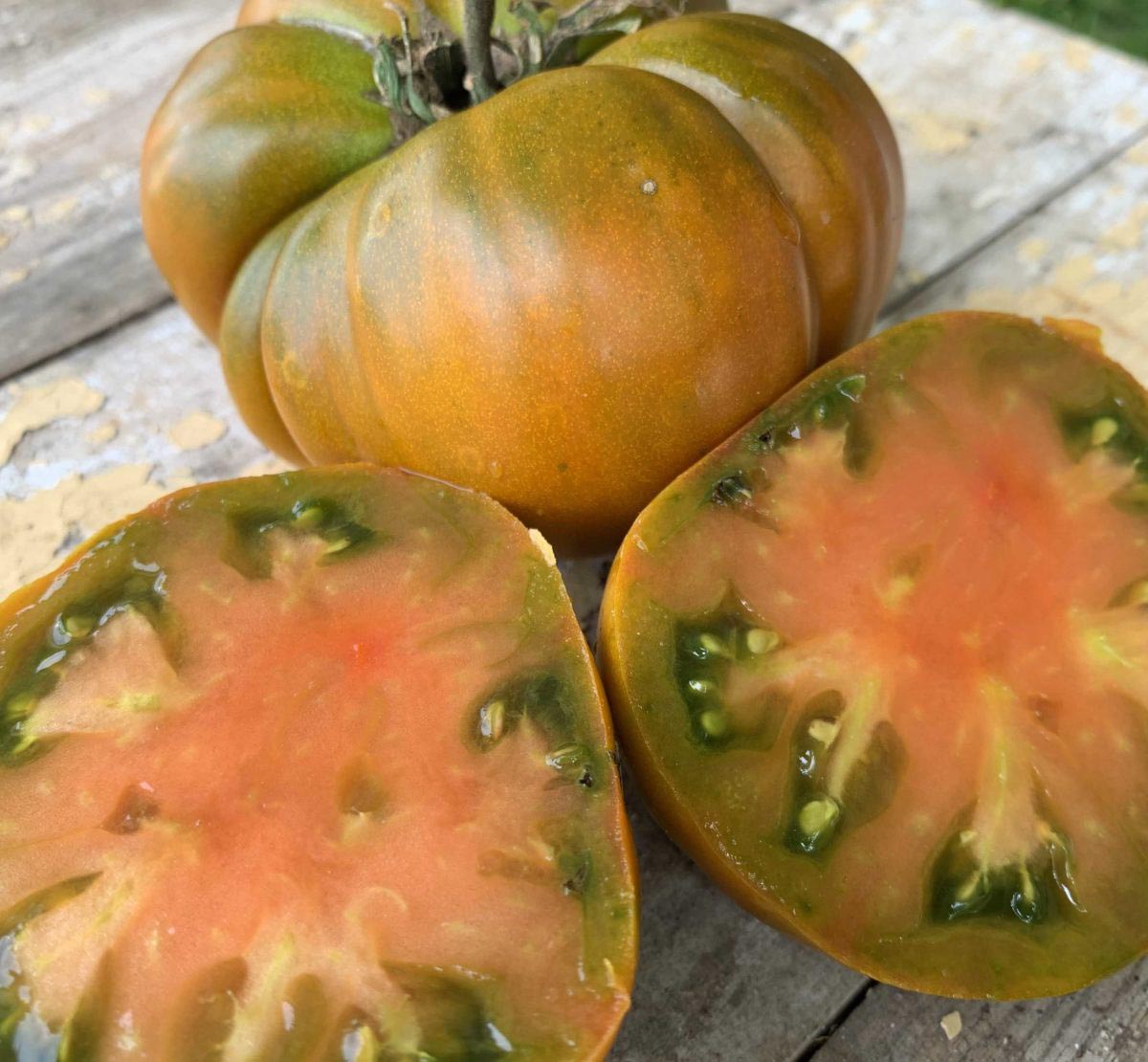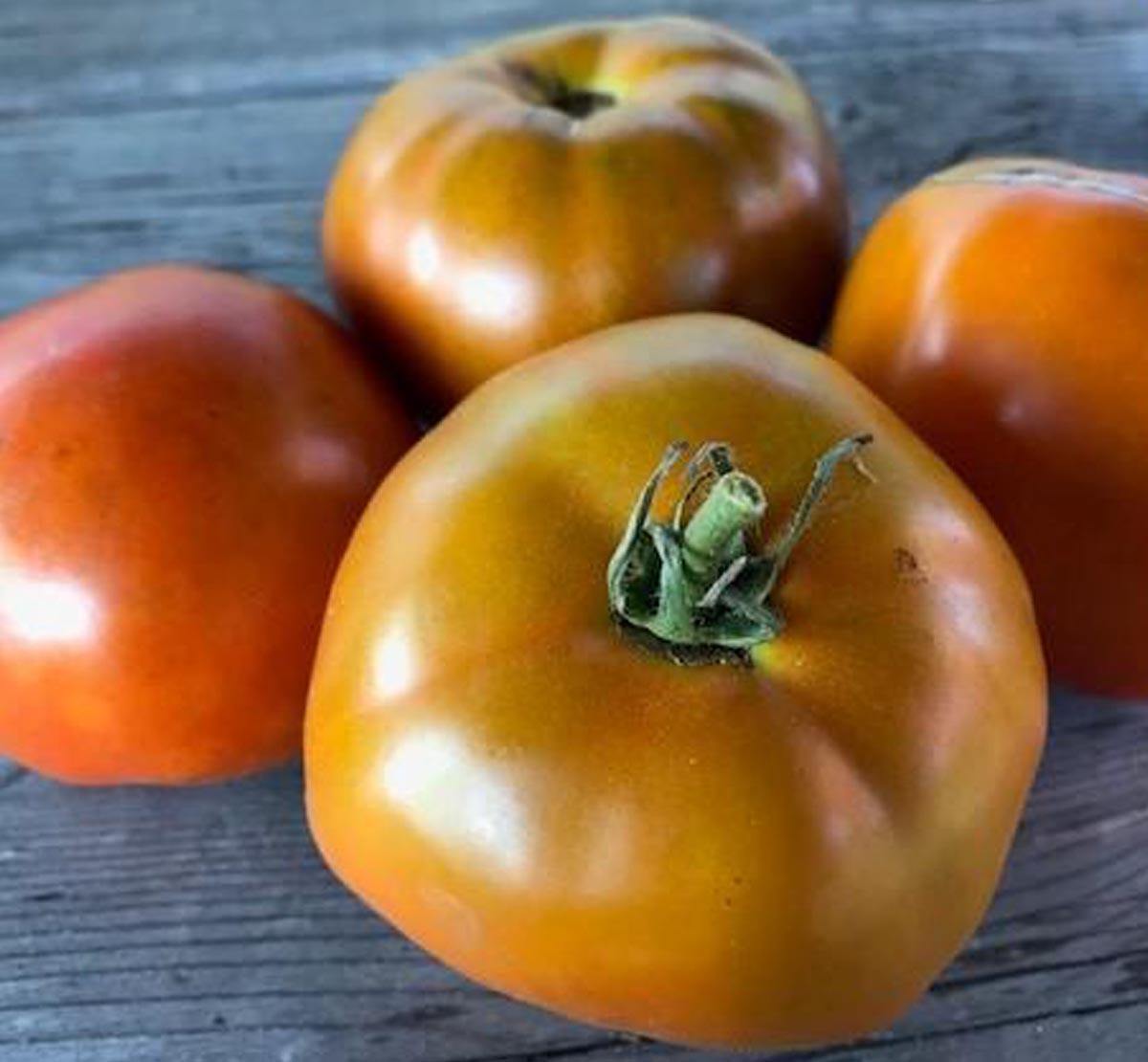 'Thorburn's Terra Cotta'
Incredible flavor, color and history! A rare heirloom variety from 1893. One of the best home garden tomatoes ever, but seldom available. Honey-brown skin and flesh with shades of orange, pink, gold and green. A gorgeous package that's topped off by rich tomato flavor.
Roger's Gardens Favorite Four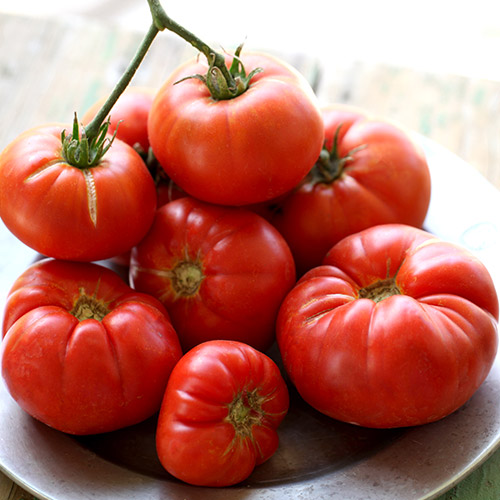 Madame Marmande
Class: Heirloom – Hybrid
Color: Red
Indeterminate
Maturity: 72 days
Flavor: Juicy and succulent, with an especially rich tomato flavor
Comments: Our Tomato of the Year in 2018. One of the best ever.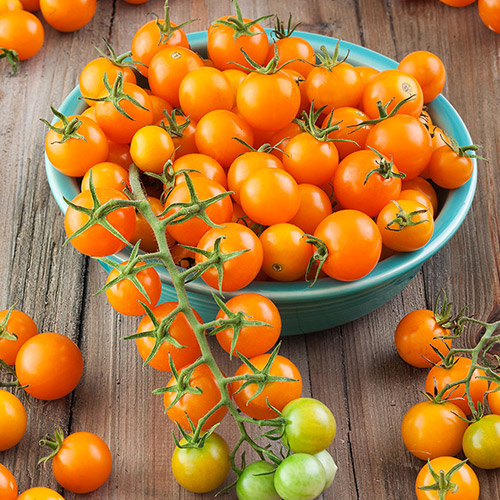 Sungold
Class: Hybrid
Color: Golden Orange
Indeterminate
Maturity: 57 days
Flavor: Sweetest tomato currently available
Comments: Very easy to grow in all climates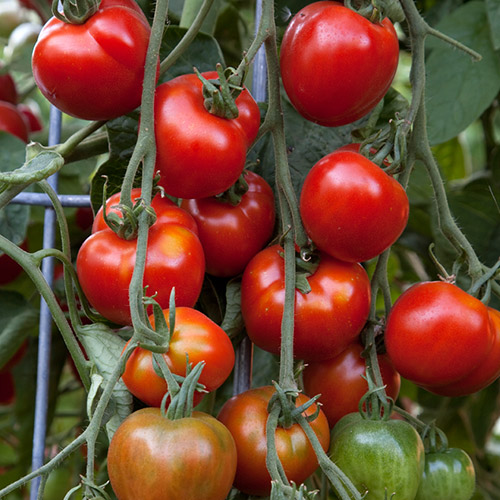 Stupice
Class: Heirloom
Color: Red
Indeterminate
Maturity: 65 days
Flavor: Rich and tangy with a full tomato flavor.
Comments: An exceptionally durable and high producing plant. Never fails.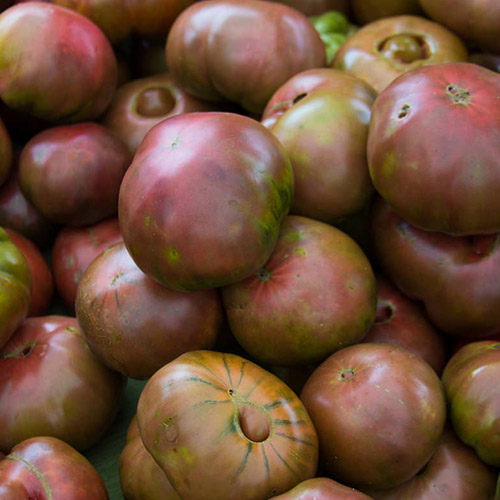 Cherokee Chocolate
Class: Heirloom
Color: Deep Red/Purple
Ideterminate
Maturity: 80 days
Flavor: Tasting Champion for fullness and depth
Comments: Prettier appearance, better production than Cherokee Purple
310 Varieties of Tomatoes!
Ace
Afternoon Delight
Aladdin's Lamp
Amish Paste
Amy's Sugar Gem
Ananas Noire
Anthony's Passionate Heart
Apricot Dream
Arkansas Traveler
Atlas
Aunt Molly's Ground Cherry
Aunt Rubys German Green
Aussie
Azoychka
Basinga
Beauty King
Beefmaster
Beefsteak
Berkeley Tie Dye
Better Boy
Better Bush
Big Beef
Big Boy
Big Brandy
Big League
Big Mama
Big Rainbow
Big Zac
Black Cherry
Black Ethiopian
Black from Tula
Black Krim
Black Prince
Black Sea Man
Black Truffle
Black Zebra
Bleeding Heart
Blondkopchen
Bloody Butcher
Blue Beauty
Better Boar Berries
Blush
Boar's Tooth
Bodacious
Bosque Blue
Bosque Bumblebee
Box Car Willie
Brad's Atomic Grape
Brandy Boy
Brandywine "True Black"
Brandywine pink
Brandywine Red
Brandywine Sudduth's Pink
Brandywine Yellow
Brown Berry
Brown Sugar
Burbank Red
Burgundy Traveler
Buttermilk Falls
Candyland Red
Carbon
Carmello
Caro Rich
Caspian Pink
Celebration
Celebrity
Champion
Chef's Choice Orange
Cherokee Chocolate
Cherokee Purple
Cherry Falls
Cherry Black
Cherry Napa Chardonnay
Cherry Mr. Sunchocola
Cherry Red (Large)
Chocolate Sprinkles
Chocolate Stripes
Clemetine
Clint Eastwood's Rowdy
Cisneros
Copia
Copia Striped
Cosmonaut Volkov
Costuluto Genovese
Creole Original
Crnkovic Yugoslavian
Cuor di Blue
Crushed Heart
Cuostralee
Cyril's Choice
Dancing with Smurfs
Dark Orange Muscat
Delicious
Dester
Dark Galaxy
De Berao Braun
De Milpa
Dr. Wyche's
Dragon's Eye
Druzba
Early Girl
Early Pick
Early Ssubakas
Elbertta Peach
Emerald Apple
Flamme
Fourth of July
Frosted Green Doctors
Fruit Punch
Garden Peach
Gardener's Delight
German Johnson
German Pink
Giant Belgium Pink
Giant Syrian
Gilbertie Paste
Glacier
Gladiator
Gobstopper
Gold Medal
Goliath
Golden Fresh Salsa
Golden Mama
Golden Queen
Grape
Grape Green
Grape Red
Great White
Green Dr's
Green Gage Yellow
Green Tiger
Green Zebra
Gregorie's Altai
Haley's Purple Comet
Hawaiian Tropic
Hawaiian Pineapple
Health Kick
Heatwave II
Heirloom Rainbow Blend
Hillbilly
Hillbilly Potato Leaf
Honeybee
Honeycomb
Huge Lemon Oxheart
Hungarian Heart
Indigo Apple
Indigo Cherry Drops
Husky Red
Igleheart Yellow Cherry
Indigo Kumquat
Indigo Rose
Indigo Ruby
Indigo Sun
Isis Candy
Italian Red Pear
Japanese Black Trifele
Japanese Aiko
Japanese Chica Cherry
Japanese Momotaro
Japanese Momotaro Gold
Japanese Reika
Jaune Flamme
Jersey Boy
Jersey Devil
Jetsetter/ Jet Star
Jubilee
Juliet Grape
Jutland
Kellogg's Breakfast
Kentucky Beefsteak
La Roma
Large Red Cherry
Lava Flow
Lemon Boy
Lemon Cherry
Lillian's Yellow Heirloom
Little Sicily
Lucky Tiger
Madame Marmande
Maglia Rose
Marianna's Peace
Martian Giant
Manitoba
Margherita
Marvel Stripe
Mary Robinson German
Mexico Midget
Michael Pollan
Midnight Snack
Mirabelle Blanche
Missouri Pink Love Apple
Momotaro
Momotaro Gold
Momotaro Pink
Mortage Lifter
Mortage Lifter Bi-Color
Mr. Stripey
Napoli
Nebraska Wedding
Neves Azorean Red
Norwood Meiners
Nyagous
Old German
Omar's Lebanese
Orange Banana
Orange Paruche
Orange Russian
Orange Strawberry
Oregon Spring
Oxheart Red
Park's Whopper
Patio
Patty's Yellow Striped BS
Paul Robeson
Pear – Red
Pear – Yellow
Pearson
Phoenix
Pigletwillie's French Black
Pineapple
Pineapple Hawaiian
Pink Ping Pong
Plum Black
Pork Chop
Pink Berkeley Tie-Dye
Pink Siberian Tiger
Principe Borghese
Prudens Purple
Purple
Purple Calabash
Purple Russian
Rainbow Bleand
Rapunzel
Raspberry Lyanna
Red Lightning
Red Grape
Red Pear
Red Racer
Red Zebra
Riesentraube
Rio Grande
Roma
Rose
Rosella
Russian Queen
Salvaterra's Select
San Diego Red
San Francisco Fog
San Marzano
San Marzano Gigante
San Marzano Lungo
Sasha's Altai
Shimmer
Siberian
Siberian Black
Siletz
Snow White
Sokolades
Spoon
Striped German
Striped Green Bell
Stupice
Sub Artic
Sugargloss
Sugary
Sun Cherry Extra Sweet
Summer Last
Sun Gold
Sun Sugar
Sunchocola
Sungold Select
Sunrise Bumblebee
Sunrise Sauce
Sunsugar
Super Fantastic
Super Sweet 100
Sweet 100
Supersteak
Sweet Baby Girl
Sweet Carnerous Pink
Sweet Cluster
Sweet Million
Sweet Orange Roma
Sweet Tangerine
Sweet Treats
Sweetie Seedless
Tasmanian Chocolate
Thessaloniki
Thorburn's Terra Cotta
Tiny Tim
Tidy Rose
Tomatillo
Verde Puebla
Vintage Wine
Virginia Sweets
Vorlon
Waimea Wild Cherry
Washington Cherry
Watermelon Beefsteak
White Beauty
White Cherry
Wild Cherry
Yellow Brandywine
Yellow Perfection
Yellow Plum
Yellow Fire
Yellow Husk
Yellow Pear